Anaheim locals and visitors are thrilled over the historic communal gathering place in the heart of downtown, complete with refurbished historic structures and new exciting uses.
The Anaheim Packing District, located at the intersection of Anaheim Blvd and Santa Ana Street, includes the restored Packard Building & former car showroom, Farmers Park, the repurposed MAKE Building, a former orange marmalade factory, and the restored Citrus Packing House, now the Anaheim Packing House.
The restored Anaheim Packing House is a carefully curated contemporary food hall reminiscent of the great public markets of South America and Europe. The two-level Packing House features a large central atrium with communal dining surrounded by merchants and kiosks of varying sizes as well as outdoor picnic gardens, unique art and sculptures and a building-length southern-style dining porch looking out to the outdoor marketplace, Farmers' Park, complete with community rocking chairs.
Adya Fresh Indian Flavors
Adya Fresh Indian Flavors showcases the flavorful street food of India, with their inspiration coming from a variety of bright flavors and textures. Enjoy favorites like their Chicken Tiki Masala or Tandoori Chicken.
Black Sheep Grilled Cheese Bar
With a huge selection of unique cheeses topped with your choice of bacon, fresh tomatoes, meats and more, Black Sheep Grilled Cheese Bar makes the only grilled cheese that comes close to mom's grilled cheese.
The Blind Rabbit
Known as the secret bar behind the bookshelf, The Blind Rabbit is a dark speakeasy with quality food and handcrafted cocktails.
BXCR, The Underground Wine Society
Showcasing some of the finest wines in SoCal and set in a 1920s vintage railroad boxcar, BXCR is the perfect hideaway for a weekend night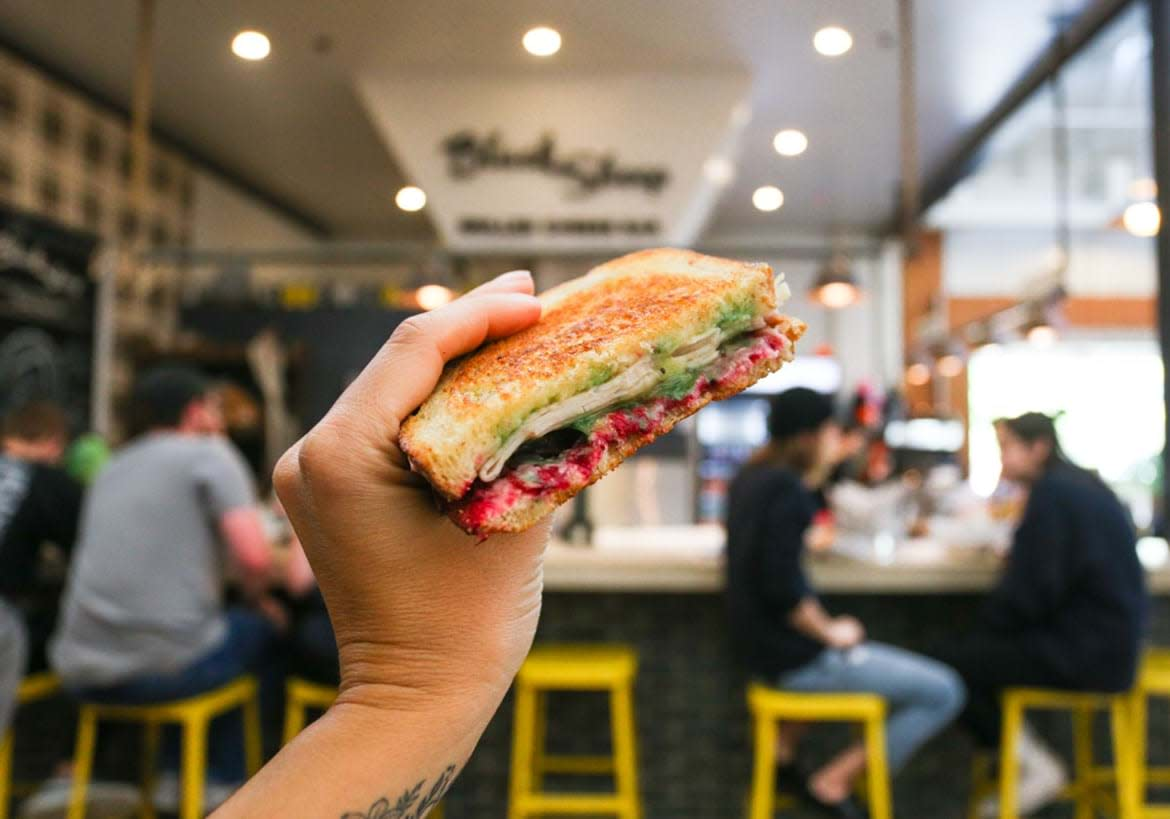 Black Sheep Grilled Cheese Bar | PC: @packingdistric
The Kroft
The Kroft is what foodie dreams are made of. Over-the-top poutines, out-of-this-world sandwiches and drool-worthy sides make this location simply can't-miss. 
The Iron Press
Burgers, brews and sandwiches, oh my! The Iron Press is your one-stop-shop for everything crave-able. Can't-miss dishes include the Pretzel Bites, served with beer cheese sauce and whole grain mustard, the BBQ Burger and the Spicy Chicken Sandwich. Don't forget to wash it all down with one of their specialty craft brews. 
Urbana
This award-winning restaurant features a menu full of gourmet tacos, chef specials and hand-crafted cocktails. Pair their Spicy Margarita with an Al Pastor and Filet Mignon Tacos to ensure a superb visit at Urbana. 
Score one free carnitas or cauliflower taco with purchase from Visit Anaheim's Sip, Savor and Shop Pass during your next visit.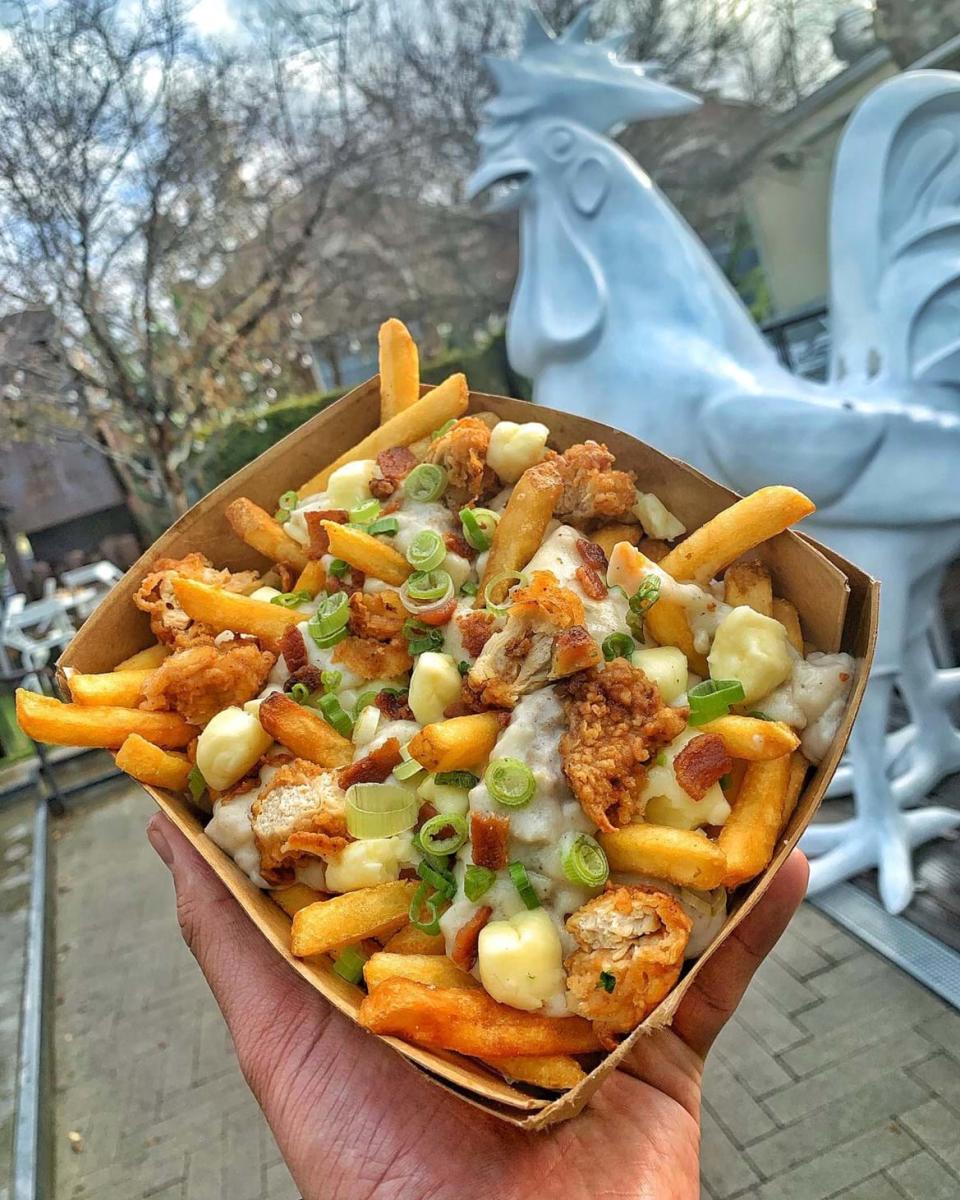 Poutine from The Kroft | PC: @thekroft
The Chippy Fish & Grill
Offering only the highest quality ingredients and fresh, made to order foods, The Chippy Fish & Grill is another can't-miss location. Their large, top-quality cuts of fresh fish are dipped in a special ingredient batter and served up crisp, golden brown covering piping hot. Lemon, malt vinegar and homemade tartar sauce will surely leave your taste buds smiling.
Crepe Coop
Warm crepes served with anything your heart desires from vanilla bean gelato to fruity pebbles and Nutella, the Crepe Coop is the perfect spot for breakfast, lunch, dinner or anything in between.
Cooks Chapel
Cooks Chapel is a private event space that offers a full service "Heavens Kitchen" for cooking classes or demonstrations, pop-up restaurants and/or private dining preparation by one or more of the Packing House chefs.
Georgia's Restaurant
If you're looking for real southern cooked home-style grub, Georgia's has everything you need and more. Fried chicken, mashed potatoes, mac n' cheese and salads, all served in very "healthy" portions.
Hans' Homemade Ice Cream
An Orange County tradition since 1972, Hans' Ice Cream is crafted onsite with the richest cream from local dairies.
Hammer Workshop & Bar
Hammer Workshop & Bar serves up delicious craft cocktails as well as award-winning craft beer, all with an amazing view of the Anaheim Packing House. Sip on cocktails while soaking up the Anaheim Packing House's funky fresh vibes.
Fanfare Waffle Dogs & Aguas Frescas
The perfect marriage of fluffy waffles filled with sweet or savory ingredients, such as mozzarella, hotdogs, red bean and more. You can't go wrong with anything on their menu, so go for one of everything.
Healthy Junk at the House
Healthy Junk's second location inside the Anaheim Packing House serves vegan pizzas plus menu favorites from their first location. Enjoy woodfired pizzas, sandwiches and salads, using only plant-based ingredients.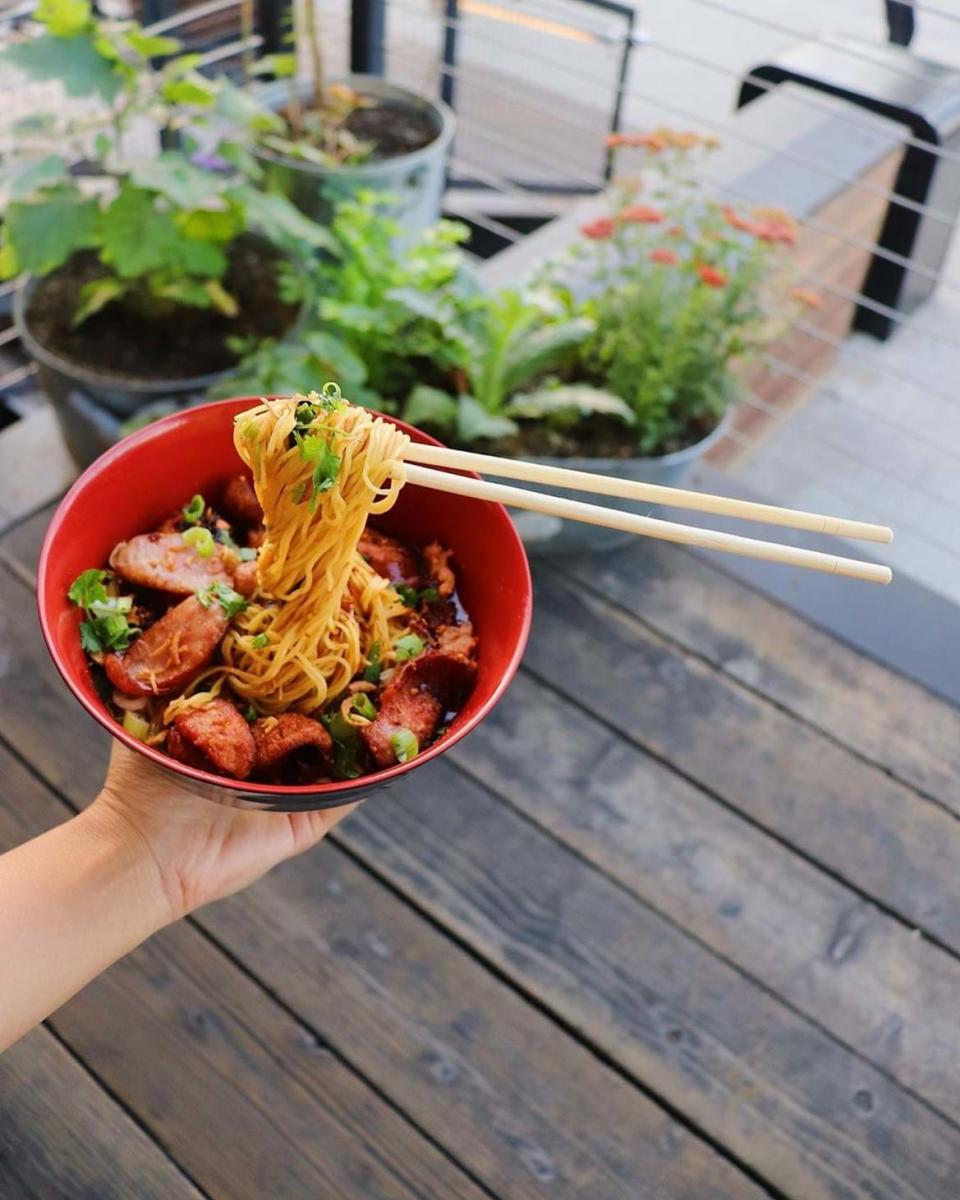 206 BCE Gravity-Defying Noodles | PC: @206bce
206 BCE
Vietnamese meets Creole with fun Instagram-able menu items such as gravity noodles and Cajun shrimp boil, as well as traditional specialties such as Pho. 206 BCE (Before Common Era) refers to the approximate time when the first documented noodles were being made!
Sacred Junk Bar
Escape to a Tibetan wonderland in the backyard of the Anaheim Packing House, an extension of the Healthy Junk family. Sip on conscious cocktails and get your daily dose of vitamins as this bar puts a spin on classics but adding fresh vegetables, such as beautiful beets and cool cucumbers.
Kettlebar
Kettlebar serves up southern seafood comfort. Indulge in a magical dish known as Pan Roast, a spicy, creamy tomato-based stew filled to the brim with lobster, crab, shrimp, chicken and andouille sausage, served with a luscious mound of rice and fresh-baked bread to soak it all up.
White Elephant
New to the Anaheim Packing House as of September 2020, White Elephant dishes a delicious take on Thai food. Be sure to give them a warm Anaheim welcome during your next visit.
Popbar
Pop over to Popbar for a hand-held sweet treat. Pick your flavor of gelato, sorbet or yogurt on a stick, top your treat off with something yummy like crushed peanuts or almonds or a drizzle of chocolate and enjoy. 
Download Visit Anaheim's Sip, Savor and Shop Pass to enjoy 15% off your total purchase at Popbar Anaheim.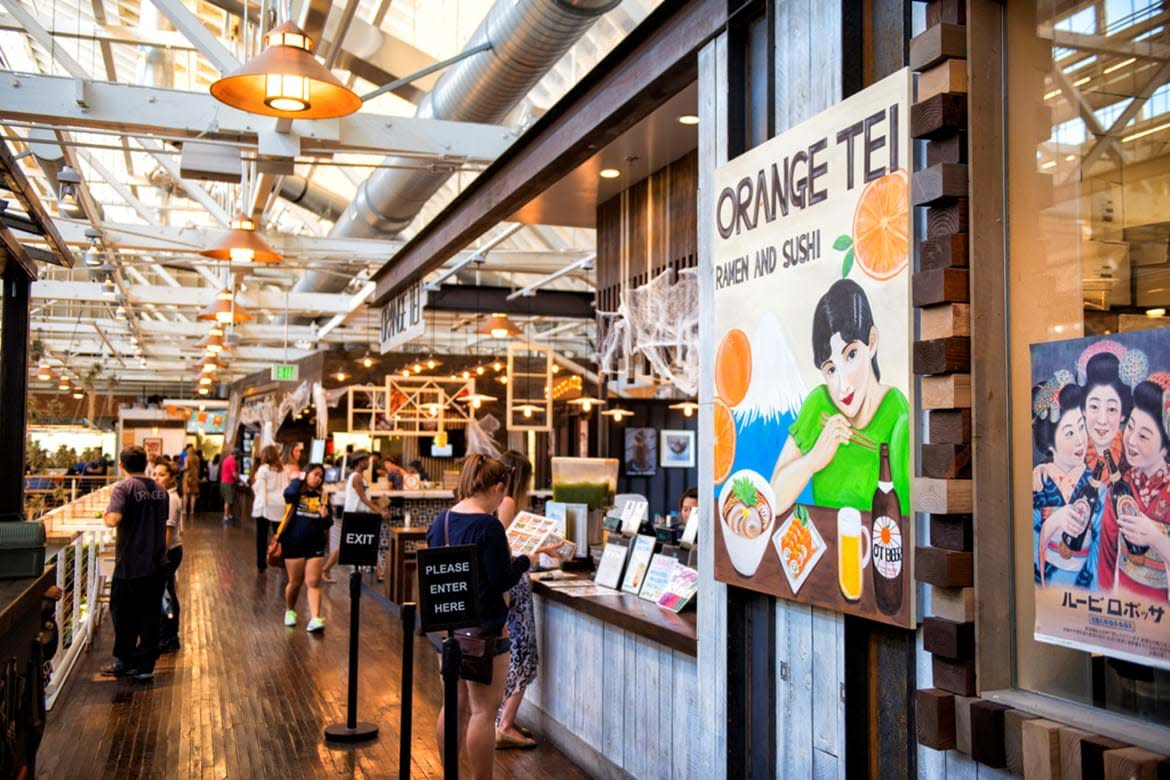 Orange Tei at Anaheim Packing House
Orange Tei 
Craving Japanese food? Head to Orange Tei inside the Anaheim Packing House for a delightful bowl of ramen, a tasty sushi roll or poke bowl. 
Utilize Visit Anaheim's Sip, Savor and Shop Pass for 10% off any menu item during your next visit. 
Rolling Boil
Rolling Boil offers a wide variety of soup broths, from vegetarian to spicy mixes and a multitude of dipping sauces. Pick your garden-fresh vegetables, sliced-to-order meat and start swimming away in a bowl of flavors at Rolling Boil
Mini Monster
Mini Monster is anything but mini when it comes to flavor. From Boba Teas and coffee to fun, fruity drinks, Mini Monster pours up plenty of delicious flavors. 
Mangal by Aleppo's Kitchen
Mangal specializes in authentic Syrian food. Grab an order of their Shawerma or Falafels and set sail on a culinary adventure right from the Anaheim Packing House.