Visit Anaheim is calling all characters and ready to welcome them back. Being unmistakable, unforgettable and uncommon is part of the city's DNA. We encourage you to get acquainted with Anaheim's "Uncommon Characters" who capture the spirit of the city, each representing a different side of Anaheim. They're sometimes unexpected, but always incredible.
When you visit Anaheim, you'll embrace your own Uncommon Character. It's the side of you that comes alive when imagination, creativity and adventure are released. Are you seeking new sights, sips and sensations? Then, you're in the right place.
Meet the Cast of Uncommon Characters
La Señorita de CtrCity
She's the hostess to the heart of the city. Meet Fran the La Senorita de CtrCity, your guide to CtrCity Anaheim. If you're hungry for history and an exceptional meal, she'll direct you to the Anaheim Packing District. Start at the historic Packing House, now a gastronomical wonderland, filled with eclectic and artisanal food stands. Next, in the adjoining Farmer's Park, Poppy & Seed has recently sprouted. 
Captain Brew Beard
Are you navigating the seas and the suds of Anaheim's craft beer scene? You might be the next Captain Brew Beard. Tour Anaheim's emerging craft beer scene with stops at the Unsung Brewing Co. and Radiant Beer Co. The captain also sets sail for the La Palma Beer Trail, a six-mile stretch on La Palma Ave. that includes nine breweries. While ashore in Anaheim, keep your weather eye on Brewery X's outdoor patio as your next destination.
Pho Fan Girl
She's ahead of all the hottest food trends, pho real. Meet Pho Fan Girl, who's ready to dish about the Anaheim food scene. She'll have you eating like a local with long-standing Anaheim establishments like La Casa Garcia or Mama Cozza's. Next, she'll challenge you to try something new on Center Street Promenade like ramen at Shin-Sen-Gumi or the Anaheim Burger Taco at Pour Vida.
Libation Sensation
Cheers! The Libation Sensation can craft the ultimate night-out with insight on the city's best cocktails from tiki drinks at Strong Water to rooftop refreshments at Parkestry at JW Marriott, Anaheim Resort.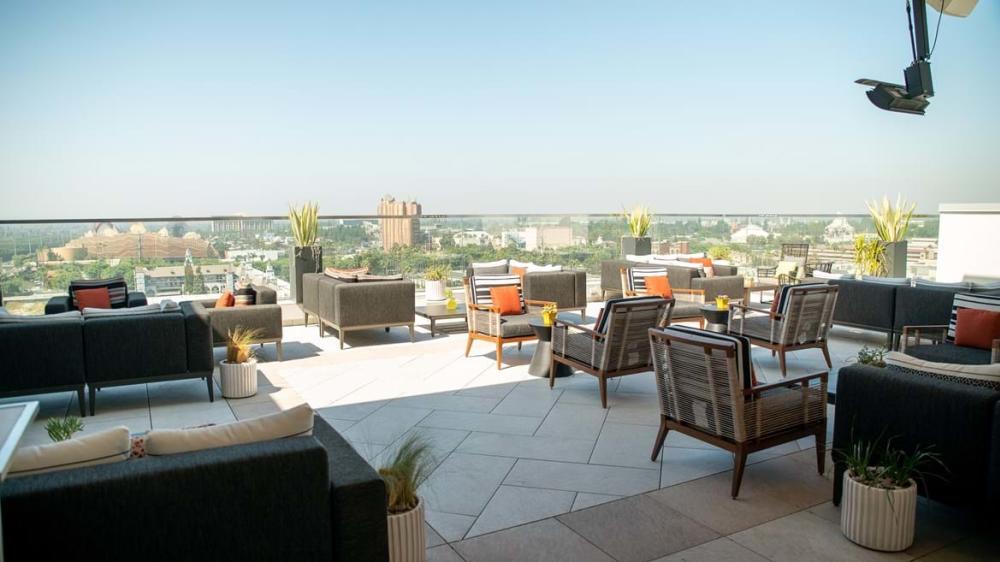 Parkestry at JW Marriott, Anaheim Resort.
Crushers of Convention
We say, "Power to the Planners!" The Crushers of Convention have you connected to epic expos at the Anaheim Convention Center and unforgettable meeting locations. With hotels, restaurants, and entertainment conveniently located, it's easy to wow a crowd.
Meeting Mosher
We call it team building. After the end of the meeting, the Meeting Mosher has your backstage pass to Anaheim's nightlife. From music to magical memory making, the Meeting Mosher has you on the list.
The Retail Therapist
You're covered from head to toe with the Retail Therapist. From designer brands to daily deals, you've got a prescription for shopping.
Titan of Trails
Whether you're hugging the curves of mountain biking trails or riding swells, SoCal's Titan of Trails is your shredding sensei.