Feed the fun with unique dining experiences when you visit Anaheim for NAMM. NAMM is returning to Anaheim June 3-5, 2022 to bring together professionals in all aspects of music, sound, and entertainment. For passionate attendees, the conference is fuel for the soul. But Anaheim won't let the rest of you go hungry. With one-of-a-kind restaurants, you're guaranteed a California culinary adventure filled with flavor and flair.
Attendee Perks Pass 
First things first, let's talk savings! Redeem the exclusive deals pass for meeting, event, and convention attendees, the Attendee Perks Pass. The Attendee Perks Pass offers a range of deals from nearby hotels, restaurants, breweries, rooftop bars, transportation, and more.
Strong Water Anaheim
Set sail for Strong Water Anaheim, an opulently-themed tiki bar in the heart of Downtown Anaheim. Inside you'll climb aboard a sunken ship where you'll sip on a classic Mai Tai or an original like the Zombie King from their award-winning menu featuring rotating Asian Fusion flavors with favorites like the Loco Moco Burger. Outdoors, you can catch fresh breezes on the Shoreside Outdoor patio, open without reservations.
Craft by Smoke and Fire
Fire it up at Craft by Smoke and Fire where you'll find expertly crafted meats, cocktails, and experiences. Start with a giant Bavarian pretzel before digging into a Porterhouse Steak or Mac Rib Sandwich.
The RANCH Restaurant
Foodies, saddle up at The RANCH Restaurant & Saloon where elevated farm-fresh steak and seafood awaits. Looking for something truly exceptional? Order the 58-ounce Cowboy Ribeye with Grafton Farms white cheddar scalloped potatoes and Bordelaise sauce. Their wine menu is equally as impressive with 10,000+ bottles. Finish the night off dancing the night away at the country music saloon.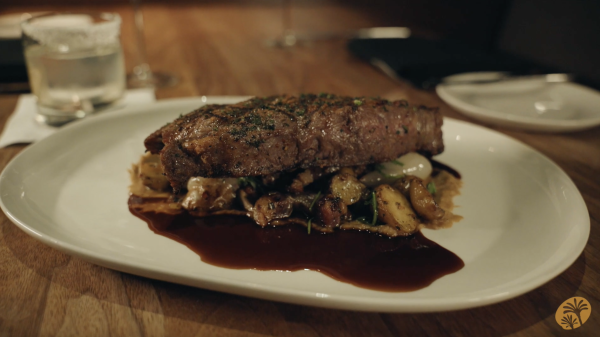 The RANCH Restaurant 
Sauced BBQ & Spirits
Flavors of the South are alive in the West at Sauced BBQ & Spirits. Grab a plate from the pit with brisket, burnt ends, or chicken. To ensure the night stays on target, you'll want to take aim at the ax throwing which includes an ax throwing coach. Sharpen your skills and get saucy at the same time.
The Blind Rabbit
We're letting you in on a secret. Hidden behind the sake barrels on the bottom level of the Anaheim Packing House is Anaheim's first speakeasy, The Blind Rabbit. An extensive whiskey list, plus house and classic cocktails, are served in a swanky prohibition-inspired setting that you'll want to tell everyone about.
Urbana
Celebrate Dia de los Muertos year round at Urbana, home to Mexican gastronomy. The gigantic murals set the vibe, and the food and drinks will have you considering making it Taco Tuesday seven days a week. Try the Chicken Mole or Carnitas with a michelada from their MEXology drink menu.
Golden Road Anaheim
Meet with friends at Golden Road Anaheim located across the street from Angel Stadium. The casual pub offers indoor and outdoor spaces to hang out, grub, and toast the day. We're big fans of the Mango Cart, the perfect warm weather beer, and the burger and sandwiches. Check out the numerous vegan options, too.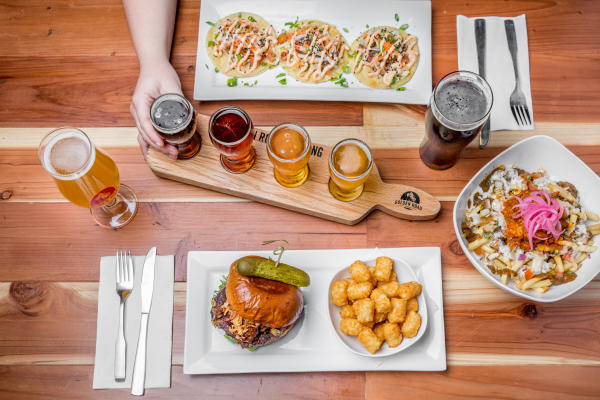 Golden Road Anaheim
Lopez & Lefty's
Burgers and beers on tap are just part of what's right-y when you're at Lopez & Lefty's. Open daily until 2:00 am and serving mouthwatering bites until midnight, this local sports bar is a homerun for pre-gaming, post-gaming, or just grabbing a great meal. With weekly deals and events like no-cover fight nights, Taco Tuesdays, and more, there's always something happening at the bar located near Honda Center and Angel Stadium. 
Rooftop Bars
The sky's the limit when you visit Anaheim's rooftop bars. The elevated experiences offer fine dining complemented by stunning views, overlooking Anaheim's skyline.
Check out some of our favorites:
Requiem: Coffee, Tea, and Fantasy
Immerse yourself in pure magic at the delightfully themed coffee shop Requiem. Four diverse areas commonly found in video games, like a whimsical tree with cozy reading nooks, are perfect for celebrating any fandom. Grab a bite to eat and pair it with a seasonal coffee or potion while playing video games, watching anime, or simply enjoying the escape.
Tocumbo Ice Cream in Anaheim
Sweeten your visit with a treat that's got a kick! Mexican-style ice cream and treats are on the menu at Tocumbo Ice Cream. Grab the fresh mangoneada with mango ice cream, fresh mango, chamoy, and tajín or a paleta. Cool off with an aqua fresca or your favorite ice cream flavors.