Hotel Development Continues to Rise in Anaheim Resort™ District; 13 Hotel Projects Planned or Underway in 1,100-Acre Tourism Hub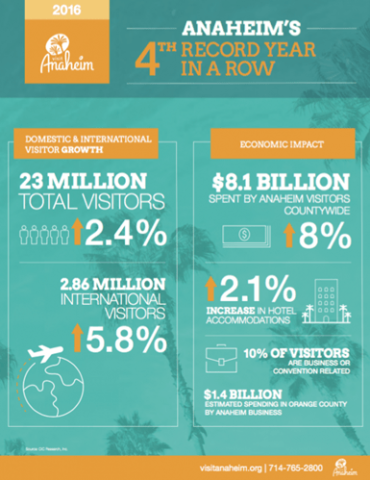 ANAHEIM, Calif. (May 9, 2017) – Visit Anaheim, the official destination marketing organization (DMO) for Anaheim, finalized visitor numbers for 2016, releasing record setting visitor volume for the fourth year in a row. The Southern California business and vacation destination welcomed 23 million visitors to the destination (source: CIC Research, Inc.), an increase of 2.4 percent from the previous year. International visitation was also up by 5.8 percent, resulting in 2.86 million international visitors to Anaheim.
Travel to Anaheim in 2016 positively impacted Orange County's local economy by adding $8.1 billion, a staggering 8 percent increase from 2015. Booked hotel accommodations also increased 2.1 percent, a factor due in part to the number of new hotel projects planned and or underway in the Anaheim Resort™ district.
"Four years in a row of surpassing visitor volume and spending records, it is clear that tourism is a key factor in the economic success and prosperity of our local community," said Jay Burress, president and CEO, Visit Anaheim.
"The strength of our local tourism industry is clearly evident by the positive domestic and international visitor growth, coupled with new hotel product development. We anticipate that the next few years will continue to prove the positive economic impact tourism has on local development and the economy."
Hotel development in 2015 and 2016 has been unprecedented for the Anaheim Resort™ district with eight new hotels opening their doors. Currently, there's more than $2 billion in investment happening in the 1,100-acre district between Disneyland® Resort, the Anaheim Convention Center and hotel construction.
Anaheim Resort™ district hotel projects include the following:
Approved Four-Diamond Hotel Properties Planned
JW Marriott Anaheim: Orange County's first JW Marriott will be built adjacent to Anaheim GardenWalk. The $150 million, 466-room property will have meeting rooms, restaurant and spa. Construction is set to begin in late 2017.
1700 South Harbor Blvd.: Replacing the Anaheim Plaza & Suites, the 580-room property will have two signature restaurants, swimming pools, meeting space and a lounge overlooking the Disneyland® Resort.
1030 West Katella Ave.: A $225 million, over 600-room property will break ground in early fall 2017 and replace the Anabella Hotel on Katella Ave. Located adjacent to the Anaheim Convention Center, the new luxury hotel will attract discerning business and convention clientele in 2020.
1401 Disneyland® Dr.: Disneyland® Resort announced the addition of a 700-room luxury hotel, the first in nearly 20 years. The hotel will offer luxury amenities including two pools, alfresco dining with views of the park and more.
Hotel Properties Planned
Hampton Inn & Suites Anaheim Resort™ and Convention Center: The 178-room limited-service property will stand five stories and feature a second-level pool deck, breakfast room, meeting room and fitness room. The property is slated to open summer 2018.
Element by Westin: Anaheim's first Westin property will open in summer 2018. The five-story, 174-room hotel will offer a pool deck with barbecues and lounge chairs, suites and studio rooms, and a fitness center.
Cambria Hotel & Suites: The new property will have meeting space, a contemporary bistro called Social Circle, and a California-themed outdoor space with a pool and movie screening wall. The 352-room hotel will open in November 2018.
Westgate Anaheim GardenWalk: Located next to dining, entertainment and shopping destination Anaheim GardenWalk, a new 392-room timeshare hotel will be built.
GardenWalk II: Another hotel adjacent to Anaheim GardenWalk, a new 350-room or more property will be underway in the coming years, plans expected by June 2019.
Hotels Undergoing Renovation
Disney's Grand Californian Hotel & Spa: Disney's upscale craftsman hotel is currently remodeling their guest rooms, pool area, concierge-level Craftsman Club and updating lobby furniture. The renovation is set to conclude by late 2017.
Anaheim Hotel: The Harbor Blvd. hotel is currently remodeling their lobby, ballroom, pool area, guest room and suites, parking lot, façade and entry. Updates started in spring and will conclude in mid-to-late 2017.
Park Vue Inn: The new property will double its current size to 180 rooms and redevelop its 6,000 square foot restaurant.
Ramada Plaza Anaheim: The 105-room hotel will rebrand as a Wyndham Garden and renovate its lobby, fitness center, meeting space and offices by 2019.
View Visit Anaheim's video illustrating this year's record-setting visitor growth volume.  For more information on Anaheim, please visit: www.visitanaheim.org.
About Visit Anaheim: 
Founded in 1961, Visit Anaheim is a 501(c)(6) nonprofit destination marketing organization. Visit Anaheim's mission is to develop, market, and sell Anaheim to benefit the economic vitality of its neighborhoods. To learn more about Visit Anaheim, visit: www.visitanaheim.org and follow us on Facebook, Twitter, Instagram, and LinkedIn.
###