There's always something new brewing in Anaheim
California is the home state for the most influential shapers of the craft beer movement. These pioneers proved that beer could be exciting. Built on a German beer heritage, Anaheim now hosts one of the fastest-growing and most dynamic craft beer scenes in the country with more breweries than any other city in Orange County.
For those looking to catch some Angels Baseball® or an Anaheim Ducks® game, while in town, JT Schmid's combines the energy of a sports bar with world-class craft beer brewed on the premises. Golden Road Brewery is right across the street from Angel Stadium for pre-or post-game revelry right next to the action. Also near the stadium is Brewheim, offering up blonde ales, fruit beers, IPAs, stouts, and more by the glass, crowler or growler.
Karl Strauss is a California classic specializing in German brews. They have an outpost in Anaheim that's perfect for those looking to sample Southern California beers along the Santa Ana River. Putting the craft in craft beer is Ballast Point Brewing Company. Located in the Downtown Disney® District, the beers here also take on an imaginative twist with brews inspired by everything from sea life to classic cocktails. 
Anaheim breweries are innovating while collaborating to make the local beer scene even better. Why not? Many local brewers are connected not just by their passion for suds, but by the La Palma Beer Trail. This area is one of the few places in Southern California where you can easily walk from brewery to brewery.
Don't miss the Bruery Terreux Tasting Room from the Family Rue's Bruery. The Bruery is the godfather of Orange County craft beer, and the Terreux Tasting Room is the best place to try their most experimental and opulent Belgian-style brews, including barrel-aged sour beers. Brewery X, with heaps of local brewing talent behind the kettle, boasts a huge family and dog-friendly facility.
What Else is Brewing: Mead, Cider & Seltzer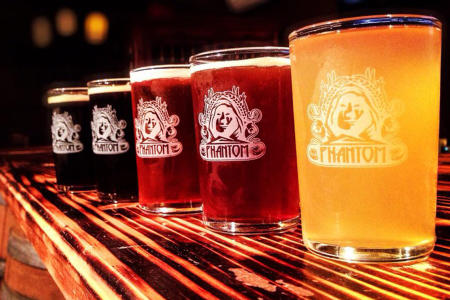 For those looking for some different flavor, there's more than just beer being put into barrels in Anaheim. Pali Wine Co.'s tasting room offers an innovative twist on the urban winery. This Central Coast-based producer brings selections from prized California vineyards into the city.
Phantom Ales offers a wide selection of tasty beers, but also cider and mead (a honey wine) are fermented on-site. Mead can also be sampled at the Honey Pot Meadery, which focuses on this ancient fermented beverage.
Brewery X concocts a selection of hard seltzer made with real fruit. These are perfect for those looking for a lighter, or gluten-free alternative to the typical brew.