Four historic landmarks: The Packing House, Packard Building, Farmers Park, and MAKE Building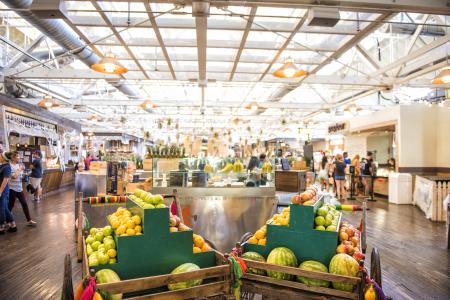 What was once an orange processing plant that has since been rebuilt as the hip food hall now known as the Packing House. The old Sunkist facility dates back to 1919 when citrus was Orange County's main claim to fame. This food hall contains a one-stop sampling of the diverse population, fresh produce, and world-class culinary talents that make Southern California one of the best places to eat in the world.
Coming here for lunch is more than just a meal; it's an experience. Aside from the diverse cuisines available, there are options for food that you simply can't find anywhere else, like The Kroft, where mash-ups like chicken tikka poutine or cheeseburger egg rolls electrify the menu. Have you ever had a Japanese crepe stuffed with Fruity Pebbles? Hit the Crepe Coop and discover a sweet new sensation!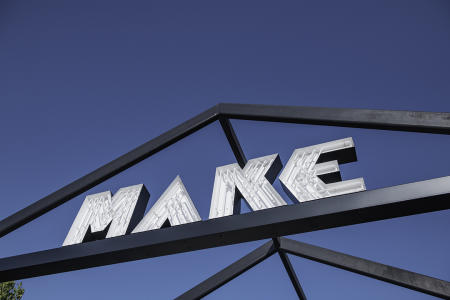 Head down to the MAKE Building, one of the newest additions to the district. Previously a marmalade factory built in 1917, the MAKE Building is now home to local favorites such as Unsung Brewing Company, Pali Wine Company, and Jav's BBQ. 
Stop by the Packard Building, a former car dealership, where you can savor a meal from Umami Burger. Gather with friends for dim sum at 18 Folds, or maybe some farm-to-table comfort food at Poppy and Seed ― just across the way at Farmers Park, where visitors can partake in community yoga, gardening classes, and other special events.
Best of all, the Anaheim Packing District is right around the corner from Downtown Anaheim and only two miles from the Disneyland® Resort, making it an easy and accessible stop to add to your Anaheim adventure. 
206 BCE Noodles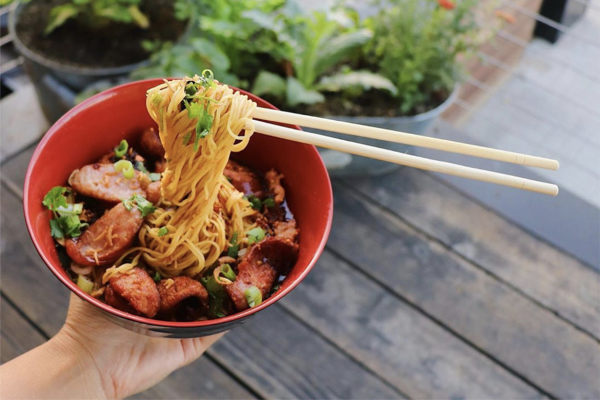 Vietnamese meets Creole with fun Instagram-able menu items such as gravity noodles and Cajun shrimp boil, as well as traditional specialties such as Pho. 206 BCE (Before Common Era) refers to the approximate time when the first documented noodles were being made!
ADYA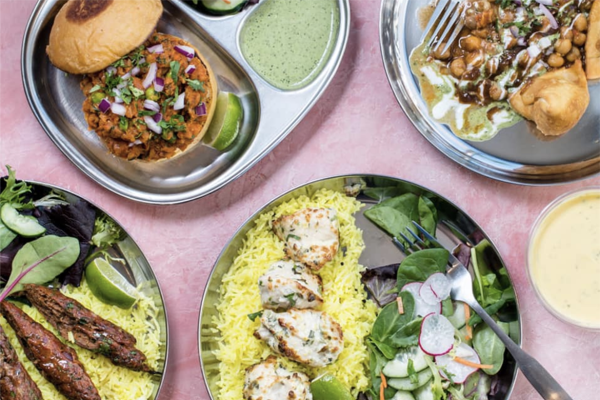 Fresh flavors from ADYA showcase the flavorful street food of India, with their inspiration coming from a variety of bright flavors and textures. Enjoy favorites like their Chicken Tiki Masala or Tandoori Chicken.
Black Sheep GCB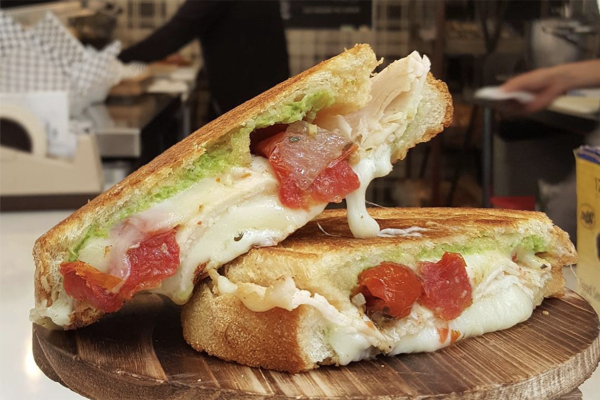 With a huge selection of unique cheeses topped with your choice of bacon, fresh tomatoes, meats, and more, Black Sheep Grilled Cheese Bar makes the only grilled cheese that comes close to mom's grilled cheese.
Georgia's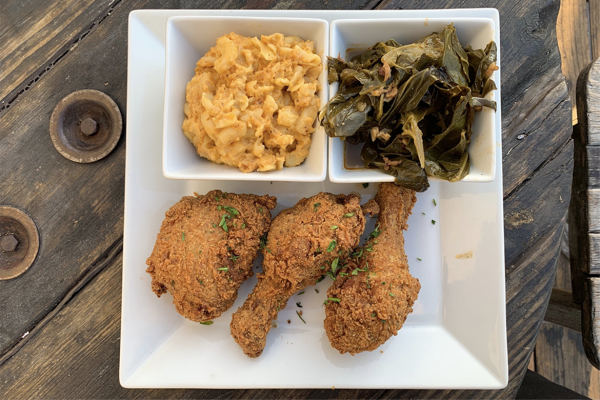 If you're looking for real southern cooked home-style grub, Georgia's has everything you need and more. Fried chicken, mashed potatoes, mac n' cheese, and salads, all served in very "healthy" portions.
Healthy Junk
Healthy Junk serves vegan pizzas plus menu favorites from their first location. Enjoy wood-fired pizzas, sandwiches, and salads, using only plant-based ingredients. Then, escape to a Tibetan wonderland in the backyard of the Anaheim Packing House, an extension of the Healthy Junk family.
Sip on conscious cocktails at the Sacred Junk Bar and get your daily dose of vitamins as this bar puts a spin on classics but adding fresh vegetables, such as beautiful beets and cool cucumbers.
Iron Press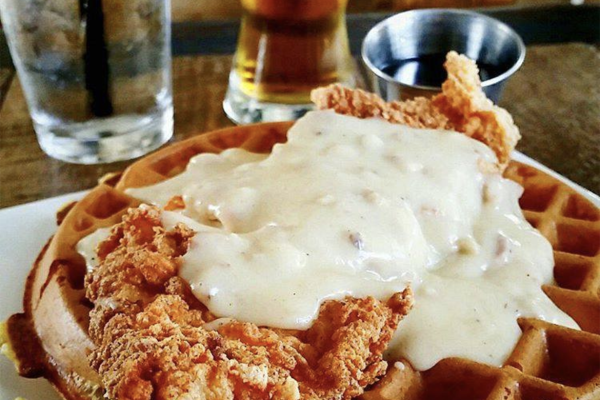 The Iron Press is your one-stop-shop for everything crave-able, with can't-miss dishes like the Pretzel Bites, served with beer cheese sauce and whole grain mustard, the BBQ Burger, and the Spicy Chicken Sandwich.
The Kroft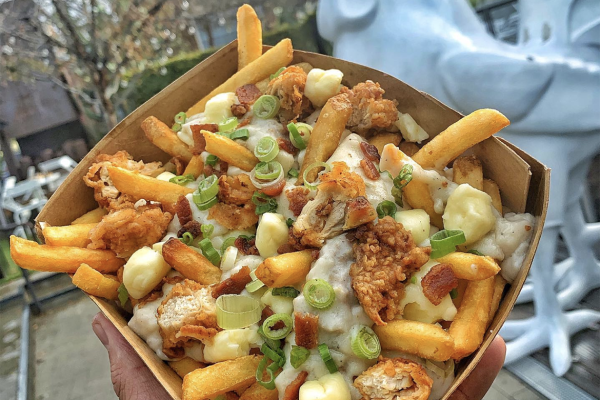 Literally what a foodie's dreams are made of... The Kroft serves over-the-top poutines, out-of-this-world sandwiches, and drool-worthy sides make this location simply can't-miss.
Rolling Boil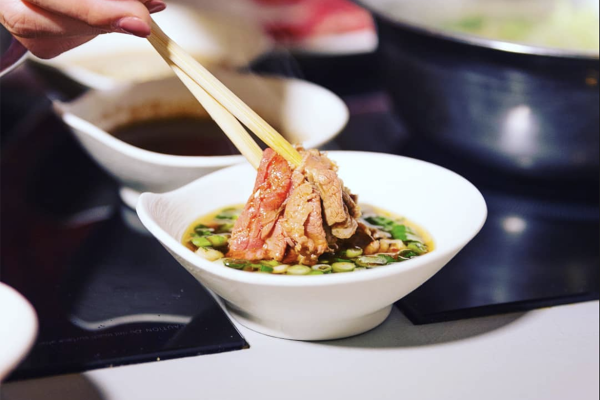 Rolling Boil offers a wide variety of soup broths, from vegetarian to spicy mixes and a multitude of dipping sauces. Pick your garden-fresh vegetables, sliced-to-order meat and start swimming away in a bowl of flavors at Rolling Boil.
Urbana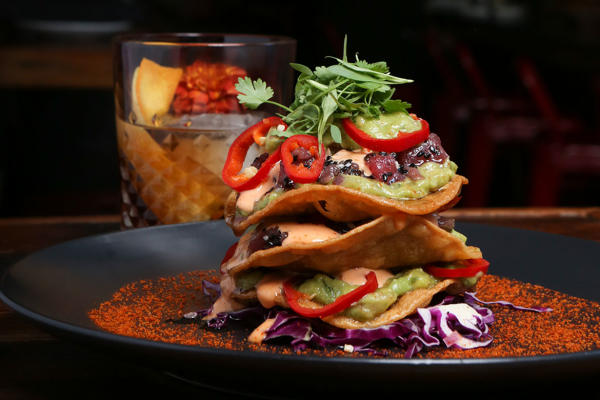 This award-winning restaurant features a menu full of gourmet tacos, chef specials and hand-crafted cocktails. Pair their Spicy Margarita with an Al Pastor and Filet Mignon Tacos to ensure a superb visit at Urbana.
The Blind Rabbit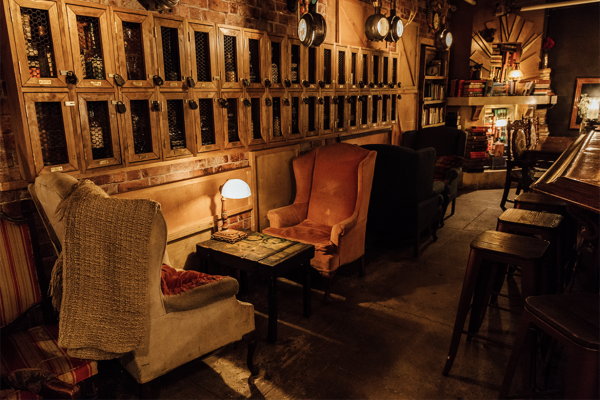 Will you find it? Popularly known as the secret bar behind the bookshelf, The Blind Rabbit is a swanky but low key speakeasy with quality food and handcrafted cocktails.
BXCR Wine Bar
Set in a 1920s vintage railroad car, BXCR is the perfect evening hideaway and showcases some of the finest vino in SoCal.
Hammer Bar
Hammer Workshop & Bar serves delicious craft cocktails and award-winning craft beer, all with an amazing view of the Anaheim Packing House. 
More Packing House Eateries
The Chippy Fish & Grill ― Large, top-quality cuts of fresh fish are dipped in a special ingredient batter and served up crisp, golden brown covering piping hot. 
Kettlebar ― Serving up southern seafood comfort, indulge in a magical dish known as Pan Roast, a spicy, creamy tomato-based stew filled to the brim with lobster, crab, shrimp, chicken and andouille sausage, served with a luscious mound of rice and fresh-baked bread to soak it all up.
Mangal by Aleppo's Kitchen ― For authentic Syrian food, grab an order of their Shawerma or Falafel plates.
White Elephant ― New to the Packing House as of September 2020 with a delicious take on Thai food. Be sure to give them a warm Anaheim welcome during your next visit.