Home to authentic Vietnamese cuisine and locally-owned restaurants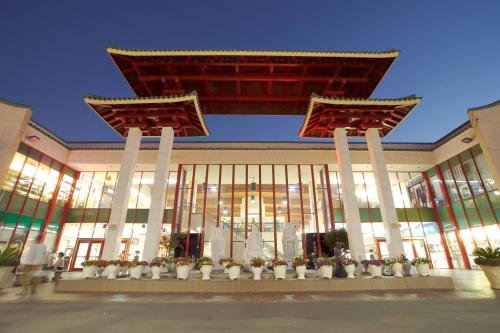 Little Saigon is a collection of Orange County neighborhoods where many in the Vietnamese community call home.
Conveniently located just a few miles southwest of Disneyland® and the Anaheim Resort, Little Saigon features entire shopping centers with thousands of specialty shops, restaurants, and Vietnamese-American businesses that you won't want to miss out on while you're here.
A favorite for both visitors and locals alike is pho! There are plenty of restaurants and eateries in and around Little Saigon that serve authentic, delicious pho, and are open for every meal of the day. A few popular options include Pho 79's classic beef pho (phở bò), and Pho Dakao's chicken pho (phở gà).
Pho may be the most famous type of Vietnamese soup, and in our opinion, one of the world's greatest noodle dishes, but there are dozens of other Vietnamese noodle soups that are just as delicious and filling.
As you visit different restaurants across Little Saigon you may come across a tasty Bún riêu (a rice vermicelli served with tomato broth and minced crab), or a delightfully aromatic Bún mắm, which is also known as Vietnamese gumbo. 
If you're in the mood for a snack, Vietnamese bakeries are a must-try treasure. These bakeries take the influence of French pastry in exciting new directions. Counters are lined with freshly steamed buns, fried dough, and colorful desserts. Pair one of these pastries with a cup of strong dark Vietnamese coffee, tempered by syrupy condensed milk for a complete Vietnamese experience.
In addition to the sweet treats, many of these bakeries also specialize in soft, crusty Vietnamese baguettes, with which they make fresh banh mi sandwiches. Stuffed with various meats, cilantro, pickled carrots, and pickled radish, these sandwiches make a popular speedy lunch for locals. Banh Mi Che Cali is a trusted favorite. Several hole-in-the-wall snack shops serve fresh summer rolls, fresh, hot-fried spring rolls, and tasty little meat pies as well.
If you're ready for a sit-down dinner, there are many terrific places to experience the elegance of a Vietnamese meal. Quan Mii specializes in Bánh xèo, which Southern Vietnamese rice flour crepes, while OC and Lau serve up amazing hot pot and seafood. Perhaps the most famous restaurant in Little Saigon is Brodard Chateau ― a stylish, moody restaurant that is famous for their shaken beef (sautéed cubes of filet mignon). 
The Vietnamese community in Southern California sprawls from Little Saigon and is recognizable all around Orange County.