CATERER FOR THE ANAHEIM CONVENTION CENTER APPOINTS
NEW EXECUTIVE CHEF
Aramark Hires Chef Bernard Foster to Lead Food & Beverage Program for
the Largest Convention Center on the West Coast
ANAHEIM, Calif. (Nov. 07, 2022) – Aramark (ARMK), the exclusive caterer for the Anaheim Convention Center (ACC), hires new Executive Chef, Bernard Foster, to lead a team that serves an average of one million event attendees annually. Chef Foster will bring a diverse and fresh perspective to the ACC by blending fusion foods and traditional cuisine from different cultures to exceed client expectations.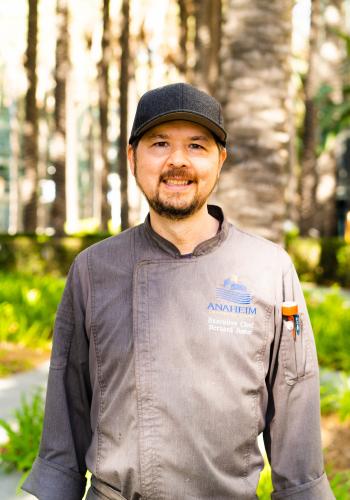 Chef Foster previously held executive chef positions at several Hyatt hotels and has been instrumental on grand opening and renovation teams for numerous hotels worldwide. Through his work, Chef Foster has remained committed to reducing his carbon footprint, and this mission aligns with Aramark's existing sourcing commitments to support local farms by sourcing produce, seafood, and proteins within a 50-mile radius.
"My goal is to provide clients an experience that is true to Anaheim where food is seasonal, sustainable, personable and memorable," said Chef Foster, Executive Chef, Aramark. "We are implementing seasonal menus, providing offerings that reduce waste by incorporating a "menu of the day" and including foods that cater to special dietary needs with plant-based options."
The ACC allows for catering flexibility with options to develop an intimate meal for five people, a plated function for five thousand, or creative concessions for 100,000 attendees. In Anaheim, home to some of the country's largest conventions, attendees can enjoy an unrivaled event experience paired with elevated culinary offerings.
"Food is such an important element of an event experience," said Jay Burress, President & CEO, Visit Anaheim. "When event organizers are considering bringing their business to the ACC, being able to offer them an innovative F&B program that's sustainable, local and seasonal makes Anaheim stand out from other destinations."
For more information on meeting experiences in Anaheim and the Anaheim Convention Center, please go to http://visitanaheim.org/meetings.