Eco Now and Packing District presents 2nd Annual Mother Earth Market
September 6, 2022 – Anaheim, CA – For the second year, a neighborhood zero-waste shop, Eco Now, will team up with Anaheim's historic Packing District to host "Mother Earth Market," (MEM) a mindfulness event, along the shady boardwalk and green at Farmers Park on Saturday, September 17, from 9am until 4pm. "We have so much to offer in the community in way of eco-friendly living, we thought it time to create an event around all the good that is going on in Orange County," says Thea Pauley, Co-Producer of MEM and Founder of Eco Now.
Loaded with free events, the day will begin with a community clean-up organized by Green Bird Anaheim at 9am, starting at Center Street's Eco Now, landing at the event site within Farmers Park. Volunteers who join the flash-mob will receive a stamp redeemable for deals at local merchants including Eco Now and ADYA.
"Litter is a huge problem in our society, and Green Bird gives everyone the opportunity to 'give back'. Our beautiful and fragile planet Earth is the only home we have, so creating a culture of cleanliness and normalizing litter-picking is more important than ever. Joining a Green Bird neighborhood cleanup is a fun and simple act of civil engagement—and once you see the trash, you can't unsee it.  After a one-hour cleanup, we guarantee you'll feel uplifted and inspired to do more. Bring your friends and family and just come as you are. We supply everything you'll need!"  -Kevin Kidney, Green Bird Anaheim Team Leader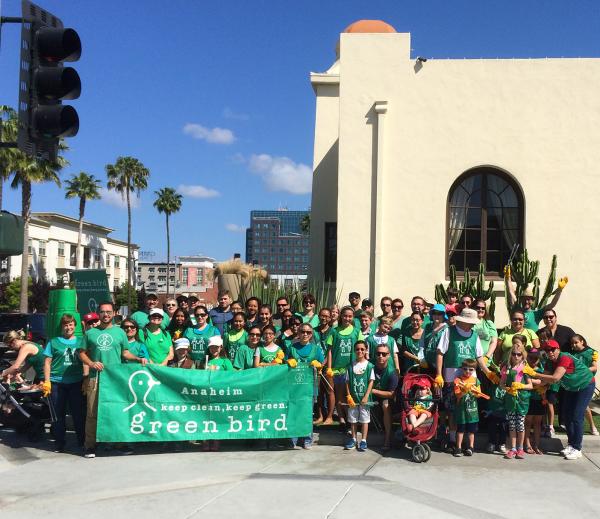 Early birds can partake in a complimentary yoga class at 10am by legendary vinyasa flow instructor, Kumi Yogini, to set the tone of mindfulness before a full lineup of music, classes, and workshops. The vendor village will be open 11am-4pm, where people can shop eco-friendly products, ask questions about zero-waste living and even learn about vermicomposting. A clothing swap and Q&A with local business, Everywhere, will highlight the day as means to provide sustainable solutions and education on fashion consumerism.
Pauley shares a message of hope, "The talk of sustainable solutions is over, where there was once conversation, now resides action. Our community is full of businesses and resources to sustain people and the planet. At Mother Earth Market, patrons can learn about these resources, meet the people driving these modern companies and solutions, and grow their eco-friendly skills. Mother Earth Market is more than a shopping experience, it's a way of life."
To register for workshops and classes, visit Mother Earth Market online,
Mother Earth Market - An Eco-Conscious Event for the Curious .