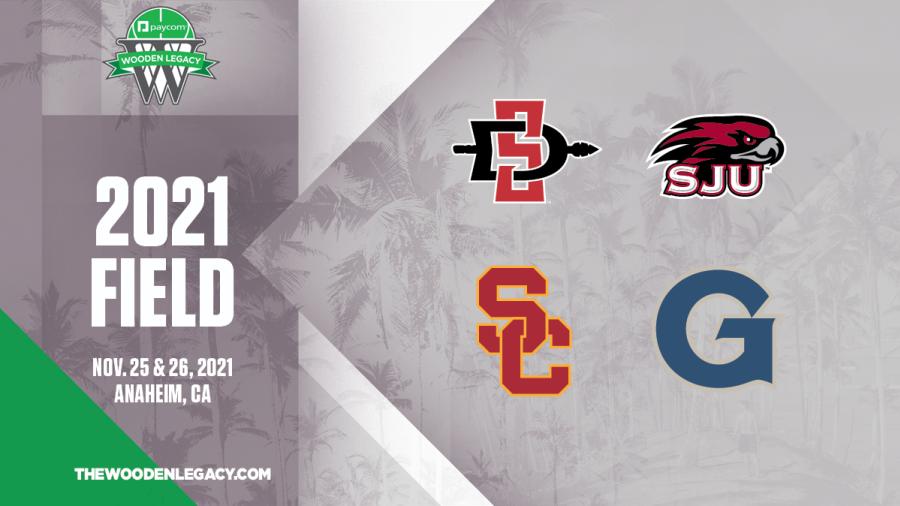 The field for the 2021 Paycom Wooden Legacy, to be played November 25 and 26, at the Anaheim Convention Center, includes Georgetown, Saint Joseph's, San Diego State and USC.
Field Highlights:
Both USC and San Diego State finished last season ranked in the AP Top 25.
The Trojans sported a 25-8 overall record, and advanced to the Elite Eight in the NCAA Men's Basketball Tournament.
San Diego State has been crowned Mountain West's regular-season champion the past two seasons, under head coach Brian Dutcher, who boasts a 96-31 record over the last four seasons for the 10th best win total among NCAA Division I schools during the period.
In the 2021 Big East Tournament, Georgetown defeated Marquette, Villanova, Seton Hall and Creighton to win the conference championship and advance to the NCAA Tournament.
Saint Joseph's won four of their last five games to end last season and enter the 2021-22 season under third-year head coach Billy Lange.
Owned and operated by ESPN Events, matchups and ticket information for the 14th annual event will be announced this summer and will be available at thewoodenlegacy.com.
"Having a long-term partner with ESPN, who continues to see the advantages and desirability in hosting one of its premier college basketball tip-off tournaments right here in Anaheim, is a huge win for our destination," said Jay Burress, Orange Country Sports Commission president. "The OCSC loves being able to bring student-athletes, their families and their fans to our destination to compete in and experience our world-class sports venues."
The four-team, two-day tournament will be played under a new format as compared to the past Paycom Wooden Legacy events where the competition featured a three-day bracket competition during the Thanksgiving week starting in 2007.
USC defeated Southern Illinois 70-45 in the inaugural finals at the Anaheim Convention Center in 2007 and San Diego State won the 2013 Paycom Wooden League by defeating Miami of Florida 67-59 in the finals. The Aztecs and Saint Joseph's both competed in the 2017 Paycom Wooden Legacy, with San Diego State making it to the championship game.
Pac-12 schools have won six of the previous 13 Paycom Wooden Legacy with Cal (2012), Washington (2014), UCLA (2016), Washington State (2017) and Arizona (2019) joining USC (2007) as championship teams. In addition to San Diego State's (2013) title, other Paycom Wooden Legacy winners were Wake Forest (2008), West Virginia (2009), UNLV (2010), Saint Louis (2011), Michigan State (2015) and Seton Hall (2018).
ESPN Events
ESPN Events, a division of ESPN, owns and operates a portfolio of 34 collegiate sporting events nationwide. The roster includes five early-season college football games, 17 college bowl games, 11 college basketball events and a college softball event, which accounts for approximately 400 hours of live programming, reaches nearly 64 million viewers and attracts over 800,000 attendees each year. With satellite offices in more than 10 markets across the country, ESPN Events builds relationships with conferences, schools and local communities, as well as providing unique experiences for teams and fans.
For more information, visit the official website, Facebook, Twitter or YouTube pages.