ANAHEIM, Calif. (June 9, 2023) - Ralph Brennan's Jazz Kitchen® in the Downtown Disney® District has emerged from a remodel, refresh, and rebranding of its iconic, two-story restaurant as Jazz Kitchen Coastal Grill & Patio. Building on two decades of tradition, the fun, modern, casual restaurant fuses its authentic New Orleans roots with its adopted California influences. The adjacent Beignets Expressed counter-service offering replaces Jazz Kitchen Express.
Jazz Kitchen Coastal Grill & Patio's updated concept, image, and design intentionally weave in California's light and inviting vibe with inspiration drawn from the vibrant sunsets on the Gulf and Pacific coasts expressed in bright oranges, rosy pinks, and golden hues. The restaurant's interiors are designed to create a residential feel, with distinct aesthetics in the Gulf, Sunset Parlor, and Queen's Rooms, each having a unique design and color palette. Artists and artisans from New Orleans and California were commissioned for decorative art, and custom lighting, fabrics, and wall coverings.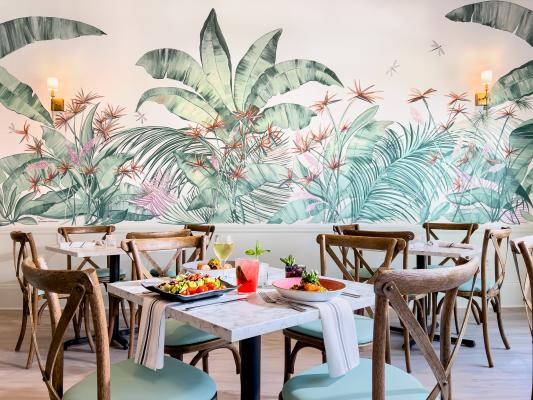 Exterior design takes inspiration from the beach communities of Corona Del Mar and Gulf Coast beachside estates. It features open-air dining areas on both the upper and lower levels, creating a lush, energetic, and spacious ambiance. This design allows cool breezes to flow through, evoking the feeling of lingering on an oceanfront veranda. Open-air ground floor patios are surrounded by decorative planters of native California florals. An inviting seafoam-colored custom inlaid tile welcome mat proclaims Ralph Brennan's Jazz Kitchen was established in New Orleans in 2001 and reimagined in California in 2023.
A two-story mural affixed to the building's west side was inspired by Santa Monica Boardwalk street art. On the interior patio, a playful wall mural in vibrant sunset colors spells out the word Jazz – with the dining experience enhanced every evening with a strolling musical ensemble playing multiple genres of jazz.
On the restaurant's all-day menu, long-time fan favorites are elevated and expanded alongside exciting new selections, including Lobster & Crawfish Sliders, Chile-Spiced Honey Glazed Grilled Salmon, and Gumbo LA-LA filled with succulent seafood that welcomes a California sensibility. A grill expansion buoys cuisine from the two coasts featuring a Grilled Open Faced Lobster BLT Po-Boy as a shared appetizer and "Reef & Beef", a delectable entrée of grilled shrimp and braised short ribs with creamy grits, green tomato chow chow, and chile-garlic butter sauce. The contemporary menu and enhanced presentations pair perfectly with the newly expanded wine list, focusing on the best vintners of California, and seasonal, seaside-style cocktails.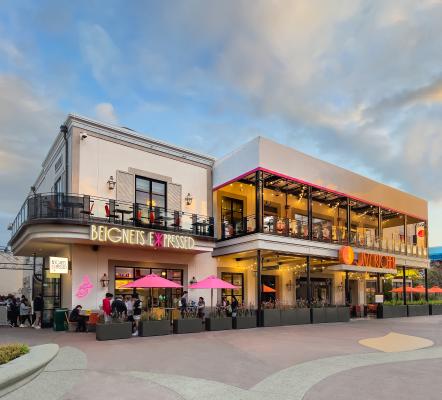 The adjacent quick-service venue has been reimagined as Beignets Expressed, a fast, friendly, and fun counter-service spot, bestowing the much-loved New Orleans confection with its own stage and star billing. At Beignets Expressed, the unique New Orleans doughnuts are prepared and served classically (fried and topped with heaping mounds of powdered sugar) and as specialty glazed beignets, dipped, drizzled, and sprinkled in many delicious flavors. Signature and seasonal glazed selections include Snickerdoodle, Cookies & Cream, Campfire S'more, Fruity Cereal, and New Orleans fan-favorite, Bananas Foster. Seasonal and thematic riffs on beignets are welcomed surprises!
Jazz Kitchen Coastal Grill & Patio is owned and operated by Ralph Brennan, a third-generation restaurateur who is the proprietor of five additional independent restaurants, a bakery, and a catering company in his hometown of New Orleans. His flagship restaurant Brennan's, New Orleans was named a Finalist by the James Beard Foundation Awards for Outstanding Restaurant in 2022; one of the "50 best dining experiences in America" by The New York Times, and The Grand Award, the highest honor given to a restaurant for an exemplary wine program by The Wine Spectator. 
Jazz Kitchen Coastal Grill & Patio is open daily from 11 am – 10 pm / 10:30 pm on Friday & Saturday.
Beignets Expressed is open daily from 9 am – 10 pm / 10:30 pm on Friday and Saturday.
Project Partners are Carlisle Coatsworth Architects, HA Builders Inc., Webb FoodserviceDesign, FOODTHINgK, + Helico Studio.
For More Information: Simone Rathle | simoneink, llc | simone@simoneink.com