We're fermenting good times here in Anaheim. With dozens of craft breweries in town, Anaheim has made a name for itself as a beer-cation destination. Whether you're a local looking for a new brew or a visitor vying for views, consider this your guide to your new favorite breweries with outdoor seating.
Golden Road Pub OC
If you could bottle California vibes, they'd come with a Golden Road label. The LA-based brewery opened a pub in Anaheim, directly across from the Big A. The expansive outdoor seating offers a laid-back atmosphere best enjoyed with a Wolf Pup Session IPA or Mango Cart. Head over on game days to watch the Angels on the LED screen.
2210 E. Orangewood Ave., Anaheim
Brewery X
No map is needed to find La Palma Beer Trail's Brewery X. A collaboration of professional brewers and beer lovers has yielded locally brewed options with a range of flavors for every palette. Curbside pick-up is available, as is the colorful Biergarten patio. Pair your pint with a pizza slice on the patio, where kids and pets are welcome.
3191 E. La Palma Ave., Anaheim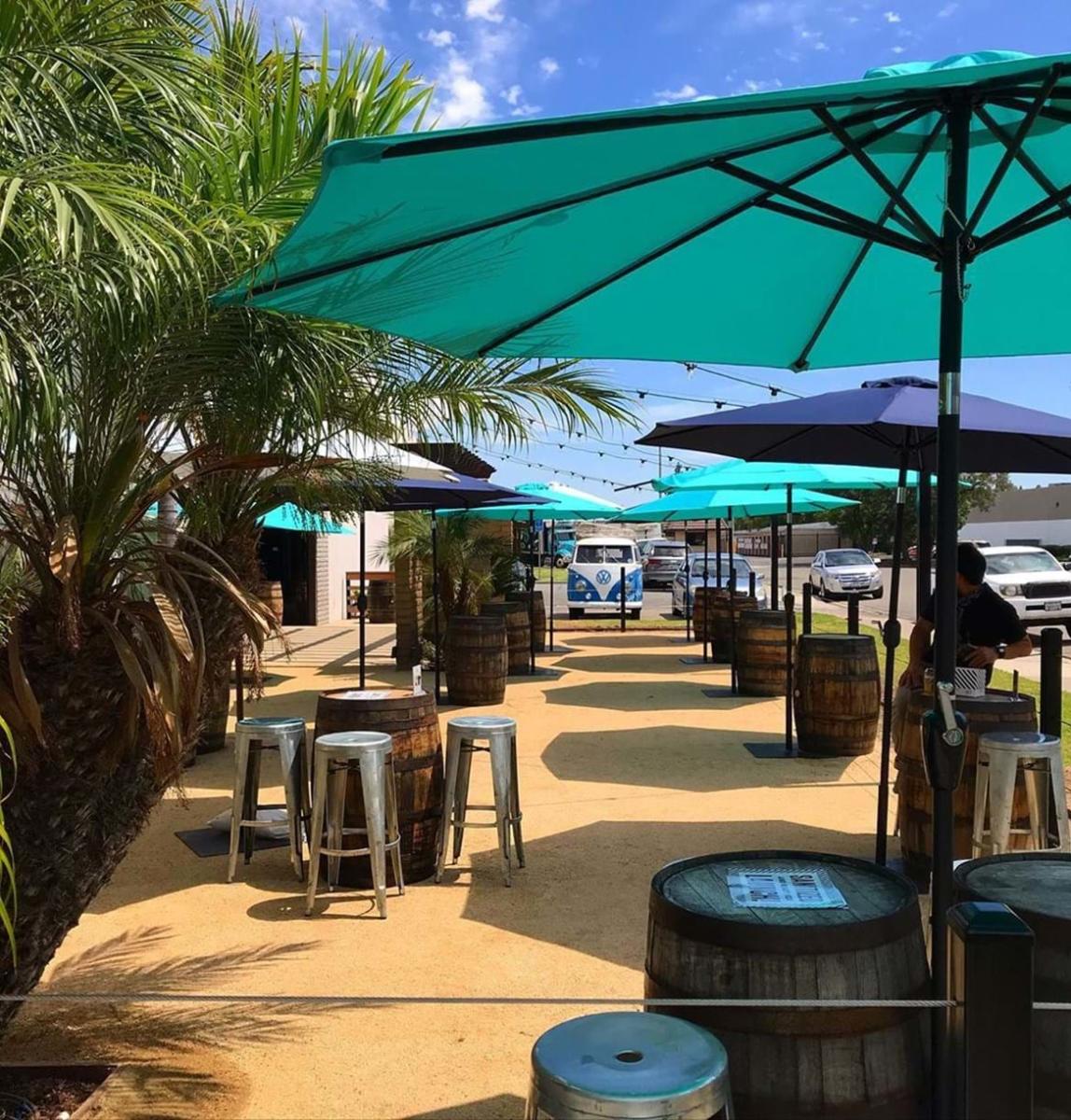 PC: @zuko_vw, Instagram
Bottle Logic Brewing
Welcome, fellow innovators to Bottle Logic Brewing. The science theme lends itself perfectly to taste testing high-quality craft beer. You can't go wrong with the imperial vanilla stout named Fundamental Observation, but look for new beers popping up on their draft menu. Get out of the lab and into the sunshine on Bottle Logic's expanded patio and reinvented tasting room.
1072 N. Armando St., Anaheim
Unsung Brewing Company
Their name is Unsung, but we're happy to sing their phrases. Unsung Brewing Company is a superhero-themed brewery that ensures that good beer prevails with options like the crisp Buzzman or fruity IPA Megaplex. The not-so-secret lair of Unsung Brewery is in the MAKE Building in CtrCity Anaheim. An eclectic garden invites do-gooders and beer drinkers to enjoy the outdoors. You can also enjoy covered seating with your trusty sidekicks at picnic tables next to a wall of illuminated wine bottles.
500 S. Anaheim Blvd., Anaheim
Beachwood Brewing at SteelCraft Garden Grove
Untap flavors at Beachwood Brewing at SteelCraft Garden Grove. Repurposed shipping containers form a common space for a number of unique eateries including the offshoot of Beachwood BBQ. The outdoor urban eatery has covered patios making it a great option for bites and brews like the West Coast-style IPA, Amalgamator or blonde ale, Foam Top.
12900 S. Euclid St., Garden Grove