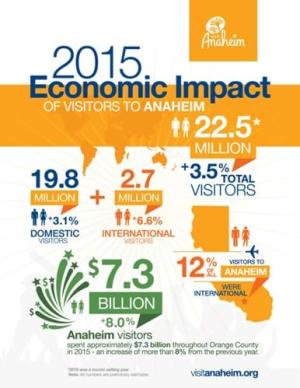 Visit Anaheim president and CEO Jay Burress today announced that both Anaheim and Orange County set a new visitor volume record, welcoming an estimated 47.3 million visitors to the Southern California destination. Visitor volume and spending data for 2015 has yet to be finalized, but reports indicate that Anaheim welcomed 22.5 million visitors, up 3.5 percent from 2014, capping nearly 30 percent growth since 2011. Last year marks the third visitor volume record-breaking year in a row for Anaheim and the second year in a row for Orange County. 
 Visit Anaheim, the official destination marketing organization (DMO) of Anaheim and Garden Grove, reports that Anaheim's visitors alone contributed $7.3 billion to the Orange County economy, up 8 percent from the previous year. Tourism spending was up across the county totaling $11.3 billion, a sharp rise of 6.3 percent.
"Anaheim's rebirth is in full swing," said Jay Burress, president & CEO, Visit Anaheim. "The preliminary visitor data clearly indicates that tourists are coming to our destination in droves for the unexpected, magical experience only Anaheim can offer. Anaheim's transformation has opened the door to so many new visitors from all around the world, coming here for their first or 60th time. The massive development happening all around the city has positioned us to welcome even more visitors in the upcoming years - adding diverse hotel offerings, more family-friendly activities, exciting nightlife outposts and public transportation options."
In 2012, the Anaheim visitor industry recovered to the 2007 prerecession peak and continued to experience record growth through 2015. During the last five years, Anaheim's total visitor volume rose nearly 30 percent, and total visitor spending jumped 59 percent. 
The domestic travel market made steady gains in 2015, with 3.1 percent more visitors coming to Anaheim and 2.3 percent more countywide. However, the biggest gain was seen from international visitors. Tourists from international locations accounted for a total of 2.7 million visitors to Anaheim in 2015 (12 percent of all visitors) and 4.3 million in Orange County; a rise of 6.6 percent and 5.5 percent respectively.
About Visit Anaheim: 
Founded in 1961, Visit Anaheim is a 501(c)(6) nonprofit destination marketing organization. Visit Anaheim's mission is to develop, market, and sell Anaheim to benefit the economic vitality of its neighborhoods. To learn more about Visit Anaheim, visit: www.visitanaheim.org and follow us on Facebook, Twitter, Instagram, and LinkedIn.
###