Nicknamed the "Downtown of Orange County," Santa Ana is brimming with richly diverse experiences. Come walk the lively streets of our historic downtown. Bask in the colors of vibrant murals and art, savor the flavors of authentic cuisine, and explore a world of experiences at our famed festivals.
Only in Santa Ana
The Santa Ana Zoo focuses on the animals and plants of Central and South America. The 20-acre plot of land is home to over a dozen species of primates, birds, felines, amphibians, horses, camels, cows, chickens, and more. There is also a playground, carousel, Ferris wheel, and even a train ride.
For lovers of science young and old, Discovery Cube has been a local and county staple since 1998. Visitors can spend hours exploring the various hands-on exhibits and STEM attractions that are designed to spark curiosity in all — but especially the little ones.
Visual Appeal
Santa Ana's art scene stands out with its dedication to edgy and eclectic work. Museums and galleries alike spotlight BIPOC and LGBTQ artists and represent a wide range of artistic styles, from avant-garde performance art to more traditional fine art.
The Bowers Museum focuses on how art influences cultures around the world. Permanent exhibits look at art and artifacts from California, the Pacific Islands, Mexico, and China.
Cal State Fullerton's College of the Arts partners with the City of Santa Ana to run the Grand Central Art Center anchoring the Second Street Promenade. Three galleries, a video project gallery, and a project wall feature contemporary and socially relevant artwork, installations, and performances.
The Orange County Center for Contemporary Art hosts solo exhibits, as well as group shows built around themes like car culture, music, and architecture in art.
Like a living, city-sized art museum, Santa Ana proudly displays one of the most extensive collections of murals in Southern California, over 200! Starting with the Chicano movement of the 1960s, artists began painting massive images that commemorate the city's colorful, multicultural heritage. Pay attention as you explore, it's not uncommon to find them in alleys, on the sides of buildings, doorways, electrical utility boxes, and even entire city blocks.
So Much Yum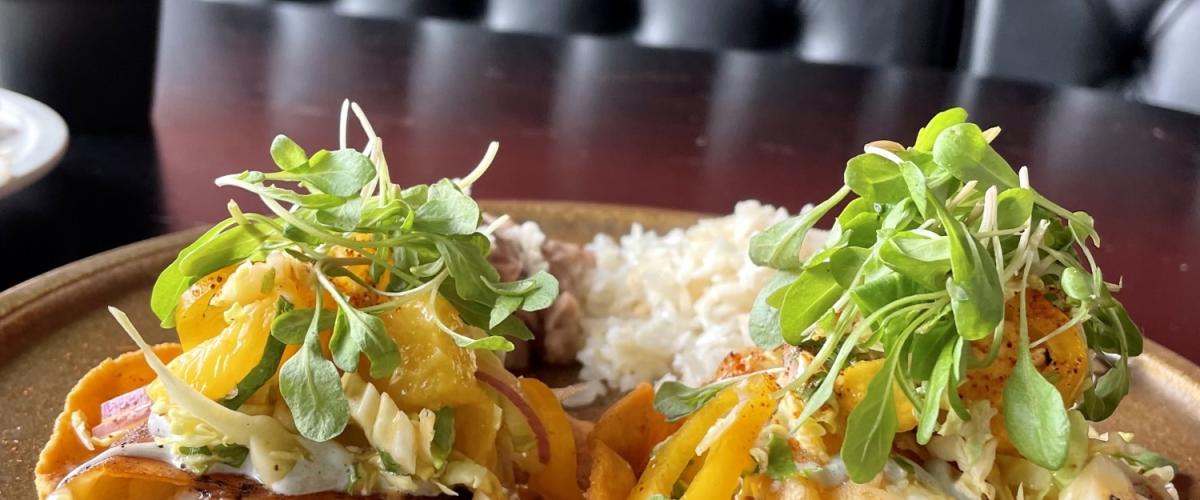 Tacos are not just for Tuesdays anymore; Santa Ana is home to the most sought-after and followed taquerias, from al pastor to birria to baja fish. Former Orange County Register food critic named the "50 Best Tacos in Orange County," not surprisingly 20 of them are in Santa Ana!
For truly elevated dining experiences, Omakase by Gino (OMG) isn't just a meal — it's an entire experience of the freshest nigiri, sashimi, and sushi. This highly coveted dining destination only seats 10 people at a time and books up quickly.
El Mercado Modern Cuisine is like walking into a cozy Mexico City gastropub, where bites and drinks are just as stunning to look at as they are to enjoy. Try the aguachile with razor-thin slices of cucumber piled into beautiful fractal art with shrimp, chilis, and avocado.
There is so much to do in Santa Ana. Join the fun!
There is so much to do in Santa Ana. Join the fun!
A hub for adventure seekers, foodies, and history buffs, make Buena Park your next destination. 5 minutes from the Disneyland ® Resort, Buena Park is centrally located in northern Orange County. The entertainment hotspot is a must-visit for those looking to add hair-raising thrills, delightful dishes, and historical interest to their itineraries.
Located just minutes from famous Orange County beaches, Costa Mesa welcomes you with a vibrant array of performing arts and public art on display, a killer foodie scene and diverse shopping, from the world's top fashion designers to unique local goods.
Dana Point remains an overlooked treasure in Southern California. While the state is known for its fast-paced cities and thrilling attractions, Dana Point is where you go for a more relaxed pace of travel. You can walk along the beaches that surround the quaint village that has sprung up around them.
Just on the other side of Anaheim's Harbor Boulevard lies Garden Grove. Garden Grove is a vibrant Southern California city in the middle of all the action.
There are many great surf towns on the Orange County coast, but few are as famous as Huntington Beach. In fact, Huntington Beach, also known as Surf City USA, hosts the annual Vans US Open of Surfing.
Welcome to Irvine, California! The urban community is often recognized for livability, with planned communities, globally inspired cuisine, and plein-air shopping. It's also a wonderful destination for travelers who want to be at the heart of it all. John Wayne Airport (SNA) is conveniently located just minutes from most of Irvine hotels.
A trip to Orange County isn't complete without a visit to Laguna Beach. Laguna is a refined upscale beach city, regularly listed as one of the most desirable places to live in the United States. It's the Hollywood star residents and their ocean-view mansions that have earned this area's nickname, "The Gold Coast."
From strolling around Balboa Island grabbing a frozen banana to basking in the seaside charm, Newport Beach is Orange County's most family-friendly beach city.
Just across the Santa Ana River is the City of Orange, a unique piece of city planning. The center of the city is situated around a roundabout and is shaped like, you guessed it, an orange! The circle surrounds Plaza Park, which is the heart of Orange and the site of the annual Orange International Street Fair.
While Orange County is one of the most urbanized parts of California, San Clemente is where the development takes a little break. Here, the Pacific Coast Highway enters a long stretch of emptiness and the traffic of I-5 becomes a bit more relaxed. The beaches here are less crowded, have great surfing, are relatively quiet and many feature seaside campsites.
The San Juan Capistrano Mission was the first European settlement in what is now the state of California, back when it was still New Spain. You could say, this mission is where the story of the state as we know it began and history buffs won't want to skip a visit to this historic settler church.
Seal Beach is the first taste of Orange County that travelers get when they are driving down the coast. Just off the Pacific Coast Highway, visitors can catch a glance at the iconic wooden Seal Beach Pier and head straight to Main Street, which features dozens of shops and eateries along a picturesque strip that's just a few blocks long.