From strolling around Balboa Island grabbing a frozen banana to basking in the seaside charm, Newport Beach is Orange County's most family-friendly beach city.
Fun for All
The kids will love a trip on the ferry to the Balboa Peninsula, where they are dropped off right in front of the Balboa Fun Zone. This classic amusement park is centered around a Ferris wheel that offers a birds-eye view of the ocean and harbor. From there, families can learn about marine life at the Discovery Cube's Ocean Quest, and then walk the pier or spend some time on Balboa Beach soaking up the sun. Don't miss the ocean-fresh seafood available around the harbor. Visitors can also explore the harbor aboard a Duffy Electric Boat. Every rental boat has a full, overhead canopy, all-weather operational window enclosures, and a stereo system complete with Bluetooth connectivity for playing your favorite tunes.
Make a Splash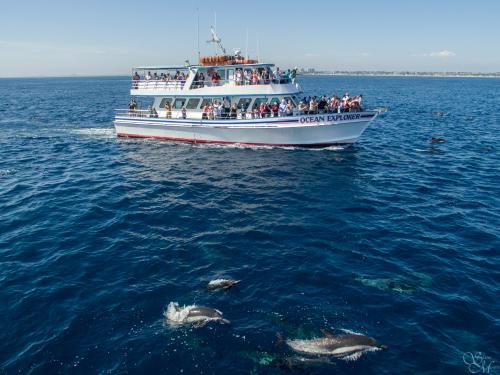 Just up the Peninsula is Newport Beach and its long wooden pier that locals love to fish from. The beaches here are pristine and are well-known surfing spots. It's a comfortable walk into the shops and bars from here.
As you go inland, the Newport Bay becomes the Upper Newport Bay Nature Preserve, a tranquil bird sanctuary in the middle of bustling Southern California. The Peninsula ends in a point that is known as "The Wedge," which is one of the most famous surf beaches anywhere on the coast. Right across the Corona del Mar Bend is Corona del Mar State Beach, which offers fire-pits and world-class surfing on a pristine beach.
Inland from Corona Del Mar's beaches is the sanctuary of the Sherman Library and Botanical Gardens. This conservatory and botanical garden inspire the intellect and imagination with its acres of exotic plants and collection of artifacts from the Pacific Southwest. 
If you're looking for whale watching excursions, there are plenty of options that are professional and experienced. Newport Landing Whale Watching and Davey's Locker Whale Watching & Sportfishing are great choices. 
Hornblower Cruises is an experienced operator for a luxury cruise Newport Beach is known for. Cruise Newport is another veteran operator with a great reputation. These excursions offer magical sunsets views and exceptional views of the Southern California coast. 
Visitors can also take the Catalina Flyer to visit Catalina Island for the day. The ferry departs Newport Beach at 9:00 AM and leaves Catalina Island at 4:30 PM every day.
A Fashion Statement
For shopping, don't miss Fashion Island at Newport Center, where high-end retail and great restaurants are perched upon a hillside with dramatic coastal views. This mall-in-the-round is mostly outdoors, so it makes for shopping with a stroll. It is right around the corner from Newport's best beaches, so it's easy to hit your favorite designers between the day's activities.
There is so much to do in Newport Beach. Join the fun!
There is so much to do in Newport Beach. Join the fun!
A hub for adventure seekers, foodies, and history buffs, make Buena Park your next destination. 5 minutes from the Disneyland ® Resort, Buena Park is centrally located in northern Orange County. The entertainment hotspot is a must-visit for those looking to add hair-raising thrills, delightful dishes, and historical interest to their itineraries.
Located just minutes from famous Orange County beaches, Costa Mesa welcomes you with a vibrant array of performing arts and public art on display, a killer foodie scene and diverse shopping, from the world's top fashion designers to unique local goods.
Dana Point remains an overlooked treasure in Southern California. While the state is known for its fast-paced cities and thrilling attractions, Dana Point is where you go for a more relaxed pace of travel. You can walk along the beaches that surround the quaint village that has sprung up around them.
Just on the other side of Anaheim's Harbor Boulevard lies Garden Grove. Garden Grove is a vibrant Southern California city in the middle of all the action.
There are many great surf towns on the Orange County coast, but few are as famous as Huntington Beach. In fact, Huntington Beach, also known as Surf City USA, hosts the annual Vans US Open of Surfing.
Welcome to Irvine, California! The urban community is often recognized for livability, with planned communities, globally inspired cuisine, and plein-air shopping. It's also a wonderful destination for travelers who want to be at the heart of it all. John Wayne Airport (SNA) is conveniently located just minutes from most of Irvine hotels.
A trip to Orange County isn't complete without a visit to Laguna Beach. Laguna is a refined upscale beach city, regularly listed as one of the most desirable places to live in the United States. It's the Hollywood star residents and their ocean-view mansions that have earned this area's nickname, "The Gold Coast."
Just across the Santa Ana River is the City of Orange, a unique piece of city planning. The center of the city is situated around a roundabout and is shaped like, you guessed it, an orange! The circle surrounds Plaza Park, which is the heart of Orange and the site of the annual Orange International Street Fair.
While Orange County is one of the most urbanized parts of California, San Clemente is where the development takes a little break. Here, the Pacific Coast Highway enters a long stretch of emptiness and the traffic of I-5 becomes a bit more relaxed. The beaches here are less crowded, have great surfing, are relatively quiet and many feature seaside campsites.
The San Juan Capistrano Mission was the first European settlement in what is now the state of California, back when it was still New Spain. You could say, this mission is where the story of the state as we know it began and history buffs won't want to skip a visit to this historic settler church.
Nicknamed the "Downtown of Orange County," Santa Ana is brimming with richly diverse experiences. Come walk the lively streets of our historic downtown. Bask in the colors of vibrant murals and art, savor the flavors of authentic cuisine, and explore a world of experiences at our famed festivals.
Seal Beach is the first taste of Orange County that travelers get when they are driving down the coast. Just off the Pacific Coast Highway, visitors can catch a glance at the iconic wooden Seal Beach Pier and head straight to Main Street, which features dozens of shops and eateries along a picturesque strip that's just a few blocks long.