Vegan & Vegetarian
The wonderful vegetarian and vegan restaurants Anaheim has to offer, cater to specific diets without giving up flavor. While most restaurants across all cuisines offer some vegetarian and vegan-friendly options, there are plenty of pure plant-based restaurants that will satisfy even the biggest meat-eaters in your group and sure to tantalize your taste buds.
ADYA
Located on the top floor of the Anaheim Packing House, ADYA offers a harmony of fresh Indian flavors in an authentic style. The menu showcases fare influenced by all regions of India, combining traditional styles of cooking with the fresh produce found here in California. On the menu, there are savory Stuffed Eggplant, Jackfruit Curry, and salads, as well as curries and tandoori specialties like naan and kebabs. Vegetarians can easily be accommodated here with cuisine that is bursting with flavor.
They serve craft beer, have a creative wine list and guests can dine inside, or outside on the private boxcar covered patio. 
Located at 440 S. Anaheim Boulevard
Healthy Junk
This vegan and vegetarian hangout can also be found inside the Anaheim Packing House (with a second location at Center Street Promenade).
Popular Healthy Junk items include curly yam fries and their kale chips. They also prepare tacos, a delightful Portobello mushroom burger, and many more tasty dishes. The Mango Tango Salad gets rave reviews as well.
Indoor seating is super spacious, and there's an outdoor patio, as well. The food is presented in more of a 'take out' style, which is just fine. Oh, and don't sleep on the chocolate chip cookies.
Located at 440 S. Anaheim Boulevard
FiRE + iCE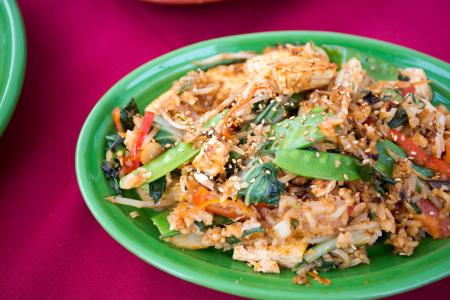 Located at the Anaheim GardenWalk, FiRE + iCE showcases an incredible variety of food, cooked fresh to order on an open grill. Their pro-grillers cook Latin, American, Asian, and Italian cuisine to each guest's requests, while they watch all the action. This is perfect for those who like to participate in what ingredients are used in their cuisine. Whether the request is for vegetarian, vegan, gluten-free, or paleo, they can gladly accommodate anyone's needs. One of the most popular dishes among their vegan guests is the colorful tofu and vegetable bowl, made with shredded carrots, red cabbage, bok choy, bamboo shoots, and delicate baby corn. This is served with a sweet chili sauce for those who like to add a bit more heat.
Located at 400 W. Disney Way
Thuyền Viên Restaurant
For vegans, vegetarians, and those who enjoy Vietnamese cuisine, Thuyền Viên does not use any animal products in their cooking and are proud to explain how things are prepared. Just a few of their most popular items: Bo Bun Hue is a tofu cube and noodle soup with vegetables in a rich broth. The Kung Pao Chicken (made with tofu), Pumpkin Curry, Spring Rolls with soy shrimp, and " jicama Spring Rolls as well. Open for dinner Monday through Friday, but open for lunch + dinner on the weekends.
Located at 1740 S. Euclid Street
True Seasons Kitchen
Serving shabu-shabu (or hot pot) and Asian fusion cuisine, True Seasons Organic Kitchen caters to true vegans and vegetarians, by only using non-GMO ingredients in the kitchen. Be sure to order one of their delicious vegan wraps (with or without tofu), served with organic edamame and miso soup, organic veggies, brown rice, wrapped in an organic flour wrap, and served with house-made pomegranate and sesame sauces.
Located at 5675 E. La Palma Avenue
Kareem's Falafel
Kareem's Falafel features Middle Eastern cuisine and some wonderful vegan options. There is kousa mahshi (stuffed Lebanese zucchini), molokhia (Egyptian vegetable stew), green bean casserole, and mujadara (a savory vegetarian dish with dried lentils and bulgur wheat). Their staff is friendly, welcoming, and the menu choices are aplenty. They also serve beef, lamb, and chicken for those who are not vegan.
Located at 1208 S. Brookhurst Street
Tana Ethiopian Restaurant
Tana Ethiopian Restaurant is a true vegetarian restaurant that serves both lunch and dinner six days a week. Friendly staff is happy to help those who need assistance in navigating their incredible menu of fresh, colorful cuisine. Their highly recommended Vegetable Special offers a bevy of 15 different vegetarian stews to spread around the plate and is served with Injera bread for dipping.
Located at 2622 W. La Palma Avenue