Huntington Beach
There are many great surf towns on the Orange County coast, but few are as famous as Huntington Beach. In fact, Huntington Beach, also known as Surf City USA®, hosts the annual Vans US Open of Surfing. The open is the world's largest surf competition and lifestyle festival showcasing, world-class surfing, skateboarding and BMX competitions, movie premieres, and more.
Main Street is lined with the Surfing Walk of Fame, a beachside answer to Hollywood Boulevard. The many surfing schools scattered around Downtown make Huntington a perfect place to get out there and ride the waves.
Beachy Vibes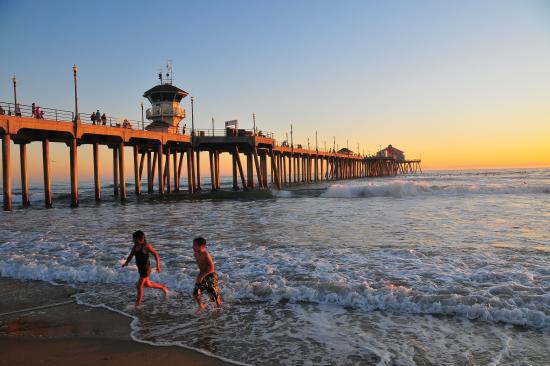 Beachfront lounges, lively breweries, distilleries, and having cocktails on the sand ― Huntington is one of the best party spots in Orange County, maybe in all of Southern California. While its bars are legendary there is a lot more to do here than just bar-hopping. 
For beautiful views, you will want to visit Downtown Huntington Beach, situated just across the Pacific Coast Highway from the majestic Huntington Beach Pier. Here you can also explore the Surf City Nights Certified Farmers Market every Tuesday evening on Main Street.
If you want to get away from the city buzz, check out Huntington Harbor. This gorgeous system of man-made islands has bars and restaurants like Downtown but with a quieter feel. Have a brew at the bayside Golden Road Brewery Huntington Beach.
Just a few miles down Pacific Coast Highway from the harbor, is the Bolsa Chica Ecological Reserve, an area of unspoiled coastal wetland that is a paradise for birdwatchers. The three-mile Bolsa Chica State Beach is one of the most popular spots for surfing on the West Coast, and it makes an inspiring beach walk. The Santa Ana River that separates Huntington Beach from Newport Beach has a walking trail running alongside it, the Santa Ana River Trail. Serious walkers or runners can take it all the way back to Anaheim. 
Cultural Snapshots
More than just a gallery, the Huntington Art Center is a wonderful place to observe art. It's a well-rounded center for arts and culture, offering a full program of affordable classes and stunning exhibitions. 
Pacific City Huntington Beach is one of the most fun shopping experiences you could imagine. This is a shopping center with a relaxed but refined California feel. The facilities include boutique designers, local restaurants and breweries, and spas. Like most Huntington Beach attractions, Pacific City sits right across from the ocean, making it a classic road trip stop for anyone traveling through Orange County. 
Dana Point remains an overlooked treasure in Southern California. While the state is known for its fast-paced cities and thrilling attractions, Dana Point is where you go for a more relaxed pace of travel. You can walk along the beaches that surround the quaint village that has sprung up around them.
Just on the other side of Anaheim's Harbor Boulevard lies Garden Grove. Garden Grove is a vibrant Southern California city in the middle of all the action.
A trip to Orange County isn't complete without a visit to Laguna Beach. Laguna is a refined upscale beach city, regularly listed as one of the most desirable places to live in the United States. It's the Hollywood star residents and their ocean-view mansions that have earned this area's nickname, "The Gold Coast."
From strolling around Balboa Island grabbing a frozen banana to basking in the seaside charm, Newport Beach is Orange County's most family-friendly beach city.
Just across the Santa Ana River is the City of Orange, a unique piece of city planning. The center of the city is situated around a roundabout and is shaped like, you guessed it, an orange! The circle surrounds Plaza Park, which is the heart of Orange and the site of the annual Orange International Street Fair.
While Orange County is one of the most urbanized parts of California, San Clemente is where the development takes a little break. Here, the Pacific Coast Highway enters a long stretch of emptiness and the traffic of I-5 becomes a bit more relaxed. The beaches here are less crowded, have great surfing, are relatively quiet and many feature seaside campsites.
Seal Beach is the first taste of Orange County that travelers get when they are driving down the coast. Just off the Pacific Coast Highway, visitors can catch a glance at the iconic wooden Seal Beach Pier and head straight to Main Street, which features dozens of shops and eateries along a picturesque strip that's just a few blocks long.