Orange County, California-Based Great Maple Now Open at the Soon-to-Be Pixar Place Hotel
ANAHEIM, Calif. (November 15, 2023) – Today, Great Maple opens its doors in Anaheim, marking the restaurant group's debut as the culinary operator for the future Pixar Place Hotel at the Disneyland Resort. The property, currently Disney's Paradise Pier Hotel, is now under renovation to become Pixar Place Hotel, officially transforming on Jan. 30, 2024. Orange County, California-based modern American eatery, Great Maple, joins the reimagined property as its three-meal restaurant, offering elevated comfort food and fresh takes on American classics for breakfast, lunch, and dinner.

After undergoing its transformation, Pixar Place Hotel will artfully incorporate the artistry and magic of Pixar and its most notable characters throughout the property. Guests can enjoy food and beverage outletsthroughout the hotel, which will also be operated by the Great Maple restaurant group.

"Working with Disney has given our team an opportunity to expand and create. In addition to bringing the Great Maple brand to Pixar Place Hotel, we're looking forward to sharing our whimsical culinary perspective throughout the hotel," said Amanda Ho, co-owner and CEO.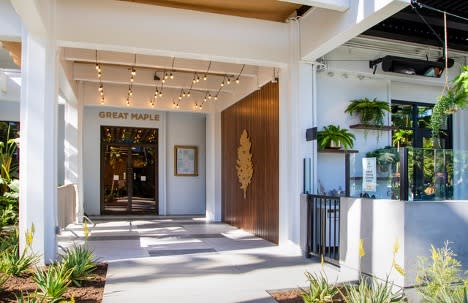 GREAT MAPLE, A MODERN AMERICAN EATERY
Located along Disneyland Drive, the new 6,500 square-foot Great Maple restaurant serves breakfast, lunch, and dinner daily on the ground floor of the hotel. The restaurant is accessible to hotel guests, local diners, and theme park goers.

Guests can indulge in Great Maple's signature elevated comfort food dishes, including Buttermilk Fried Chicken & Maple Bacon Doughnuts, Cajun Shrimp & Cheddar Biscuit Benedict, and Soda Pop-Braised Baby Back Ribs. The restaurant's scratch kitchen utilizes the highest quality seasonal ingredients which shine best in favorites like Charred Cauliflower Hummus, Maple Pecan-Crusted Salmon, and a variety of inspired salads. 

EXPANDED DINING OPTIONS AT THE HOTEL
Following the opening of the ground floor flagship restaurant, Great Maple's culinary team will curate additional food and beverage experiences at the property. The Great Maple restaurant group will open a grab-and-go lobby coffee shop and café, Sketch Pad Café, which will offer guests a unique menu to help them fuel up before a big day at the parks or enjoy a midday break. The hotel will also debut a Great Maple-operated rooftop pool bar, Small Bytes, that will serve a distinct menu of bites and beverages at the hotel's reinvented rooftop deck, where guests will find an incredible view of fireworks from Disneyland Park.*

ABOUT GREAT MAPLE
Great Maple, which owns and operates three locations across Southern California, is a modern American eatery specializing in upscale comfort food with an element of fun. Patrons can enjoy breakfast through dinner seven days a week. Featuring fresh takes on American classics, dishes are made from scratch daily with the highest quality of ingredients. Great Maple's beverage program includes a diverse wine selection, seasonal craft cocktails, robust non-alcoholic offerings, and beers on tap. Each location features a stylish and spacious atmosphere, complete with a full-service indoor bar and shaded patios. For more information, visit TheGreatMaple.com.
*****
For more information, contact:
Mona Shah, Moxxe PR at +1 818 749 1931 or mona@moxxepr.com

PHOTO CREDIT: JEN COOK/GREAT MAPLE
*Entertainment, experiences, and offerings are subject to restrictions, and change or cancellation without notice.