Muzeo Museum and Cultural Center Opens Fall Exhibitions "Houdini Unchained" and Anaheim Art Association's Juried Exhibition with Reception on October 8th
ANAHEIM, Calif. (August 29, 2022) – Muzeo Museum and Cultural Center's Main Gallery showcases never-before-displayed Harry Houdini artifacts from the private collection of southern California collector, Dr. Randall Bell, for Houdini Unchained: The Legacy of Harry Houdini opening on October 8, 2022.
A major figure in American culture, Houdini, has been the subject of countless movies, performances and books- although never a touring exhibition. Dr. Randall Bell has been collecting Houdini memorabilia and holds one of the largest collections of Houdini artifacts in the world. This never-before-exhibited collection will examine Houdini's exemplary business savvy, life as an entertainer, private life and obsessive quest for fame beyond death.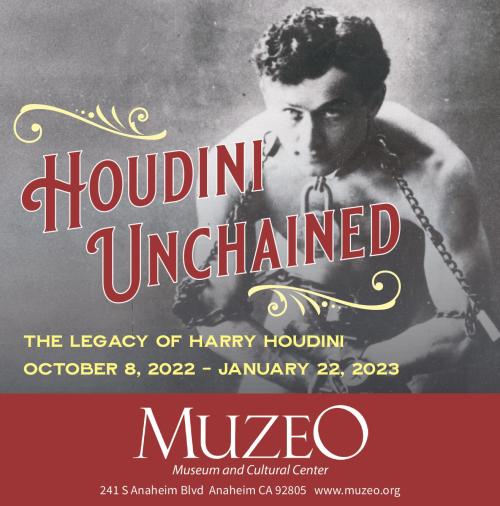 American illusionist Harry Houdini rose to world fame for his sensational escape acts. He first attracted notice in vaudeville in the US and then as "Harry 'Handcuff' Houdini" on a tour of Europe, where he challenged police forces to keep him locked up. Soon he extended his repertoire to include chains, ropes slung from skyscrapers, straitjackets under water, and having to escape from and hold his breath inside a sealed milk can with water in it. This world-premiere exhibit will include first edition books, personal letters and contracts, handcuffs, locks and the famed milk can from the 1908 escape illusion.
Also on display in the historic Carnegie building is the Anaheim Art Association's 58th annual juried art exhibit. The Anaheim Art Association was established in 1963 to promote understanding and appreciation of fine art among the citizens of the community, encourage advanced study in art, and provide art exhibits and competitions of interest to its members. This large annual exhibition encompasses artists from all over Anaheim and across mediums, including oil and acrylic painting, watercolor, photography, and mixed media.
FALL EXHIBIT PREVIEW RECEPTION
A reception for both exhibitions will take place on October 8, 2022 from 4:00PM to 6:00PM. The evening will include light refreshments and a live band. Admission is free but tickets are required. For information on the exhibit and coordinating programs or to make a reservation for the reception, please visit the Muzeo website at http://www.muzeo.org.
VISIT
Houdini Unchained runs October 8, 2022-January 22, 2023. Tickets are available at the Muzeo ticket counter or online at http://muzeo.org. Anaheim Art Association's 58th juried exhibit is on display in the historic Carnegie building from September 3, 2022- October 30, 2022. Admission is free for the Carnegie. Hours for both exhibitions are 11:00AM to 5:00PM Wednesday through Sunday.
ABOUT MUZEO
Muzeo is a centerpiece of Anaheim's Center City and features a variety of changing exhibitions, local artists, special events, community classes and festivals. Muzeo encompasses Anaheim's original Carnegie Library built in 1908 and visitors can tour a collection of Anaheim history within its walls. Muzeo is a nonprofit that engages the community in exploring and celebrating our diverse heritage, culture and arts through creative programming.
All money raised from Muzeo events help to fund rich and engaging community programs.