Anaheim is a city built on imagination. It's easy to imagine a successful meeting experience when you consider the perfect weather, world-class attractions, charming neighborhoods, and award-winning facilities available to you in Anaheim. Here are just a few reasons why meeting professionals choose Anaheim as their meetings and conventions destination year after year.
1. Anaheim is Home to the Largest Convention Center on the West Coast
Originally opened in 1967, the Anaheim Convention Center currently spans 53 acres and offers 1.8 million square feet of function space and many dynamic features. The ACC recently underwent a $190-million expansion, adding ACC North, making it the most flexible convention center in North America.
Take attendees beyond the meeting with spacious pre-function areas outside every hall. Plus, two outdoor plazas extend event options and allow access to Southern California's picturesque climate.
Whether it's a trade show or intimate meeting, the ACC has the space and flexibility to host your high-impact event.
2. You're Well Positioned for Anaheim and Beyond
Beyond Anaheim, Visit Anaheim also helps source venues across Orange County cities, including Garden Grove, Huntington Beach, Newport Beach, Costa Mesa, Irvine, and Laguna Beach.
Serve up unique dining for attendees at Garden Grove's SteelCraft or our own Anaheim Packing District. Pack the SPF for sunshine and surf in our nearby beach cities. Add luxury with local fine dining, shopping, and 4-diamond accommodations in Anaheim and beyond.
Accommodating groups of all sizes, budgets and interests, Visit Anaheim connects you with the region's top hotels, event space, and services best tailored to you.
3. We're #1 in Safe Attendee Experience on the West Coast
From security services to nearby accommodations, we have your guests' safety top of mind.  The ACC provides on-site 24-hour security and works closely with local law enforcement & fire authority.  The facility layout also provides safety.  Four world-class hotels just steps from the Convention Center.  With over 3,700 rooms adjacent to the facility, visitors can access their rooms, plus dining and additional meeting opportunities within a few steps.
Don't just take our word for it.  Check out recent accolades from industry experts.
How Anaheim Ranks:
Anaheim is ranked #1 in safety score in the west coast. (Northstar Meetings Group's 2022 Convention Cities Index Interim Report, 2022)
Advisor Smith listed Anaheim at #9 for "Top Safest Large Cities in the USA". (A study on the safest U.S. cities based upon data provided by the Federal Bureau of Investigation's Uniform Crime Reporting Data Set, 2021)
Anaheim was listed as 4th safest Metro Cities in America. (MeetingsNet, 2019)
4. Travel to the ACC is Easy
Getting to the Anaheim Convention Center is a breeze.  The center is accessible from four major airports: John Wayne Airport (SNA), Long Beach Airport (LGB), Ontario International Airport (ONT) and Los Angeles International Airport (LAX). Only 12 miles away, SNA is the nearest to Anaheim and averages 126 commercial flights daily.
A brand new service from Anaheim Regional Transportation, the EVE Shuttle will transport you from SNA to existing bus stops in town, making it even easier to visit Anaheim.
5. Visit Anaheim's Team of Destination Experts are at Your Service
Visit Anaheim provides you services as unique as the very show you are creating. Our team helps make your planning in and around Anaheim as efficient and seamless as possible through pre-planning support, attendee marketing resources, and a welcome and concierge program. Learn more about Destination Services at Visit Anaheim.
6. Anaheim is the Perfect Location
Our dreamy destination is a bucket list for many travelers. We're centrally located in the heart of Southern California between Los Angeles and San Diego. Attendees can extend their experience with day trips to iconic hot spots in Southern California, with countless entertainment opportunities in between.
If the location wasn't alluring enough, let's talk about the climate. You can meet under the SoCal sun where we proudly boast 280 days of sunshine per year, while maintaining mild temperatures for most of the year.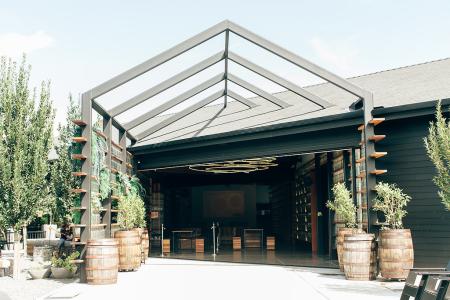 8. Provide Attendees with Only-in-Anaheim experiences
There's magic on the agenda! Anaheim is home to unforgettable attractions and experiences. Here are just a few to add to your to-do list:
Visit the Happiest Place on Earth with a day at the Disneyland® Resort
Root for the home team at an Angels baseball game or Ducks hockey game
Put your skills to the test at indoor go-kart racing or in the pilot seat of a fighter jet for a virtual flight simulation
Eat your way through the 1919 Sunkist citrus packing plant now an artisan food hall
Foster fun for a team building outing. Or, consider blending the business and leisure trip into a "bleisure" trip and bring the family along!
9. You'll Never Go Hungry with Anaheim's Foodie Destinations
Anaheim's a place for foodies. Upscale California fare is only a few steps within adjoining hotels.  A local favorite, the Packing District offers an array of dining options in the Packing House, MAKE Building, Farmer's Park, and beyond. Global flavors are on display with culinary gems like Little Saigon and Little Arabia. 
Anaheim's also a hotspot for the craft brewery scene with award-winning breweries & wineries in town.  At the end of the day, you'll be in for a treat with desserts from the famous Dole Whip to pretty pastries.
10. There's Always Something New to Explore
Whether it's your first visit to Anaheim or you're returning to your home away from home, there's always something new to explore. We're anticipating the new developments to the Downtown Disney District to incorporate new dining, shopping, and entertainment. Also coming to Anaheim is the mixed-use entertainment destination, ocV!BE, with new concert venues, public plazas and parks, hotels, and more.