Find out what's in store for Anaheim with 7 exciting locations to check out now and add to your must-visit list.
There's always something new to explore when you visit Anaheim. The past year welcomed some thrilling additions to the city with the grand openings of additional hotels and restaurants. We've been bubbling with excitement about the new brews and views in town. But we aren't stopping there!
Avengers Campus
Avengers assemble at Disney California Adventure® Park where an all-new immersive land is set to open this summer. The Avengers Campus, a Marvel-themed land, will feature new attractions, experiences, plus retail and dining experiences.
Put your spidey skills to the test in the 3D attraction WEB SLINGERS: A Spider-Man Adventure. Guests aboard Web Slinger vehicles will experience virtual and physical sets plus dazzling effects as they assist the WEB open house gone haywire by fast replicating Spider-Bots.
Refuel at the Pym Test Kitchen with an innovative menu inspired by Ant-Man and Wasp's growing ability. Guests will dig into culinary "science" in the lab where traditional food is presented at untraditional scales. Then roam the highly detailed land, always on the lookout for nods to Marvel films both past and future, and unique character interactions.
ocV!BE
Live, shop, dine, unwind. Do it all at the upcoming mixed-use community district coming in 2024. The 95-acre space will include everything from community parks to a 6,000-capacity concert venue. The space will welcome home 1,500 residential units, plus two themed hotels. ocV!BE is your backstage pass to entertainment for locals and visitors alike.
Angel Stadium Expansion
We're ready for a home-run expansion at Angel Stadium. With the Angels committed to running the bases and knocking 'em out of the park until at least 2050, Anaheim will also see an expansion of the surrounding area. Similar to Petco Park in San Diego, this Platinum Triangle master plan includes the stadium, Honda Center, homes and businesses making the surrounding area transit-oriented with connected walkable living, dining, and entertainment.
Modern Times Leisuretown
Dive into a new brew at Modern Times, now open in CtrCity Anaheim. A craftsman home located across from the Anaheim Packing House has transformed into the ultimate backyard hang with Modern Times brewery, vegan restaurant and swimming pool. Sip, savor and splash amidst an eclectic decor and plenty of California sunshine.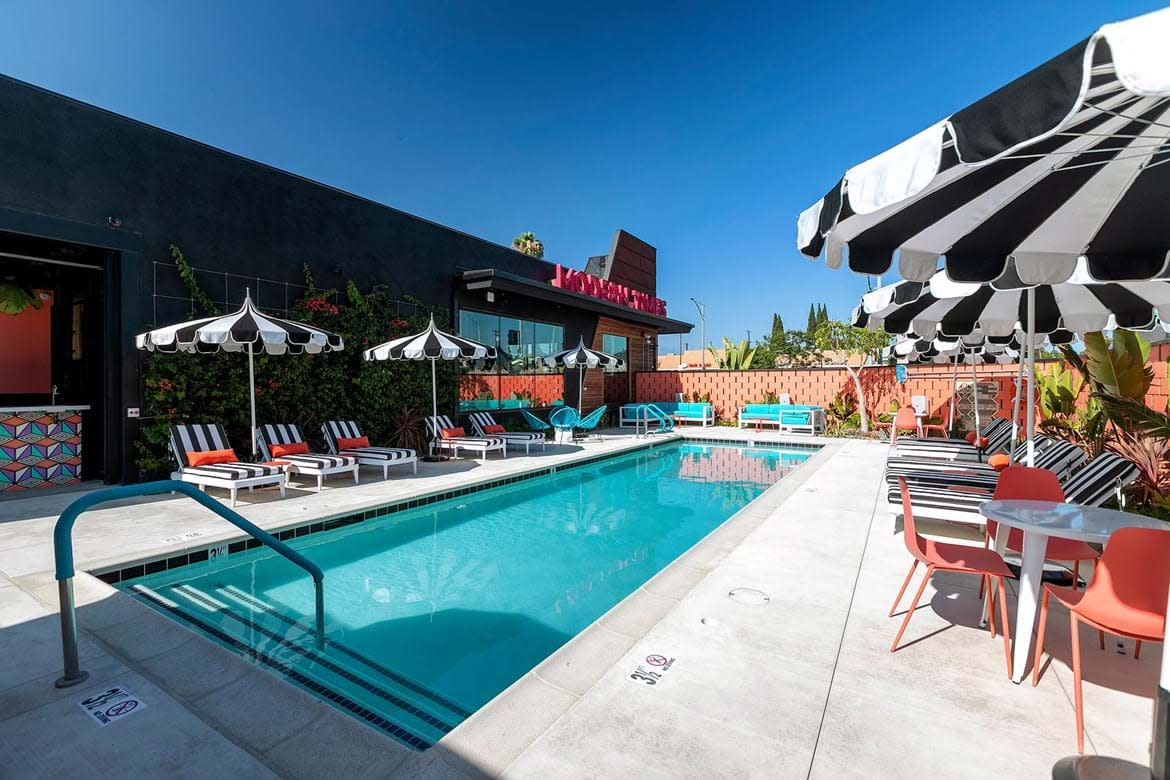 Modern Times Leisuretown
Radisson Blu Anaheim
Make your reservation and pack your bags. The Radisson Blu Anaheim will begin welcoming guests in March 2021. The sky's the limit with rooftop views from the centrally located hotel. Families will make magical memories at the splash pad, while other visitors enjoy the Blu SkyBar, which re-opens in February 2021. At the end of the day exploring Anaheim, rest assured knowing that premier accommodations and amenities await.
JW Marriott, Anaheim Resort™
A rejuvenating stay is in season at the new JW Marriott, Anaheim Resort™ located at the Anaheim GardenWalk, which opened in 2020. Paying homage to Orange County's agricultural history, guests are delighted with the indoor/outdoor spaces that are both modern and relaxing. The rooftop bar Parkestry offers the perfect nightcap to a day spent at the nearby Disneyland® Resort or Anaheim Convention Center, both just minutes away.
The Westin Anaheim Resort™
Giving guests something to write home about, The Westin Anaheim Resort™ promises wow-worthy moments beginning in June 2021. Neighboring the Disneyland® Resort, catch the fireworks after a dinner in their signature restaurant, Tangerine Room, featuring California cuisine with locally sourced ingredients. A trip for the body, mind, and soul, the Westin Anaheim Resort™ offers everything travelers or staycationers will need to keep active or completely unwind.