By Lindsay Brookshier
Originally posted on Mickey Visit
This article contains affiliate links from Mickey Visit.
Anaheim is most often known for being home to Disneyland, the Happiest Place on Earth! But did you know that Anaheim is filled with activities for kids beyond Disneyland? While we love spending our days at Disneyland, it's also worth knowing about all the fun family activities nearby to take advantage of.
Knott's Berry Farm & Soak City
Knott's Berry Farm is just a short 10-minute drive away from Disneyland and features a theme park and water park. Knott's Berry Farm has a long history in Southern California and is often called "America's 1st Theme Park." Parents will appreciate the history of Knott's Berry Farm with attractions like Calico Mine Ride, which was Knott's first dark ride and opened in 1960. Knott's Berry Farm is also known for its landmark rollercoaster, Ghostrider, which is the longest and tallest wooden rollercoaster in Southern California. There are a variety of thrill rides for teens to enjoy which is something unique that Knott's offers that Disneyland cannot quite compete with. But for little ones, Knott's Berry Farm is also the home to the PEANUTS franchise with an entire Snoopy area with rides for small kids and Snoopy meet and greets.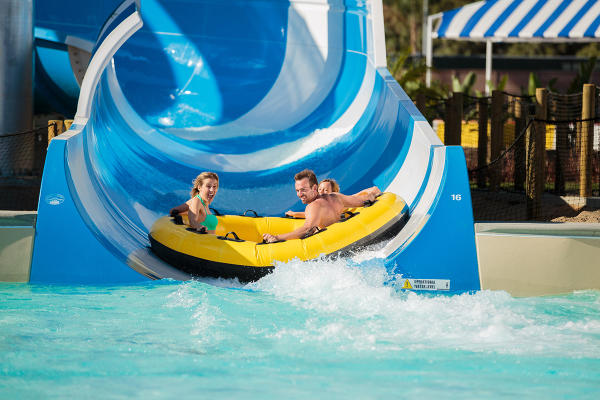 Just a walk down the street is Knott's Berry Farm's water park, Knott's Soak City. This impressive waterpark boasts a large lazy river that circles around the entire water park plus a wave pool, family raft slides, and waterslides for all ages. This is a great place to spend a day "off from Disneyland" as it's the closest outdoor waterpark to the Disneyland Resort area.
Knott's Berry Farm is full of rich local history, thrill rides that teenagers will love plus kids can meet the PEANUTS characters!
Great Wolf Lodge
Great Wolf Lodge is a well-known indoor waterpark and resort hotel that has locations all over the United States. But did you know there is a Great Wolf Lodge just ten minutes away from Disneyland? You do not have to be staying at the hotel to enjoy the large indoor waterpark making this a perfect addition to any Southern California vacation. You can purchase a day pass for Great Wolf Lodge that gives you access to the huge indoor waterpark and other family activities like the arcade, indoor bowling, glow-in-the-dark mini golf, and the unique scavenger hunt created just for Great Wolf Lodge.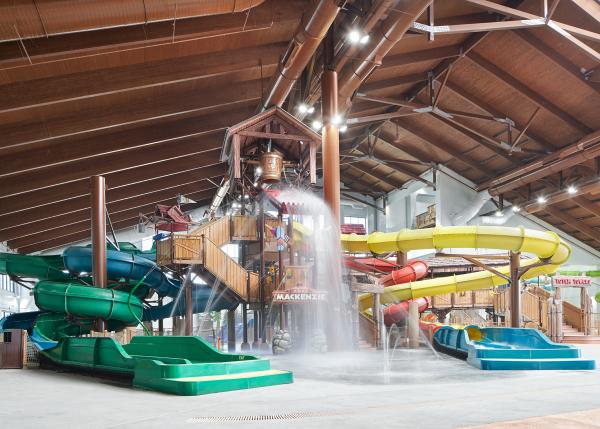 The real stopper at Great Wolf Lodge is the indoor waterpark which includes the famous Howlin' Tornado water slide which takes guests through a six-story funnel in a raft that seats four. This is a pretty thrilling water ride and is easily one of the most popular attractions at the resort! There's also another family-friendly raft slide, lazy river, wave pool, water playgrounds, plus multiple individual slides with various thrill levels. Great Wolf Lodge is like waterpark heaven for kids!
The hotel is beyond the ART Shuttle service area, but it is an easy Uber or Lyft ride over.
Anaheim Packing District
The Anaheim Packing District is a great place to stop for unique, local food items in this historic citrus packing warehouse transformed into a modern food court. There are over 30 small businesses located in the Anaheim Packing District featuring takeout, delivery, indoor dining, and outdoor dining. There are also small merchant stands spread throughout the packing house selling a variety of local, homemade goods.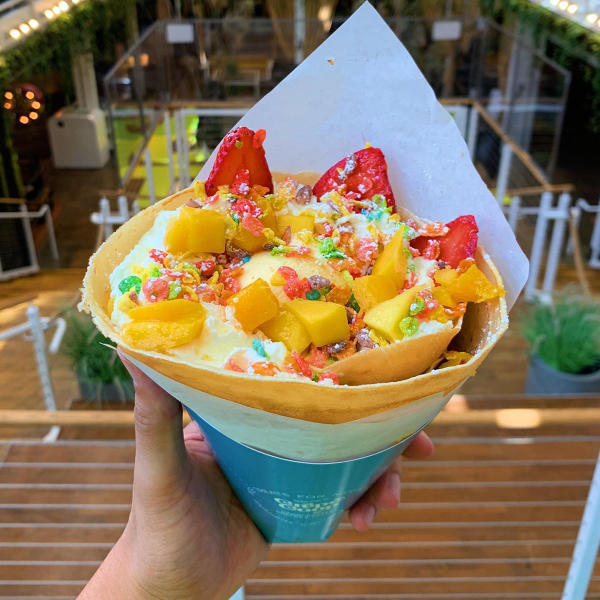 Kids will love the inspired food options inside the Anaheim Packing District which includes locations like The Pie Hole, which served fruit loop-themed pies, Hans Homemade Ice Cream with a variety of fun ice cream flavors, plus large outdoor seating so little ones can run around to burn off steam.
The Anaheim Packing District is only a ten-minute drive from Disneyland and offers a nice break from regular theme park dining with great local multicultural cuisines and unique dessert items kids will love.
Angel Stadium
Baseball fans will appreciate the close proximity of the Angel Stadium in Anaheim which offers fully guided tours and local Los Angeles Angel baseball games. The public tours of Angel Stadium are extremely affordable at just $12 for adults and include a trip down to the field at Angel Stadium, a tour of the Angels Dugout, access to the Visitors' Clubhouse and Conference room plus an exclusive look at the Gene Autry Suite, Broadcast booth, and a Dugout Suite.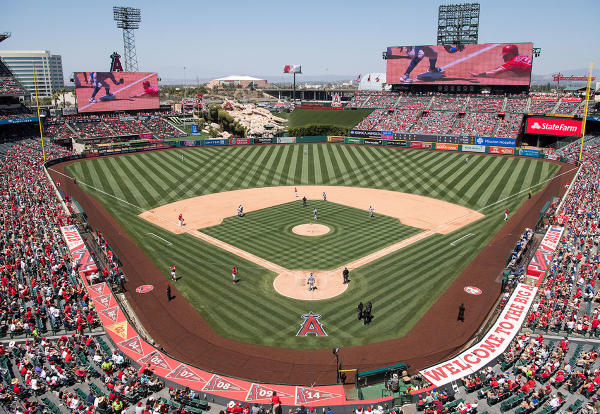 Kids will love this tour regardless of their own favorite team affiliation and will enjoy the close-up look at the field and Angels Dugout. This is a great addition to spending a day in Anaheim and would pair well with an evening at the Anaheim Packing House!
Depending on the baseball schedule on your visit, you can easily add seeing an Angels game to your itinerary which can also be combined with a pre-game tour of the stadium. This tour includes a viewing of the courtyard statues, the World Series and MVP trophy cases, a photo op behind the centerfield rocks, and early entry into the stadium to watch Angels batting practice.
Discovery Cube Orange County
Discovery Cube Orange County is a local discovery museum that features a variety of interactive scientific exhibits all aimed at allowing kids to have positive experiences with science and learning.
The Discovery Cube Orange County includes museum exhibits that are all meant to be hands-on and interactive like the discovery market which allows kids to participate in an interactive grocery shopping game to learn about healthy and eco-friendly shopping choices, games designed to teach kids the benefits of recycling and composting, helicopter simulated tours, and a hurricane simulator that allows kids to experience the high-speed winds of a hurricane.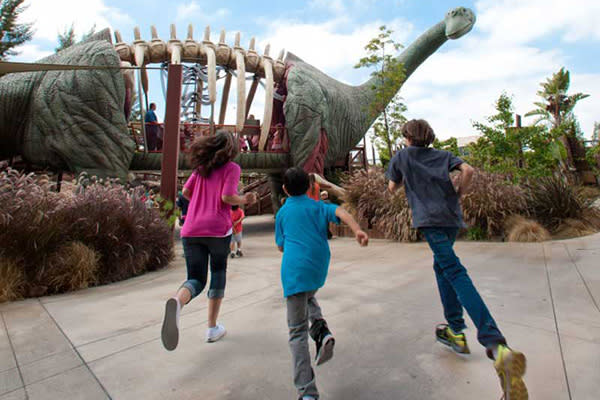 The best thing about the style of discovery museums is it is all based on interaction with kids and allowing them to run, touch, and play with all the exhibits. This is not the type of museum where exhibits are kept behind velvet ropes, the Discovery Cube Orange County is the opposite. Kids are encouraged to play and interact as they learn about different scientific fields.
Day Trip to the Beach
You cannot visit Southern California without making a trip to the beach near Disneyland! Luckily, there are three popular beaches near Disneyland: Huntington Beach, Newport Beach, and Laguna Beach.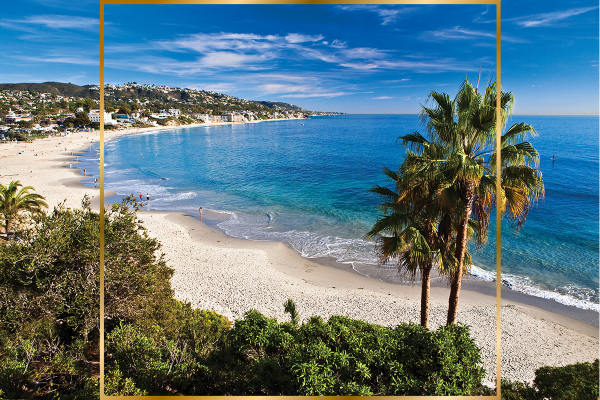 Our favorite beach for families to visit on their day off from Disneyland is Newport Beach, more specifically Balboa Island. Balboa Peninsula and Balboa Beach are fun for the whole family including great beachfront views plus a small arcade along with an 80-year-old Ferris Wheel. The Balboa Island Ferry is a small ferry you can take across to Balboa Island which incorporates more than one beach experience into your day! There are also various companies offering whale watching around Newport Beach which is an activity kids will love.
More Thrilling Attractions Nearby
You cannot forget the other theme parks and things to do in the Southern California area like Universal Studios Hollywood, LEGOLAND, SeaWorld, and the San Diego Zoo!
Universal Studios Hollywood just opened their extremely popular Super Nintendo World earlier this Spring, and the land has been a hit with an impressive Mario Kart ride using AR technology, interactive gameplay, and the brand-new Toadstool Cafe restaurant. Aside from the new Super Nintendo World, Universal Studios Hollywood is also home to the Wizarding World of Harry Potter, the famous Studio Backlot Tour, a Despicable Me area, and a new Secret Life of Pets attraction.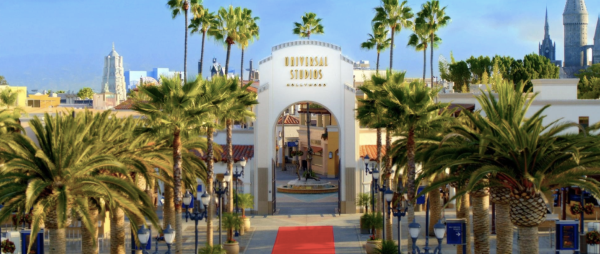 LEGOLAND California is a theme park all focused on LEGOS! LEGOLAND is a hit with younger children but LEGO fans of all ages will enjoy the attention to detail in this San Diego theme park. For the extreme LEGO fans, you can even stay at a hotel "built" by LEGOS and swim in a resort pool with floating LEGO blocks. In addition to theme park rides, guests can also enjoy an on-site aquarium.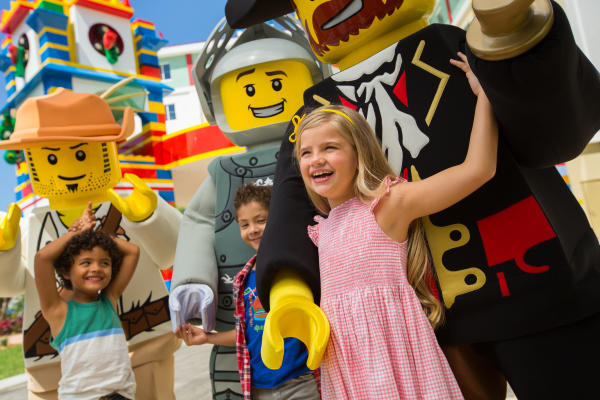 SeaWorld San Diego is another San Diego location that has greatly remade its experience to incorporate more traditional theme park elements like large roller coasters while still maintaining ethical animal experience encounters. Guests can view sea lions, penguins, and a full aquarium plus take a spin on their popular roller coasters.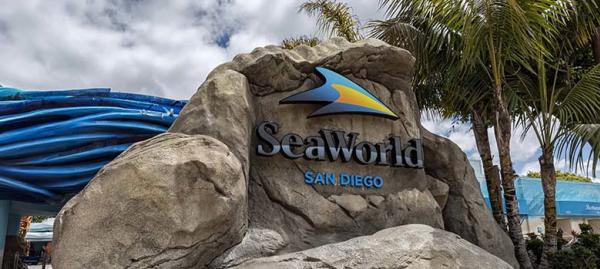 But if you're in the market to see animals, the world-famous San Diego Zoo & Safari Park is the main stop you need to make in Southern California. San Diego Zoo is home to over 3,500 animals and more than 650 species and subspecies. This zoo has been the leader in the concept of open-air, cageless exhibits that recreate natural habitats in a sustainable and ethical way. This is a zoo unlike you have ever seen before, this is a must-do for families!
Kids will enjoy the variety of activities offered in Anaheim and Southern California beyond Disneyland while adults can enjoy a break from the theme parks and a change of pace on their day off from Disney.
Where to Stay in Anaheim This Summer
Anaheim Castle Inn & Suites is a family-owned hotel located directly across the street from the magic of the Disneyland Resort. This hotel is perfect for your first family vacation to Anaheim for Disneyland!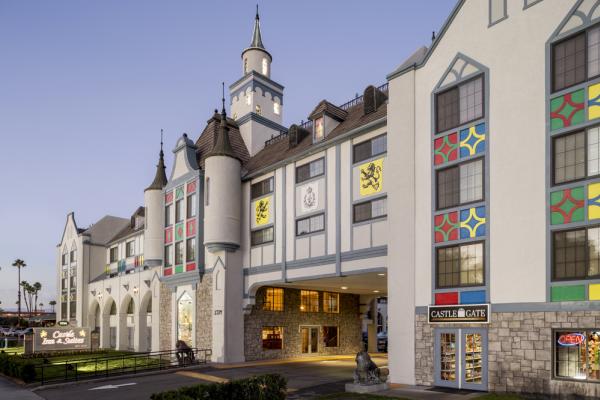 The Clarion Hotel Anaheim Resort is located one block away from the Disneyland Resort and within steps of the Anaheim Convention Center. Guests staying at this property can enjoy free Wi-Fi, a year-round heated outdoor pool, a fitness center, onsite dining, and more. 
The Camelot Inn and Suites is a newly renovated property located directly across the street from the Disneyland Resort. This hotel combines classic European-inspired architecture with modern amenities that make it the perfect home base for visitors.
The fun never stops at Hyatt Regency Orange County! This Garden Grove hotel is a Disneyland Good Neighbor hotel and offers guests plenty of amenities and entertainment to enjoy. They even offer a shuttle to the Disneyland Resort directly from the lobby!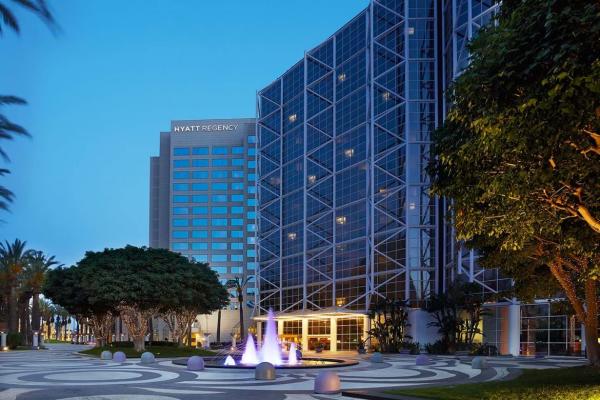 The Anaheim Hotel is a AAA Three-Diamond and Disneyland Good Neighbor hotel, located less than 10 minutes walking distance from the Disneyland Resort main gate. The property features mid-century decor, an Olympic-sized swimming pool, and spacious rooms. 
About Mickey Visit 
Mickey Visit is the site to help you save money and experience more at Disneyland. Utilizing the helpful guides and park touring strategies on their site will help you to have the best possible vacation. Mickey Visit has been featured in Travel+Leisure, the LA Times, OC Register, Forbes, and more. Be sure to join over 100K other guests planning their vacation on the FREE Mickey Visit newsletter for planning tips and critical news for your trip (sign up on the homepage via the link above)!