An escape fit for royalty. The new luxury hotel offers rejuvenation for the body, mind and soul in a zen garden-inspired setting. The first luxury hotel outside of the Disneyland® Resort has begun welcoming guests to the intentional space designed to be welcoming and warm. 
An escape from the excitement of world-class entertainment and meetings, the resort whisks guests into a kingdom of their own. And no kingdom would be complete without the opportunity to feast! When you pack your bags for a stay at JW Marriott, Anaheim Resort™, make sure you pack your appetite.
For this foodie spotlight, we're exploring the dining options at the JW Marriott, Anaheim Resort™ located at 1775 S. Clementine Street.
Market Cafe
On the go? Stop by the Market Cafe, for convenient grab-and-go meals like sandwiches, snacks, and drinks as you head off to explore Anaheim. Pastries and assorted treats sweeten your stay and add smiles to your day.
Citriculture
Zest-filled drinks and rest-filled spaces await at the lobby bar. Throughout the JW Marriott, Anaheim Resort™'s thoughtfully curated grounds, you'll see the resort pays homage to the agricultural roots of the region. Explore Anaheim's citrus history in the lobby bar, Citriculture. You'll soak up SoCal sunshine in the indoor-outdoor bar with handcrafted cocktails and a delightful selection of light bites. The bar leads onto the pool deck with covered cabanas, making for a lush escape from the hustle and bustle.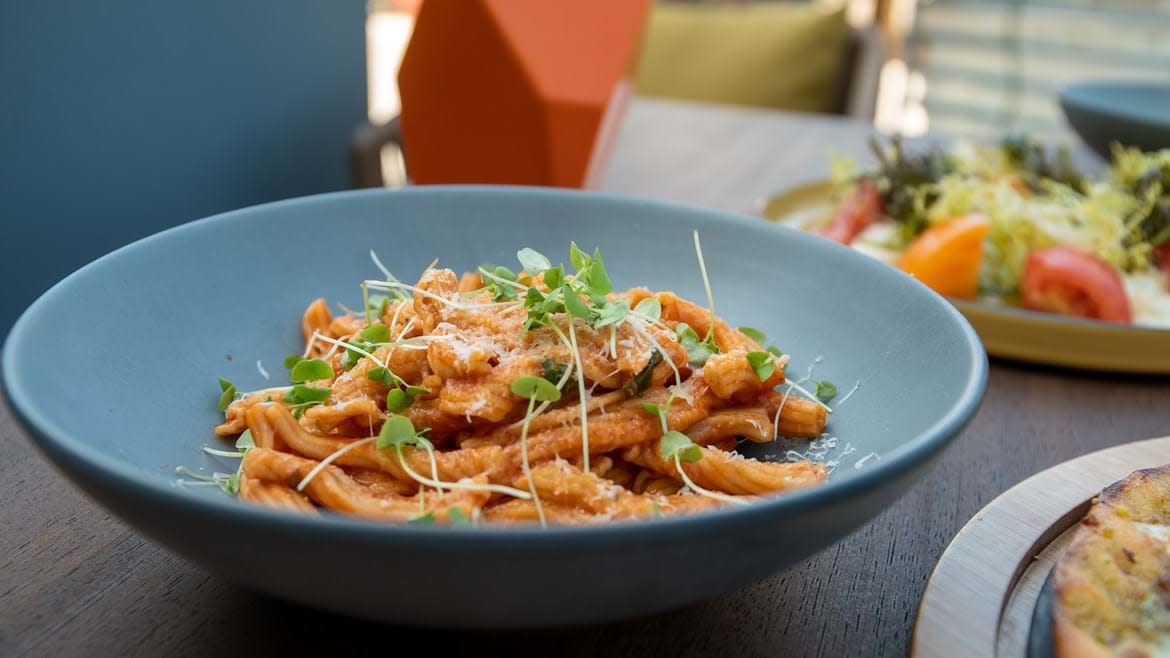 Tocca Ferro
Buon Appetito! Grab a seat at the signature on-site restaurant, Tocca Ferro. Award-winning chefs are infusing traditional Italian cuisine with local California ingredients for a contemporary menu offered in a modern setting filled with hardwoods and beautiful metals. It doesn't get more locally-sourced than at the JW Marriott, Anaheim Resort™, where produce is harvested from the on-site gardens.
Parkestry
Set your sights on the skies as you enjoy the newly opened Parkestry. Claiming the crown as the highest rooftop bar in Anaheim, it is also the second-highest in Orange County. Sip on elevated cocktails with views of Disneyland® Resort once the park reopens.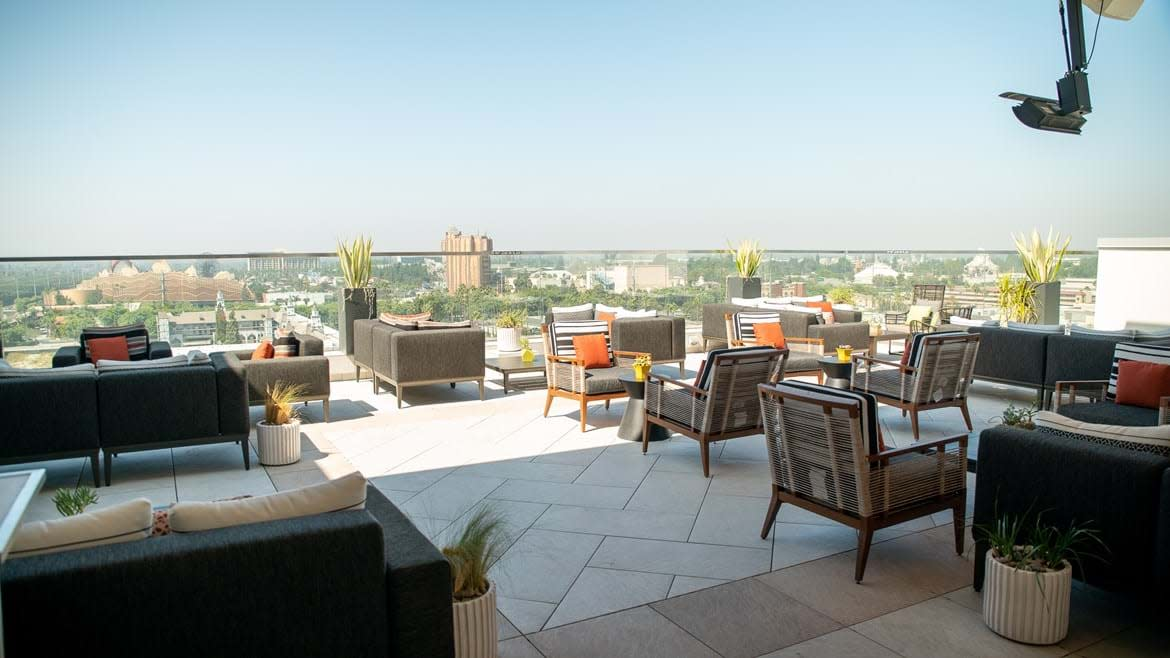 Anaheim GardenWalk
No carriage needed to travel to the numerous dining options at the adjoining outdoor dining and retail mall, the Anaheim GardenWalk. Multiple coffee and tea shops allow for sipping while shopping. You'll find familiar favorites like the Cheesecake Factory and California Pizza Kitchen, plus new dishes at Casa de Pancho Mexican Grill and Cantina or Grasslands Brazilian BBQ & Churrasco.
For more information and reservations, visit the JW Marriott Anaheim Resort™'s website.