By Lindsay Brookshier, Mickey Visit
This article originally appeared on MickeyVisit.com.
This article contains affiliate links from Mickey Visit.
Adults visiting Anaheim will find plenty of fun activities in the area, including a Star Wars-themed bar in Disneyland, high end spa experiences, plus a variety of other hot spots.
Here are a few of our favorite activities for adults at Disneyland to enjoy in the parks and the surrounding Anaheim area.
Disney California Adventure Food & Wine Festival
The Disney California Adventure Food & Wine Festival takes place until April 25th at the Disneyland Resort. This popular festival features a variety of marketplace food booths along with live entertainment and experiences. This is an event geared for all ages but a particularly great event for visiting adults at to check out, with a variety of culinary demonstrations, wine and beer tastings, and an exciting lineup of live music.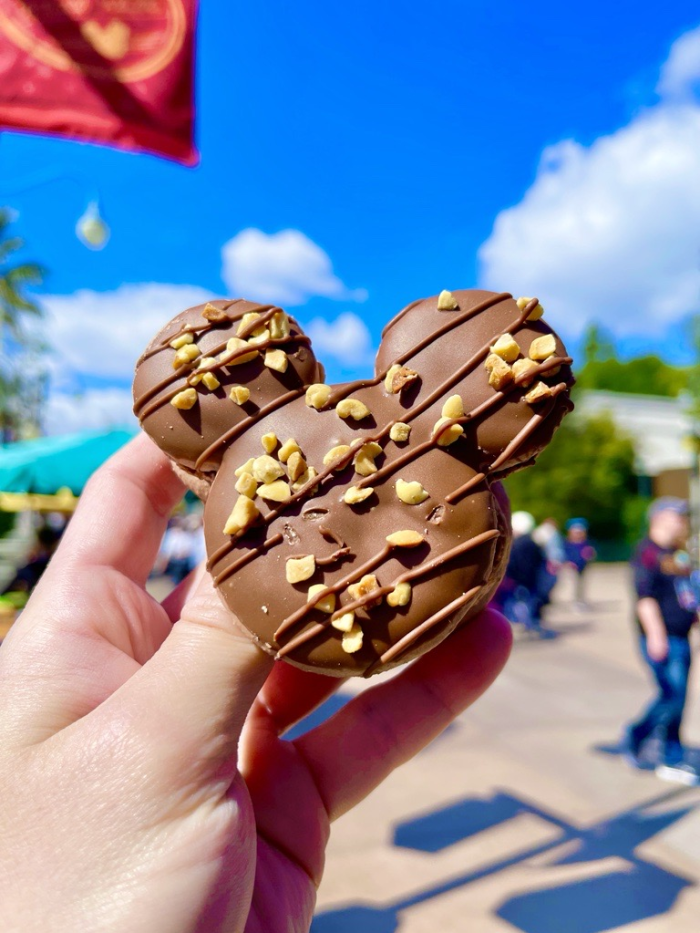 You'll find a free printable of all of the food options listed in a digestible way in Mickey Visit's guide.
Each year the festival offers a Sip and Savor Pass which is a way to save money on your marketplace booth purchases. You can find a unique selection of craft beer, wine, and food, all inspired by California grown ingredients. Save money by using the Sip and Savor Pass for higher priced items at the event. The Sip and Savor pass costs $59 for guests and $54 for Magic Key Holders. The pass gives you eight tabs to enjoy on food items (alcoholic drinks are not included). The pass is good for multiple visits.
This festival also includes the return of Soarin' Over California, which is the popular California-themed version of Soarin' that debuted when the park opened. This version of Soarin' is beloved by many and features amazing views over California landmarks, plus the intoxicating smell of orange groves!
As for adult-focused events at this festival, guests can choose from the Carthay Circle Winemaker Receptions, and Wine, Beer and Mixology Education & Tasting Seminars. These events require advance reservations and often fill up quickly due to their popularity. You can book one of these experiences on the Disneyland website.
The Disney California Adventure Food & Wine is one of the top activities for adults to do at the Disneyland Resort and is worth planning your visit around.
Oga's Cantina at the Disneyland Resort
Oga's Cantina is the Star Wars-themed bar located in Star Wars: Galaxy's Edge area of Disneyland. One of only two places to easily access alcohol in Disneyland, the other being Blue Bayou, this spot is a popular area to grab a drink. The atmosphere of this bar is enjoyable for all groups, not just Star Wars fans!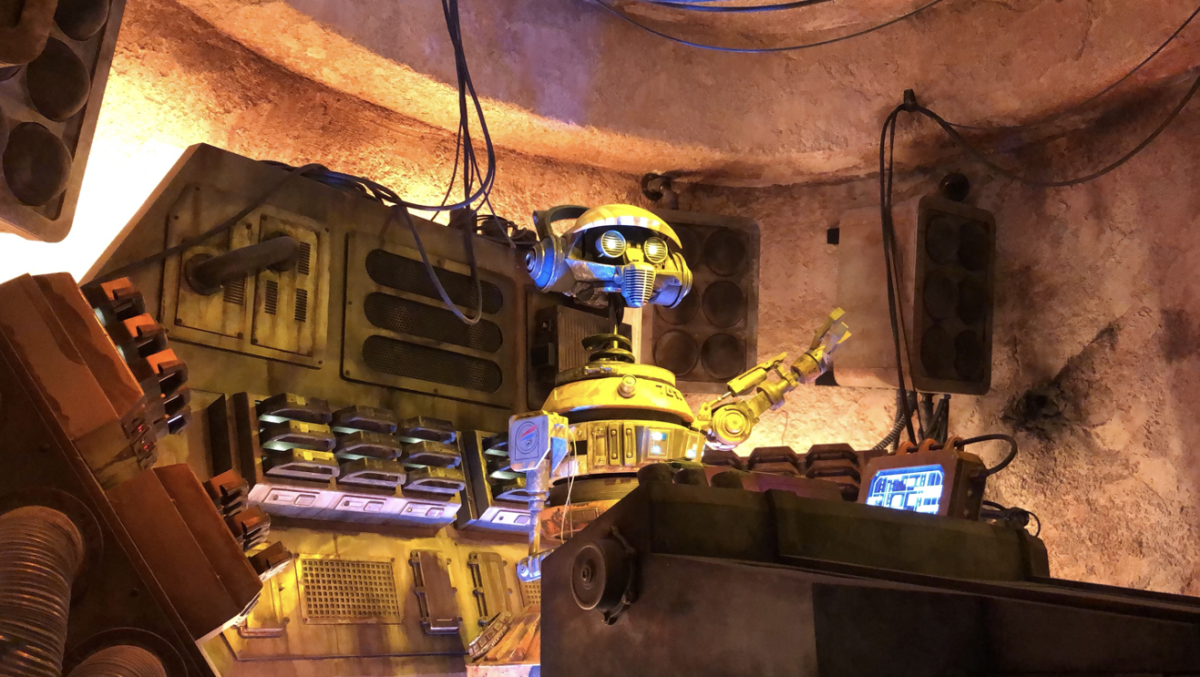 Oga's Cantina always has a lively vibe between the energetic bartenders and the Star Wars/techno-inspired tunes of the animatronic DJ Rex. The drink menu at Oga's Cantina offers a variety of craft beers and mixed drinks, many with a galactic twist.
Oga's Cantina reservations can be hard to secure, especially during busier times of the year, but if you book a reservation right at the 60 day mark (when dining reservations become available!), you can usually get one. Oga's Cantina also offers a walk up list. For the best chance of getting in, add your name on the list first thing in the morning. You can read about how to get the hardest Disneyland dining reservations in Mickey Visit's guide.
Tenaya Stone & Spa
The Tenaya Stone Spa offers a wide selection of luxurious spa services and amenities inspired by California nature and landscape inside Disney's Grand Grand Californian Hotel & Spa (the hotel also has Disney Vacation Club Villas, which anyone can rent). The Tenaya Stone Spa was designed by Disney Imagineers so the details and atmosphere within this spa are unmatched.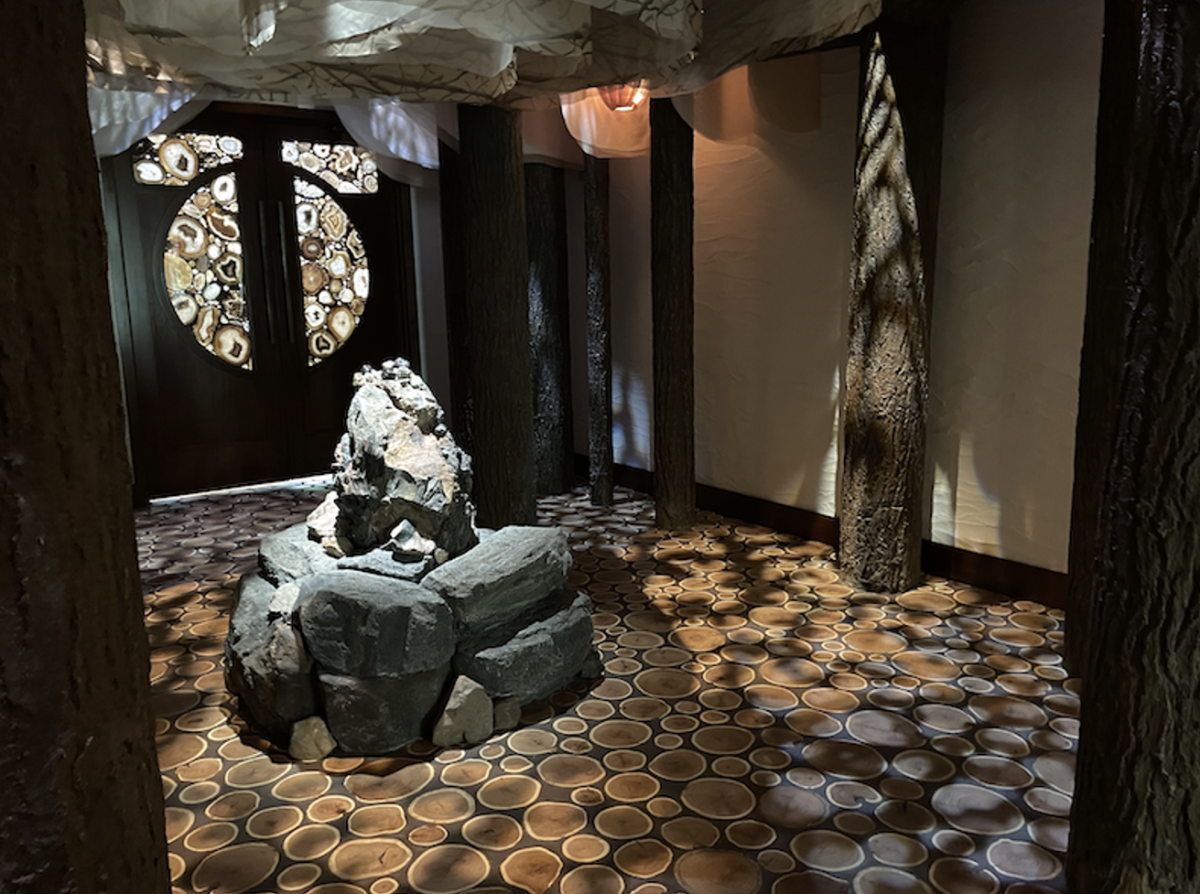 The spa offers a variety of massages including a signature massage, aromatherapy massage, and deep tissue massage. Guests are welcome to enjoy the relaxation area before and after their massage which features soothing water elements, heated neck pillows, complimentary tea and light snacks along with full use of the rainfall showers and steam room. The salon inside the spa also includes a variety of foot treatments, nail services, and hairstyle options.
Tenaya Stone and Spa can be enjoyed by all guests - not just those staying at Disney's Grand Californian Hotel & Spa - and is one of the most luxurious options for adults to enjoy in the Disneyland area. You can read more about the experience at this location in Mickey Visit's Tenaya Stone and Spa review.
House of Blues Anaheim
House of Blues Anaheim is a live music venue located in the Anaheim GardenWalk. The restaurant and bar offers indoor and outdoor dining featuring Southern-inspired food favorites. This is a great location to enjoy your evening in the Anaheim GardenWalk, which features pre-show parties, live music, and DJs along with hosted special events. The Music Hall is a large space for concerts and events with mezzanine seating and VIP areas.
For adults in the Disneyland area that enjoy live music and entertainment, this is a great place to spend an evening in Anaheim. Not only is the entertainment top notch, the atmosphere of this Southern art filled venue is a great place to spend an evening enjoying drinks and good food. This is also a great place to attend special events as they will go all out! Mickey Visit attended a D23 member Star Wars special event at this location and found it to be a great experience for Disney and Star Wars fans. The venue offered a fun atmosphere, great food, and there was plenty to do before the event on the Anaheim GardenWalk.
You can view their concert event listing on the House of Blues website ahead of your visit.
Strong Water Anaheim
Strong Water Anaheim is a restaurant bar featuring a wide variety of themed cocktails and popular hand designed mugs! Due to the popularity of this location, if you want to experience indoor dining an advance reservation is a requirement. You can make reservations on the Strong Water website in advance.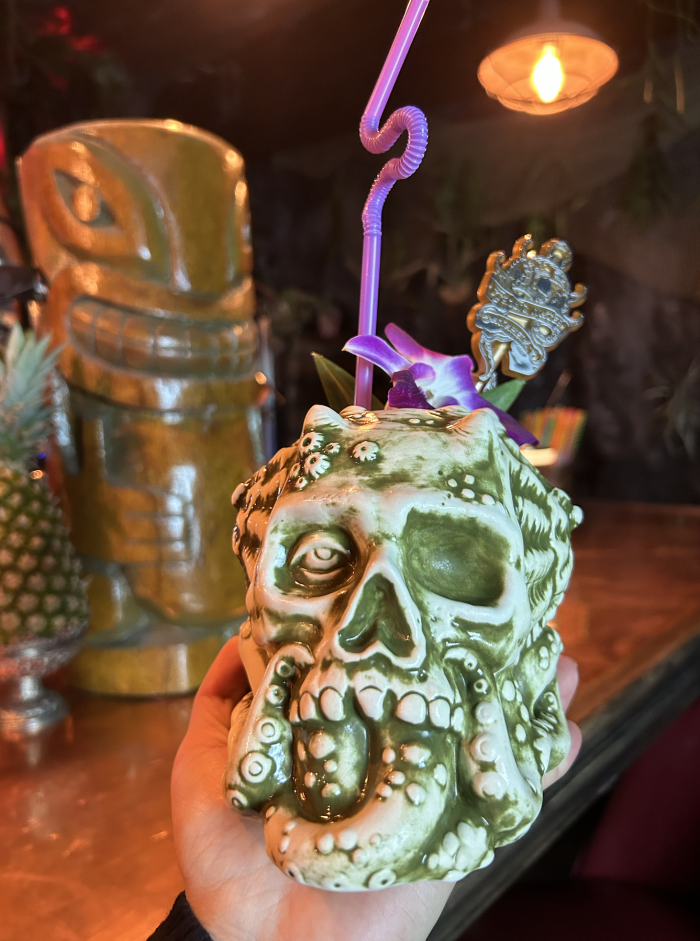 One of the well-known aspects of this location are the themed mugs which include the Tales of the Black Lagoon and the Green Zombie King. The Green Zombie King is featured in one of this location's short films which you can watch on their website ahead of your visit. This restaurant and bar offers an unique atmosphere making it a great place to enjoy for adults. The indoor dining is only for ages 21+ which can be a nice reprieve from some of the more family-focused locations around the Disneyland Resort. This is also a great addition for an Anaheim day when you don't have a Disneyland ticket.
If you're looking for the most popular menu items to enjoy, the Loco Moco Burger and Buzzin' Jungle Bird cocktail - both won local awards for best burger and cocktail! This is a popular location for adults visiting Disneyland so you do not forget to snag your reservation before your night out.
Where to Stay 
Stay at one the following hotels, which are all perfect for an adults-only weekend in Anaheim. 
About Mickey Visit
Mickey Visit is the site to help you save money and experience more at Disneyland. Utilizing the helpful guides and park touring strategies on their site will help you to have the best possible vacation. Mickey Visit has been featured in Travel+Leisure, the LA Times, OC Register, Forbes, and more. Be sure to join over 100K other guests planning their vacation on the FREE Mickey Visit newsletter for planning tips and critical news for your trip (sign up on the homepage via the link above)!