By Lindsay Brookshier
Originally posted on mickeyvisit.com.
This article contains affiliate links from Mickey Visit.
Halloween Time at Disneyland is now one of the most popular times of the year and even rivals the Christmas season at Disneyland. Four attractions at Disneyland receive a Halloween theme which increases the popularity of these attractions during an already busy time of the year. If you arrive at Disneyland prepared, you can successfully manage the crowds and experience all these popular Halloween attractions.
While maneuvering through the popular attractions, don't forget about the massive list of Disneyland Halloween food for this year you have to try also. You can make use of Disneyland Mobile Order for many of these Halloween goodies.
Disneyland Halloween Attractions
Four attractions at the Disneyland Resort get the Halloween seasonal treatment. These attractions become even more popular than usual during these holiday overlays so our Disneyland Halloween touring plan prioritizes these attractions so you don't miss out!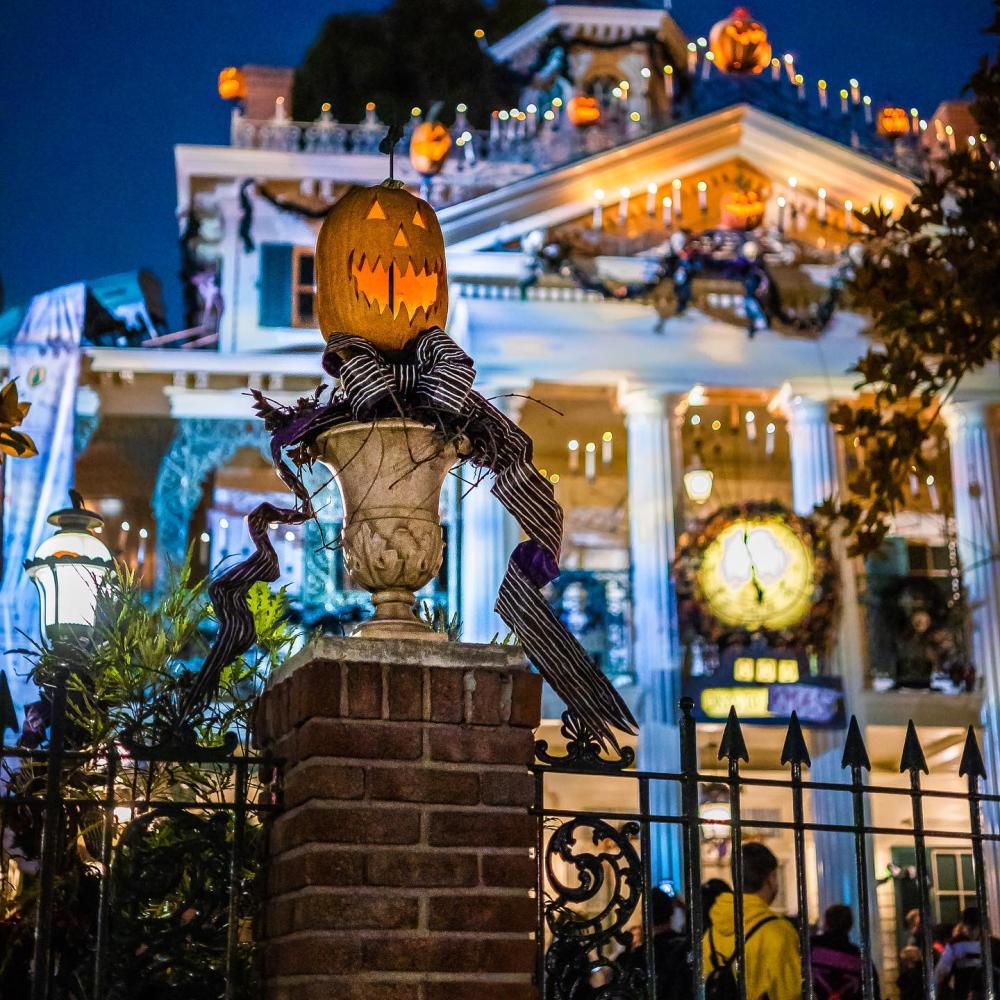 Haunted Mansion Holiday
The Haunted Mansion gets a makeover inspired by Tim Burton's The Nightmare Before Christmas. Be prepared to experience decor courtesy of Jack Skellington such as jack o' lanterns and wreaths, terrifying toys, and a spooky-scented gingerbread house! Sally and Oogie Boogie are also on hand to wish you "Season's Screamings!"
Guardians of the Galaxy- Monsters After Dark
Groot was left behind in the escape, and it's up to you to help save him from the monsters that have been unleashed in The Collector's Fortress. This spooky theme only takes place after 3 p.m. each day in Disney California Adventure.
Luigi's Honkin' Haul-O-Ween
Luigi and Guido celebrate Halloween with a dance party complete with Halloween-themed decor.
Mater's Graveyard JamBOOree
Don't miss Mater's Halloween celebration with 'high-spirited' Halloween music.
In previous years, Space Mountain would transform into a spooky, ghost-themed ride but this overlay was discontinued and has not returned to Disneyland for a few years.
Since Haunted Mansion Holiday is easily one of the most popular Halloween-themed attractions, you should head straight there at rope drop. This way you can ride it with the lowest wait time, and it also allows you to ride it again later in the day if you have time! Not a morning person? Save it for the end of the night, right before the park closes. The morning is also an excellent time to get that family picture with the Mickey Mouse pumpkin at the front of Main Street, U.S.A.
Guardians of the Galaxy - Monsters After Dark will begin starting at 3 p.m. each day at Disney California Adventure. The line for this attraction will stay consistently longer once this overlay begins so it's best to just head here right when it starts so you can get it crossed off your list. It's worth the wait!
Next, head over to Cars Land and see the Halloween decorations and themed attractions such as Luigi's Honkin' Haul-O-Ween and Mater's Graveyard JamBOOree.
If you're visiting on a day that Oogie Boogie Bash takes place then remember you will be asked to leave Disney California Adventure when the party begins at 6 p.m. This is why it's essential to have a Disneyland Park Hopper ticket so you can easily hop over to Disneyland.
Disneyland Halloween Genie+ Tips
Utilizing Disneyland Genie+ during your visit is the best way to cut down on time spent in line during the busy Halloween season. Genie+ starts at $25 per day depending on the day and includes access to 19 attractions along with unlimited PhotoPass downloads. This will be a huge help for the attractions you're saving for later in the day and for other attractions in the resort. Plus, as you take advantage of getting your picture taken in front of the giant Mickey pumpkin at the end of Main Street, U.S.A. you can then download your PhotoPass photo.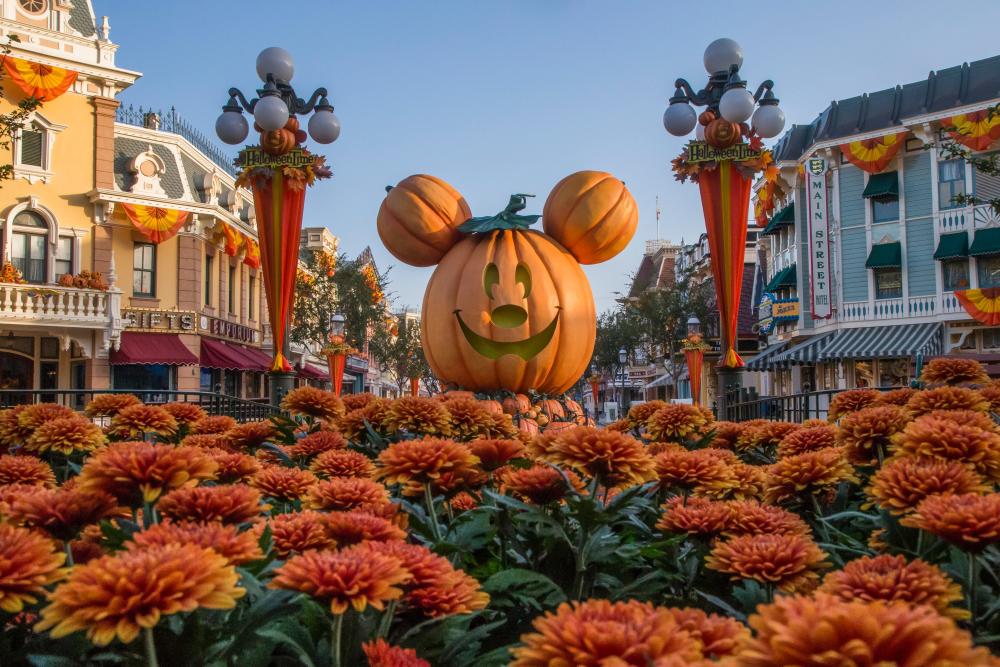 Guardians of the Galaxy - Monsters After Dark is listed as a separate Genie+ reservation each day! This Halloween-themed overlay begins at 3 p.m. each day with Genie+ reservations becoming available at noon. These will run out quickly so grab them while you can! Since Guardians is the 'normal' attraction until it switches to its Halloween theme, you can ride the regular version with Genie+ and then ride again with Genie+ for monsters! Normally you can only use Genie+ once per attraction so this is a nice feature.
It makes the most sense to start your day over at Disneyland so you can ride Haunted Mansion Holiday first since the main overlay (Guardians!) in Disney California Adventure doesn't start running with their Halloween theme until later in the day. But also keep in mind to watch the schedule for Oogie Boogie Bash so you can experience the park on a day the party isn't taking place or make sure you get done what you need to before it begins if you don't have a ticket. If you have a ticket, then that's a great time to ride Guardians since the line will be much lower during the party than during the regular park hours.
Genie+ Halloween Crowd Tips
Genie+ will see some strain under high crowd levels and this might happen during Halloween at Disneyland. Reservation times for popular attractions can run out quickly for the day along with many return times not being available until evening on crowded days. If you plan on using Genie+ then you must arrive at the parks early and purchase it right away. If you don't plan on arriving at the parks until after lunchtime, then you will not get as much use out of the service. Your best value for using Genie+ will be if you arrive at the parks early and use it consistently throughout the morning and afternoon. Avoid booking attractions that have return times far out in the future that will tie up your ability, at least for as long as you can.
Keep in mind that the return lines for Genie+ Lightning Lanes will also start to see longer lines throughout the day so make sure to arrive at least 15 minutes before your reservation is set to expire. Take a screenshot of your time if you're cutting it short, just in case.
The attractions you can expect to see with the highest wait times at both parks are Haunted Mansion Holiday and Guardians of the Galaxy - Monsters After Dark. Since these are the two popular seasonal Halloween attractions this makes the most sense of why you would see the highest wait times! These are also the first attractions that may run out of Genie+ return times so make sure you grab these when you can - you don't want to stand in the long standby line! Haunted Mansion Holiday averaged around 160-minute standby wait times on one of the busiest October days last year and did not settle down until nearly park closing. The month of October is now home to some of the most crowded days at Disneyland.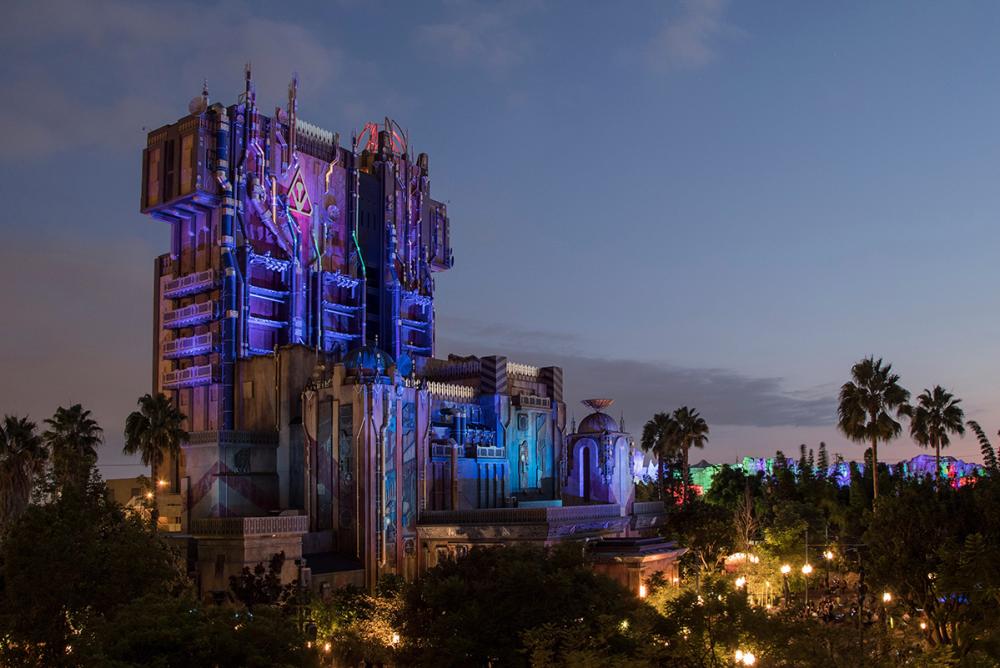 Another key trick, refresh the tip board! Even if return times are gone for the day for many attractions, don't give up. Many times, you will see return times show back up on the tip board and you can grab them. So just keep pulling down on that screen to refresh and grab those additional Genie+ reservations.
Overall, you can still have a great experience at Disneyland even if it's crowded if you arrive prepared and temper your expectations of what you will accomplish. I can't emphasize enough how crucial it is to allow time for a break, even if it's a small breather on Tom Sawyer's Island, just to allow your family some peace. And look at it this way, a crowded day at Disneyland is always better than a day at work, right?
About Mickey Visit
Mickey Visit is the site to help you save money and experience more at Disneyland. Utilizing the helpful guides and park touring strategies on their site will help you to have the best possible vacation. Mickey Visit has been featured in Travel+Leisure, the LA Times, OC Register, Forbes, and more. Be sure to join over 100K other guests planning their vacation on the FREE Mickey Visit newsletter for planning tips and critical news for your trip (sign up on the homepage via the link above)!