By Lindsay Brookshier
Originally posted on mickeyvisit.com.
This article contains affiliate links from Mickey Visit
Anaheim is home to the Happiest Place On Earth, but did you know there are so many great things to do in Anaheim? You can also find other theme parks like Knott's Berry Farm, water parks like Knott's Soak City, and Great Wolf Lodge, plus unique dining options and great off-site hotels. During our last trip to Anaheim, we spent time exploring the areas around Disneyland. 
The below are great options for things to do in Anaheim in the summer and beyond. Let's dive into our favorite attractions.
Disneyland Resort
You cannot have a trip to Anaheim without visiting Disneyland! The summer is a great time to visit Disneyland as crowds have begun to shift to Halloween and the Disneyland Christmas season which allows for slower summers. I expect we'll see a similar pattern at Disneyland in July. One of my favorite summer months to visit Disneyland in August because you will have all the summer perks of longer hours and nightly fireworks but crowds in the second half of August will drop as many kids return to school. Plus you also don't have the worry about missing out on new summer additions as anything new anticipated for Disneyland in the summer will debut by August.
The recent addition of the Marvel-themed Rogers The Musical debuted June 30th at the Hyperion Theater. The show traces the story of Steve Roger's (Captain America) humble beginnings from World War II to becoming Captain America to becoming the leader of the Avengers and beyond. This new show is set to run through August.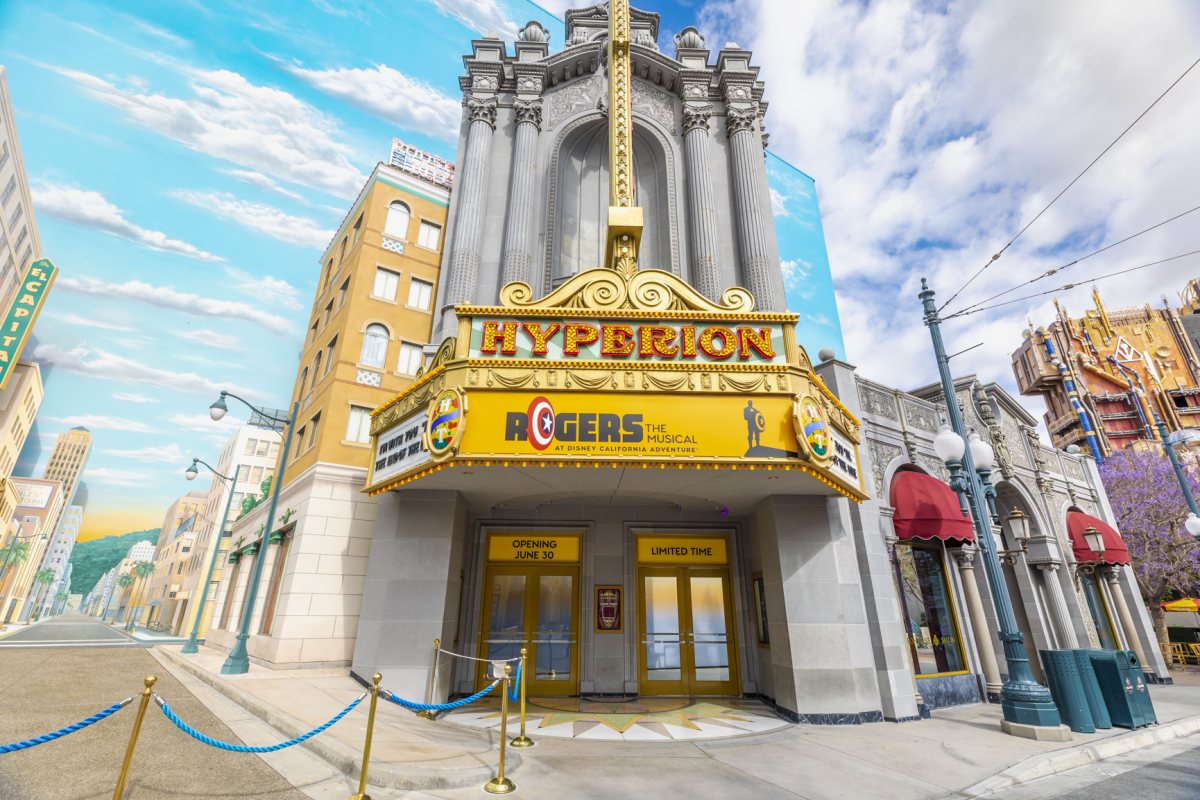 Another new area for guests visiting Disneyland to enjoy is the recently remodeled Toontown which offers far more interactive elements for kids like a water fountain that encourages play plus the new attraction Mickey and Minnie's Runaway Railway. Plus the Magic Happens parade is also running throughout the summer featuring classic and recent Disney characters with impressive float designs. All the great Disneyland character dining offerings are also back in full swing.
Guests visiting Disneyland this summer can also look forward to the new Big Hero 6 San Fransokyo area opening in August with a Baymax meet and greet, rethemed dining locations, and new food items. Summer is a great time to visit Disneyland!
Knott's Berry Farm & Soak City
Knott's Berry Farm, "America's 1st Theme Park," is located just ten minutes away from Disneyland. This theme park is popular with teens as it offers far more thrilling attractions than you can find at Disneyland. One of these popular attractions, the Ghostrider, is the longest and tallest wooden rollercoaster in Southern California. My teenager was in heaven at Knott's Berry Farm as he went on every ride he could find that turned him upside down or dangled him from the sky.
There is a rich history at Knott's Berry Farm with attractions like Calico Mine Ride which was the first theme park dark ride opening in 1960. For Disneyland fans missing Splash Mountain, you can find one of the oldest log flume rides here, Timber Mountain Log Ride, which takes guests through a 19th-century lumber camp before going down an 85-foot high drop. Fun fact about this ride: John Wayne and his son were the first to ride it when the attraction first opened in 1969. For smaller guests, Knott's Berry Farm is where you can find the Peanuts franchise with an entire area dedicated to Snoopy and Charlie Brown. You can even meet Snoopy and the other Peanuts characters! There are also tamer rides to enjoy in this area and this side of the park so there is something for all ages.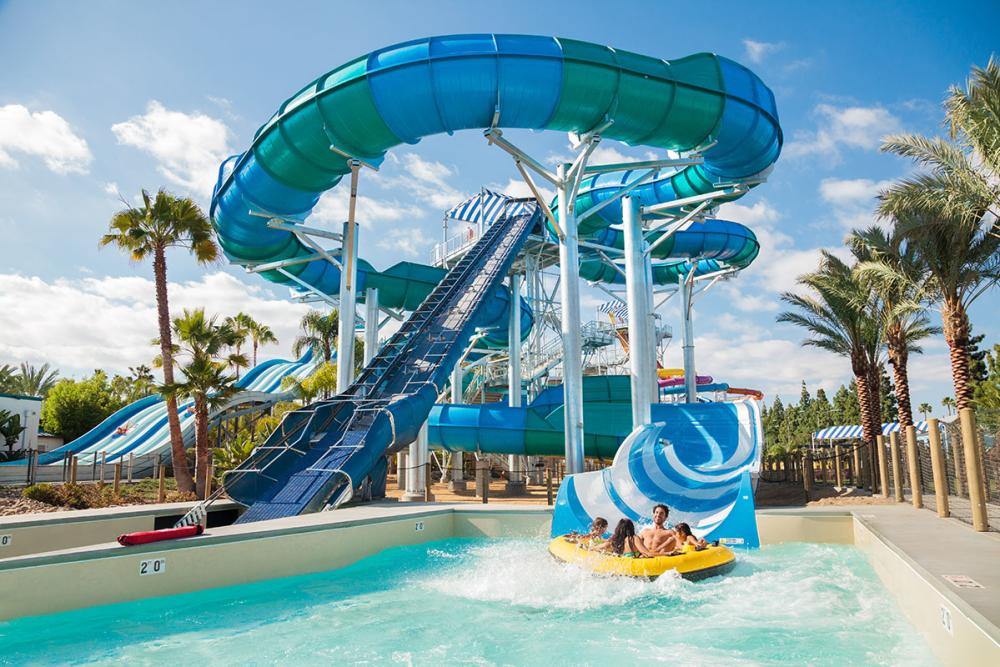 Across the street from Knott's Berry Farm is their water park, Soak City, which is a great addition to an Anaheim vacation. This is the closest outdoor water park to Disneyland offering an impressive lazy river, wave pool, family raft slides, and waterslides for all ages. This is a great place to spend a day "off" from Disneyland! We were able to easily incorporate the theme park and water park into a single day by walking over to Soak City when the temperatures got warm to cool off and then going back to spend the evening at Knott's Berry Farm. Around the holiday months, the park also offers the Knott's Merry Farm celebration.
Great Wolf Lodge
Great Wolf Lodge is another fun attraction just ten minutes down the road from Disneyland! You can grab a Day Pass to enjoy the indoor water park here plus enjoy the other family activities like the arcade, indoor bowling, glow-in-the-dark mini golf, and the unique scavenger hunt created just for Great Wolf Lodge.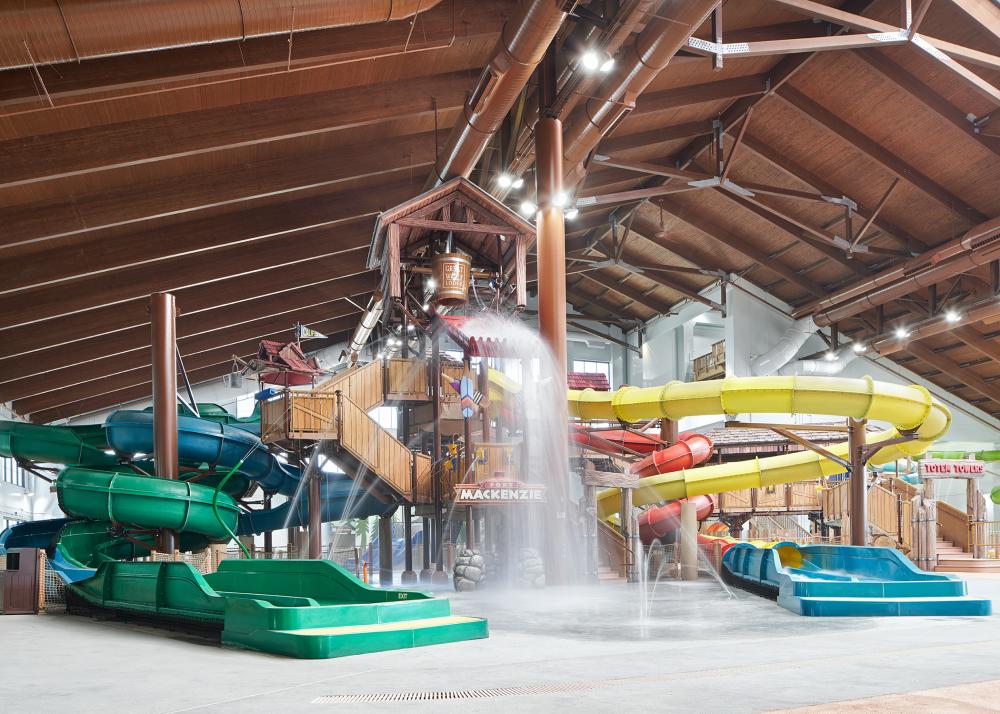 The indoor water park is what Great Wolf Lodge is known for with its famous Howlin' Tornado waterslide that plummets guests through a six-story funnel as they spin around in a raft that fits up to four. Other popular water attractions include a more tame family-friendly raft slide, a lazy river, a wave pool, water playgrounds, plus multiple individual slides with various thrill levels. This was a great way to spend our off day from the theme parks and kids of all ages will love Great Wolf Lodge.
Anaheim Packing District
The Anaheim Packing District is a great dining spot if you want a break from theme park food! This local eatery is just ten minutes away from Disneyland and is a cultural hot spot of local food options. There are over 30 small businesses located in this historic citrus packing warehouse transformed into a modern food court. The Anaheim Packing District has something for everyone and kids will love the quirky atmosphere and the fun dessert options at locations like Hans Homemade Ice-Cream with fun flavors like strawberry Oreo ice cream.
A popular favorite at Anaheim Packing District includes The Kroft which is known for its Candian poutines, french fries covered with gravy, and cheese curds. This was easily one of the busiest locations at the Anaheim Packing District when we visited as their menu also includes creative burgers and a large variety of poutines beyond the classic one we had. My favorite spot for atmosphere and fun drinks was The Sacred Junk Bar. This trendy outdoor bar and lounge had a great menu of vegetarian options and DIY-inspired decor like cabanas homemade from antique benches and pillows. Such a cool vibe! A trip to Anaheim Packing District for dinner is our new Anaheim tradition.
Universal Studios Hollywood
Super Nintendo World opened earlier this year at Universal Studios Hollywood and has been a hit with rave reviews. This new Mario-themed land includes interactive elements that allow guests to become players in a Nintendo game, meet and greets with Mario characters, a brand new restaurant Toadstool Cafe plus a groundbreaking new attraction. Mario Kart: Bowser's Challenge uses AR (augmented reality) goggles to immerse guests in a Mario Kart-style race from the depths of Bowser's dungeon. This attraction is one of the most impressive theme park rides I have ever seen!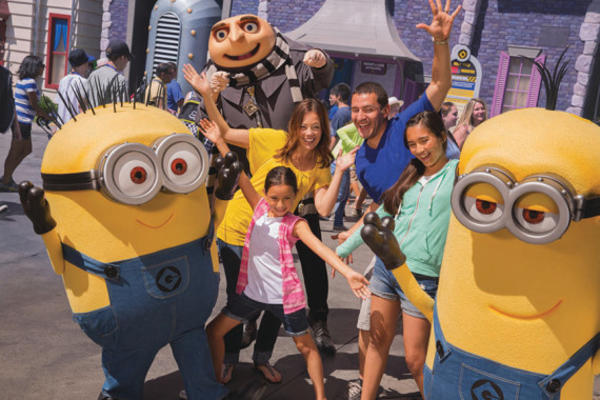 Universal Studios Hollywood is just 30 miles from Disneyland but the drive can take over an hour depending on traffic. This is a great addition to a Disneyland vacation, especially with the new Super Nintendo World plus the Wizarding World of Harry Potter, the famous Studio Tour, the new Secret Life of Pets attraction, and a Despicable Me-themed area kids will love.
Best Hotels Near Disneyland
We also reviewed three different hotels all within walking distance of Disneyland on this recent Anaheim summer vacation.
Howard Johnson Anaheim Hotel & Water Playground
Howard Johnson Anaheim Hotel & Water Playground is one of my favorite hotels near Disneyland. This family-friendly hotel is just an eight-minute walk from the parks and you can even see the monorail and Matterhorn from the hotel! This hotel is well-known for its water playground, Castaway Cove, with a big pirate ship-themed water playground that periodically dumps water on the kids plus two water slides. There are also water cannons and water sprinkles plus a toddler-sized splash pad.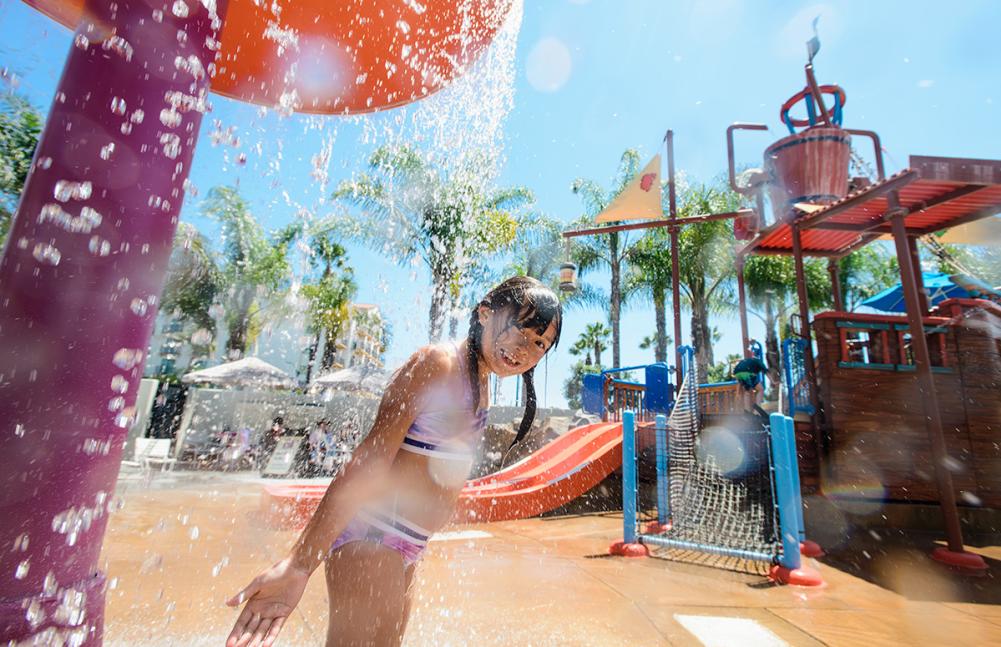 The atmosphere of this hotel does a great job of incorporating Disney touches into the buildings and rooms. The rooms will feature Disney artwork, including prints from the popular artist Shag, and Disney attraction posters in the hallways. The landscaping around the hotel is done well with tropical palms and plants. We always enjoy our stay here.
Best Western Stovall's Inn
Our second hotel stay was at Best Western Plus Stovall's Inn which is an affordable hotel within walking distance to Disneyland. This hotel is located on Katella Ave so you are facing California Adventure and you can see the Incredicoaster and Pixar Pal-A-Round from the hotel.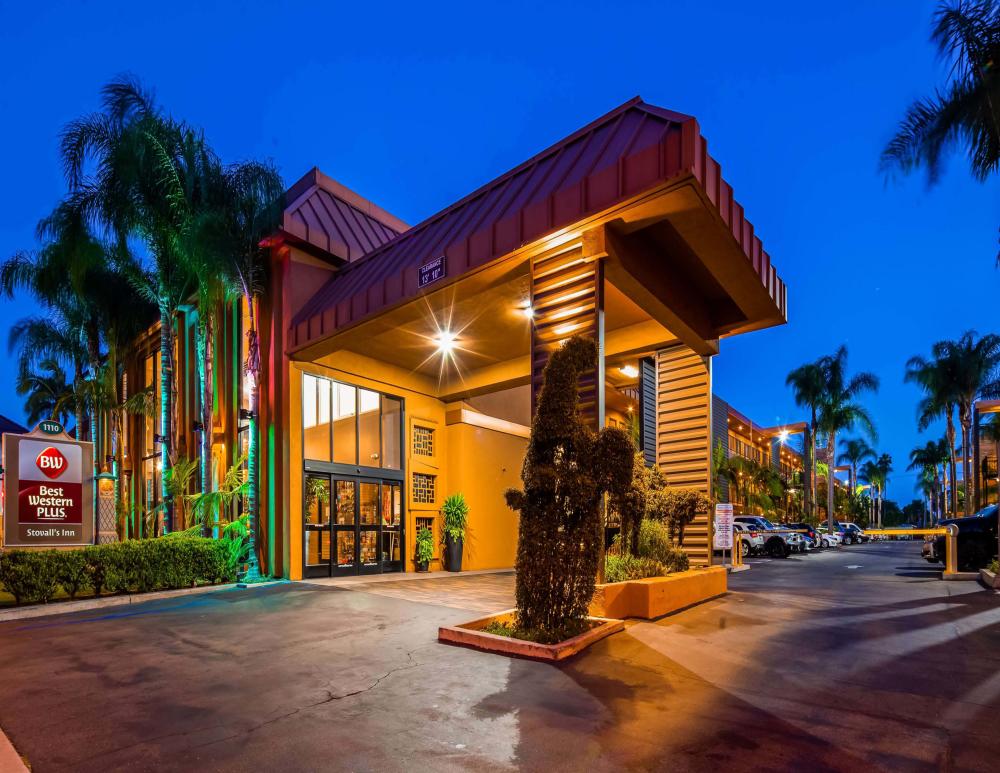 The rooms at Best Western Plus Stovall's Inn are spacious with plenty of storage options like a large dresser and wardrobe for all your belongings. I was impressed at how much space our room had! This hotel also includes a complimentary breakfast and the pool area has a hot tub which are both great perks for an affordable hotel to have.
Hilton Anaheim
Hilton Anaheim is a modern hotel just a block away from Disneyland and next door to the Anaheim Convention Center. Since this hotel caters to convention travelers and Disneyland families, you will find an impressive list of on-site amenities and dining options. The large pool area includes two large hot tubs and a water playground plus the hotel offers an on-site Starbucks, food court, hotel restaurant, and bar lounge. You can easily access Disneyland with the shuttle.
The rooms are spacious, clean, and offer great views of the Anaheim area. Our room had a view of Disneyland's California Adventure so we could lay in bed and see Pixar Pier and Radiator Springs lit up at night. One of the biggest perks of this hotel is the variety of dining options in your hotel so you do not need to leave the hotel to grab a quick bite to eat or a Starbucks coffee before your morning in the parks.
There are so many vacation destinations in Anaheim and you can easily spend an entire week enjoying all the theme parks, local spots, and water parks.
About Mickey Visit
Mickey Visit is the site to help you save money and experience more at Disneyland. Utilizing the helpful guides and park touring strategies on their site will help you to have the best possible vacation. Mickey Visit has been featured in Travel+Leisure, the LA Times, OC Register, Forbes, and more. Be sure to join over 100K other guests planning their vacation on the FREE Mickey Visit newsletter for planning tips and critical news for your trip (sign up on the homepage via the link above)!