Feast on the flavors of fall in Anaheim, California. It's time to celebrate the harvest and the bounty of delicious drinks and food items available around town. From cocktails to ice cream cones, there's something for everyone this season!
Anaheim Packing District
The Anaheim Packing District is full of fall flavors. Take a tour through the area and sample a variety of seasonal delights! 
At Hans' Homemade Ice Cream be sure to double up on flavors like Pumpkin or Praline Pecan. 
Head to Le Parfait Paris to enjoy an Apple-licious Brioche with pastry cream, golden apple, and almond streusel. You'll fall for drinks like Pumpkin Spice Latte, Chocolate Chai Latte, or Maple Pecan Spice Latte. Looking for something spooky? Try a Bloody Croissant with black and red striped croissants filled with strawberry puree or their Skeleton Cake.
Let us give thanks for The Pie Hole's Mom's Apple Crumble, Moe's Pumpkin, and assorted variety of pies available by the slice or entire pie.
Pop on over to the Popbar Anaheim for Mummified GelatoPops and Halloween-y GelatoPops dipped in white chocolate or milk chocolate, starting September 22. The hand-dipped pops are then drizzled with white or dark chocolate and decorated with festive sprinkles and edible googly eyes.

Popbar Anaheim inside the Anaheim Packing House
Screams and spice are on the menu at Mini Monster! Starting September 22, Mini Monster is serving up a Pumpkin Spice Thai Tea topped with whipped cream, pumpkin spice, and a fluffy mummy marshmallow.
Prost at the Press! The Iron Press is celebrating Oktoberfest now through October 1st. Grab a bratwurst, tots, plus pretzel bites with beer cheese to pair with a pint from one of Anaheim's local breweries.
Hidden on the lower level of the Anaheim Packing House is The Blind Rabbit, a Prohibition-era speakeasy. Muggles should swing open the sake barrels to reveal a swanky setting with a bewitching October menu entitled "Defense Against the Dark Arts."
From the greenhouse to your plate, there's something fresh year-round at Poppy & Seed. Consider brunching on a Brown Butter Waffle or Fall Salad.
The Disneyland® Resort
Tricks and treats are now available at the Disneyland® Resort. The Happiest Place on Earth brings us even more joy when they roll out seasonal menus. Drool over these new limited-time offerings at Disneyland® Park. Can't-miss items include the Poison Apple Macaron from Jolly Holliday Bakery Cafe Chai-spiced, Pumpkin Iced Tea from the Hungry Bear Restaurant, and the Wicked Stepsisters Crispy Pork Bowl from the Tomorrowland Skyline Terrace. 
Disney California Adventure® Park brings its own ghoulishly delightful dishes like the Poison Apple Funnel Cake Fries from Award Wieners, Ghostly Double Cheeseburger from Smokejumpers Grill, and Butterscotch-Apple Mule from Lamplight Lounge.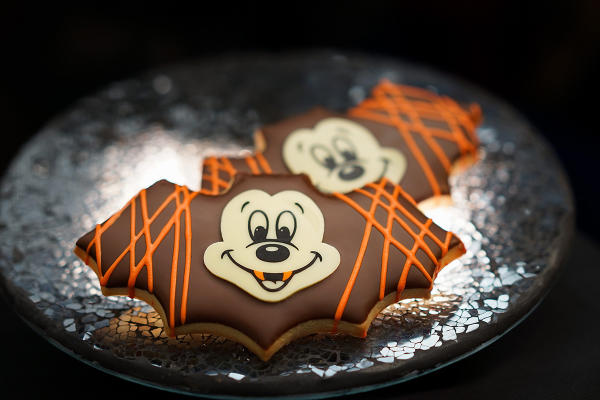 Mickey Mouse treats at the Disneyland Resort
Don't miss the festive decor and frightfully delicious treats available to all in the lobby of Disney's Grand Californian Hotel & Spa, plus seasonal offerings at each resort hotel. Visit the Disney Parks Blog for the full Foodie Guide to Halloween Time.
Salt and Straw in Downtown Disney has sweetened the season with a Harvest Festival series of ice cream flavors. The handmade, small-batch creamery is known for its rotating flavors. This season's line-up includes flavors like Pumpkin Spiced Tiramisu, Beecher's Cheese w/Apple Pie Cinnamon Rolls, Caramel Apple Sherbet, Pinot Poached Pear Sherbet, and Chocolate Plum and Hazelnut Shortbread (vegan).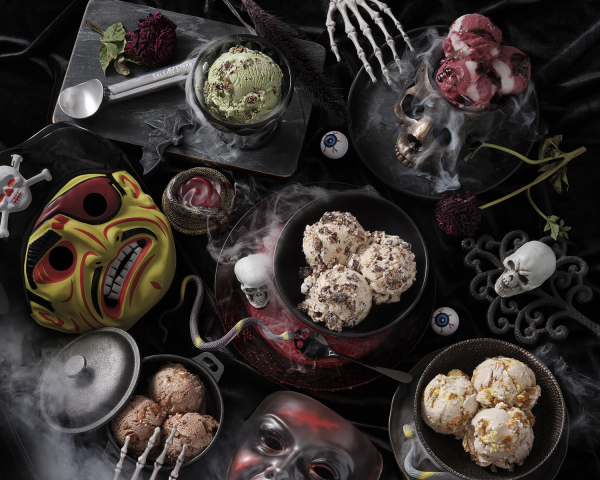 Salt & Straw Seasonal Flavors
All Around Anaheim
Join the spell-ebration at The Westin Anaheim Resort's RISE Rooftop Lounge. Their Halloween-themed menu includes Dracula's Coffin Cake, Why So Serious Martini?!, and Flowers for Dracula Martini.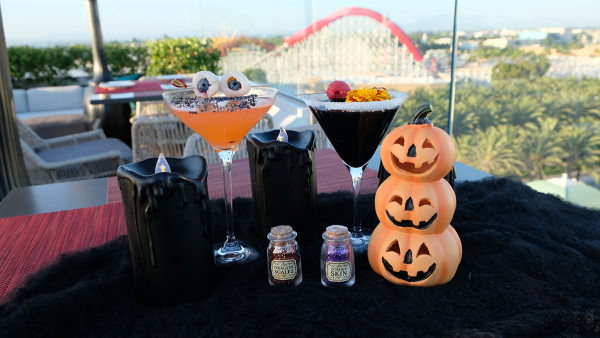 RISE Rooftop Lounge's Seasonal Drinks
Reunion Kitchen + Drink offers a fall version of the beloved dessert, the Pumpkin Butter Cake, served with vanilla bean ice cream and the perfect amount of cinnamon.
Celebrate Mahalloween at Strongwater Anaheim. The delightfully themed tiki bar invites you to come ashore for specialty cocktails like The Devil's Corn, Pumpkin in the Gallery, or Strega Bianca. If beer is more your vibe, then head to Radiant Beer Co to try their Extremely Well Würst, a malty Märzen. The local brewery is hosting a variety of Oktoberfest celebrations, so make sure to pack your lederhosen when you visit Anaheim.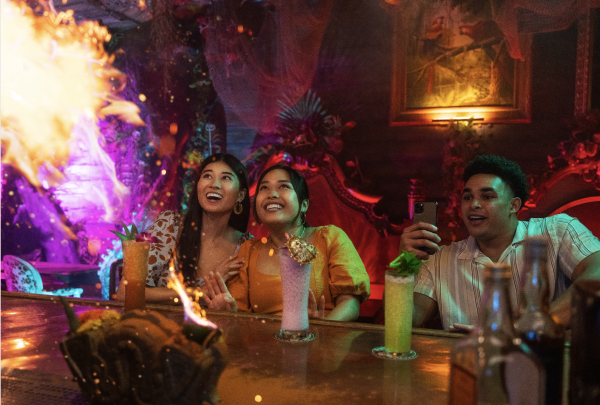 Stop by Strong Water Anaheim for a Special Seasonal Cocktail. 
Fuel your fall adventures with a Pumpkin Spice Latte or Pumpkin Spice Cream Top from Caffe in Coffee Co.
Temperatures still sending you on the hunt for a cool treat? Try the Salted Caramel Italian Ice at Joe's Italian Ice with a swirl of chocolate self-serve at the core.
You'll flip when you hear that the Original Pancake House has brought back its pumpkin pancakes. Don't forget to treat your furry friends to something pumpkin-flavored. Head to Citi Pawz for a PSL-inspired cookie for your pup.
Subscribe to Our Newsletter
Sign up for our monthly newsletter, The Anaheim Update to receive exclusive top things to do in Anaheim and Orange County! The fun in Anaheim never dies. We hope you have a deliciously good time!