By Lindsay Brookshier, Mickey Visit
The article originally appeared on Mickey Visit. 
This article contains affiliate links from Mickey Visit. 
Disneyland is the heart of the Disney100 celebration for the 100th anniversary of The Walt Disney Company. This celebration has elements across the entire resort with a new attraction, new nighttime entertainment, food, and much more.
The Disney100 celebration kicked off at Disneyland on January 27, 2023. This is the year-long celebration of the 100th anniversary of The Walt Disney Company. No end date has been announced for the Disney100 Celebration at this time.
In addition to the launch of the Disney100 celebration, the new Mickey and Minnie's Runaway Railway also debuted at Disneyland on January 27th. The attraction requires the use of either an Individual Lightning Lane (paid option) or a virtual queue (free option) to access. You can read Mickey Visit's recommended strategy and a breakdown of what these options actually are in plain English in our Mickey and Minnie's Runaway Railway virtual queue tips.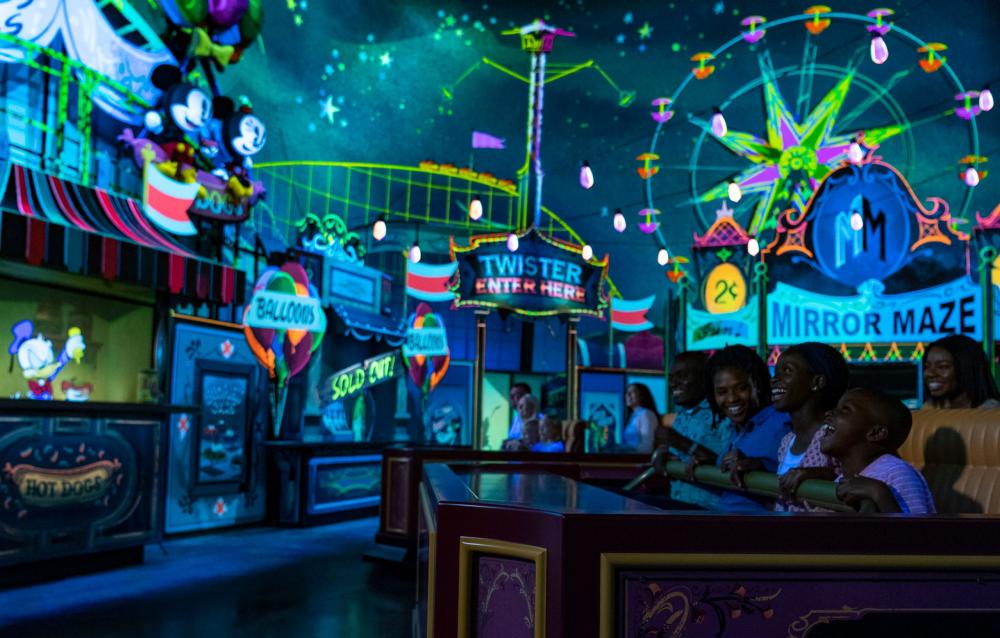 Mickey and Minnie's Runaway Railway
The celebration features two new nighttime spectaculars, "Wondrous Journeys" and "World of Color - One", which have already debuted. The new fireworks show may be the best that Disney has ever created. The Magic Happens parade will return on February 24, 2023!
In Disneyland Park, decorations are up on Sleeping Beauty Castle plus all along Main Street. In Disney California Adventure, there is bunting all along Buena Vista Street and a large Disney100 medallion near the end of the street. At the Disneyland Hotel, decorations like bunting and a large new mural can be seen as you enter. Disneyland MagicBand+ will interact with the new Wondrous Journeys Disneyland fireworks show, new World of Color - One show, and select decorations throughout the parks later this year.
Ready to plan your trip? Mickey Visit's travel partner has the lowest prices on multi-day Disneyland discount tickets for your trip.
Mickey and Minnie's Runaway Railway
Mickey and Minnie's Runaway Railway is a trackless dark ride for the entire family with no height requirement. This is Mickey Mouse's first ever ride-through attraction at the Disneyland Resort.
A copy of a popular Walt Disney World attraction, this Disneyland version breathes new life into the back area of Toontown. Though the new attraction is now open, the rest of Disneyland's Toontown will reopen on March 8, 2023.
New Disneyland Fireworks
Wondrous Journeys is the brand new fireworks spectacular created just for the Disney100 Celebration! This show may be the best that Disneyland has ever created and is a complete must-see during your trip to Disneyland.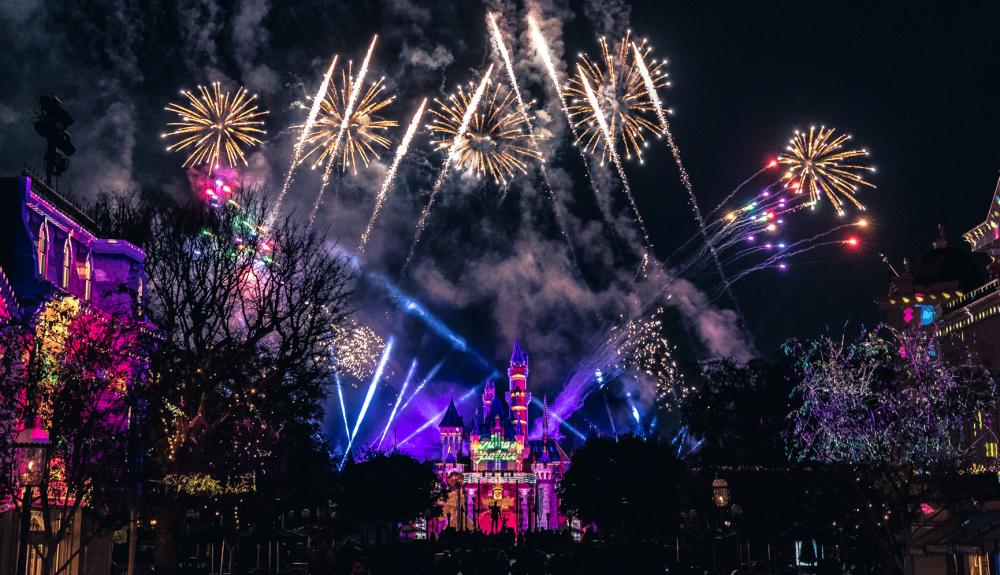 Wondrous Journeys at Disneyland
This fireworks show includes nods to all 62 Walt Disney Animation Studios films that have been released plus the new "Wish" film coming this November. The fireworks will specifically celebrate the 100 years of the Walt Disney Animation Studios.
Read Mickey Visit's full Disneyland fireworks review and reflection on what makes this show so special.
New World of Color - One
World of Color - One is a brand new World of Color-themed nighttime spectacular coming to Disney California Adventure just for the Disney100 Celebration. The show continues to utilize the World of Color virtual queue for seating.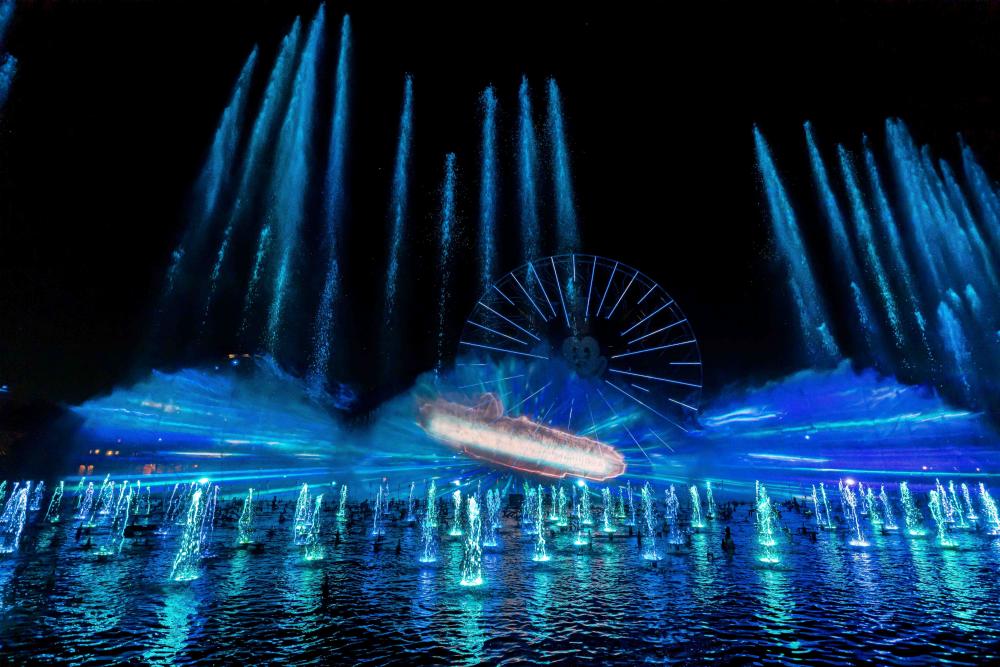 World of Color - One at Disney California Adventure
Disney has shared new details on the show including the fact that this will be the first Disneyland nighttime spectacular to include characters, music and moments from Walt Disney Animation Studios, Pixar Animation Studios, Avengers, and Star Wars in the same production.
Stand out sections of the show include the Star Wars and Avengers moments. The show largely highlights more recent titles. If you have never seen World of Color, this show is a must-see.
Magic Happens Parade
On February 24th, 2023, the awaited return of Magic Happens parade will return!
This brand-new parade only completed a two-week run in March 2020 before the COVID-19 pandemic resulted in an extended park closure. The parade has not returned since. We are so excited to see this wonderful parade return. Its theme fits nicely with the celebration of Disney's 100 years!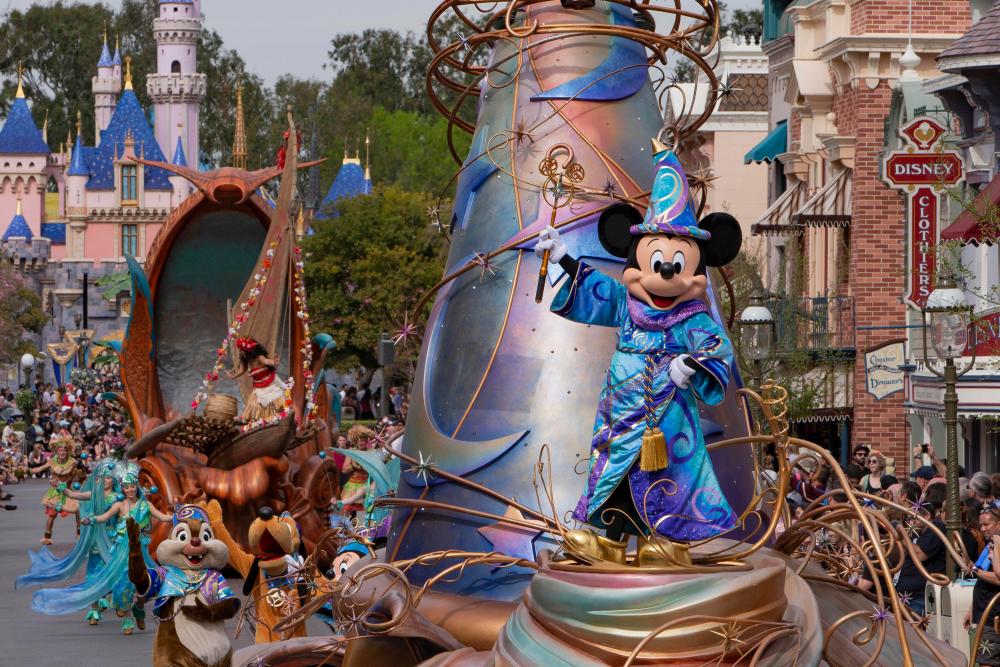 Magic Happens Parade at Disneyland
Disney Gallery Exhibit
The Disney Gallery on Main Street at Disneyland features a new exhibit that will pay tribute to the Disney films that became Disneyland Resort attractions and the park attractions that then led to Disney films.
Disneyland Esplanade Music Updated
Disney has updated the Esplanade music playlist to reflect songs from Disney Parks around the world in honor of the Disney100 celebration. These are a mix of popular tunes and deep cuts for fans of the Disney theme parks.
New Disneyland Merchandise
Disneyland and the broader Disney company have released a variety of merchandise offerings in celebration of Disney100. There are a couple of different collections including one focused on platinum and another on the historical eras of the company. We were most excited about the eras collection. You can see details on these Disney100 collections in Mickey Visit's Disney merchandise guide.
Special Food Options for Celebration
There are a variety of specialty food items for the Disney100 celebration that are available at locations throughout the Disneyland Resort. These items range from a platinum candied Minnie Mouse candied apple to a new potato and cheddar cheeseburger to a platinum trifle.
Many of the items are colored to match the new festival while others are just fun additions to various menus around the resort. You can find these items in Mickey Visit's full guide to the Disneyland Disney100 celebration.
Where to Stay in Anaheim
Make your visit to Anaheim extra magical by booking your stay at one of these hotels. 
Anaheim Marriott
Located a short distance from the main gates of the Disneyland Resort, Anaheim Marriott offers guests world-class service, comfortable beds, and plenty of amenities. Guests can even reserve a Disneyland-facing room for a great view of Disneyland's nighttime spectaculars.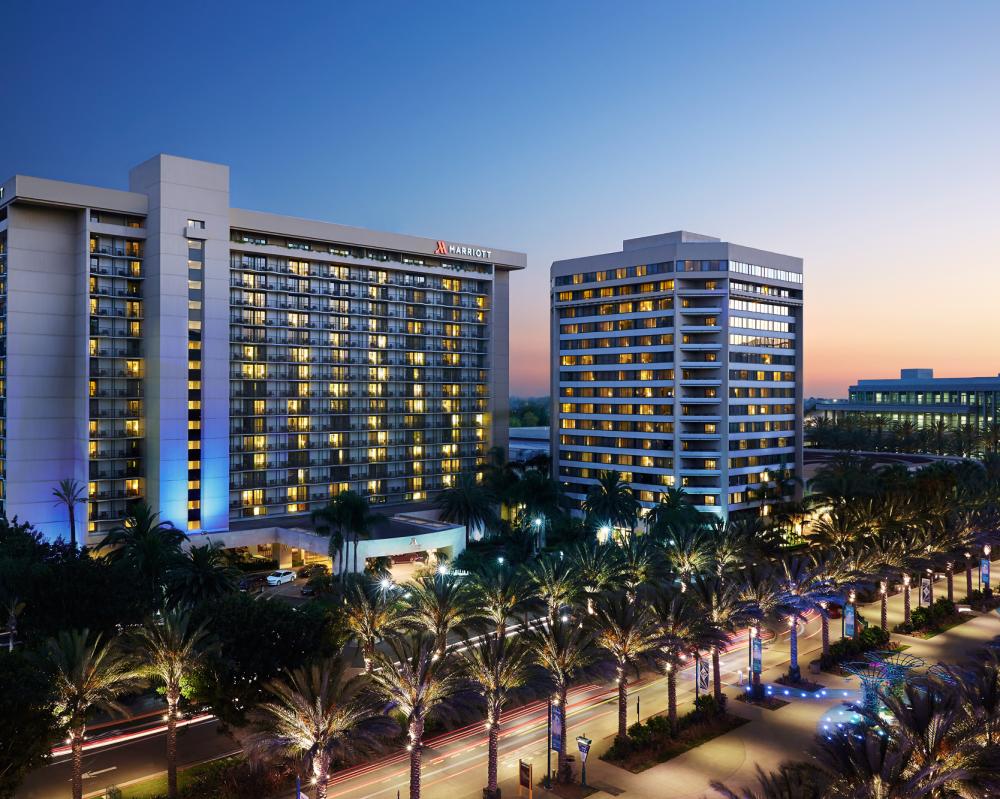 Hilton Anaheim
Also located a short distance from the main gates of the Disneyland Resort, Hilton Anaheim offers of number of rooms with a Disneyland fireworks view, comfortable accommodations, and plenty of amenities, like an onsite Starbucks and FedEx.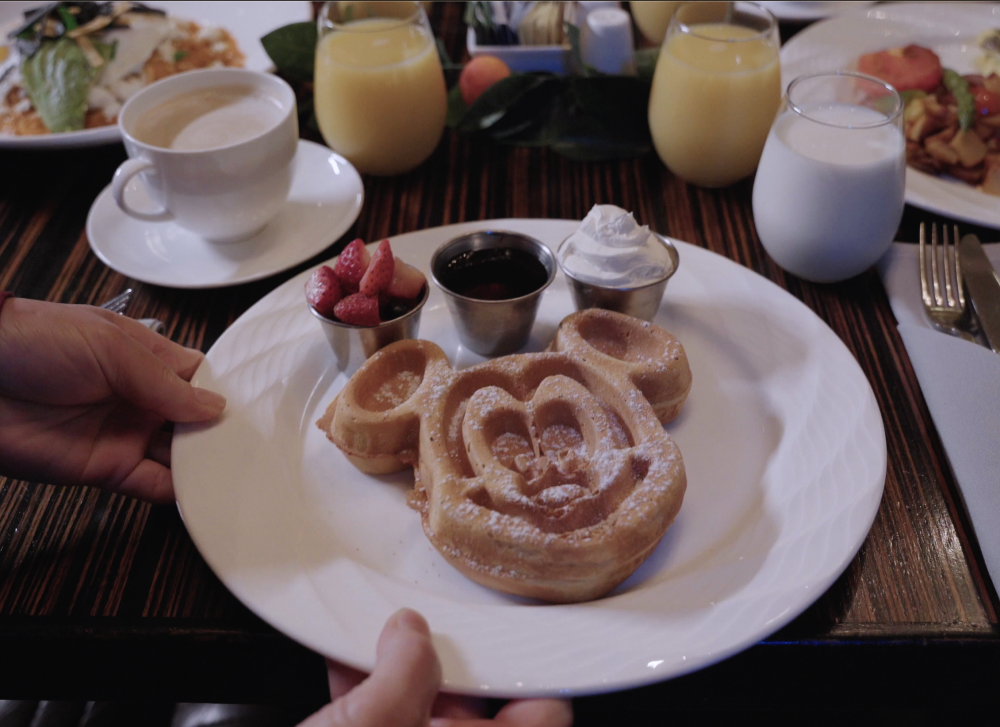 JW Marriott, Anaheim Resort
JW Marriott, Anaheim Resort is one of Anaheim's Four Diamond hotels. The property brings together locally-sourced cuisine, inspired decor, and exceptional service that results in a resort with elevated experiences.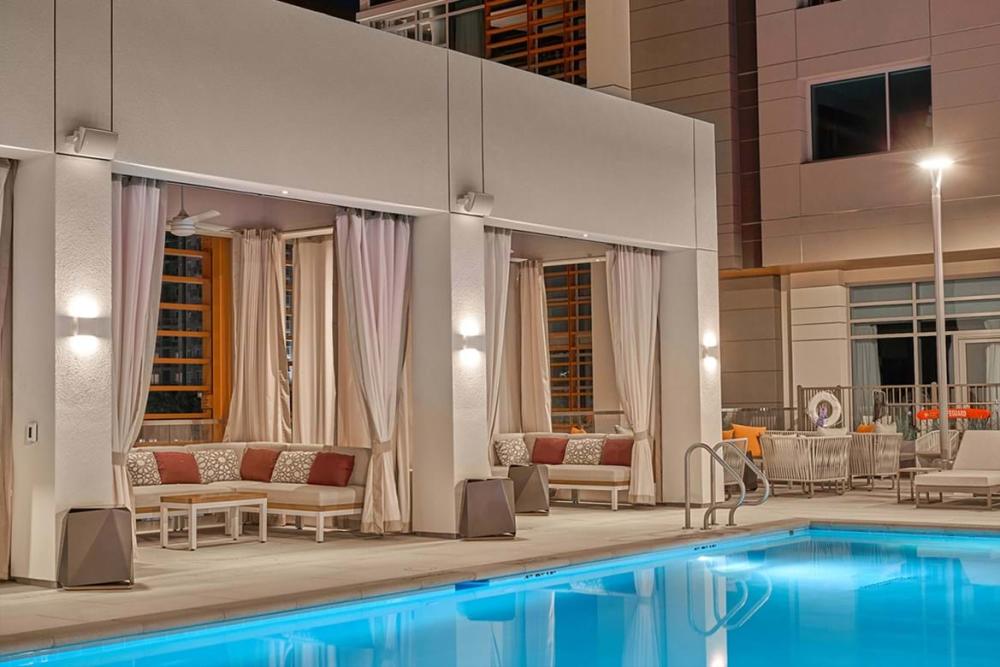 The Viv Hotel Anaheim
Enjoy spacious bunk bedrooms and local fun from nearby theme parks, sports events, and outdoor adventuring when staying at The Viv Hotel Anaheim. Guests can even check out the rooftop, Top of the V, to enjoy cuisine from the Basque Country of Spain.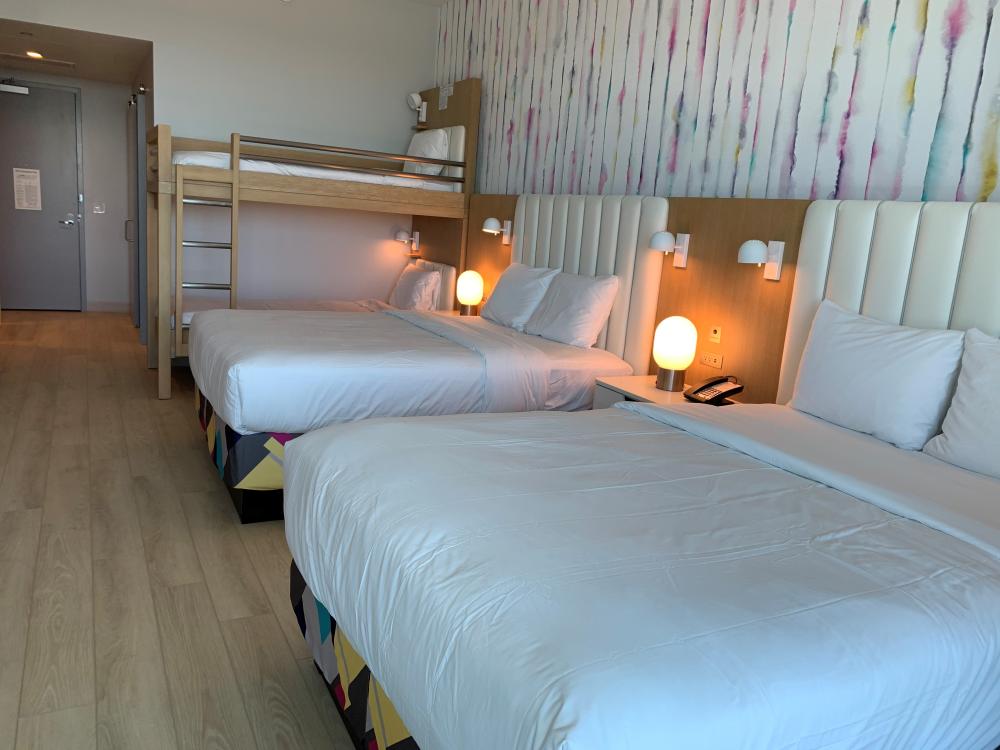 The Westin Anaheim Resort
The Westin Anaheim Resort offers a haven of wellness with a full fitness center and pool, plus a premium program that will inspire you to stay on track while you travel. Fuel your visit to Anaheim with numerous dining options including the modern Fleming's Steakhouse, the authentic Mexican flavors served at Puesto, or casual California fare at Tangerine Room. The nighttime skyline fills with fun at RISE Rooftop Lounge, where guests can enjoy fabulous views of the Disneyland Resort.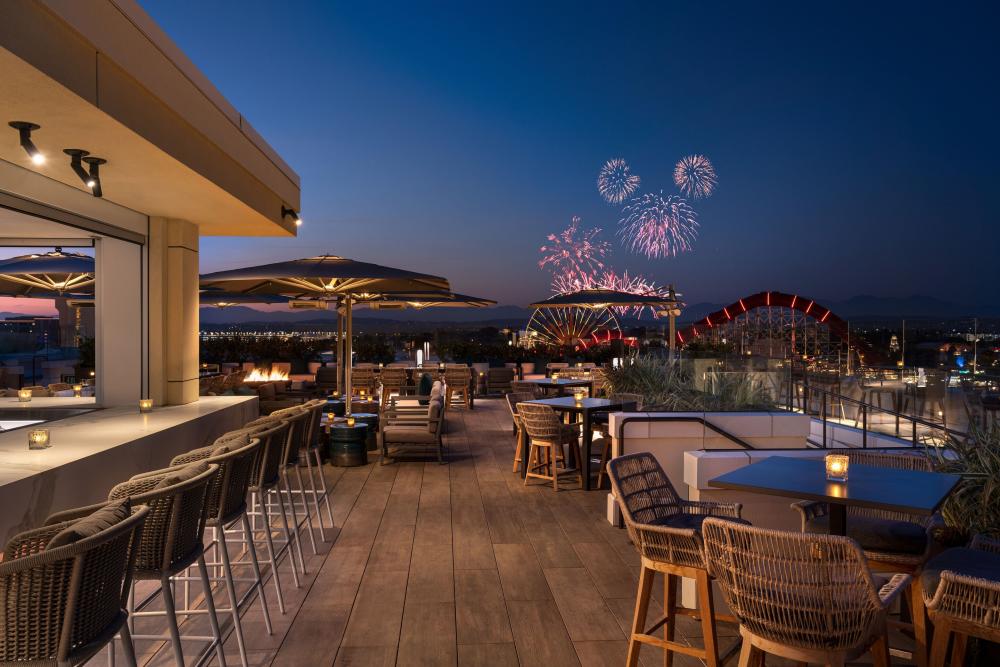 Grand Legacy at the Park
This hotel is located directly across the street from the Disneyland Resort. The hotel's rooftop restaurant and bar, The FIFTH, offers stunning views of the Disneyland Resort along with delicious bites and cocktails.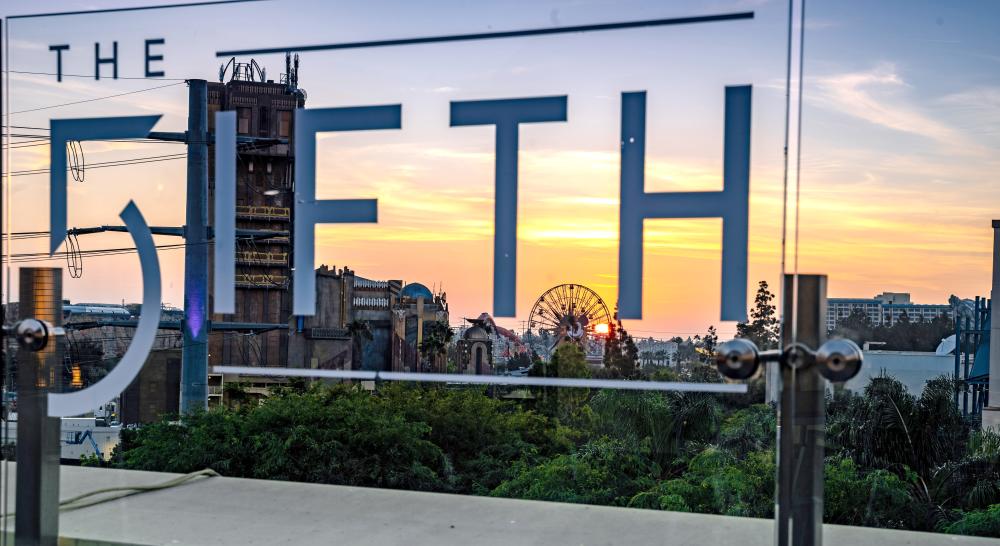 Gavin Doyle and Lindsay Petit contributed to this report.
About Mickey Visit
Mickey Visit is the site to help you save money and experience more at Disneyland. Utilizing the helpful guides and park touring strategies on their site will help you to have the best possible vacation. Mickey Visit has been featured in Travel+Leisure, the LA Times, OC Register, Forbes, and more. Be sure to join over 100K other guests planning their vacation on the FREE Mickey Visit newsletter for planning tips and critical news for your trip (sign up on the homepage via the link above!).