By @DisneylandTourGuide of disneylandtourguide.com
Christmas time at Disneyland® is the most magical time of the year. This year the holiday season begins November 12, 2021, and lasts through January 9, 2022. Disneyland® and Disney California Adventure® both have so much to offer, from decor, entertainment, treats, meeting Santa, holiday lights, snow on Main Street, fireworks, and so much more. Read on to check out all the things to do and see this holiday season inside the Disneyland® Resort.
Holiday Tree Lighting
You'll want to snap a photo in front of the Christmas tree in Town Square. Be sure to come back to Town Square and watch the Holiday Tree Lighting.
"A Christmas Fantasy" Parade
Don't miss one of the best holiday celebrations that include prancing reindeer, marching toy soldiers, dancing gingerbread cookies, your favorite Characters, and, of course, Santa! This holiday parade is 40 minutes long and shown twice a day at 3:00 PM and 5:30 PM. The first parade will be during the day and the second parade will be at night.
For viewing locations, we recommend sitting on the west side of It's a Small World, so the sun is not in your eyes for the daytime parade!
It's a Small World Shows
Every night there are two separate shows to watch. The first one, It's a Small World Holiday Lighting show is the magical moment when the whimsical facade lights up in a dazzling display with thousands of festive twinkling lights. Also be sure to watch the cutest projection show, Tick-Tock Tidings, on the exterior of It's a Small World throughout the night.
There are several opportunities to see this fun 2-minute holiday show!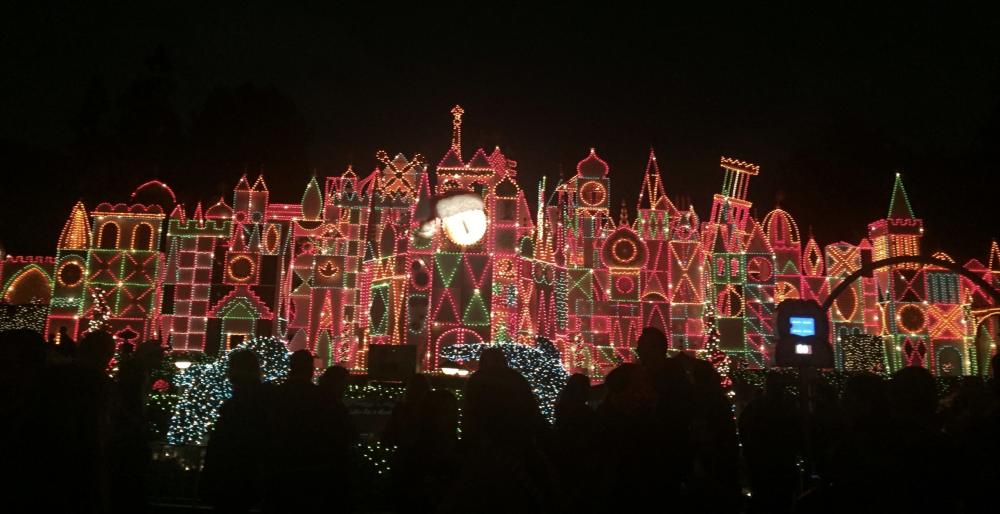 The Wintertime Enchantment at Sleeping Beauty's Winter Castle
Watch more than 126,000 twinkling LED lights illuminate Sleeping Beauty's Winter Castle every night. There's a magical lighting show twice a night plus it SNOWS at Disneyland®! Watch the spectacular castle lighting each night. The Wintertime Enchantment at Sleeping Beauty's Winter Castle is sure to bring a smile and maybe even a tear to your eye. The short show includes music, lighting, and snow at the end. No need to line up early for this show. Just come and enjoy the beautiful music and dazzling light show. The times do change as the season goes on. Be sure to check the official Disneyland® Resort app for the exact times on the day of your visit.
Believe in Holiday Magic Fireworks
This show is so magical with fireworks, an electrifying musical score, and the most magical ending with snowfall. The show starts at 9:00 PM every night and lasts for 15 min. Double-check in the Disneyland® app for the showtime on the night you're there. Suggested viewing locations for the fireworks and snowfall are at Sleeping Beauty's Castle, on Main Street, or near It's a Small World.
Snow at Disneyland
Yes, it's true it snows at Disneyland®. When and where can you see magical snowfall in Disneyland®?
There are a few times during the night you can catch this phenomenon:
At the castle lighting show each night at 7:30 PM and 8:15 PM ― snowfall in the hub, on Main Street, and over by It's a Small World
After the fireworks show at 9:15 PM at any of these locations ― in front of the castle, all along Main Street, or near It's a Small World
Holiday Attraction Overlays
There are two attractions that are all decked out for Christmas in Disneyland®.
The Haunted Mansion Holiday is two holidays colliding. Halloween meets Christmas with Jack Skellington and his friends from Halloweentown. Don't miss a special lighting ceremony in the evening.
The other attraction overlay is It's a Small World. Added two years ago were special scents pumped into the rooms throughout the ride; it's truly fantastic. Pay attention as you go through the ride for smells in this order… pine tree, candy cane, cherry blossom, cinnamon, and coconut.
Characters
There are several characters out this holiday season dressed in their Christmas best. You can find Mickey, Minnie, Pluto, Chip, Dale, and Goofy on Main Street in Town Square after you enter the parks. Appearance times vary. Over in ToonTown, you can see Mickey, Minnie, Donald, Goofy, and Pluto dressed in different Christmas outfits. Santa Claus also makes a guest appearance over by the exit of Splash Mountain.
Visit Santa Claus
There are five locations to meet/visit Santa, ho ho ho! You can see him in both Disneyland® and Disney California Adventure® Parks.
He is also available in each of the Disneyland® Resort Hotels. There are PhotoPass photographers to take your photo for you as well.
This year, Santa arrives on November 12th and will be visiting through December 24th. After he heads back to the North Pole, Santa Goofy is around until after the New Year. You can also visit Santa in Critter Country at Pooh's Thotful Spot daily.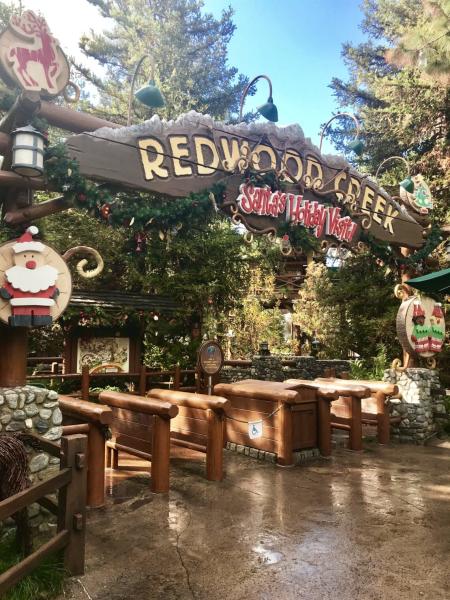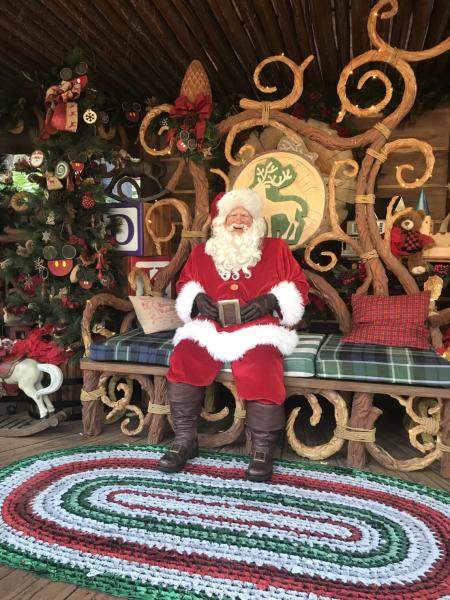 Don't miss Santa's Holiday Visit, located inside Redwood Creek Challenge Trail near the Grizzly River Run ride.
There's so much to do at this location, like: 
•  Sign Santa's NICE list
•  Meet Santa!
•  Join the elves in fun games
•  Fly with the reindeer on the zip line
•  Play on the Jingle bridge
•  And for a fee, you can decorate a cookie for Santa
Disney California Adventure Holiday Guide
Cars Land
Season's Speedings from Cars Land! This land is all decked out for the holidays. There are two holiday attraction overlays, Luigi's Joy to the World and Mater's Jingle Jamboree.
Both attractions feature holiday tunes for the season. You can also find Santa Mater just outside the Cozy Cone Motel. He makes appearances all day long.
Look around at all the clever car Christmas decor including gas cans, hub caps, tires, air filters, wrenches, and more on Route 66. And be sure to take a peek inside the Cozy Cone motel lobby at the gingerbread house.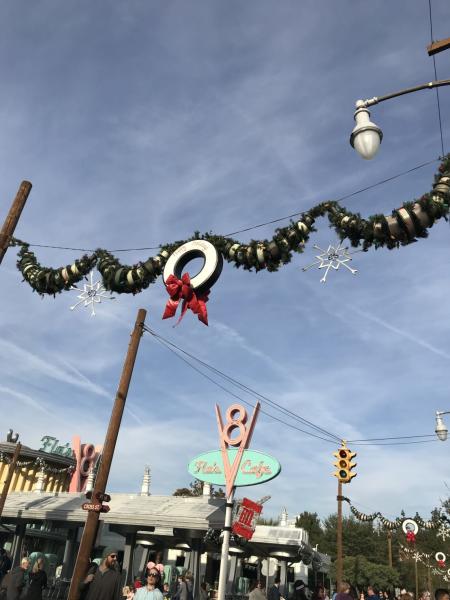 Holiday Tree Lighting
Watch the Holiday Tree Lighting on Buena Vista in Disney California Adventure® daily at 5:30 PM.
Holiday Toy Drummers
One of the most entertaining holiday shows is certainly the Holiday Toy Drummers. They perform daily in Disney California Adventure®, in front of The Little Mermaid attraction.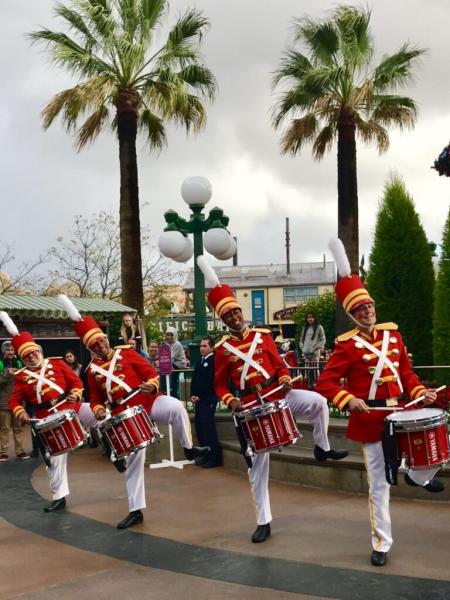 ¡Viva Navidad! Street Party
The celebrations throughout Disney California Adventure® include the ¡Viva Navidad! Street Party, a bright, fun, and festive celebration with The Three Caballeros, Mickey Mouse, Minnie Mouse, Jose Carioca, giant mojiganga puppets, musicians, and more. Find this show near Goofy's Sky School in Paradise Gardens Park daily. Grab delicious bites in Paradise Gardens, including special holiday-themed food and drinks. There are arts and crafts further down towards the Little Mermaid attraction, including cards, ornaments, dreidel making, lantern making, decorate mats, papel picado lanterns, and a royal tiara.
Letter to Santa
Here's a fun tip for your kids! Find Molly (one of the Citizens of Buena Vista Street) near the central plaza area on her bike, shown below.
Ask her for a postcard that your little ones in your group can use to write a letter to Santa! Hand it back once completed and she will deliver it for you!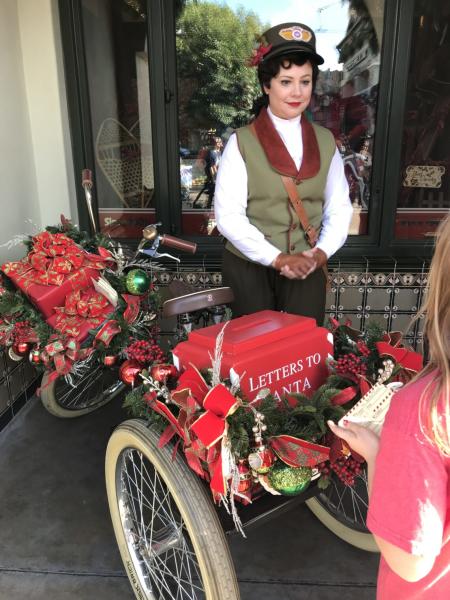 Characters
There are several characters out this holiday season dressed in their Christmas best on Buena Vista Street near Carthay Circle. You will find Mickey, Minnie, Goofy, Donald, and Daisy dressed for the holidays.
Disney Festival of Holidays
Disney Festival of Holidays returns this year! Celebrate holiday traditions from around the world with cuisine from eight different Festival Foods Marketplaces set up around Disney California Adventure®, starting November 12th through January 9th.
Mickey's Happy Holidays Show
One of the newer shows, "Mickey's Happy Holidays," is a cheerful celebration featuring your favorite Disney and Pixar characters with music that makes you want to dance along. Mickey Mouse and pals and the Holiday Toy Drummers entertain guests. They dance along the parade route from Paradise Gardens Park down to Carthay Circle. It's a cute, short parade that happens twice a day.
Visit Santa at the Hotels
If you want to visit Santa and don't have a park ticket, then no problem. Anyone can visit Santa in the lobby of the three different Disneyland® Resort Hotels. He meets at different times in each hotel, so give the numbers below a call to check arrival times: