This Tastiest 5 takes us to five of the most iconic Anaheim restaurants that have served Anaheim and Orange County visitors and locals for years. From an Italian Steakhouse to German recipes that go back seven generations, Anaheim is full of historic dining options that deliver tasty meals!

Note: Since publication of this blog post, Jagerhaus has closed.
First up, La Casa Garcia. Founder Frank Garcia, originally from a small town in Texas, has been serving the Anaheim and Orange County community since 1973. The family-owned restaurant serves a variety of authentically Mexican breakfast, lunch and dinner menu items. Featured in this video is their Chile Verde Texas Burrito, all-you-can-eat Menudo and Camarones Rancheros. To say everything on their menu is worth trying would be an understatement. Fun fact: La Casa Garcia has served over 5 million bowls of Menudo over their 30-year history.
Maybe you know Mama Cozza's because it's been a tradition in Anaheim since 1965. Perhaps you found it on Diners, Drive-ins and Dives. However you found it, Mama Cozza's Italian Restaurant and its generous portions with traditional flavors will make you a regular customer at first bite. Featured in this video are their Chicken Fellini and Pasta Domery, two of their most popular and authentic menu dishes.
Download our Sip, Savor and Shop Pass to take advantage of Mama Cozza's family pizza meal deal.
In a city originally founded by German immigrants it only makes sense to have traditional German cuisine available in Anaheim. With recipes going back seven generations, Jägerhaus is your go-to for bratwurst, goulash and schnitzel. Featured in this video are their Stuffed Chicken Breast - a chicken breast stuffed with broccoli and cheese, then cooked to perfection – and Szegediner Goulash with a side of Spätzle - cubes of pork, simmered in sauerkraut, onion and sour cream. Pair these dishes with two of the oldest beers in the world, Weihenstephan or Weltenburger Kloster, for an authentic German foodie experience.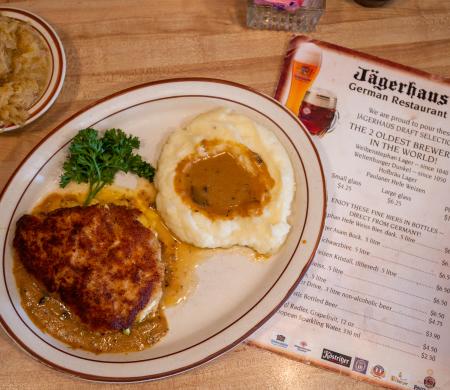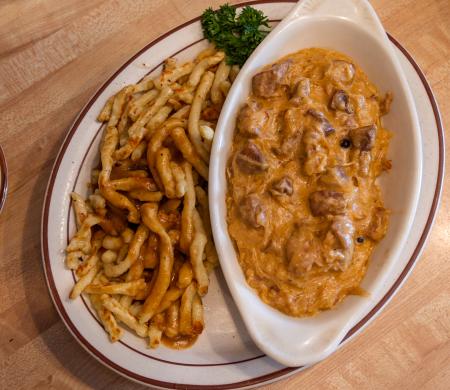 Pro tip: Download our Sip, Savor and Shop Pass to receive access to Jagerhaus' ultimate dinner for four and deluxe dinner for four specials.
The majesty of the historic 1909 mansion turned fine Italian steak house is just part of what makes the Anaheim White House stand out as an iconic Anaheim restaurant. Dishes highlighted include Salmon Chocolat, a delectable filet of salmon served alongside white chocolate-infused mashed potatoes, and their premium steaks.
Take advantage of our Sip, Savor and Shop Pass to receive access to a special $50 prix-fixe menu.
Bringing her family recipes from Syria and Lebanon to the tables in Anaheim Hills, Rosine with her son Hagop have made Mediterranean food and wine an Anaheim staple since 1995 at Rosine's Mediterranean. Dishes shown in this video include their out-of-this-world Rotisserie Chicken and Shawarma. You're sure to feel like family every time you visit.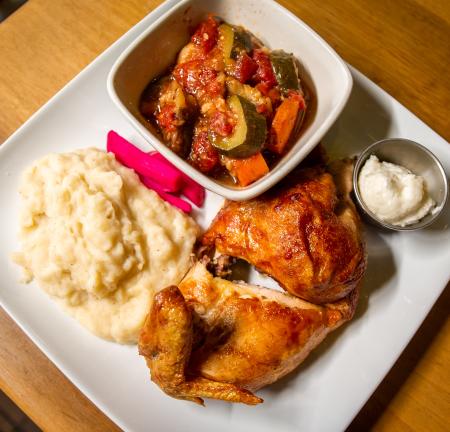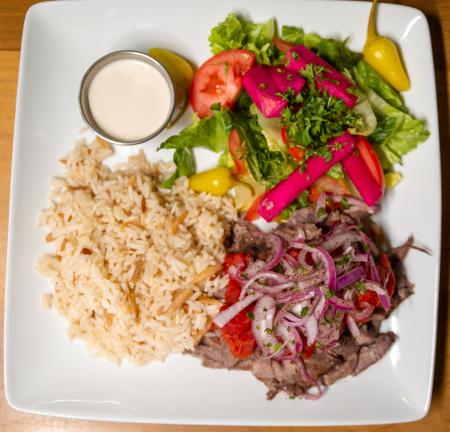 If you love a good deal as much as we do, then be sure to download our Sip, Savor and Shop Pass. Once downloaded, be sure to make a visit to Rosine's to redeem their special offer - 50% off one appetizer with the purchase of two entrées!