By Gavin Doyle, Mickey Visit
This article originally appeared on MickeyVisit.com.
This article contains affiliate links from Mickey Visit.
Mickey's Toontown reopened in early March after a full makeover that has made the land more grounded in nature and accessible for all guests. Disney strived to keep the childhood nostalgia intact in this beloved area while also updating key features of the land to be a natural play space. This new development of Toontown also included the opening of Mickey and Minnie's Runaway Railway - a brand new attraction for Disneyland, and the first to feature Mickey Mouse.
Mickey and Minnie's Runaway Railway
The main addition to Mickey's Toontown is the new Mickey & Minnie's Runaway Railway attraction. You'll find the ride inside the El CapiTOON Theater directly up the hill from the entrance to the land. This new family-friendly dark ride has no height restriction and is fun for guests of all ages.
The new Mickey and Minnie's Runaway Railway attraction is no longer using a virtual queue. The attraction has a normal standby line and Disneyland Individual Lightning Lane is available for the attraction.
New Disneyland Toontown Experiences
The new CenTOONial Park in Toontown features two new interactive play experiences. A new fountain features water tables designed for sensory experiences while nearby sculpted tree roots provide a place for children to crawl and explore.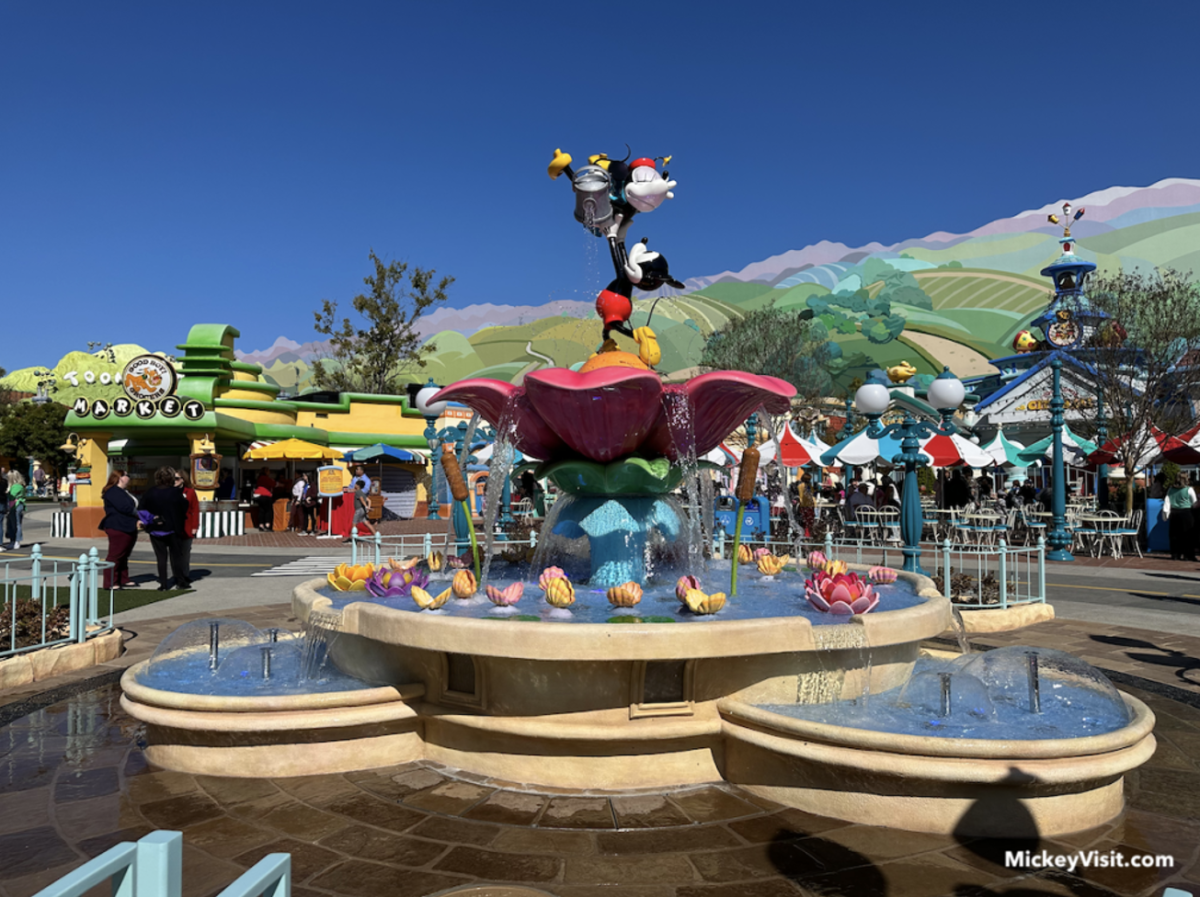 You'll find a tree inspired by Walt Disney's dreaming tree in Marceline, Missouri where a young Walt Disney dreamt about his future. The tree has enlarged roots perfect for little ones to play around with. The CenTOONial Park fountain will light up nightly with a goodnight show at dusk (should be the same timing at the Cars Land Sha-Boom moment). During the day, the fountain has a 30-minute loop of original music.
Next up is the transformation of Goofy's house into Goofy's How-To-Play Yard. The area has only one entrance/exit so parents can comfortably allow their children to play throughout. There are a ton of kid-friendly structures to encourage all types of play inside and outside. The fort and slides are built with guests in wheelchairs in mind to ensure that the experience is accommodating for all guests. Inside the house, there is a Goofy candy-making machine with colored balls flying everywhere.
Just outside of the How-To-Play Yard, you'll find Donald's Boat completely redone. The backstory is that the boat crashed in Goofy's duck pond. Now, the boat is flooding from the inside out and is sitting in the middle of Donald's Duck Pond. Donald's Boat in Toontown is surrounded by balance beams, rocking toys, and larger-than-life spinning water lilies.
In the back corner of Toontown, a new off the beaten path space has been freed up (this was previously Chip and Dale's Treehouse) to be a calming spot for families to escape the sensory overload of the parks. This is the quietest turf area and also has a covered shade structure.
What was previously Gadget's Go Coaster has been renamed to Chip and Dale's GADGETcoaster where Mickey's Toontown's favorite tinkerer, Gadget Hackwrench, has created a one-of-a-kind, fun-sized coaster for the "town's tiniest citizens". New figures of Chip, Dale, and Gadget have been added to the attraction itself.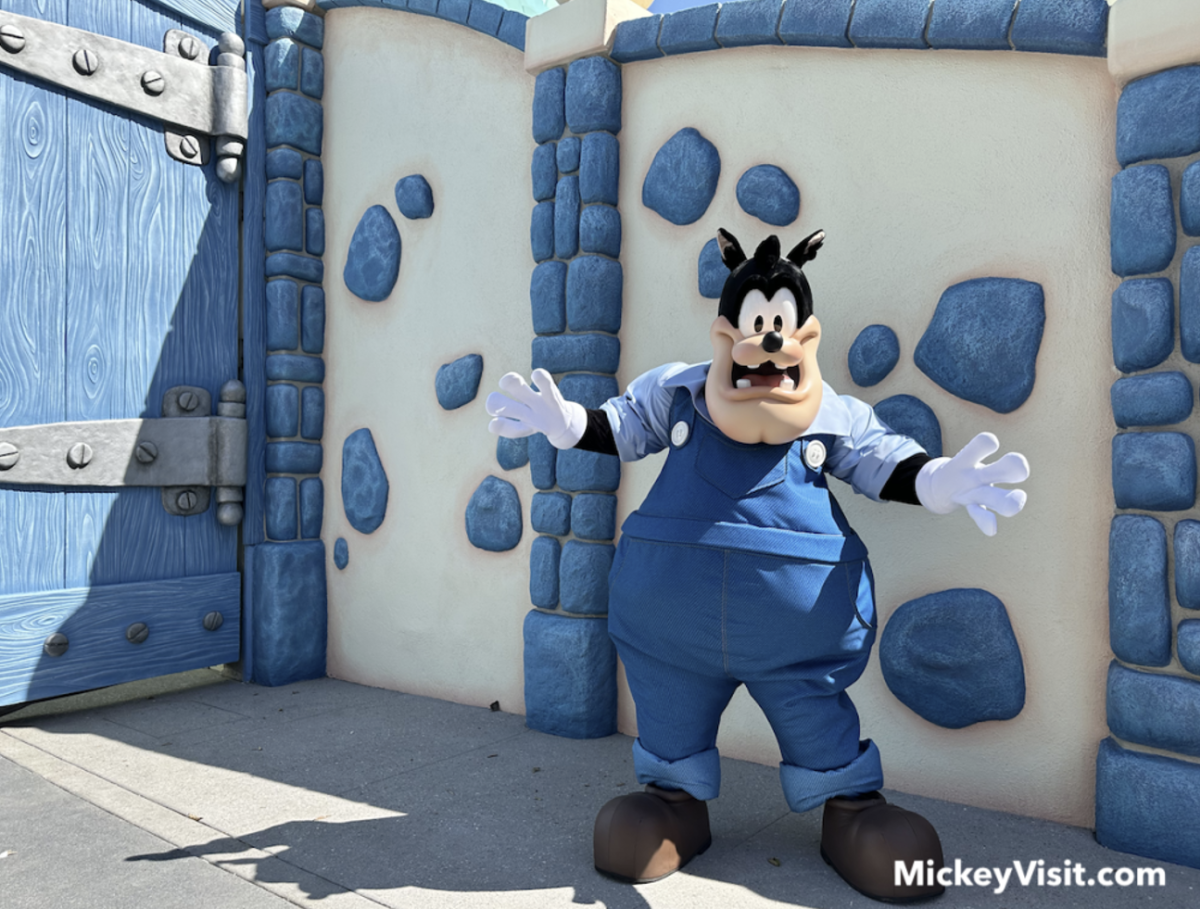 There are also two brand new meet and greets in Toontown including Clarabelle Cow and Pete. Favorite previous characters (Mickey Mouse, Minnie Mouse, Goofy, Pluto, Donald Duck, Daisy Duck) are back visiting guests along with the new additions of Clarabelle Cow and Pete.
The previous three dining locations (Daisy's Diner, Pluto's Dog House, and Clarabelle's) have been combined into one large dining space called Café Daisy. This new dining location offers a large variety of menu items plus the option to purchase a Mickey Mouse picnic basket to enjoy a picnic on the new grassy areas. Guests may also want to compare the offerings here with the best Disneyland restaurants if they are looking for a sit-down restaurant.
What is unchanged in Mickey's Toontown at Disneyland?
While there were plenty of new elements added to Mickey's Toontown, the land structure remains largely the same, with the main addition being the new Mickey & Minnie's Runaway Railway. Many of the interactive Toontown buildings have remained in the land as has Roger Rabbit's Cartoon Spin.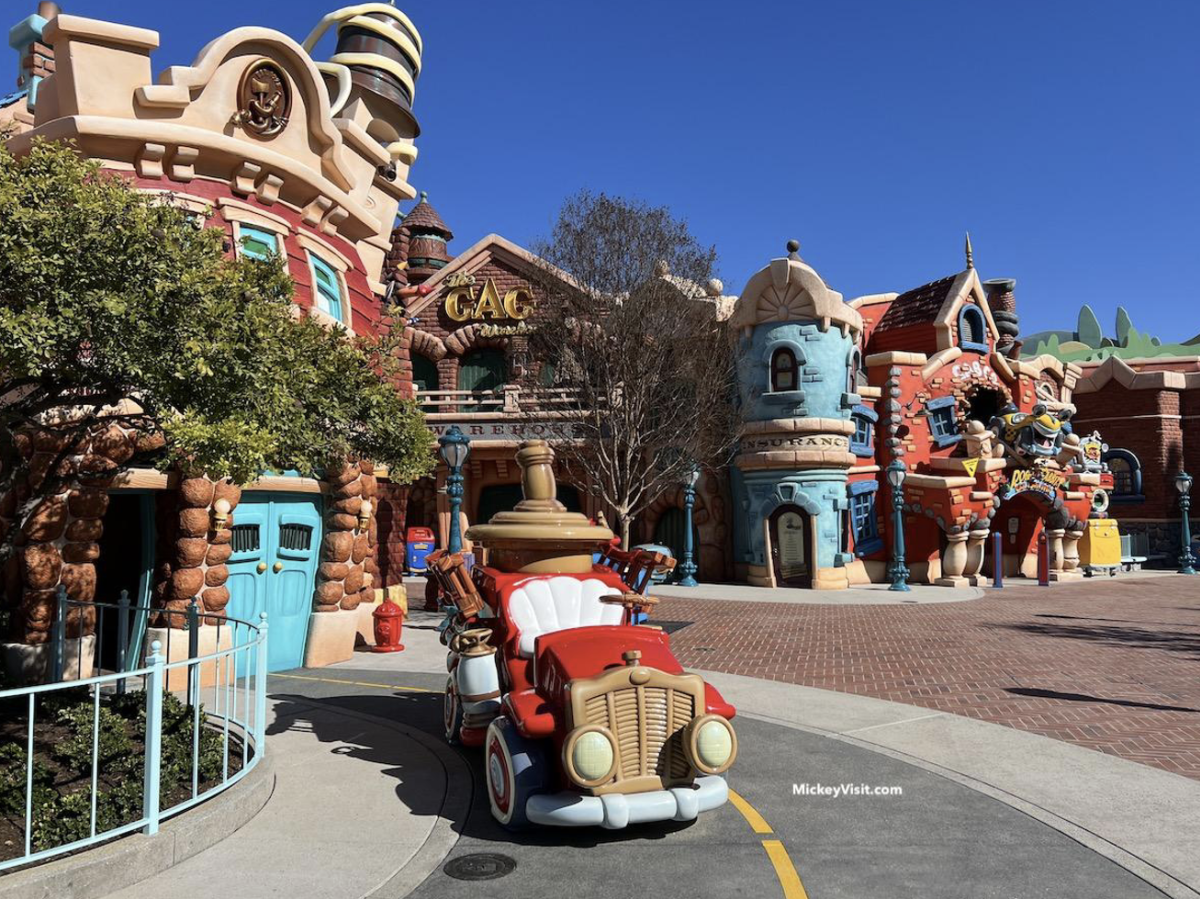 Mickey and Minnie's Houses in Toontown also remain unchanged. The houses still offer fun, interactive elements for guests as they wait to meet the characters.
Tips for Visiting Toontown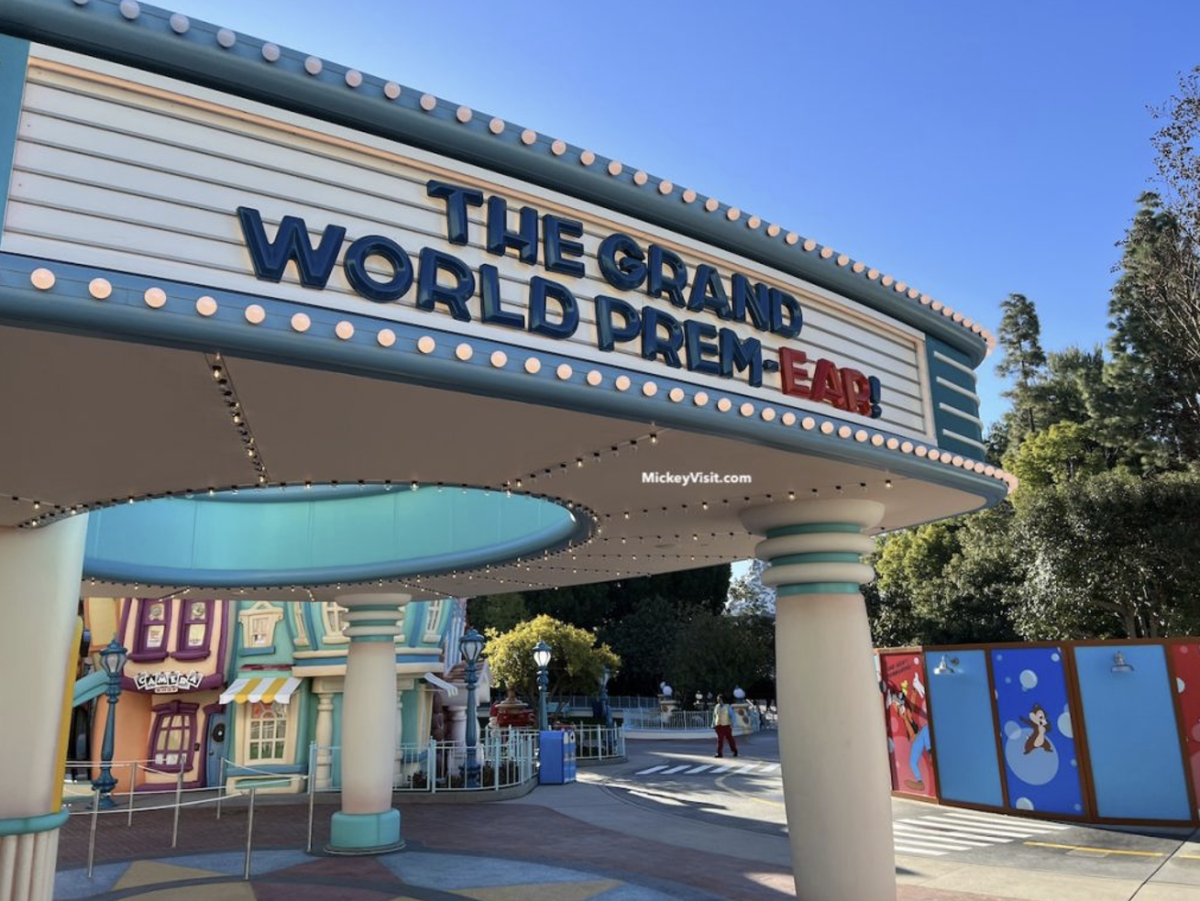 Toontown is a popular land in Disneyland for young children and guests of all ages since this new reimagining. For the best experience, here's our tips for visiting Toontown.
Plan on heading right to Toontown when the park opens (read Mickey Visit's Disneyland 1-day itinerary or Disneyland morning strategy for other tips). Since these new interactive play areas are so popular, your kids will get more enjoyment out of these experiences when the land is least crowded.
If you plan on riding Mickey and Minnie's Runaway Railway, you can get in line via standby or purchase access using Individual Lightning Lane with Disneyland Genie+. If you want to ride without purchasing Lightning Lane then you can rope drop it at park opening to experience a shorter wait. Many guests will still go to familiar rope drop favorites like Peter Pan or Rise of the Resistance so the competition isn't too fierce.
Consider enjoying a picnic in the grassy areas in Toontown. You can purchase a pick your own snack style picnic basket and blanket in the land. Or bring your own (details on what food you can bring into Disneyland)!
Mickey's Toontown will close prior to the fireworks each night like it did before. Keep that in mind when planning your day.
The new Disneyland Toontown changes have greatly improved this area while also maintaining the nostalgia held for many guests. These new interactive experiences have been made with accessibility, comfort, and play in mind!
Where to Stay in Anaheim 
We've rounded up a few hotels options that are all perfect for making your vacation an extra magical experience. 
Anaheim Castle Inn & Suites
This family-owned hotel is located directly across the street from the magic of the Disneyland Resort. It's a perfect location for a family or group vacation. Located less than a half mile away from the Anaheim Convention Center, it's also a great property to those visiting Anaheim for business!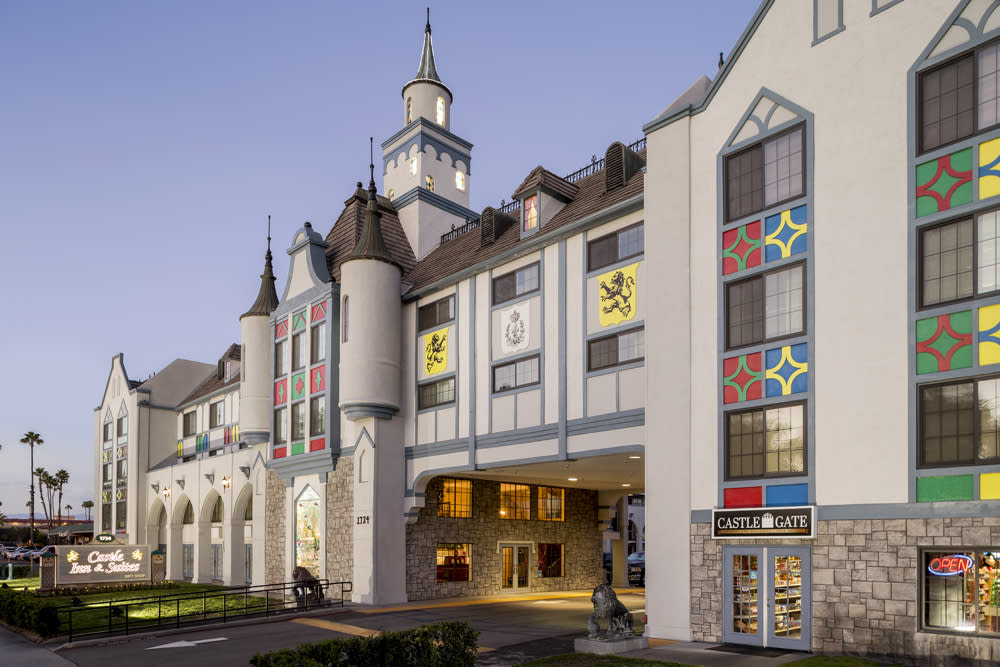 Clarion Hotel Anaheim Resort
The Clarion Hotel Anaheim Resort is located one block away from the Disneyland Resort and within steps of the Anaheim Convention Center. Guests staying at this property can enjoy free Wi-Fi, a year round heated outdoor pool, fitness center, onsite dining and more.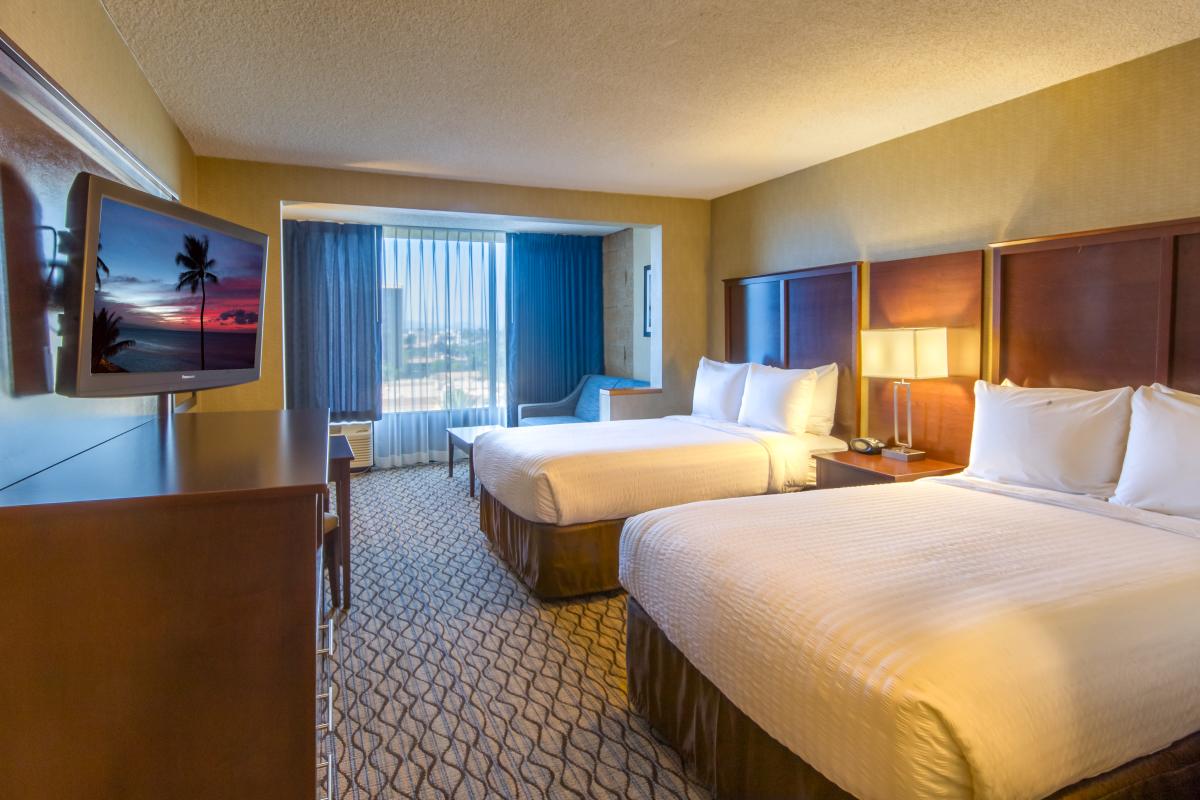 Camelot Inn & Suites
The Camelot Inn and Suites is a newly renovated property location directly across the street from the Disneyland Resort. This hotel combines classic European-inspired architecture with modern amenities that make it the perfect homebase for visitors.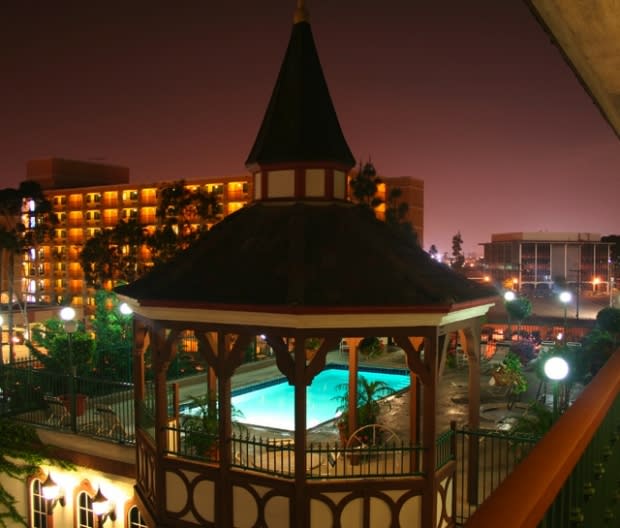 Hyatt Regency Orange County
The fun never stops at Hyatt Regency Orange County! This Garden Grove hotel is a Disneyland Good Neighbor hotel and offers guests plenty of amenities and entertainment to enjoy. They even offer a shuttle to the Disneyland Resort directly from the lobby!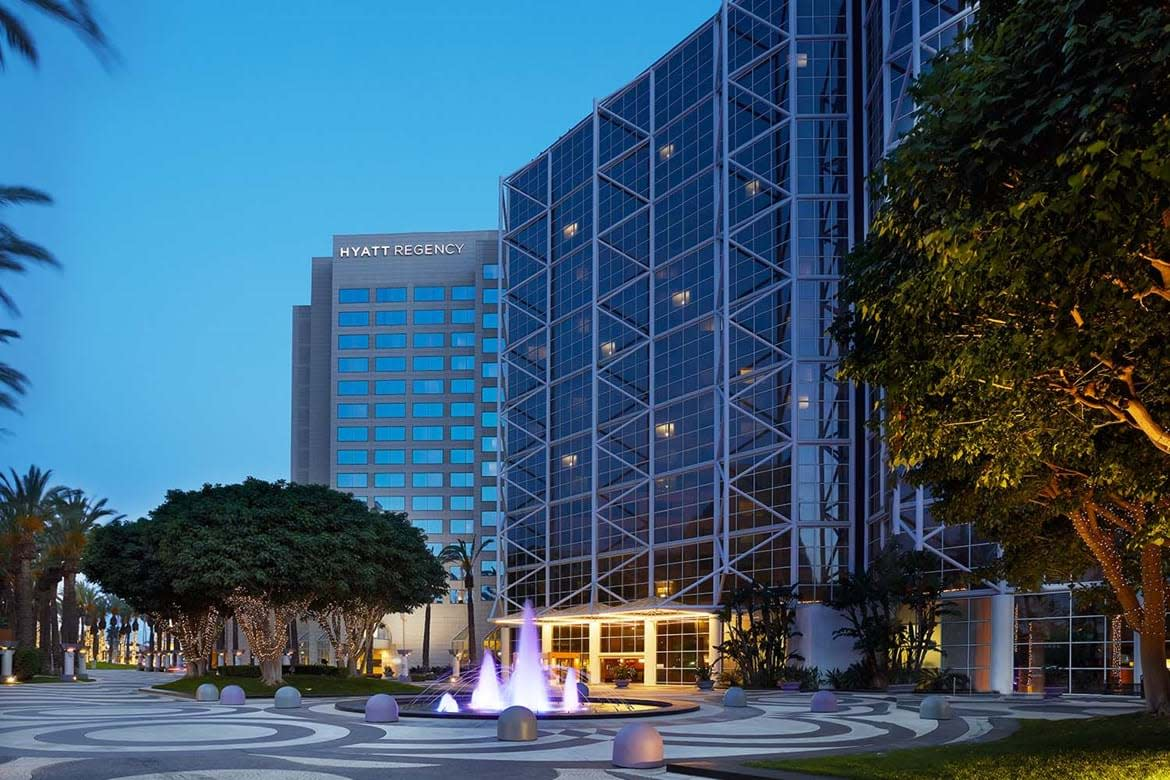 The Anaheim Hotel
The Anaheim Hotel is a AAA Three-Diamond and Disneyland Good Neighbor hotel, located less than 10 minutes walking distance from the Disneyland Resort main gate. The property features mid-century decor, an olympic sized swimming pool, and spacious rooms.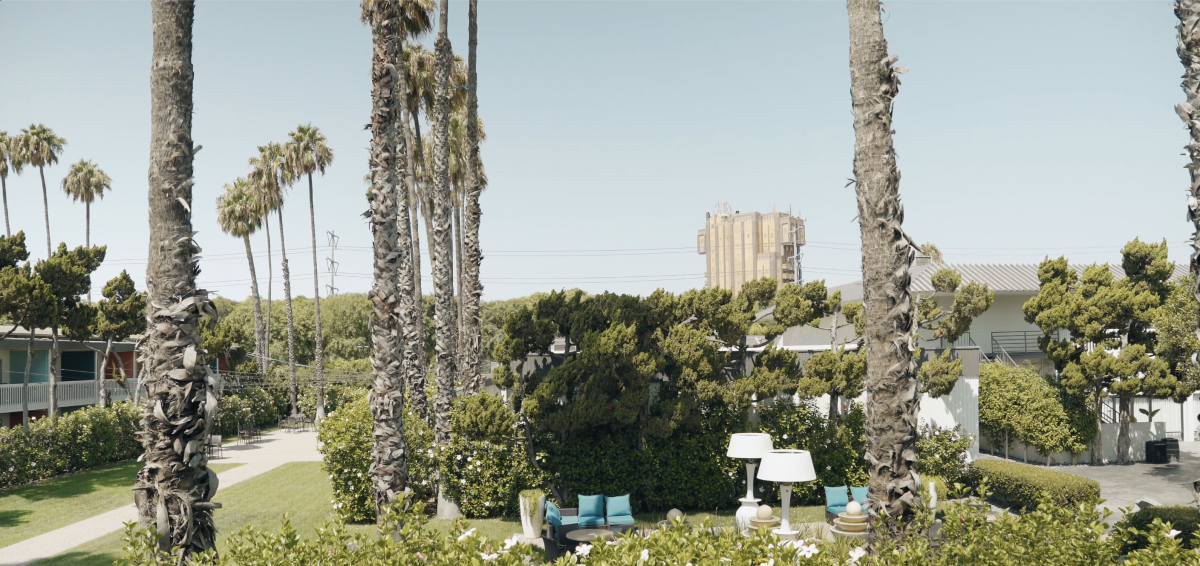 About Mickey Visit
Mickey Visit is the site to help you save money and experience more at Disneyland. Utilizing the helpful guides and park touring strategies on their site will help you to have the best possible vacation. Mickey Visit has been featured in Travel+Leisure, the LA Times, OC Register, Forbes, and more. Be sure to join over 100K other guests planning their vacation on the FREE Mickey Visit newsletter for planning tips and critical news for your trip (sign up on the homepage via the link above)!