Eat, sip and savor through Orange County's vibrant food scene! Nestled in the heart of Southern California, Anaheim and Orange County (OC) is so much more than remarkable theme park snacks. With an array of gourmet dishes, prize-winning chefs, and an abundance of local produce, OC has some of the best food in the country. Whether you're looking for trendy fusions, hidden gems or authentic international eateries, OC is a food lover's paradise that will have foodies coming back!
New And Noteworthy Restaurants 
Tableau Kitchen and Bar
Located in South Coast Plaza, you will find Chef John Park's new Tableau Kitchen and Bar. Start your brunch with a flight of mimosas before digging into unexpected dishes like Jasmine Milk Tea French Toast or the fried burrata sandwich with pumpkin seed pesto. Come back for dinner to sample the miso clams, roasted cauliflower salad, and goat cheese cheesecake. Make sure you leave room for one of their delicious desserts, like the Avocado Mousse or the Earl Grey Panna Cotta. And don't forget to stop by the extensive pastry case on your way out for a box filled with ube cookies, fun fruit tarts, or the soon-to-be-Insta-famous kimchi, spam, and cheese croissant. 
Cafe Biaani
Inspired by Oaxacan cuisine with an American twist, Cafe Biaani serves up a variety of Mexican drinks like Cafe de Olla, traditional Mexican coffee brewed with cinnamon and other spices—plus food like Chicken Torta on French bread, Soyrizo Burrito, or the decadent Cremosos, a creamy chipotle sauce with shredded chicken, cheese and sour cream. A laid-back atmosphere and a variety of toasts toppings from salmon to pistachio butter have locals declaring this the new go-to spot. 
Laguna Fish Company
Those in search of water views, a family-friendly atmosphere, and some of the freshest seafood around, should make reservations at Laguna Fish Company, where dishes like Halibut Ceviche, Spicy Shrimp Aguachile, and Oysters Rockefeller will satisfy your taste buds. Not a fan of seafood? No worries. Burritos, pasta plates, and even a Thai Curry Bowl are also available. Early risers can even stop by for breakfast to try the pancakes, eggs Benedict, or blue crab omelet. 
Can't-Miss Chefs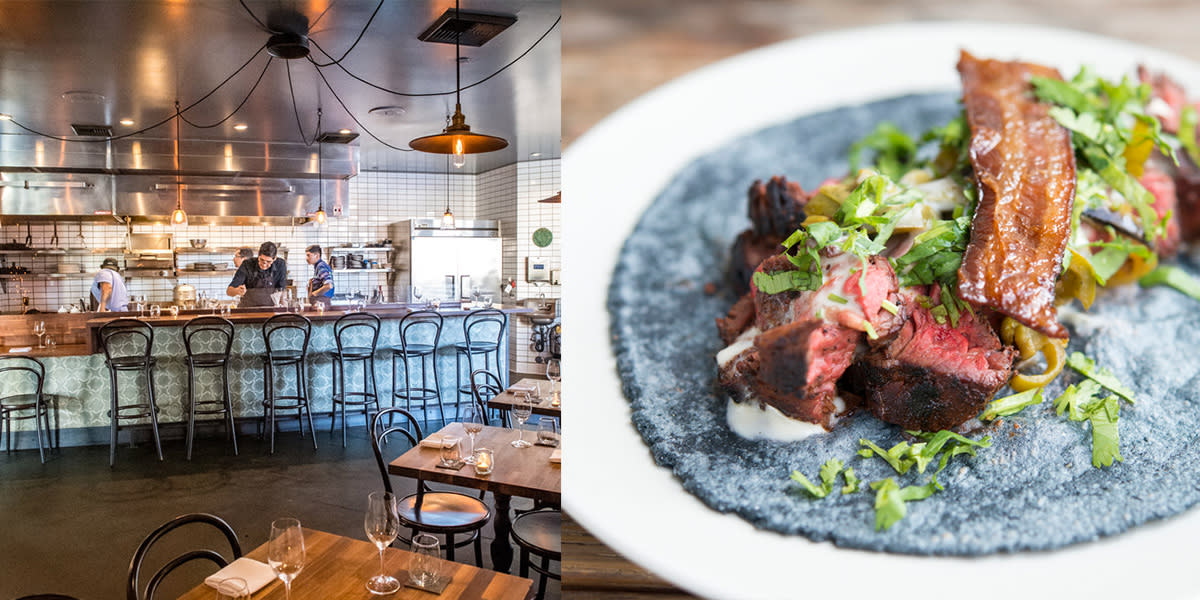 Photo Credit: Anne Watson Photography
Taco Maria
As a 2022 finalist for a James Beard Award, Chef Carlos Salgado of the Michelin-Starred restaurant, Taco Maria, creates simple authentic dishes with traditional Mexican ingredients. Plates of bacon chorizo, fresh-milled blue cornbread, and citrus panna cotta make it easy to see why reservations are tricky to come by.    
Poppy and Seed
With his own spin on classic American favorites, Chef Michael Reed has been impressing Orange County diners with steak tartare, crispy mushrooms, and stuffed squash blossoms. Inspired by the heirloom plants, Poppy and Seed restaurant delights guests with vibrant options, a welcoming vibe, and a diverse range of garden-grown foods, including Lollo Rossa lettuce, edible flowers, and Cincinnati radishes.
Revolutionary Restaurants 
Trust DTSA
For themed tastings, Trust DTSA is the ultimate place to be. Chef Justin Werner (of Food Network fame) hosts sold-out seating throughout the week for a group of 18 lucky guests who have the chance to dine on steak dinners, seafood platters, or whatever else might be on the menu that night. Wine pairings and stories from the chef complete this intimate and unique dining experience.