Sweeten your summer in Anaheim! With sunshine on the forecast, there's nothing cooler than grabbing a scoop (or two) of ice cream. Anaheim scoop shops have everything your sweet tooth is craving, from classic flavors to the favorites you haven't met yet.
Anaheim Packing House
The Anaheim Packing House, part of the larger Anaheim Packing District, was once a citrus packing plant. Now it's your destination for foodie finds, including sweet treats. Here's the scoop on two delightful spots:
Hans' Homemade Ice Cream - Locally-made ice cream in a variety of flavors is on the menu at Hans' Homemade Ice Cream. Some like theirs in a cup, others in a cone. But Hans' also serves their delicious, creamy ice cream between two chocolate chip cookies. Enjoy it on the back patio, right outside the Anaheim Packing House, for a summer sweet spot.

Popbar Anaheim - I dip, you dip, we dip at Popbar Anaheim. Hand-dipped gelato pops range from classic chocolate to pistachio, hazelnut, and green tea. Once you've selected your gelato flavor, it'll be dipped in toppings for a fully customizable experience.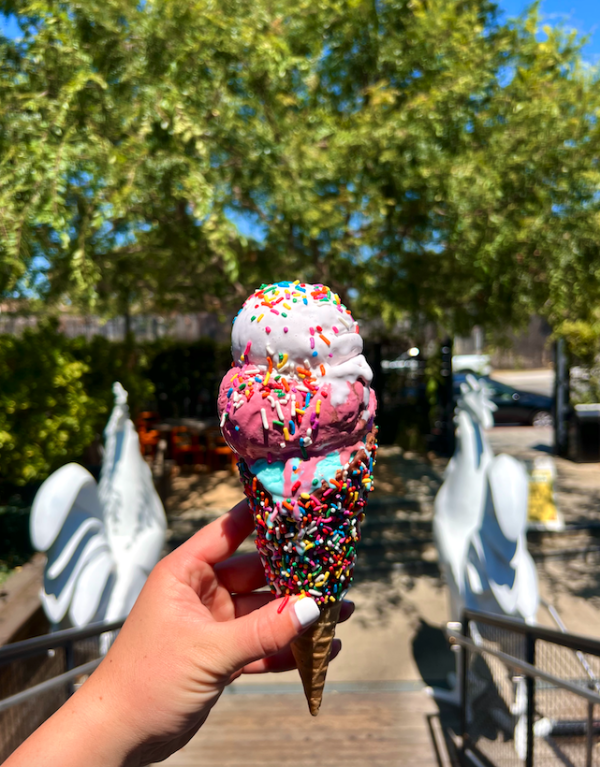 Disneyland® Resort
The sweetest place on earth is the Disneyland® Resort where magic is always on the menu. In between attractions, cool off with one of these pixie-dusted picks:
DOLE® Whip - The tropical treat is a crowd favorite. Grab a swirl of pineapple soft serve to enjoy before Walt Disney's Enchanted Tiki Room. You can even mobile order it from the official Disneyland Resort app!
Gibson Girl Ice Cream Parlor - Pair your parade viewing with a scoop of ice cream from the Gibson Girl Ice Cream Parlor on Main Street, U.S.A. The old-fashioned parlor offers the classics that will bring back the best childhood memories.
Clarabelle's Hand-Scooped Ice Cream - If you're in the mood for ice cream while exploring Disney California Adventure Park, stop by Clarabelle's with scooped ice cream, bars, and seasonal specialties.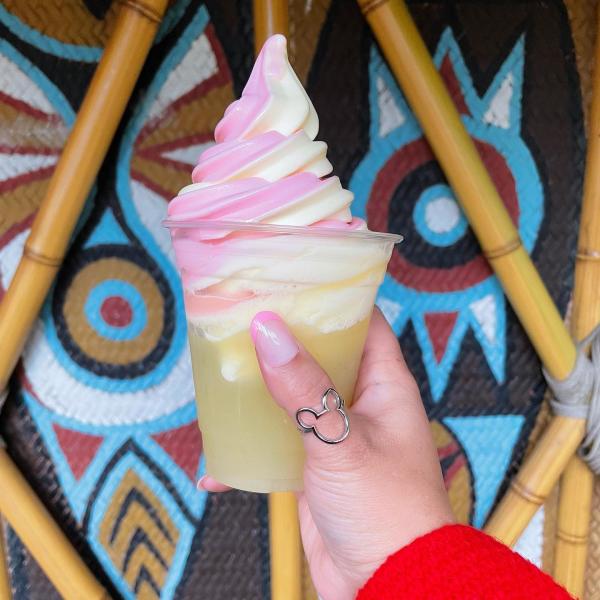 @mermaidonmainst
La Michoacana Premium Anaheim
Bringing 50 years of tradition to Anaheim, La Michoacana Premium is popping in with popsicles ranging from passion fruit to pineapple. The menu also features treats like a Mangonada with diced mango, chamoy, tamarin candy, tajín, and lime juice. Looking for more ways to heat things up? Try the Mexican-inspired fruit treats and assorted snacks.
Salt & Straw
When visiting the Downtown Disney District, make sure to stop by Salt & Straw for premium and potentially curious flavors of ice cream. The Anaheim location offers classic flavors like Sea Salt with Caramel Ribbons, Honey Lavender, and a curated changing collection. Should you want it as a souvenir, pick your pints to ship home. Vegan options are available.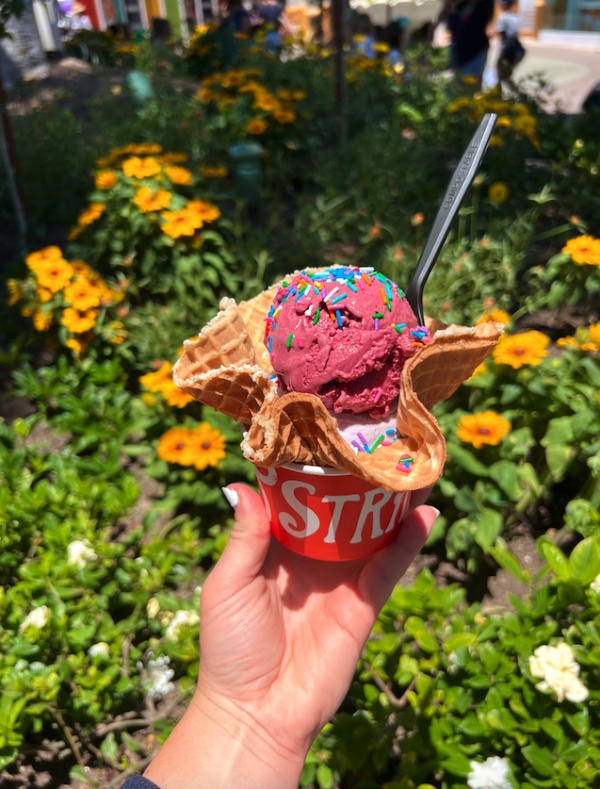 Hug Life Ice Cream
Looking for more plant-based options? Don't miss the premium ice cream from Hug Life Ice Cream in nearby Garden Grove. If you can't decide which of their scrumptious flavors to enjoy, order the Hug-A-Bowl with 3 mini scoops of ice cream in a chocolate-dipped waffle bowl.
Joe's Italian Ice
Have you tried Italian ice? It's closer to ice cream than shaved ice, and thankfully Joe's Italian Ice is close by when you're in Anaheim. Choose your favorite from the daily flavors and have it added to a Joelatti, a generous serving of Italian ice with a dollop of soft serve.
House of Chimney Cakes
Hungry for more sweets? Check out Hungarian chimney cakes in Downtown Anaheim. The conical cakes are crispy on the outside and soft inside. The Instagrammable treats are then filled with soft serve and decorated with premium toppings. Try a Mickey Mouse-inspired option with cookie "ears" or an option featuring the classic summer flavor with graham crackers, toasted marshmallows, and chocolate.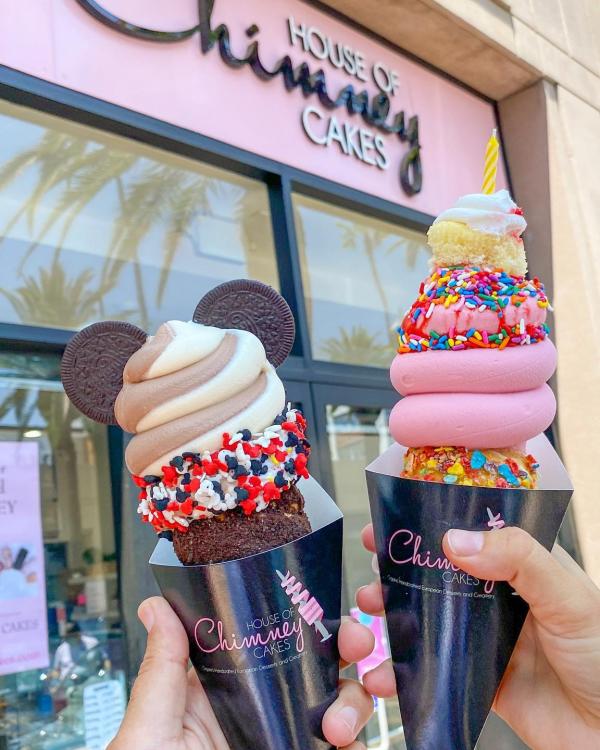 @foodatdisneyland
Tocumbo Ice Cream
Authentic Mexican flavors fill the menu of ice cream and paletas at Tocumbo Ice Cream. Named for the small town of Tocumbo, the birthplace of the paletas, you'll feel right at home here. After a day exploring Anaheim, make sure to stop in for an Aqua Fresca or sundae.
Le Mirage Pastry
It may be new to you, but Bouza has been around for hundreds of years. Find the stretchy sweet in the Little Arabia District at Le Mirage Pastry. The authentic Syrian ice cream isn't churned, but pounded into a chilled drum and rolled into a log shape before being covered in Turkish pistachios. Sample one of the world's oldest ice creams today!