Avengers assemble! You'll be channeling your inner superhero at Disney California Adventure® Park's all-new Avengers Campus.
While Disneyland® Resort remains closed due to the ongoing COVID-19 Pandemic, we've rounded up the top attractions and things to do at Avengers Campus at Disney California Adventure® Park.
A recent poll revealed the Avengers, featuring familiar characters like Spider-Man and Captain America, top the list as a favorite crime-fighting team earning thirty percent of the vote. It's no surprise then that the newest land at the Disneyland® Resort has brought together the squad of heroes for daring and delightful entertainment, dining and shopping.
Avengers-themed Attractions
WEB SLINGERS: A Spider-Man Adventure
Swing over and climb aboard a Worldwide Engineering Brigade (WEB for short) Slinger vehicle. What starts as an Open House gets a little buggy when Spider-Man's Spider Bots get out of control. Unleash your inner hero as you help Peter Parker trap them all on WEB SLINGERS: A Spider-Man Adventure. With great power comes great responsibility, so it's a good thing this attraction will enlist help from the whole family.
Guardians of the Galaxy: Mission - BREAKOUT!
The Collector has traveled the cosmos gathering unique species which he proudly displays in his citadel. The latest additions to his collection: the Guardians of the Galaxy! Help Rocket break the Guardians out in a wild elevator ride with unpredictable drops and a rockin' soundtrack. Riders must be a few Groot branches high or 40 inches tall.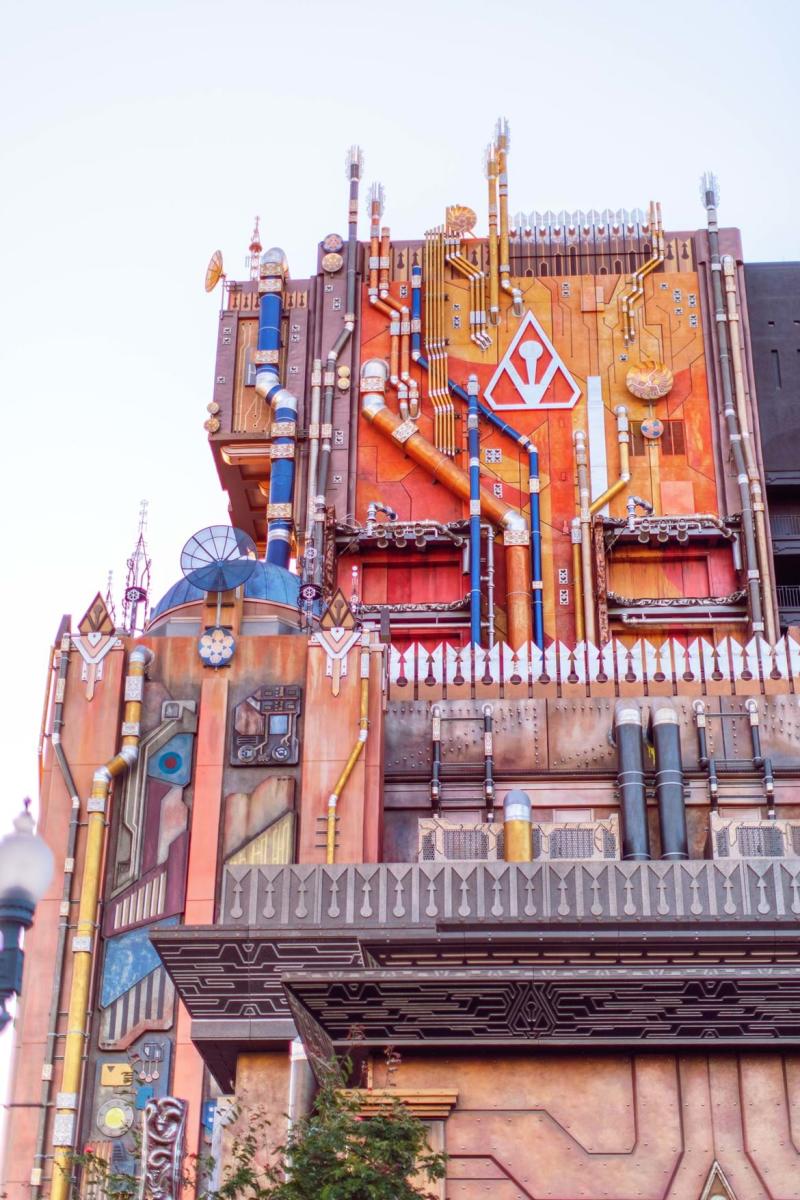 Guardians of the Galaxy - Mission: BREAKOUT! | PC: @fairytalefoodie
MARVELous Meet and Greets
Sanctum
The cloaking spell has been lifted so guests can visit Doctor Strange at the Sanctum, a site filled with ancient ruins. It's here that he'll teach guests the mystical arts. Make sure to delight your imagination at night when the Orb of Cagliostro and Sanctum are illuminated.
Avengers Headquarters
Sixty-four percent of our poll respondents consider themselves comic book fans. We're going to need one hundred percent participation if the Taskmaster is going to be stopped. He and his mercenaries participate in an action-packed confrontation at the Avengers Headquarters. In between skirmishes, characters like Black Widow, Iron Man and Captain America can be seen greeting guests and scanning for danger.
Shop for Side Kicks and Epic Eats
Pym Test Kitchen
No matter the size of your hunger, you'll find the perfect bites at Pym Test Kitchen. Ant-Man and The Wasp grow and shrink, and this test kitchen features items that have done the same. The quick-service restaurant will feature entrees, snacks, and shareable menu items set in the old test lab where size proportions of the decor may be off, but the flavors never are.
WEB Suppliers and The Collector's Warehouse
Two new outposts join the line-up. Suit up and shop for your new Spider Bot sidekick, a robotic souvenir that's perfect for aspiring heroes. The bots walk, crouch, spin, and even battle other Spider Bots. Customize your bot at WEB Suppliers to ensure you're ready to fight crime around every corner. If you're looking to build your Marvel collection, make sure you swing by The Collector's Warehouse for apparel and unique collectibles.
For more information about the upcoming opening of the new Avengers Campus at the Disneyland® Resort's Disney California Adventure® Park, make sure to check out the Disney Parks Blog. Excelsior!