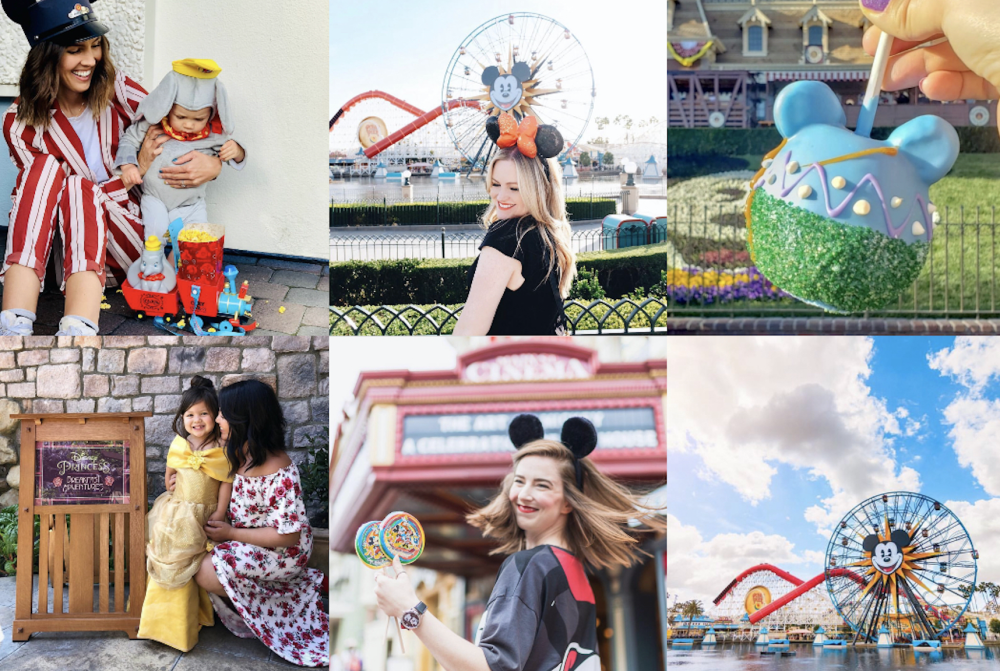 Whether it's your first time visiting the parks or you're a total die-hard fan, you may have discovered that Disney is more than a destination, it's a lifestyle.
@magic_kingdom_mamas
If you are a family with young children and are traveling to Anaheim, check out @magic_kingdom_mamas and follow Emily Sims, who will show you how to navigate the parks with tots in tow.
Emily always has her two super cute boys with her and it's fun to see the magic of the park through their eyes!
Emily also goes above and beyond to bring you the latest Disney news as it's breaking, shows you what's new around the park in real-time, and (our favorite) all the Disney fashion and inspired looks from hip stores and shops. 
@imagineerinsta
Covering all things Walt Disney World on the East Coast, Chase Russell of @imagineerinsta is the Doogie Howser of Disney®. 
Cultivating a mass social media following at a young age, Chase has kept us updated on Epcot from attractions to entertainment and much more. In 2018, Chase started the year at the Disney College Program and ended as a Project Management Professional Intern; keep an eye on Chase he may be running Disney one day!
@styledbymagic
Serving you Disney fashion goals, Chelsea Watson of @styledbymagic truly has one of the most vibrant, cheerful, and fabulous accounts to date! Donning her signature red lip, Chelsea always serves us the best lewks, poses, and photo op inspo. 
If you're ever feeling blue, head to Chelsea's account immediately, you can't help but feel happy when swiping through her page.
@thedisneyfox
Find yourself someone who loves Disney just as much you do! 
Follow Steve at @thedisneyfox for double the love as he and his girlfriend Carise take you all around Walt Disney World.
This #disneycouple gives us plenty of #couplegoals as they live happily ever after together.
@foodatdisneyland
If you want food at Disneyland® to be part of your world, let @foodatdisneyland show you the way.
A foodie bucket list meets culinary critic, the group that heads up the account not only tastefully features photos of food but evaluates all the flavors too.
From desserts, dishes and drinks, get your fill at this account! Warning: Do not view on an empty stomach!
@tangled.in.magic
Orange County native Andie of @tangled.in.magic is a super sweet local with a big love for Disney®. 
Her passion for positivity coupled with her love of Disney will shine through on your screen. Her eye for beauty in her surroundings is clearly evident by all her gorgeous photos.
We love that she covers all the details of the parks and seasonal offerings. The cameos by her Disney-loving husband and their dates at the park are seriously the cutest. 
@thelostbros
We STAN the brothers at @thelostbros who give us major FOMO. They always look like they're having so much fun and we can't help but feel like part of the crew.
Designers who also have their own clothing line, the fellas tell us how to Disney and how to dress and we love them double for that. 
@littlegraythread 
The belles of the ball, Jenielle of @littlegraythread is the mother of two sweet girls who she calls LittleGray and Little Sage.
Jenielle makes many of the costumes the sisters are wearing in their photos by hand and shares plenty of DIY tips! A visit to their feed promises girl power vibes and empowerment, we love all the positive messages!
@randomly_riley
Relive your childhood through the eyes of Riley and Liam at @randomly_riley! All of the moments captured are incredibly sweet, but our favorites are when the kids are interacting with Disney characters.
What's more, the kids' costumes are sewn by their mother, maybe if we think happy thoughts, we can get one in an adult size?
@disneyland_over_everything
Danny at @disneyland_over_everything is an artist and Disney is clearly the muse.
Every single photo in his feed is a work of art and you can't help but double-tap. We are v inspired by his aesthetic and especially love all the peaceful evening shots.
How does he do it, you ask? He waits until the very end of the night when most of the park has cleared to get those magnificent photos.