Skateparks are becoming more common as Skateboarding is embedded in SoCal lifestyle. They can be found in every community with more springing up all the time. One of the best things about these parks is that no two are completely the same. 
Some are more challenging while others cater more to beginners. Whether you enjoy skateboarding as a participant or a spectator, Orange County has a skatepark that will suit your individual needs. Here are 5 of the top skateparks in OC.
Vans Skatepark
20 City Blvd. W. Bldg. A, Suite 2,
Orange
Known for its wooden elements and ramps as opposed to the concrete construction at most other area skate parks, Vans offers unique courses in a large, indoor park. This wooden skate park offers skaters a smoother, quieter ride as opposed to the more common concrete skate parks. The park is sectioned off into a pee-wee area for beginners and a main street course for more advanced skaters. As a bonus, top professional and amateur skateboarders who live locally and skateboarders from all around the world tend to session this skatepark
Lessons Offered: Yes. Vans Skatepark offers private instruction for street skateboarders ages 6 – 16.
Lights: Yes
Helmet/Pads Enforced
Price: Fee applicable
Anaheim West Skatepark
2271 W. Crescent Ave.
Anaheim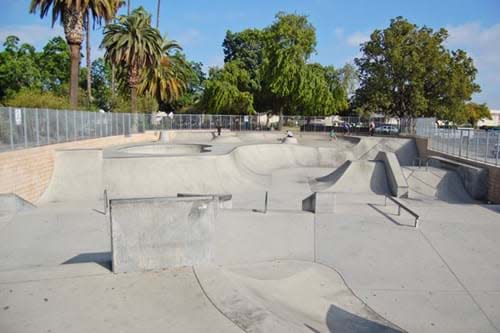 Located on the right-hand side in Brookhurst Community Park, Anaheim West Skatepark is a popular spot for skateboarders, and bike/razor riders. This park was re-created as a tribute to the old Sadlands park with similar craters and ramps that were in the park and skated heavily many years ago. It also has a nice shallow kidney pool with coping and tiles, as well as a full street course. There are lots of ledges rails and banks crammed into this park.
Lessons Offered: No
Lights: No
Helmet/Pads Enforced
Price: Free
Volcom Skate Park
900 Arlington Dr.
Costa Mesa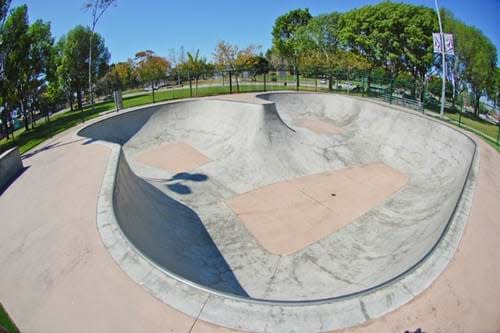 One of the more popular scenes in Orange County, Volcom Skatepark is primarily enjoyed by serious skaters. The park is very clean and well maintained and is strategically placed across from Tewinkle Park. The street section is smooth, fast and is easy to navigate, almost like there are directional rules that everyone follows. The park layout allows all skater types and styles to skate together. The locals are fun and supportive to the newbies and younger crowd. It is safe to say that this park has a little of everything. A little street section, vert, tranny and a great mini kidney shaped bowl along with a nice old school style pool.  There are several great spectator areas where the Moms & Dads can hang out and watch their kids skate. Drinking fountains, bleachers and grassy shaded areas make this one of the best skate parks in California. Be aware that cops frequent this park often and will hand out tickets to anyone who is not wearing a helmet.
Tip: No scooters or bikes allowed.
Lessons Offered: BasicsofSkateboarding.com
Lights: Yes
Helmet/Pads Enforced
Price: Free
Etnies Skatepark
20028 Lake Forest Dr.
Lake Forest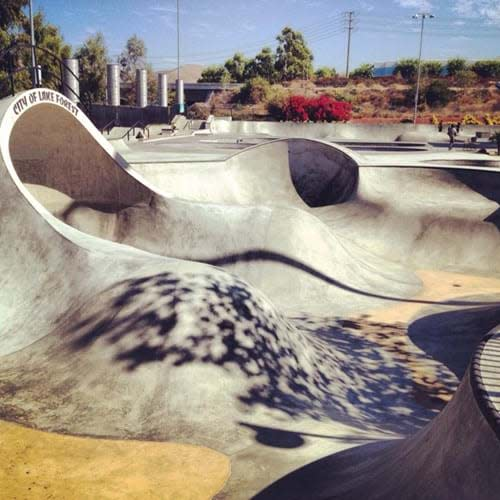 Etnies Skatepark is a one-of-a-kind skate park with over 62,000 square feet of skating space. This park is a skateboarder's dream, with countless fixtures, ramps and obstacles to keep their wheels turning for hours. Etnies Skatepark boasts the title of the largest free skate park in America, with free admission and plenty of areas for spectators to take in the exciting moves of the skateboarders. In addition to the usual skate park features, there is a section designed to emulate the street-skating experience with ledges, rails, benches, banks, quarter pipes and stair obstacles.
Lessons Offered: No
Lights: Yes
Helmet/Pads Enforced
Price: For Non Lake Forest Residents there is a fee of $5 for a non-resident id card. The Skatepark will be free to use still, just the id card will cost $5. Residents of Lake Forest will receive their id cards for free.
Harvard Skate Park
14701 Harvard Ave
Irvine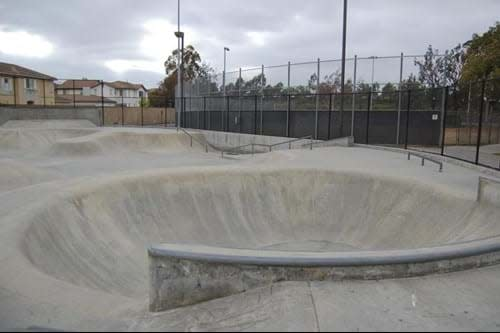 This 10,000 square-foot concrete skateboard park with bowl, rails, fun box and street obstacles combines a positive environment with a high-quality facility. Harvard Skate Park is operated by qualified, experienced, customer service driven staff that truly care about each kid who visits the park. The Harvard Skate Park is a place where respect and responsibility is a basic expectation of skaters, staff and spectators.
Harvard Skate Park can be reserved for private party uses only on Weekdays from 8 a.m. to 2 p.m., Saturdays from 8 a. m. to 10 a.m., Sundays from 8 a.m. to 12 p.m.
Lessons Offered: No
Lights: Yes
Helmet/Pads Enforced
Price: Free

Photo Credit:
Photos 1-5: SocalSkateParks.com