In 2001, the Disneyland®® Resort expanded to include Disney California Adventure® Park. Step through the gates to California of yesteryear, when Walt Disney first arrived in the Golden State on a shoestring and a dream. Creative cuisine has always been part of the Disney experience, and Disney chefs continue to marvel guests with unique food offerings. California Adventure offers dishes from the state's history and others that will make history.
Red's Apple Freeze
Something pretty special is happening to apple juice over at the Cozy Cone Motel ― cone number four, to be exact ― in Radiator Springs. They are freezing it, slush-ifying it, sweetening it up with marshmallow syrup, topping it with passion fruit mango foam and turning it into the perfect heat-beating drink for a warm California day.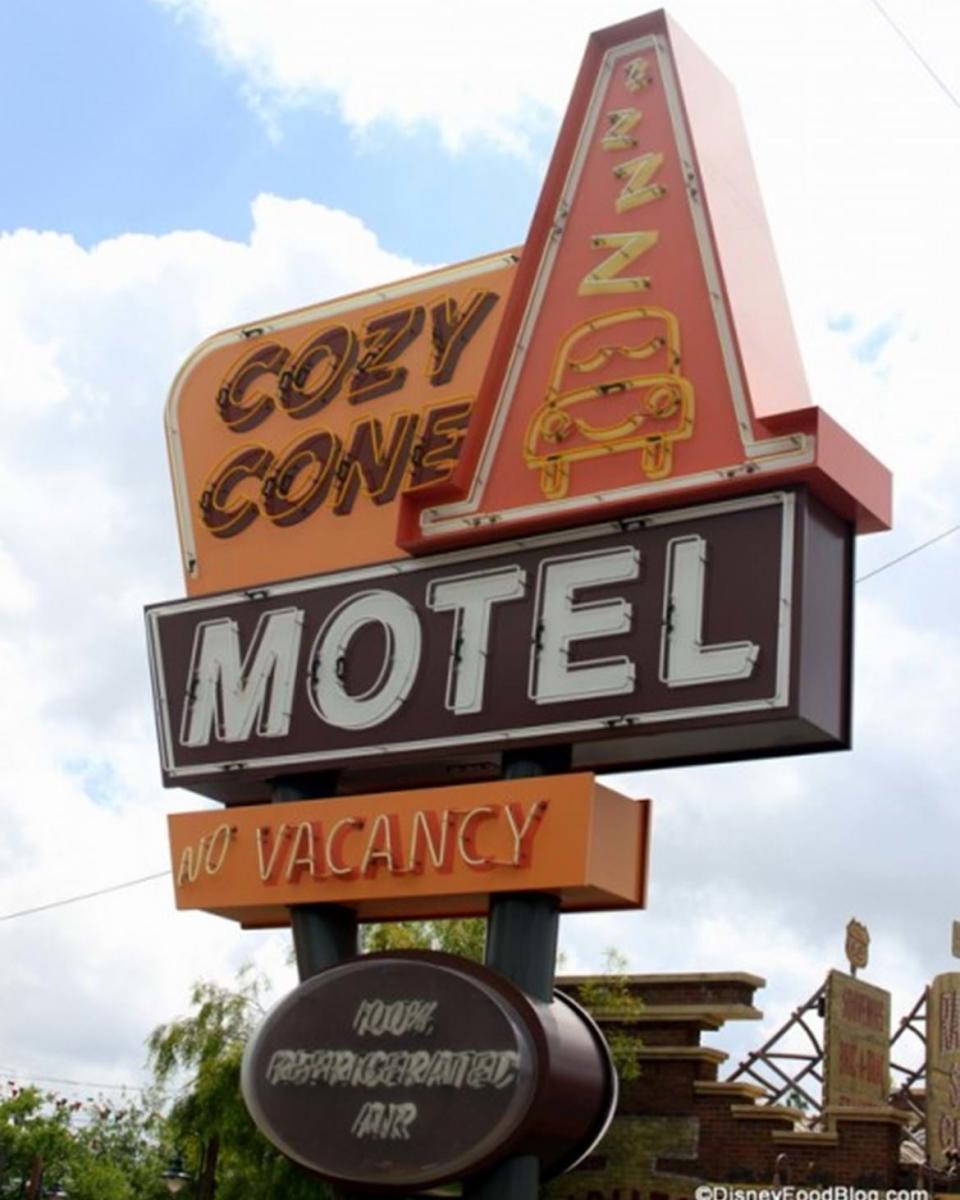 Photo credit: Disneyfoodblog.com
Chili Cone Queso
And while you're in the cone zone, grab a Chili "Cone" Queso at cone number three. Known as a popular favorite in Cars Land, a bread cone is filled with beef chili, cheddar cheese, and corn chips. There is also a vegetarian chili available to get your veggie motors running.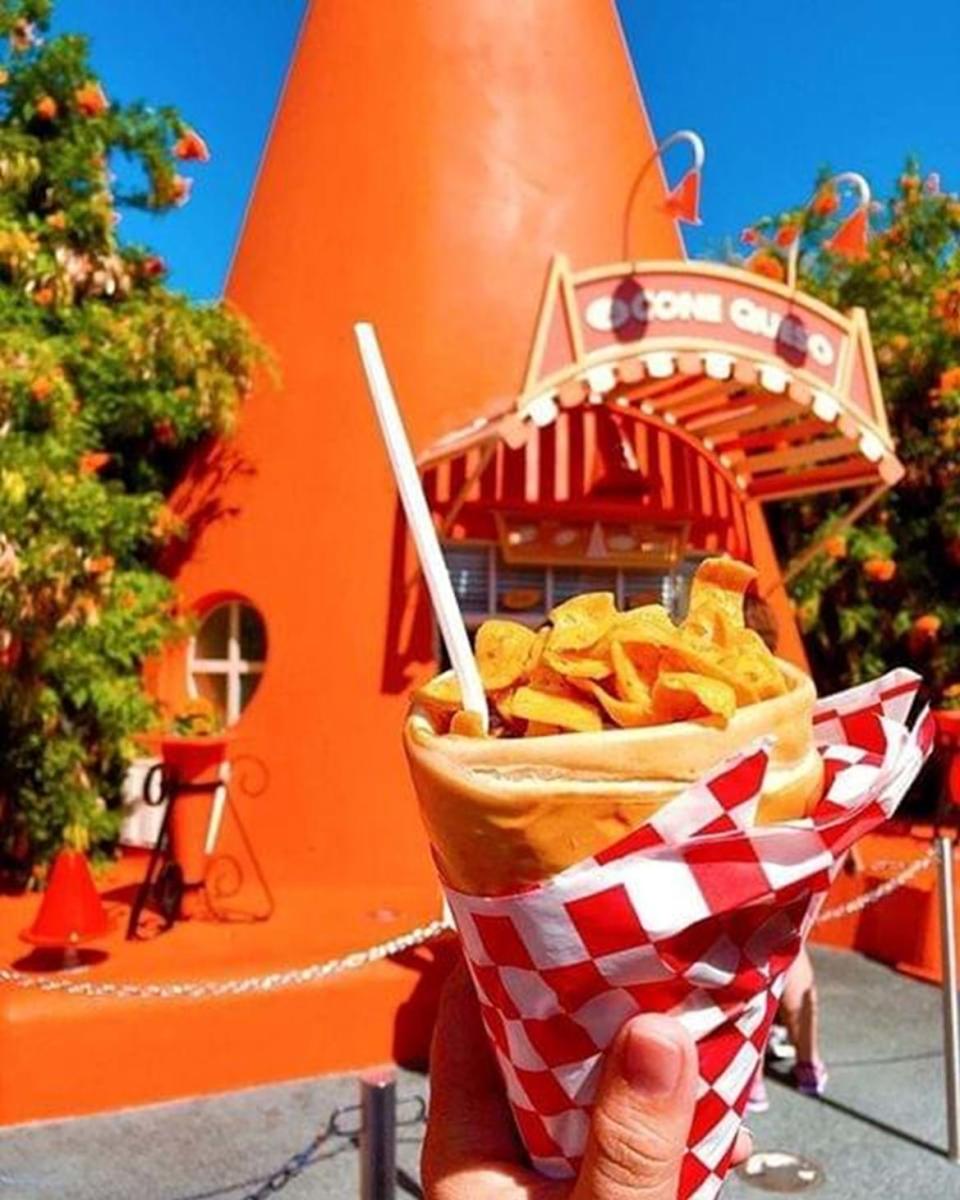 Photo credit: @mydisneyeats on Instagram
Corn Dogs
The corn dog cart at the end of Main Street has long been a fan favorite with ever-present lines reflecting its popularity. But what some fans might not realize is that they can get the same amazing corn dogs at the Corn Dog Castle at Disney California Adventure®, located past the Little Mermaid attraction. Same perfect cornmeal batter. Same juicy snap of the hot dog. Only difference? The wait. Like things spicy? Give the hot link corn dog a try.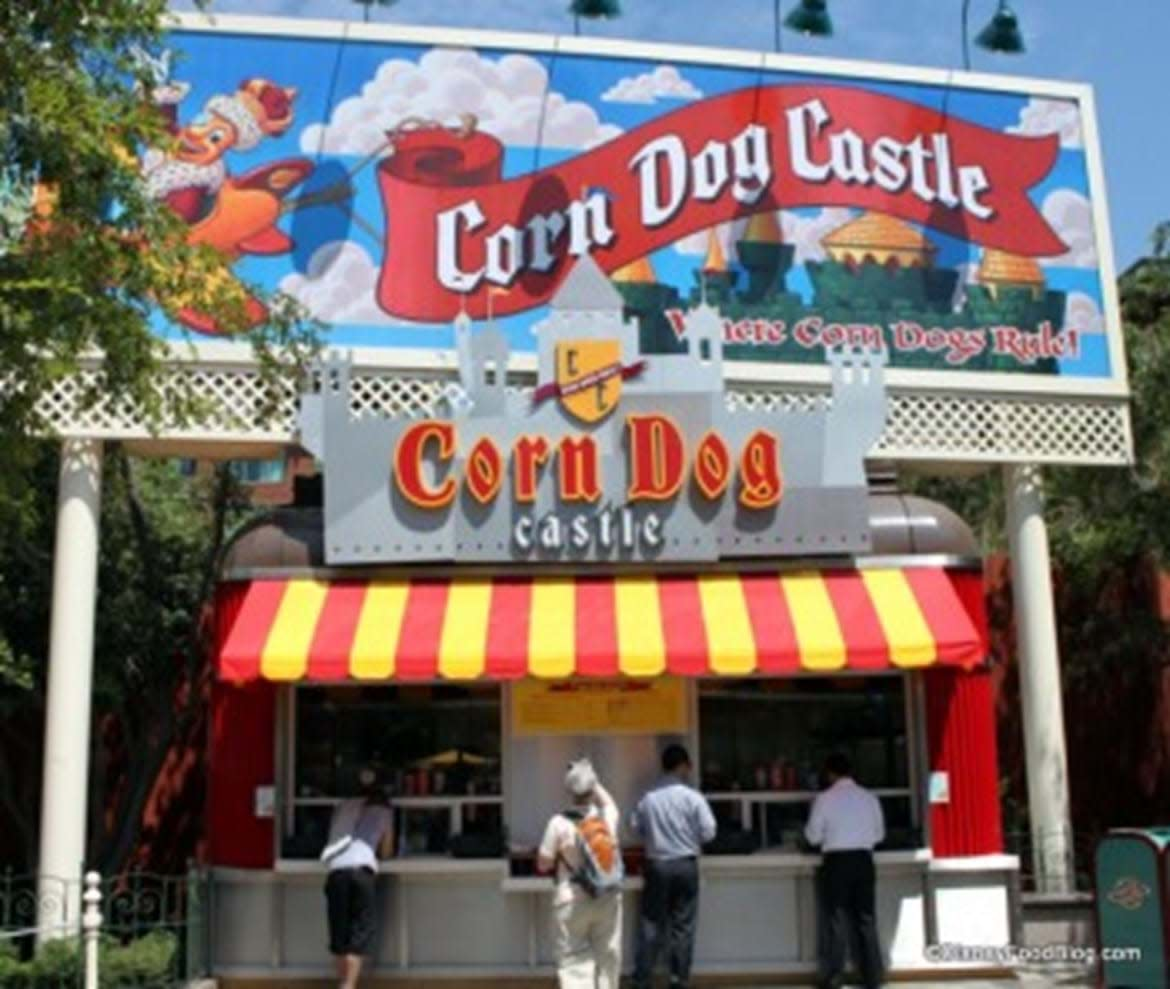 Photo credit: Disneyfoodblog.com
Ghirardelli Hot Fudge Sundae
Ghirardelli is sure to win you over with its combination of two of the world's greatest foods: chocolate and ice cream. Opt for the classic: two scoops of vanilla topped with hot fudge, whipped cream, chopped almonds and a cherry; or branch out with flavors such as butterscotch, caramel, mint chip, and more.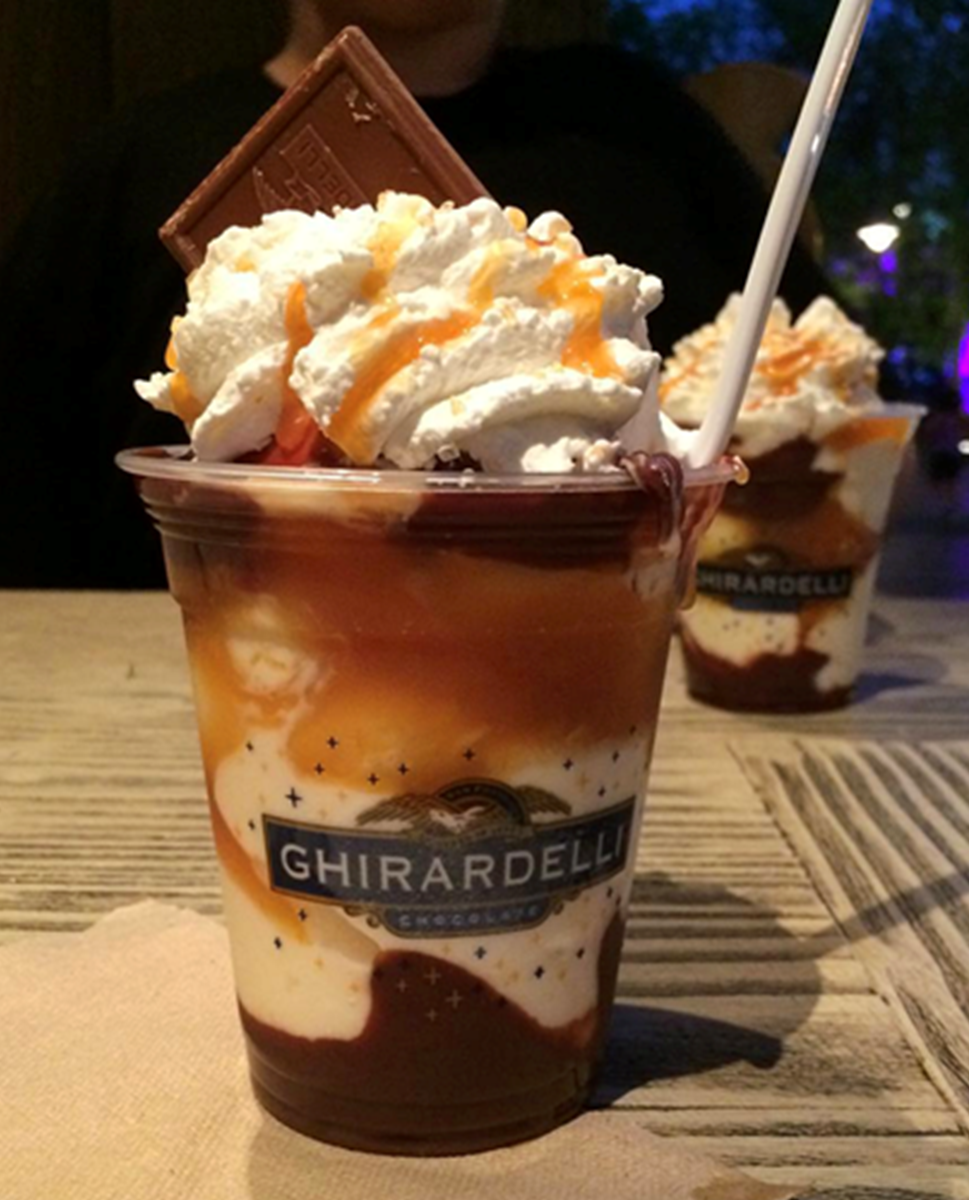 Photo credit: @jhaag416 on Instagram
Adorable Snowman Frosted Treats
Brand new to the park is the reimagined ice cream shop, Adorable Snowman Frosted Treats, themed after the Adorable, not Abominable, Snowman from Monsters Inc. The lemon soft serve with white chocolate is called "It's Snow-Capped Lemon!" The only time it's safe to eat yellow snow is while checking out Pixar Pier.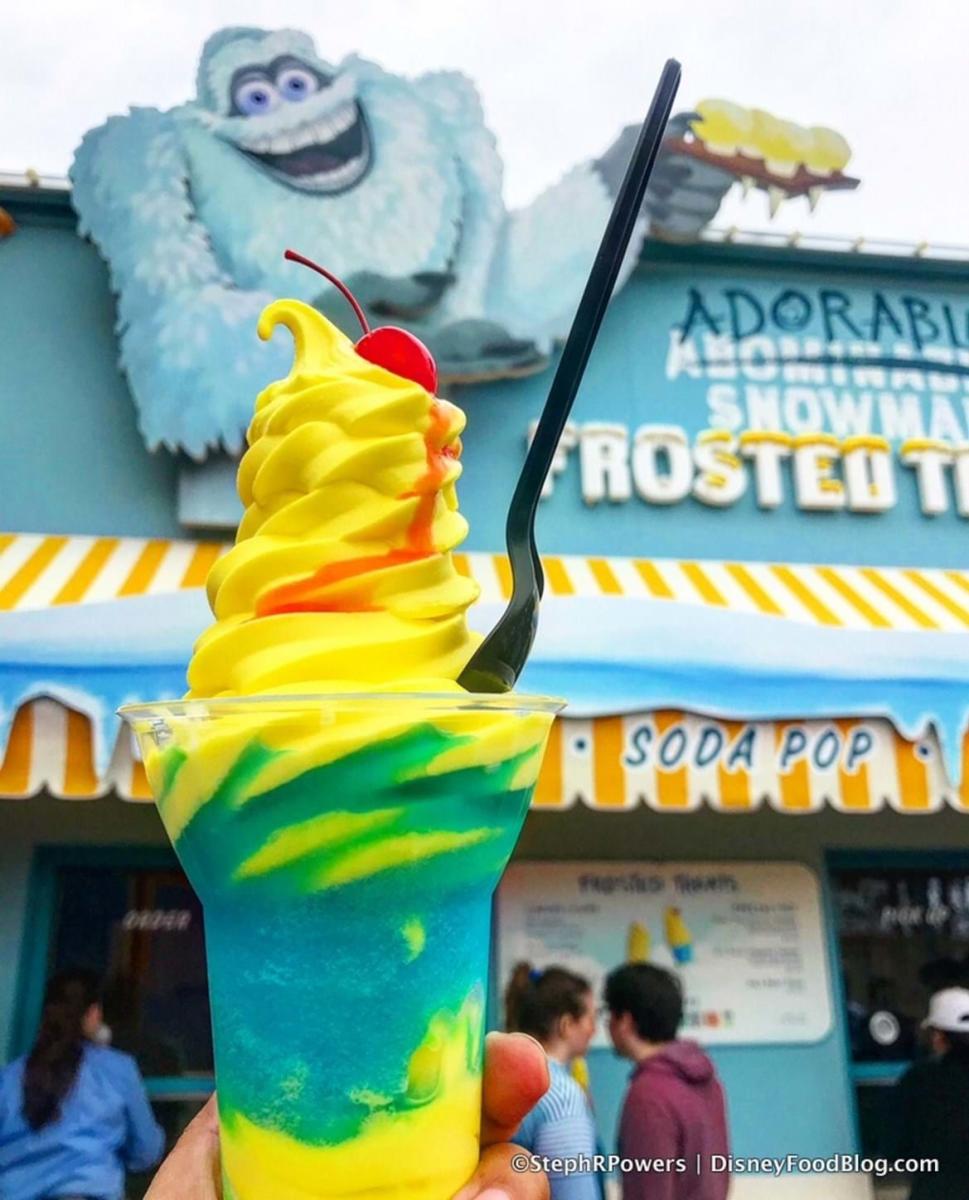 Photo credit: Disneyfoodblog.com
Schmoozies Drinks
When life hands you lemons, try a Lavender Lemonade at Schmoozies. Hobnob with the smoothie stars like the Mango Madness or Strawberry Banana Sensation. Also on the menu are epic coffee drinks and milkshakes. A rotating menu of donuts also finds its way to Schmoozies, and that's the hole truth.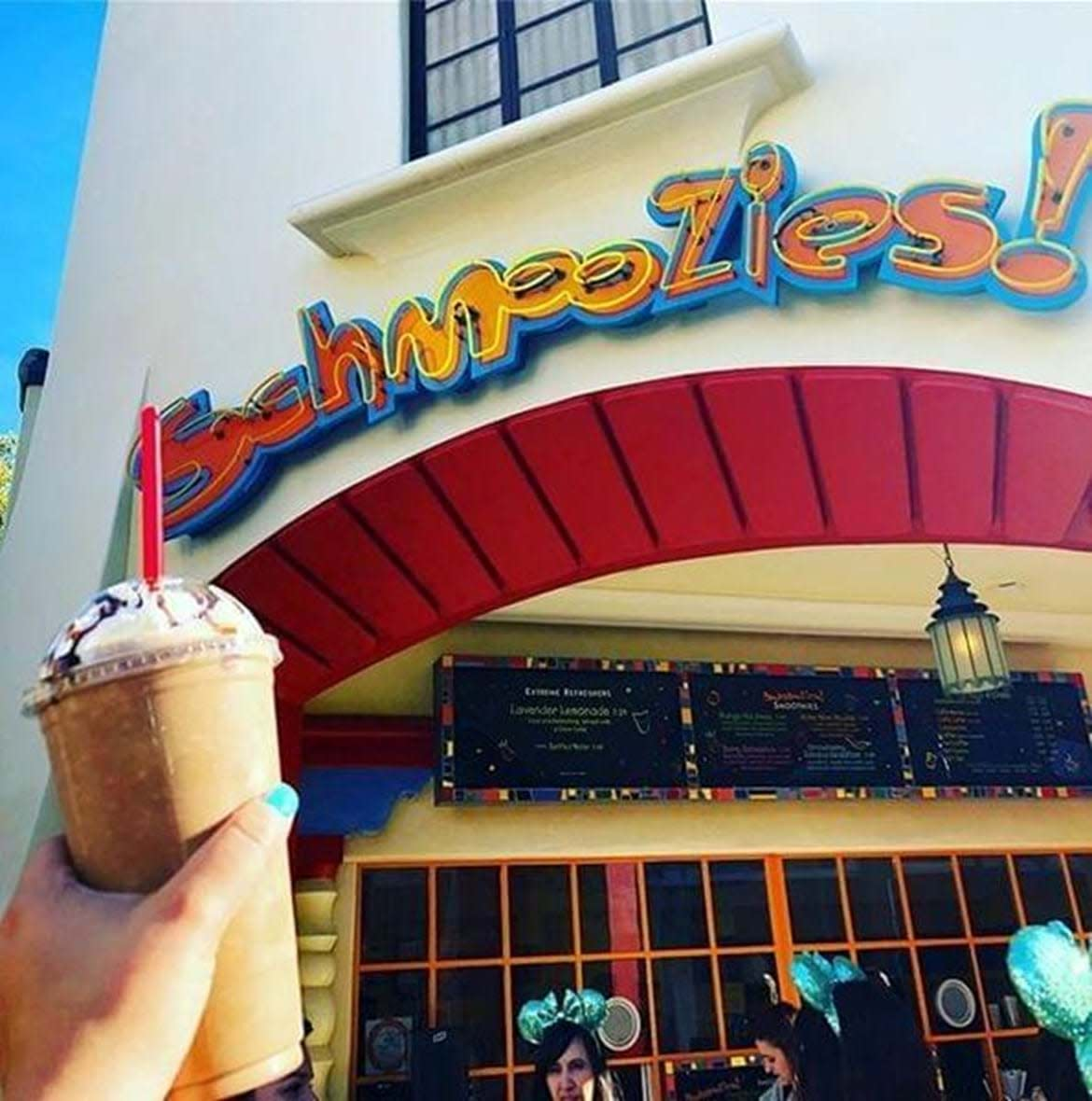 Photo credit: @rideordineblog on Instagram
Lobster Nachos
The boardwalk area of Disney California Adventure® is undergoing changes as it becomes Pixar Pier in Summer 2018. Eateries are also changing. To the delight of Disney foodies, one constant remains: Lobster Nachos. The Lamplight Lounge will be serving this fan-favorite with views of the Pixar-themed area of the resort.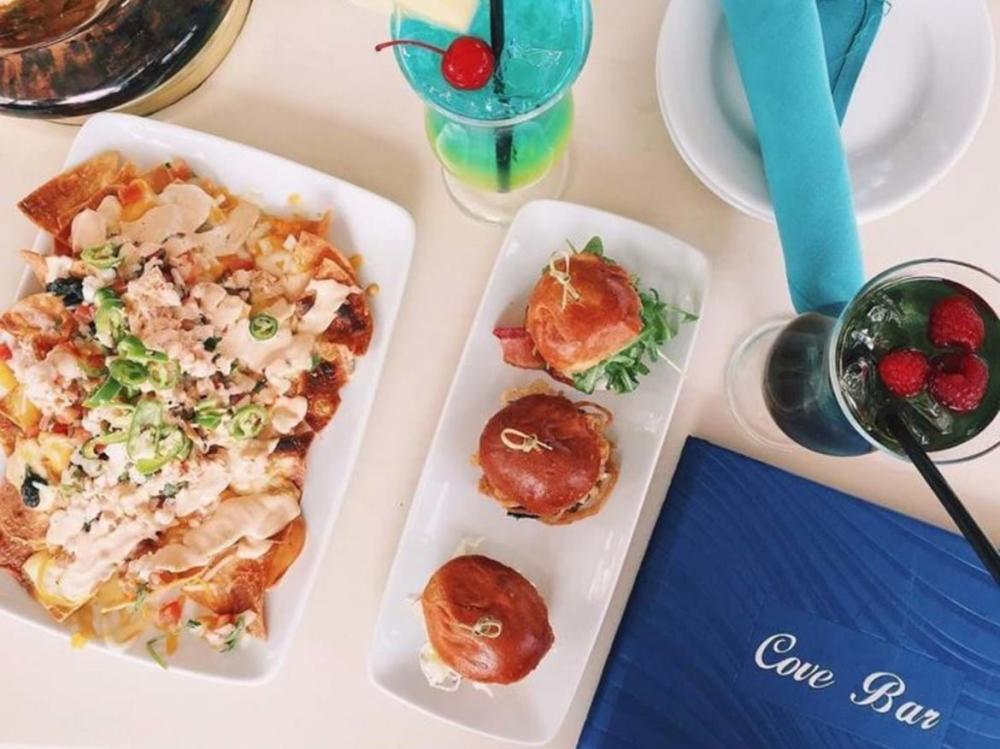 Photo credit: @adriennelucina on Instagram
Brioche French Toast
If you're cruising into the park early, stop into Flo's V8 Cafe in Radiator Springs to indulge in the brioche French toast, which is topped with salted caramel sauce and bananas. Sit outside on the back patio and watch the Radiator Springs Racers whizz by while this breakfast gets your own engine revving.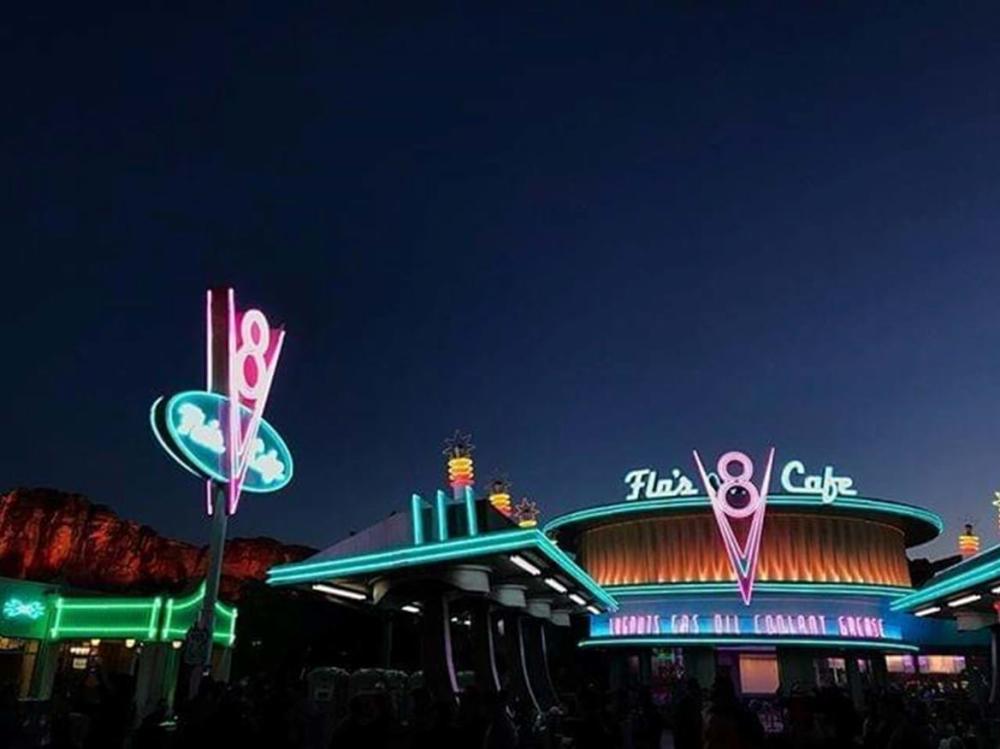 Photo credit: @disneyinthedesert on Instagram
Award Wieners
Get your acceptance speech ready. But instead of a trophy, you'll be honored with a street-style hot dog or sausage. The BBQ Crunch Dog is the star of the show with a cheddar sausage topped with barbecue sauce, cheddar cheese and fried onions. Supporting cast members include Filmstrip Fries, sodas and a limited beer menu.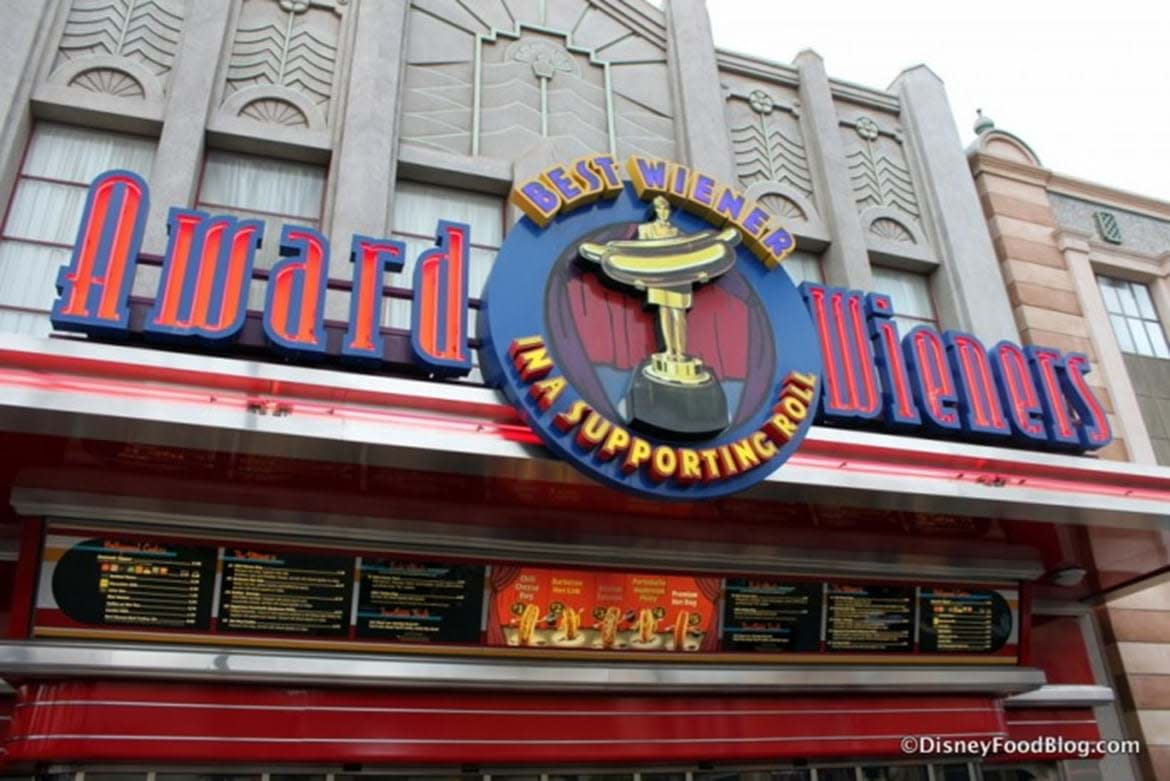 Photo credit: Disneyfoodblog.com
Pacific Wharf
Enjoy San Francisco's Boudin sourdough bread at the Pacific Wharf quick-service restaurant. The clam chowder or broccoli and cheese soups are served in bread bowls, perfect for a filling meal by the bay. To sample the sourdough, take the bakery tour next door to learn about the Gold Rush era recipe that's still used today.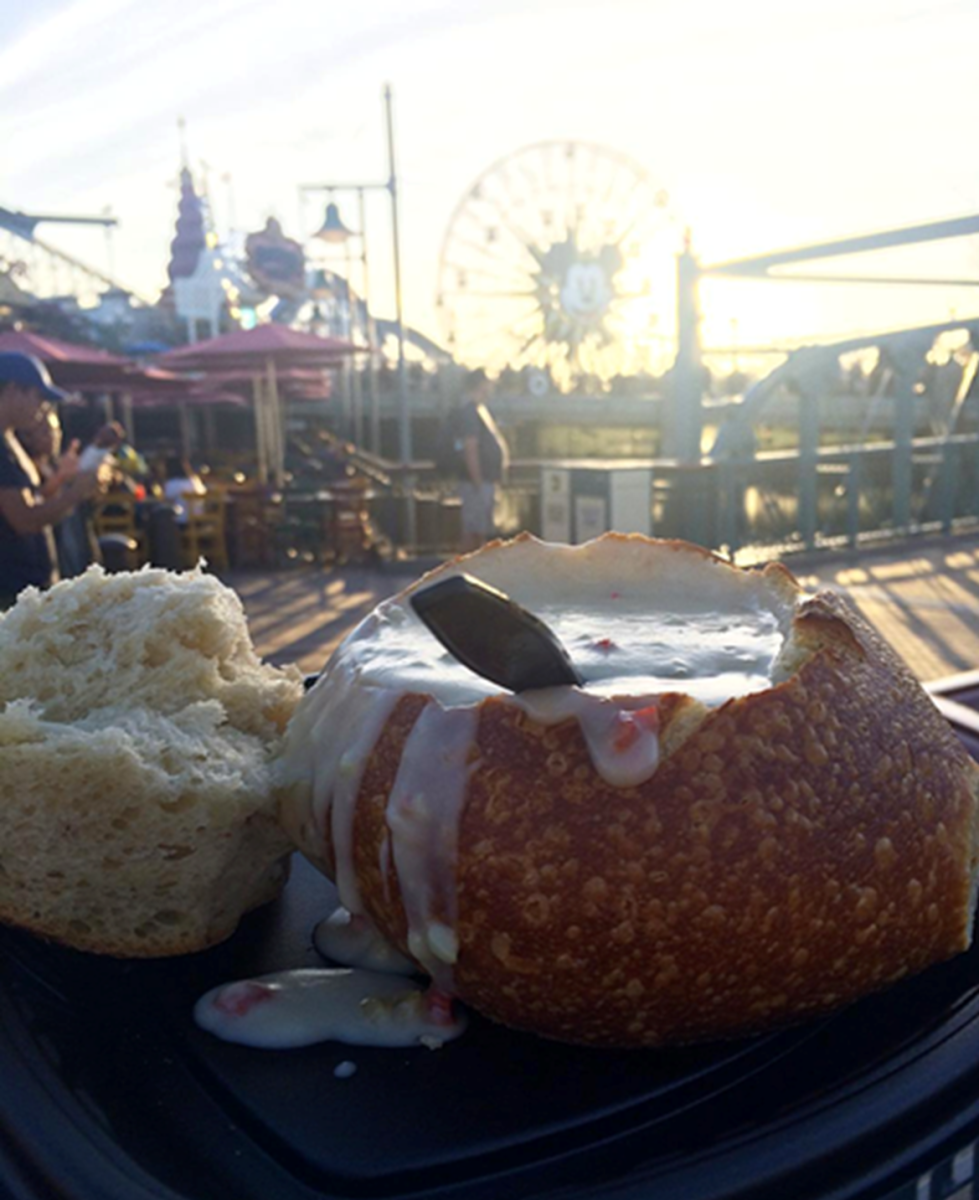 Photo credit: @lorenzo.of.the.matterhorn on Instagram
The Kitchen Sink at Clarabelle's
A work of art on Buena Vista Street's art deco ice cream parlor is the Kitchen Sink. Served in a red novelty sink, your scoops of ice cream come topped with whipped cream, hot fudge, chocolate morsels and a cherry. From mint chocolate chip to butter pecan (no sugar added), you'll want everything and the kitchen sink.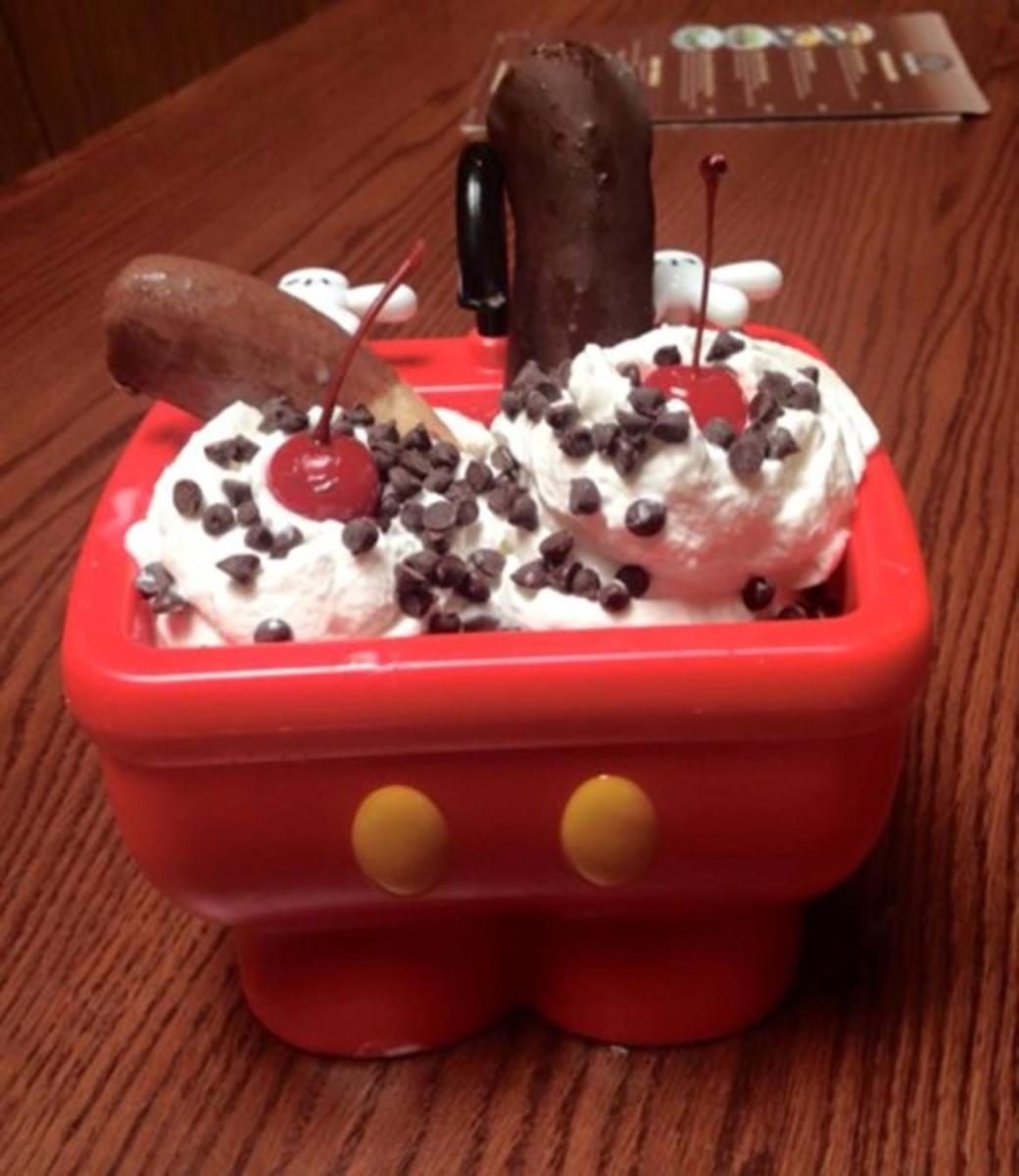 Photo credit: themainstreetmouse.com