By Lindsay Brookshier, Mickey Visit
This article contains affiliate links from Mickey Visit
Disneyland during the holidays is the most magical time of the year to visit the Happiest Place on Earth! The holiday season at the Disneyland Resort runs from November 11 through January 8, 2023, allowing for plenty of opportunities to experience the fun.
Disneyland celebrates the holidays (see Mickey Visit's full guide to the Holidays at Disneyland here) with themed overlays for popular attractions, extravagant decorations, holiday fireworks plus a beloved Christmas parade. The Festival of Holidays over at Disney California Adventure celebrates the diversity of the holiday season by incorporating Christmas/Navidad, Diwali, Hanukkah, Kwanzaa, and The Kings Day into their celebration with food marketplace booths and entertainment.
There is so much to see at the Disneyland Resort during the holidays that we always recommend purchasing at least a 3-day ticket so you have time to enjoy the magic of the Disneyland Resort. Check out find Mickey Visit's guide to discount Disneyland tickets and how to save money.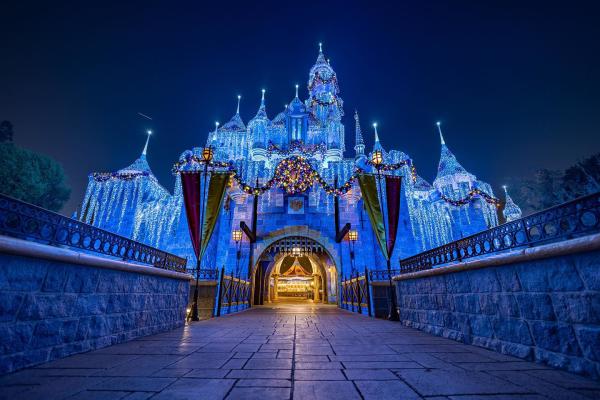 Photo Courtesy of @themegdalorian on Instagram
Magical Disneyland Holiday Decorations
You can expect to see holiday decorations around every corner in Disneyland and Disney California Adventure! Main Street, U.S.A. is decked out in twinkling garland covering the storefronts plus you can't miss a classically decorated 60-foot Christmas tree. You can also find a giant Christmas tree in front of Carthay Circle at the end of Buena Vista Street in Disney California Adventure. This tree has a more retro aspect which fits in with the aesthetic of the land.
Easily one of the most breathtaking displays at Disneyland are the enchanting lights on Sleeping Beauty's Castle. Disney decorates the beloved castle for the holidays with snow-capped turrets and over 80,000 LED lights. Every evening there is a lighting ceremony in front of the castle which includes snowfall and a brief story of the magic of the holidays.
Cars Land in Disney California Adventure always shows great dedication to detail, and this trait shines during the holiday season. Make some time to walk around Radiator Springs to notice the Christmas trees made from tires and wreaths adorned with hubcaps.
Disneyland Christmas-Themed Attractions
Disneyland pulls out all the stops for two of its most classic rides: it's a small world and Haunted Mansion. These fantastic holiday overlays are not to be missed on your trip to Disneyland during the holiday season.
it's a small world Holiday is transformed into a magical light display as 250,000 lights are used to adorn the façade of this classic attraction. A short projection show also lights up the attraction every 15 minutes so you will likely catch it as you wait in line to experience this popular holiday overlay. The famous song changes to the tune of Jingle Bells as the inside of the ride is also transformed into a festive display of holiday themes and lights. You cannot miss it!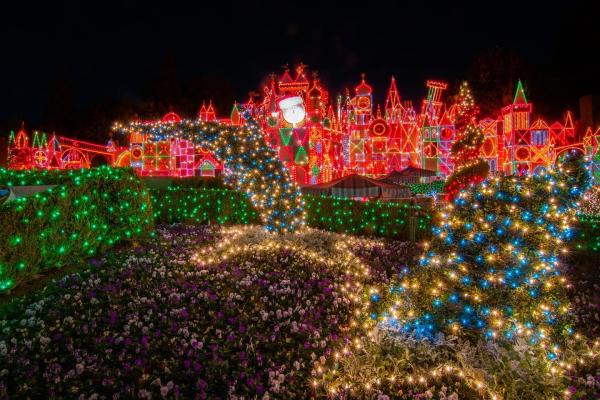 Photo Courtesy of @photosfromdisneyland on Instagram
The Haunted Mansion is transformed into a retheme based on Tim Burton's The Nightmare Before Christmas that continues on from the Halloween season because after all… this is what happens when two holidays collide! You do not need to be familiar with the film to enjoy the amazing effects and characters incorporated into the attraction. The best part is the giant gingerbread house that fills the ballroom of the mansion with a gingerbread scent as you drift past in your doom buggy.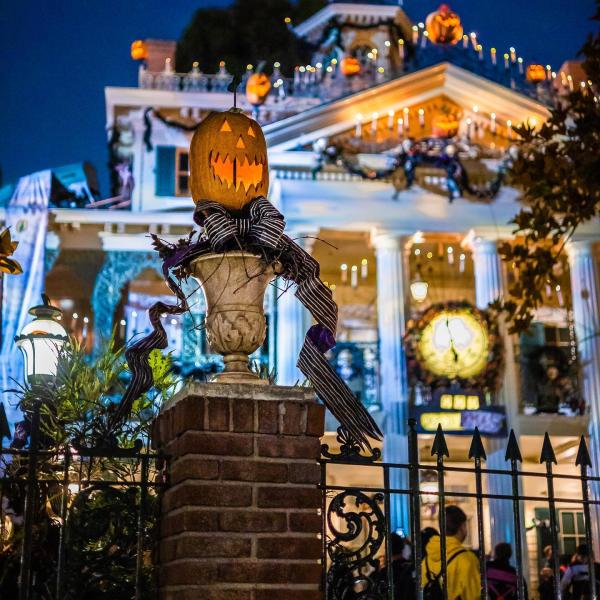 Image Courtesy of @disneyryan__ on Instagram
Both rides get busier than usual this time of year due to the popularity of these themes so you will want to utilize our Disneyland Genie+ tips to avoid long waits and arrive early at Disneyland with a good park strategy in mind for the holidays. Mickey Visit has an entire dedicated Disneyland Christmas park touring strategy to help you see the most efficiently.
Disney California Adventure Park also joins in the fun with themed attractions in Cars Land with Luigi's Joy to the Whirl and Mater's Jingle Jamboree. These modest overlays deck out the two rides in full holiday décor and switch the tunes to Christmas songs to get you in the spirit.
Believe… In Holiday Magic Fireworks
The one entertainment option that you cannot miss is the "Believe… in Holiday Magic" fireworks! This beloved nighttime fireworks show features Disneyland-themed Christmas music, breathtaking fireworks, and snowfall inside Disneyland. This is the one firework show where securing your viewing location right in front of Sleeping Beauty's Caslte is worth it due to the magic of the holiday lights displayed directly onto the castle.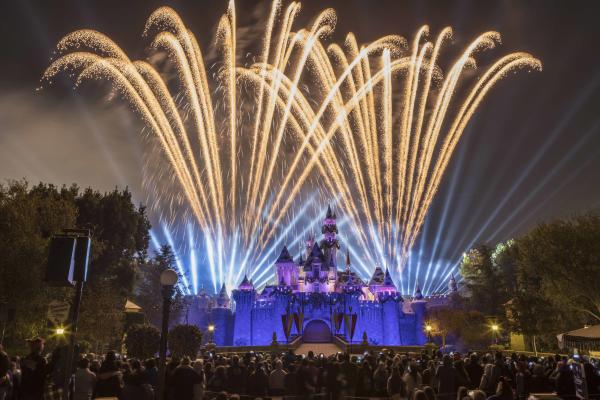 A Christmas Fantasy Parade
A Christmas Fantasy in Disneyland follows the traditional parade route from Main Street, U.S.A to it's a small world. This parade is a favorite among guests and includes a variety of Disney favorites along with holiday characters like snowmen, gingerbread men, reindeer, and Santa himself. This classic parade is one of the best entertainment options offered for the holidays!
Festival of Holidays
The Festival of Holidays at Disney California Adventure celebrates the diversity of the holiday season through a wide variety of entertainment, food marketplace booths, and merchandise.
The showstoppers of this event are the Festive Food Marketplaces (see menu for the event in Mickey Visit's Disneyland Christmas food guide) where you can find a glorious amount of international and local holiday specialties. Plus, don't miss out on viewing the Latin American inspired street parade, ¡Viva Navidad!, featuring favorite characters, music, and dancing over by Goofy's Sky School.
World of Color - Season of Light
World of Color in Disney California Adventure gets a different holiday-themed show for the season called "World of Color–Season of Light." This Christmas version of World of Color combines holiday music with classical Disney moments from beloved films.
You can make this showing extra special by treating your family to a holiday World of Color dessert party which features reserved seated viewing plus a variety of holiday desserts. This also takes the pressure off finding a spot to view the show!
Disneyland Hotels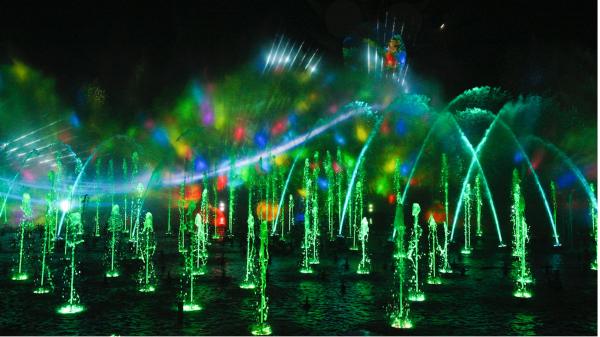 Photo Courtesy of Disney
Nothing says Christmas like a giant gingerbread house, and Disney's Grand Californian Hotel & Spa features a 7-foot tall gingerbread replica of the hotel in the lobby. Anyone can enjoy the hotel lobby, which often features holiday entertainment like singers, handbell ringers, or piano players during the holidays. Take in the ambiance of this beautiful hotel and pick out some treats from the Grand Californian Treat Cart like Mickey-shaped gingerbread cookies and hot apple cider with the option to add some adult enhancements like Rumchata.
You can always rely on finding top tier holiday celebrations at the Disneyland Resort during your visit to Anaheim as this is the most magical place to spend the holidays.
About Mickey Visit
Mickey Visit is the site to help you save money and experience more at Disneyland. Utilizing the helpful guides and park touring strategies on their site will help you to have the best possible vacation. Mickey Visit has been featured in Travel+Leisure, the LA Times, OC Register, Forbes, and more. Be sure to join over 100K other guests planning their vacation on the FREE Mickey Visit newsletter for planning tips and critical news for your trip (sign up on the homepage via the link above)!