By Lindsay Brookshier, Mickey Visit
This article contains affiliate links from Mickey Visit
Though Disneyland and Disney California Adventure Parks are the epicenter of Christmas in Anaheim and Orange County, there are many other areas celebrating the holidays in and around Anaheim that are worth your consideration for your trip.
We have put together a list of a few festive things to do in and around Anaheim that you have to check out during your holiday stay!
Knott's Merry Farm
Knott's Berry Farm's largest Christmas celebration, Knott's Merry Farm, takes place now through January 8th. The theme park is transformed into a classic holiday festival featuring a winter wonderland landscape of twinkling lights, garland, snowflakes, and seasonal settings.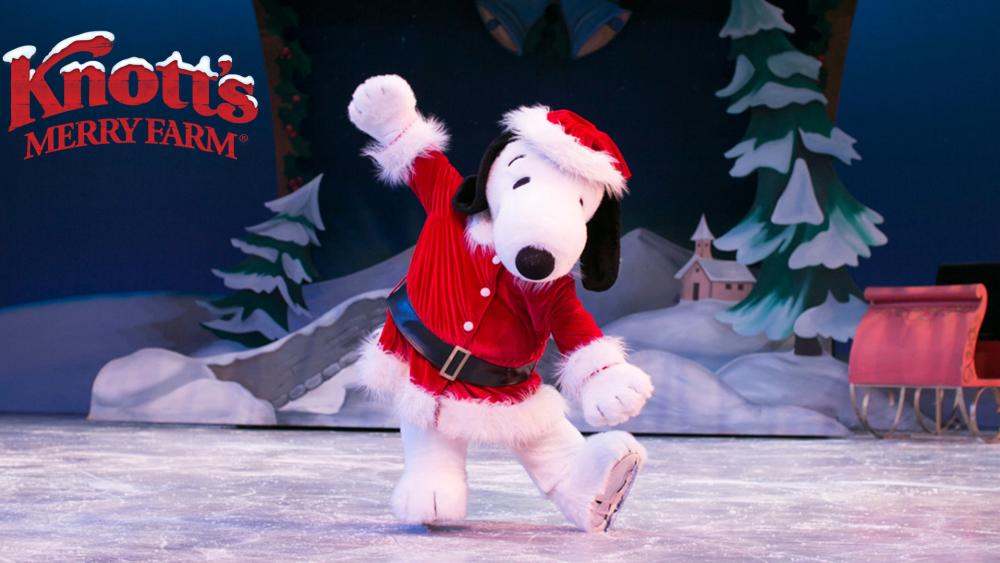 Mickey Visit has a full guide to Knott's Merry Farm with photos and tips.
And of course, you can expect to find an abundance of holiday themed food unique to the Knott's Merry Farm celebration. My favorite treat is the crispy breaded turkey balls filled with seasoned stuffing and sweet cranberry sauce. You can also take care of your holiday shopping on the streets of Calico in the Christmas Crafts Village.
Knott's Merry Farm includes a chance to meet Santa in his Christmas Cabin, a nightly Christmas tree lighting ceremony plus light shows in Camp Snoopy and on the streets of Calico. Knott's Berry Farm is a great way to spend your evening. You can find great deals on 1-day tickets here.
House of Chimney Cakes - Holiday Special
House of Chimney Cakes is a popular spot located near Disneyland that is a great addition for your day in Anaheim. A chimney cake is a traditional Hungarian dessert made from Hungarian sweet bread with a crispy exterior and fluffy dough on the inside. The name comes from the cylinder shape they have with a hollow center which resembles a chimney! House of Chimney Cakes combines this classic Hungarian dessert with soft serve ice cream along with a variety of toppings and flavors that make these treats a fan favorite and so Instagram worthy. There are also vegan options offered including the Disney fan favorite, pineapple DOLE Whip soft serve.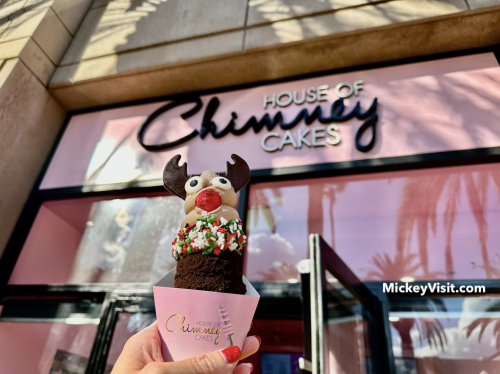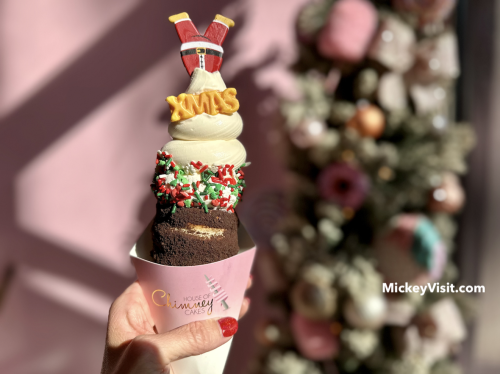 Special for the holidays, House of Chimney Cakes has a Santa falling down the chimney and an adorable Rudolph the red-nosed reindeer design seen here in the photos above.
Pirates Take Christmas!
Pirates Dinner Adventure offers a Christmas twist for the holiday season! Laugh and cheer with the pirate crew as they try to steal Christmas. Scoundrel pirates have kidnapped Santa and Mrs. Claus threatening an end to the holiday season!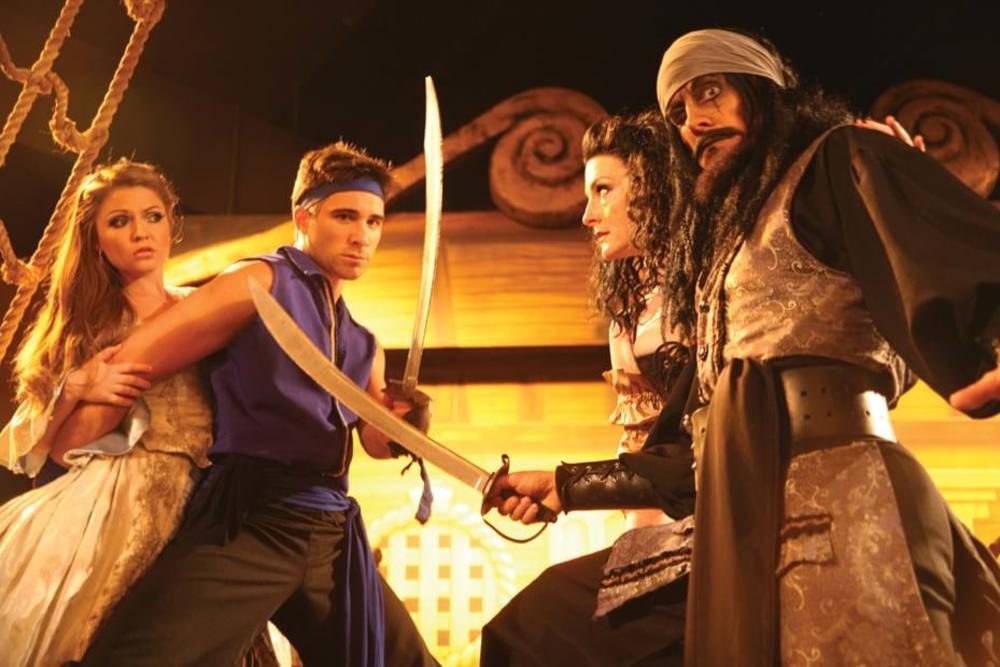 Will they succeed? Will Santa escape? Will the holiday season be saved? Pirates Dinner Adventure is located near Knott's Berry Farm, for more information about their Christmas shows and reservations you can call 866-439-2469.
Pirates Dinner Adventure, like its Medieval Times counterpart, is a live theater dinner show that includes interactive storytelling with Broadway quality theatrics. The stage is set aboard a fully rigged 18th-century Spanish galleon with up to 150 volunteers participating in this epic production. This show is a hit with kids and adults alike.
Disneyland's Grand Californian Hotel & Spa Lobby
You don't have to be a hotel guest to enjoy the lobby of Disney's Grand Californian Hotel & Spa which is a magical place to spend an afternoon around the holidays. This hotel fits the cozy atmosphere of the holiday season perfectly with its craftsmen build, twinkling 35 feet tall Christmas tree and cozy fireplace.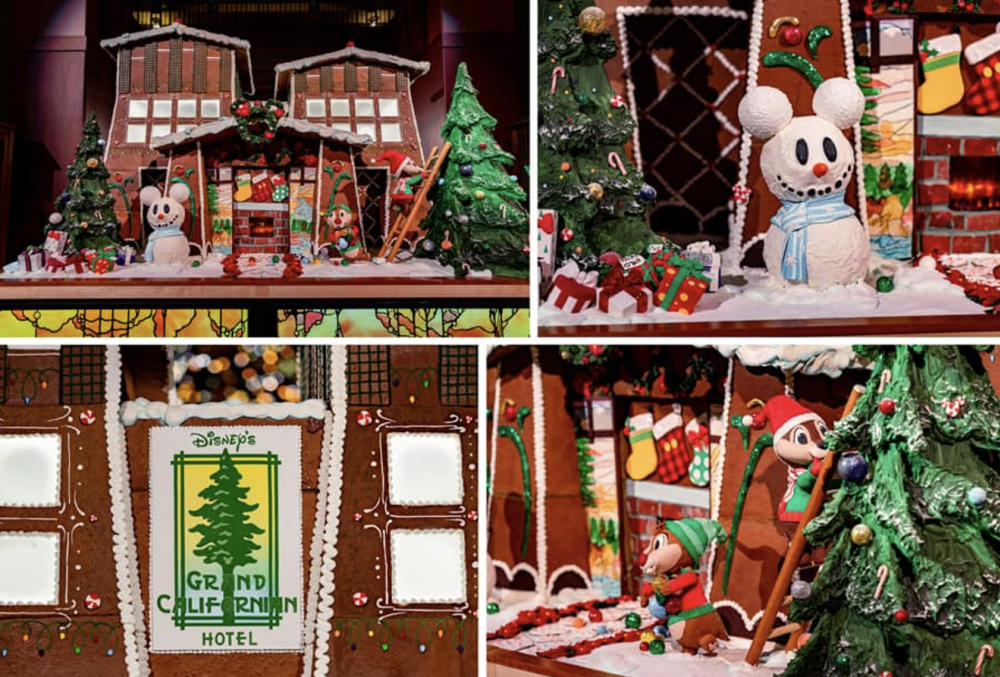 This hotel features one of the most beloved Disney traditions- the "Grand" Gingerbread House. Each year the hotel displays a gingerbread replica of the hotel that stands at 7 feet tall and 12 feet wide, created from more than 600 pounds of gingerbread. This year's "Grand" Gingerbread House features 25 hidden Mickeys!
Grab a Gingerbread Mickey (my favorite Disney holiday treat!) from the Grand Californian Hotel Holiday Cart and spend some time in the lobby. You just might catch some of the Christmas entertainment like the piano players or the spectacular Disneyland Resort Christmas Carolers and bell ringers.
Santa Claus also meets guests in the lobby. He has a seat in front of the Christmas tree, but you might catch him mingling among guests. We watched Santa circulate for awhile and snapped this photo of him stopping by the Grand Californian pianist to join in singing a Christmas song.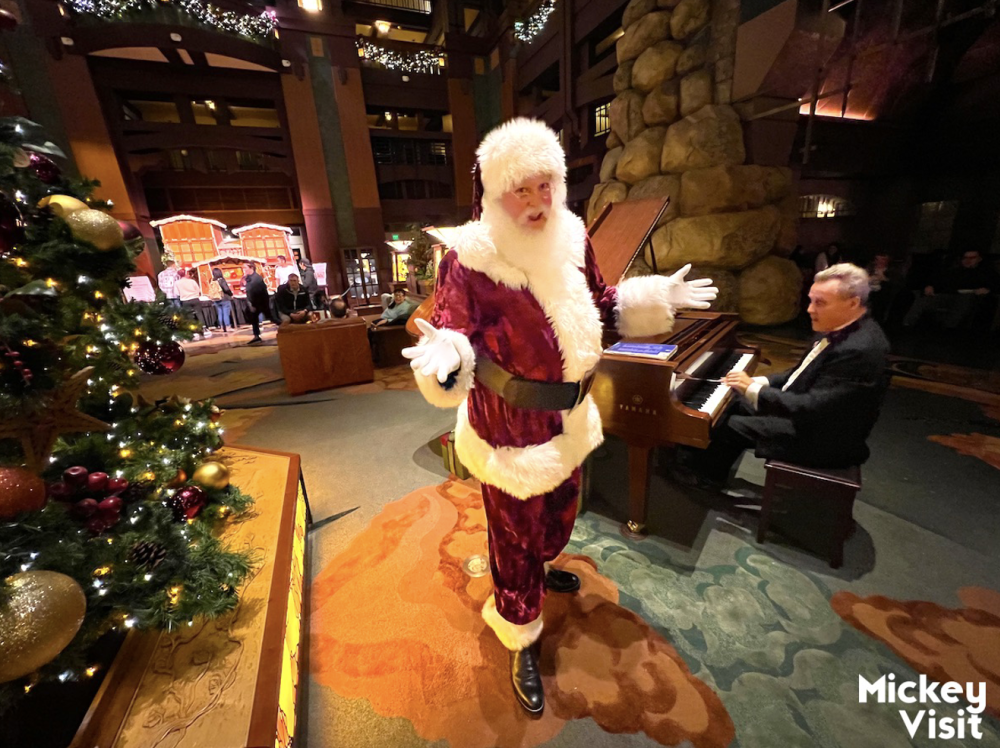 There is so much at Disneyland to celebrate the holidays. Be sure to read some of our favorite articles covering the holidays at the resort – our guide to Disneyland Christmas, the best Disneyland Christmas food, our guide to the Festival of Holidays at Disney California Adventure, and our guide to Disneyland in December.
Muzeo Express Christmas Train Exhibit
The Muzeo Express Christmas Train Exhibit returns to the Historic Carnegie Galleries on December 3rd and runs until January 22nd 2023.
Celebrate the holiday season with the experience of model trains, miniature winter scenery, and hands on activities for all ages. These historical relics showcase the history of trains in Southern California and are a great family activity for children and train enthusiasts alike.
This is a brand-new version of the exhibit and is a must see during your day spent in Anaheim.
Howard Johnson Anaheim Hotel & Water Playground Christmas Decorations
Howard Johnson Anaheim Hotel & Water Playground is just a ten-minute walk from Disneyland and is one of the most popular hotels for families during the holidays. But did you know that this hotel goes all out with Christmas decorations? There is a beautiful 20-foot-tall Christmas tree set up right outside the lobby that plays music with synchronized lighting.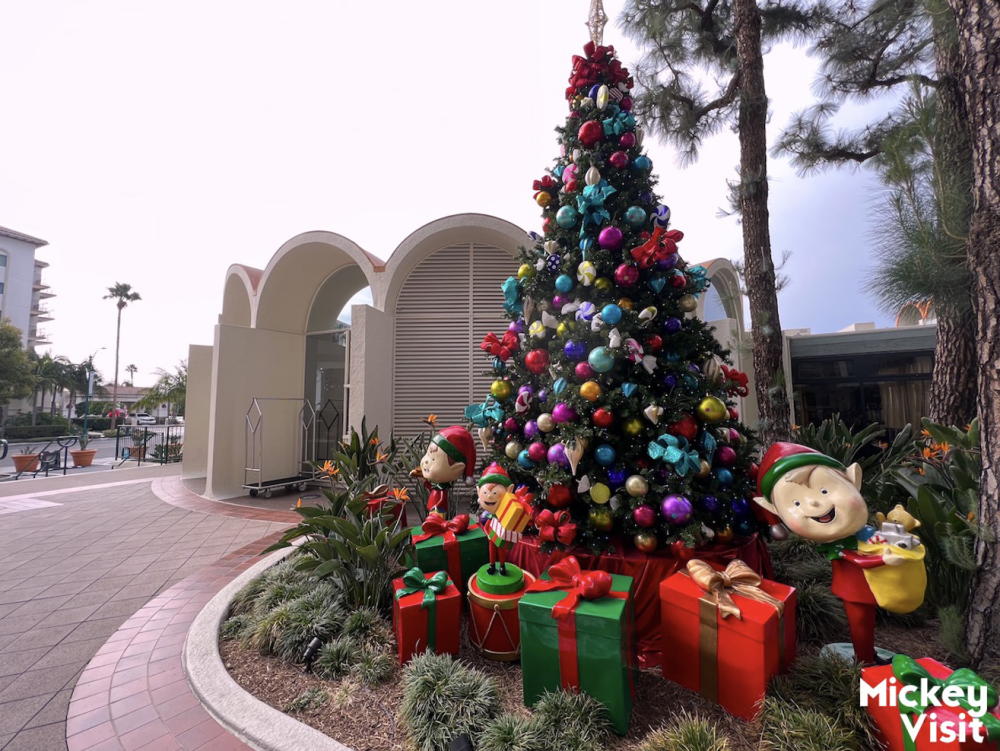 See our reviews of all the best hotels near Disneyland here.
You can also find festive photo ops around the hotel grounds along with the addition of poinsettias spread all throughout the property. The staff gets into the spirit too with free face painting every Saturday morning plus they also dress up in their holiday best during the month.
The hotel also has a letters to Santa Claus section in the lobby. Young guests can drop a letter to Santa Claus in the mailbox and then receive a letter back from Santa Claus waiting for them behind the desk. Look at how cute these letters from Santa are waiting for the young guests.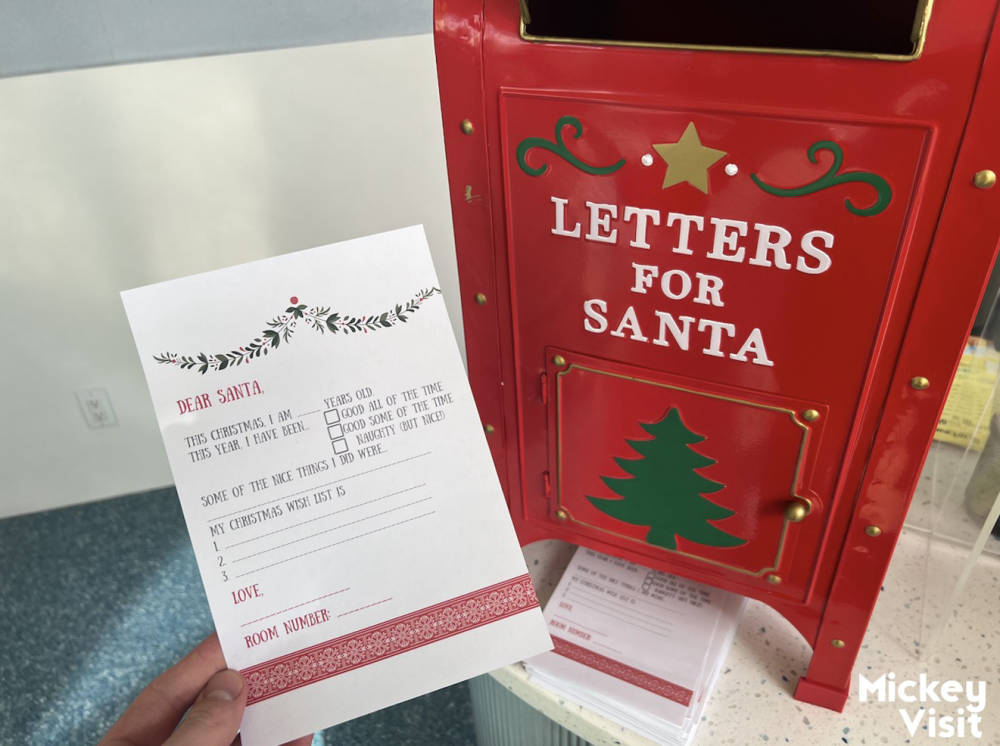 If you're bringing your Christmas gifts along and want them delivered on Christmas morning, you can ask the front desk staff for help when booking your stay and they can help with the surprise Christmas morning delivery.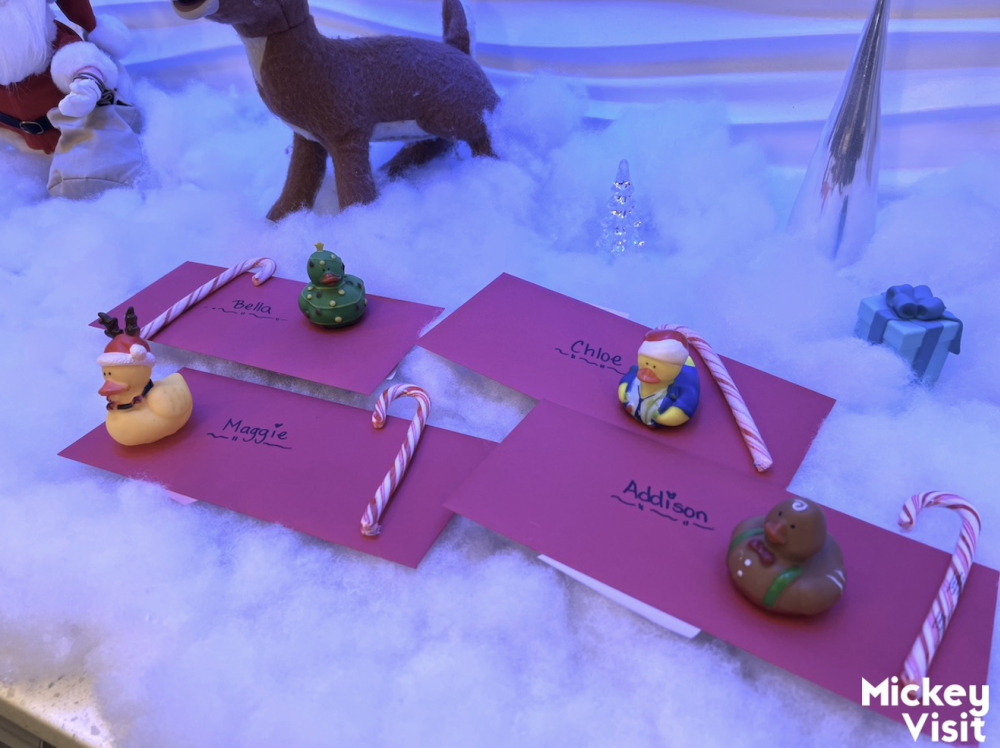 Anaheim truly offers a variety of magical activities for everyone in the family to enjoy. You can read more about all the things to do and see at Disneyland during the holidays in our top list here on Visit Anaheim.
Gavin Doyle and Lindsay Petit contributed to this report.
About Mickey Visit
Mickey Visit is the site to help you save money and experience more at Disneyland. Utilizing the helpful guides and park touring strategies on their site will help you to have the best possible vacation. Mickey Visit has been featured in Travel+Leisure, the LA Times, OC Register, Forbes, and more. Be sure to join over 100K other guests planning their vacation on the FREE Mickey Visit newsletter for planning tips and critical news for your trip (sign up on the homepage via the link above)!