By Megan of @minglingwithmickey and Chase of @imagineerinsta
When you walk into Star Wars: Galaxy's Edge you might be overwhelmed by the sheer size of the space (it's 14 acres!) or the amount of people around you all trying to get to the same exact thing. Luckily for you, we've already done all of the hard work and figured out the ultimate touring guide to Star Wars: Galaxy's Edge so you can truly live your Star Wars story and get the most out of your time inside the new space at Disneyland® Park.
What do I do first?
Before even getting into Disneyland® Park you're going to want to decide what your priority items are. Do you want to hang out at Oga's Cantina or do you want to build your own lightsaber? Are you okay with splitting your group to ride Millennium Falcon: Smugglers Run or do you all want to ride together? Deciding on this kind of stuff is going to significantly help you plan your day inside Star Wars: Galaxy's Edge. If you plan on going to Oga's Cantina at any time during your time on Batuu you're going to want to go there first to get your name on the reservation list. You'll get a text letting you know of your return time, then another text when you should start heading back towards the Cantina to get in line. During the gap would be your best opportunity to explore the marketplace of Black Spire Outpost or ride Millennium Falcon: Smugglers Run.
What about the build-your-own-droid or lightsaber experiences?
Guests who enter Star Wars: Galaxy's Edge can choose to build their own droid at the Droid Depot or their own lightsaber at Savi's Workshop. Both of these experiences have been very popular. If you want to partake in them you're going to want to skip getting your group in the virtual line for Oga's Cantina or riding Millennium Falcon: Smugglers Run and head straight to the experience you want to do. Building your own droid is the cheaper of the two options. Inside the Droid Depot, you will be able to choose either an R-Series or BB-Series droid. You can completely customize it with different colored panels and personality chips.
Being able to build your own lightsaber has been something Star Wars fans of all ages have been looking forward to since the experience was announced. Not only do you get to build a completely customized lightsaber, but you also go through a ceremony with a very special Star Wars guest! This experience is a little more expensive, but we've heard nothing but rave reviews of Savi's Workshop.
Where do I get specialty food and drink?
New dining options are located throughout Star Wars: Galaxy's Edge. Oga's Cantina is where you can find some of the best drinks in the galaxy! We loved the Outer Rim and Fuzzy Tauntaun. In fact, the Outer Rim might be the best drink we've ever had at a Disney Park!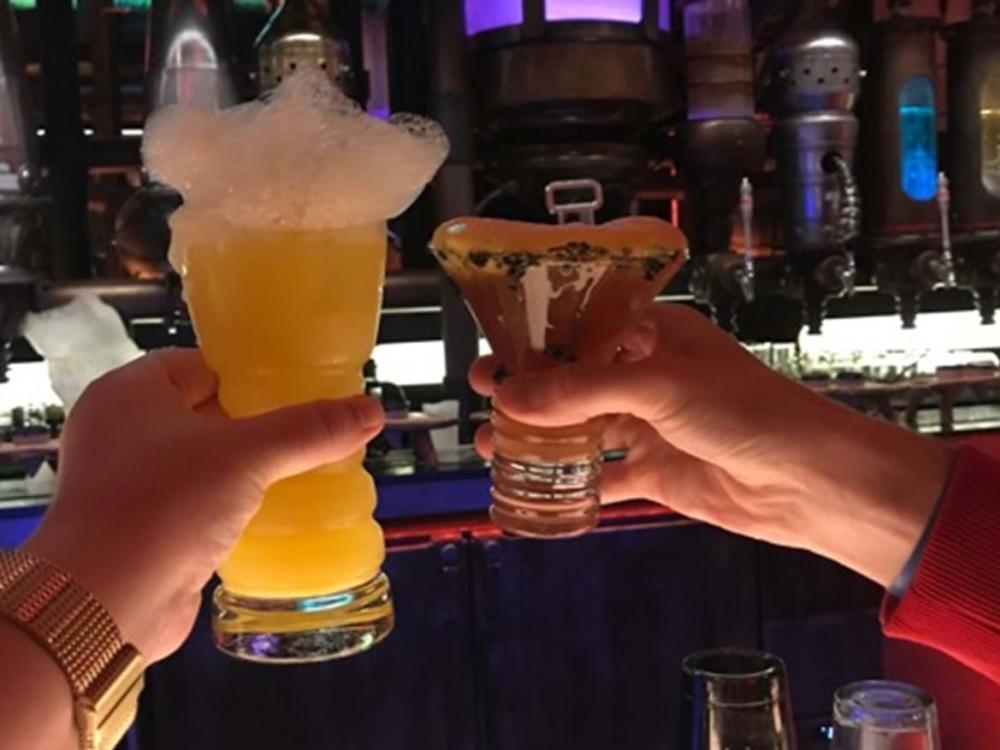 If you're looking for those fancy new Coca-Cola products in the specialty bottles you can find them throughout the land at outdoor carts. The bottles were designed in collaboration with Walt Disney Imagineering and Coca-Cola to bring even more of immersion to Star Wars: Galaxy's Edge. All of the labels are written with a fun new logo and the bottles are now collector's items. When you get hungry inside Star Wars: Galaxy's Edge there are a few places you can go, but we've noticed people raving about the Ronto Wrap at Ronto Roasters located just near the entrance to the marketplace. The signature dish features roasted pork, grilled pork sausage, peppercorn sauce and tangy slaw, all wrapped in a pita. It's filling, delicious and the perfect lunch on Black Spire Outpost.
What's the best way to experience Millennium Falcon: Smugglers Run?
Millennium Falcon: Smugglers Run is one of two attractions open inside Star Wars: Galaxy's Edge right now. The other attraction is Star Wars: Rise of the Resistance. If you want the absolute best experience you can have on Millennium Falcon: Smugglers Run you're going to want your group to be exactly six people. Since the ride is all about teamwork having people who you know and can communicate well with is essential. When we rode the first time we were placed at the pilot position. This is the most desirable position for anyone to get. Partly because you're in the first row of the ride car, and because you have the most responsibility, including putting the ship into a jump to lightspeed! The other two positions are gunner and engineer. We did these as well, and while still fun, we enjoyed pilot much more. As a gunner, you are constantly shooting at other ships who might be getting in the way of delivering the goods back to Hondo Ohnaka. The engineer is responsible for making sure all of the functions on the ship stay in working order. Don't worry though, the buttons to press will light up when it's time to push them. For right now, Millennium Falcon: Smugglers Run is not offering FastPass or Maxpass. If you want a shorter wait time and your group doesn't mind getting split up we suggest using the single rider line. You will most likely be stuck with a gunner or engineer position by doing single rider but if your goal is to just get on the attraction this might be a good option.
What characters are inside Star Wars: Galaxy's Edge?
There are plenty of characters to see and chat with on Batuu. Rey, Kylo Ren, Chewbacca and even a few Stormtroopers have made their way to the edge of the galaxy to see what's going on. While there is no set time or place to meet these characters you can see them roaming through the land throughout the day. If you're looking to meet Rey and Chewie you're going to want to head down through the marketplace towards the Resistance base. They've been known to hang out down there during the day to check up on the ships and greet guests on Batuu.
For those who align themselves with the First Order, you're going to want to hang out near First Order Cargo and Oga's Cantina. That's where you'll see Kylo Ren and his legion of Stormtroopers going through the crowds of people.
Until next time, may the spire keep you! 
Follow Megan and Chase on Instagram to keep up with all of their Disney adventures!