Sweets are never in short supply in Anaheim! You'll find classic confections, plus numerous opportunities to delight yourself in DIY dishes. Whether you're looking for gelato on the go or want to shake things up, local Anaheim businesses are sweetening your stay.
House of Chimney Cakes
The official dessert of Hungary finds its home in Anaheim. The Hungarian Chimney Cake is a sweet bread, with a crispy outside and soft donut-like inside. Shaped like a cylinder, House of Chimney Cakes fills the treats with soft-serve ice cream and carefully curated toppings. You'll want s'more of the S'mores Chimney Cake in a graham cracker crusted cone with vanilla bean soft serve, graham cracker pieces, Hershey's chocolate and a marshmallow toasted before you.
Krazy Cup Munchies Bar
Choose the size of your Krazy Cup, and then choose everything else! You'll fill your Krazy Cup with your favorite candy, toppings, fresh fruit and even chips! Try the Ultimate, a mix of Krazy Cup Munchies Bar's wide assortment of snacks and sweets with delicious ice cream. Where else can you add Ruffles and Tajin to your ice cream?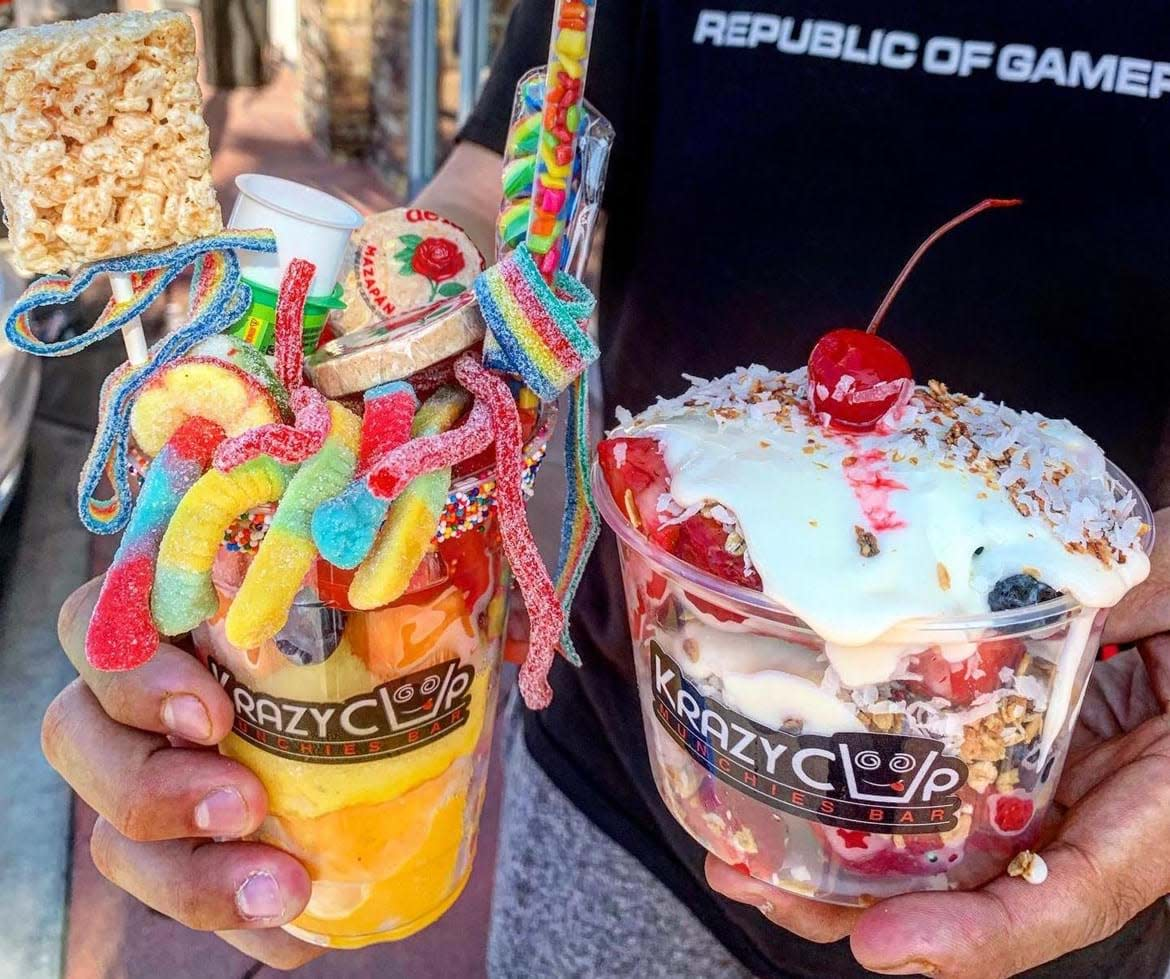 Krazy Cup Munchies Bar | PC: @michellicious_blue
Joe's Italian Ice
Keep it cool with Philadelphia-style Italian ice or "water ice" made from water and fruit purées. Blue Raspberry and Dole Whip, Cookies and Cream and Root Beer, the possibilities are endless with Joe's Italian Ice's rotating menu. Want to make it something truly unique? Add soft serve to your Italian ice for a creamy, sweet treat called the Joe Latti.
Reunion Kitchen + Drink
Come for the brunch, stay for the Warm Butter Cake. The fan-favorite includes a secret house recipe butter cake, topped with vanilla bean ice cream, raspberry purée and fresh whipped cream. Reunion Kitchen + Drink offers a "return to modern comfort." You'll be returning for the Pumpkin Spice version of the Butter Cake each fall.
Azules Coffee
If you add coffee, you can have dessert any time of the day. Head to Azules Coffee for Hispanic-inspired coffee, cakes and ice cream where you can add a churro to your Frappe. Put a spin on the traditional ice cream sandwich by swapping cookies for churros or conchas. Looking for spicy and sweet? Try the Original Chabet with Mango & Strawberry Sorbet with fresh mango & strawberry, chamoy, Tajin and Tamarindo Candy. Azules is the perfect way to start and end your day!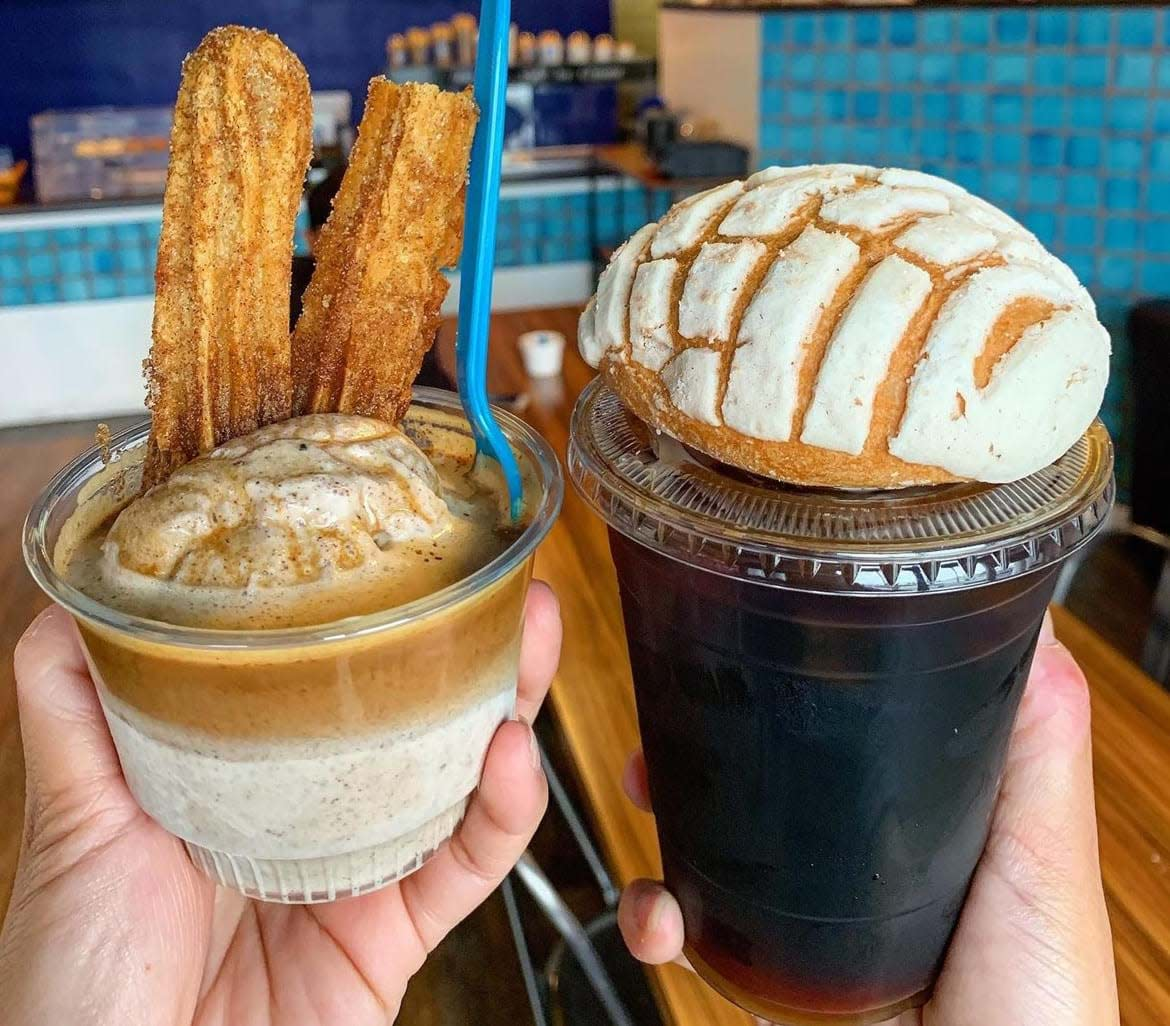 Azules Coffee | PC: @michellicious_blue
Popbar at the Anaheim Packing House
Pop over to the Anaheim Packing House to find the Popbar, an Italian gelateria with a modern approach. Handcrafted gelato pops on a stick are hand-dipped and customized with options like vanilla white chocolate and waffle cone pieces in front of you. Cool off with a Hot Chocolate on a Stick or try a vegan PopSorbetto.
Crepe Coop at the Anaheim Packing House
You rule the roost and the coop at Crepe Coop at the Anaheim Packing House with customizable ice cream filled crepes. A twist on a traditional French crepe, these handheld delights are rolled into a cone and filled with ice cream, fruit and other delectable combinations. Try the "OG Crepe" with strawberry, banana, Nutella, almonds, vanilla bean ice cream and housemade whipped cream or design your own crepe for a DIY delight.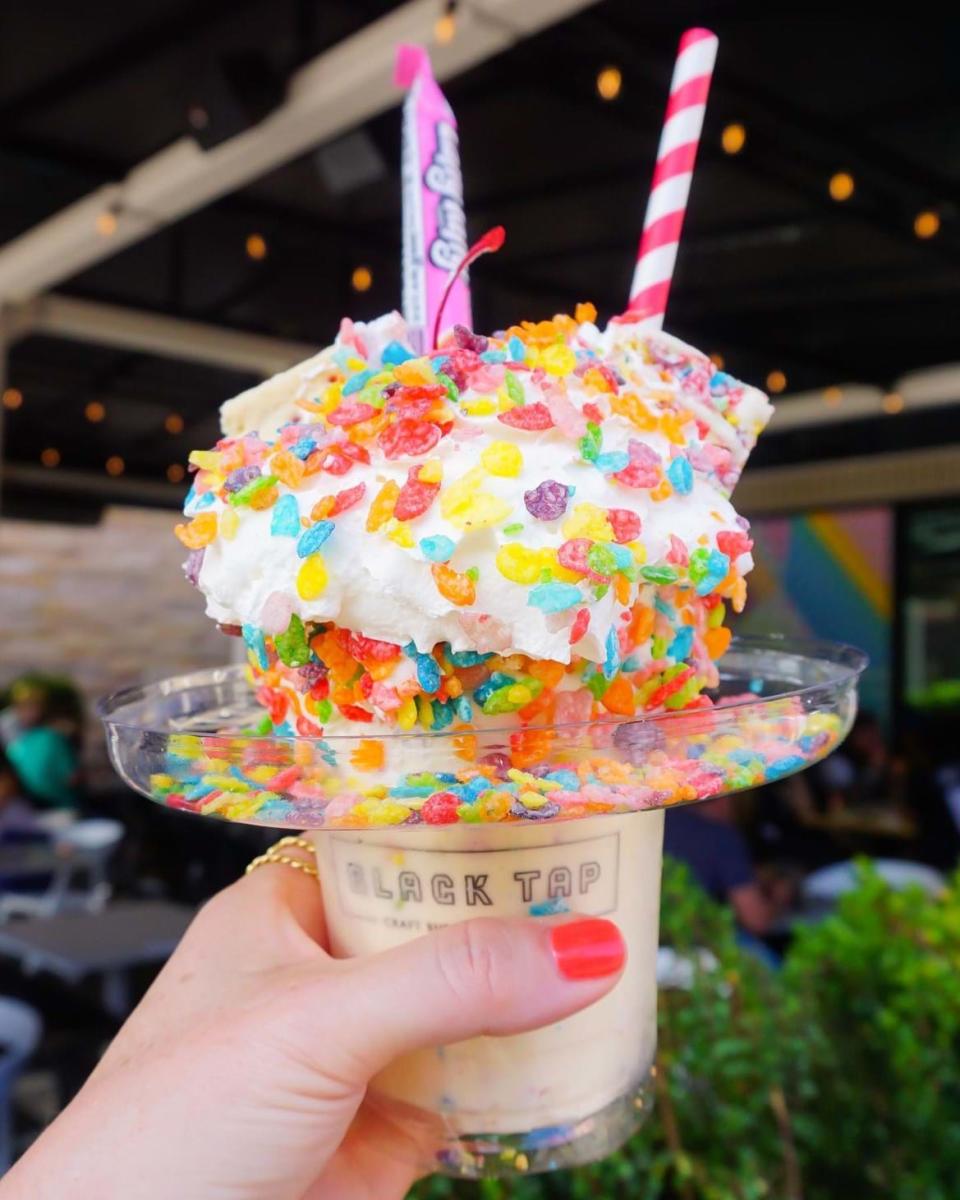 Black Tap Anaheim | PC: @firstcomesdisney
Cauldron Ice Cream at SteelCraft Garden Grove
Skip the bouquet and treat your sweetheart to a rose-shaped scoop of ice cream. There will be nothing but chemistry when you see how Cauldron Ice Cream at SteelCraft Garden Grove transforms the milky ice cream base into fresh ice cream instantly with liquid nitrogen. Your heart will be puffing when you see your Sea Salted Caramel Crunch or other delicious flavors from the rotating menu served in the Puffle Cone, an egg waffle inspired by the Hong Kong Street Snack.
Black Tap Anaheim
Dessert is always on tap. Home to the CrazyShakes, Black Tap Anaheim is one magical piece of the Downtown Disney® District. Pair your burgers and fries with a milkshake that's literally over the top. Along with traditional flavors, Black Tap offers signature flavors stacked with sweets like the Fruity Pebbles®-flavored Bam Bam Shake with a vanilla frosted rim, Fruity Pebbles Rice Krispy Treat, Strawberry Pop-Tarts®, Laffy Taffy®, Whipped Cream and a Cherry that are perfect for sharing.