By Shantelle, @Disneylandtourguide
This article originally appeared on disneylandtourguide.com
This article contains affiliate links from Disneyland Tour Guide. 
Were you lucky enough to score tickets to this year's Oogie Boogie Bash at Disney California Adventure Park? If so, this guide to the event is a must-read! 
The event requires a separate ticket and takes place after park-hours inside Disney California Adventure Park. The party runs from 6:00 pm to 11:00 pm but guests can arrive as early as 3:00 pm with access into the park. The event ticket provides access to:
Themed Treat Trail
Villain's Grove at the Redwood Creek Challenge Trail
Frightfully Fun Parade
Mickey's Trick & Treat show
Character photo ops
And so much more!
General Tips for Oogie Boogie Bash
Take advantage of the early entry to Disney California Adventure Park at 3:00 pm. This allows guests more time to ride attractions before the party even officially starts. Guests will receive a map with all the treat trails, character locations and more. Plus, they will hand out a small bag for candy. Guests will also receive a wristband upon entering for the event. This is because at 6:00 pm everyone without a wristband is asked to leave.
If entering the park at 3:00 pm, no need to head back to the entrance at 6:00 pm. Look for cast members located across from the Avengers Campus main entrance and to left of Grizzly Falls. Guests can have their ticket scanned, pick up their small bag, and receive their wristband here. 
Tip: If the line to get into Disney California Adventure Park at the entrance is really long, try the entrance in Disney's Grand Californian Hotel. This entrance is not just for hotel guests. This entrance rarely has a line. 
Trick or Treat Trails
There are 11 trick or treat trails. Two of the trails have candy only, no villains. All the trails feature several oversized cauldrons full of treats for party guests. Each trail has about 5-7 bins of candy along the way. Guests are able to go through as many times as they'd like.
Trails with Villains
Don't miss the treat trails with villains! These trails have villains that interact with and talk to guests as they walk by. Here's the list of villains for this year and their locations!
NEW: Mother Gothel at Grizzly Peak Pass behind Grizzly River Run
Maleficent is at Grizzly Peak Airpark next to Soarin'
Oogie Boogie is in the Animation Building
Dr. Facilier moved over near Golden Zephyr
NEW: Ernesto de la Cruz is next to Carthay Circle
NEW: Madam Mim is over at the Hyperion Theatre Courtyard
Agatha is inside Avengers Campus in the Ancient Sanctum
Sid is over on Pixar Pier next to Bing Bong's
Cruella is over on the stage in Hollywood Land by Monsters Inc
Villains Grove
Another can't-miss experience is Villains Grove in the Redwood Creek Challenge area! Walk along the guided path and see spectacular views of different villains. The forest is turned into a magical grove of light and sound with mystical sights and sounds. Venture through the bewitching mist and fog to discover:  
Frollo's Sanctuary – make your way down the candlelit trail infused with the smell of incense.
Maleficent's Will – look for the waterfall of magical cascading colors. Ravens cast shadows overhead and thorns grow from twisting vines.
Cheshire Cat – careful, you might miss the sneaky cat disappear in the rocks.
Queen of Hearts' Garden – a garden of twisted roses and flowers. You'll get a big whiff of roses and be on the lookout for the Queen of Hearts herself before she disappears.
Scar's Elephant Graveyard – the hyenas' echoing laughter and blasts of sulphur you'll be sure to smell.
Dr. Facilier's – the shadow man summons his friends on the other side. Watch for shadowed hands and colorful spells dancing at your feet.
The Queen's Lightning Forest – a flashing storm pulses from branch to branch. Watch for the poison apple it will disappear before your eyes.
Home of the Wisps – be guided to safety by the grove's winged caretakers in an endless sea of light.
A few things to remember about this experience:
There is no candy.
Don't be afraid if there is a long line; it moves quickly.
This experience does offer a handicap accessible option.
Check the wait time for this in the Disneyland App. It opens after the sun sets around 7:45 pm, but be sure to wait until it's pitch black to check out the area for an extra spooky experience.
Try to go during the first parade, and then attend the last parade.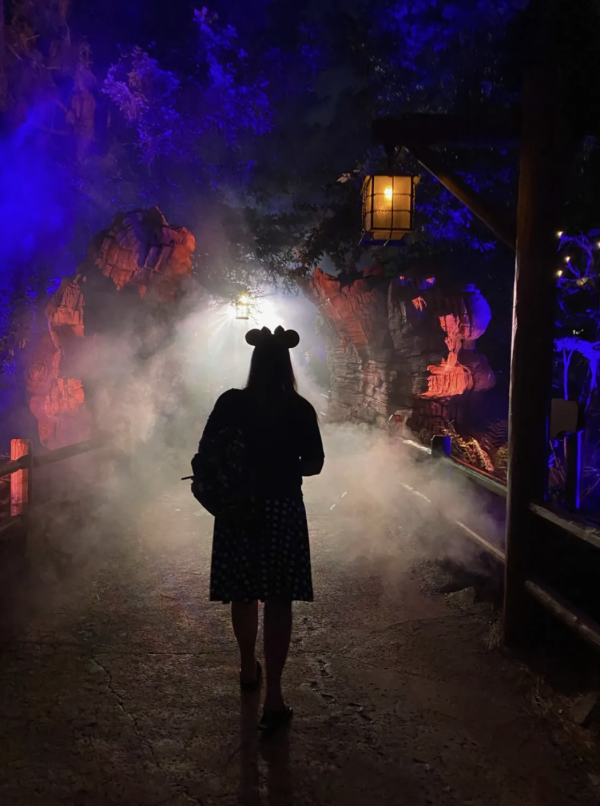 Frightfully Fun Parade 
The Frightfully Fun Parade is shown twice a night, once at 7:45 pm and again at 10:00 pm. Both showings last 12 minutes, with the second having less of a crowd.
Both parades start near Silly Symphony Swings, head towards Little Mermaid, and then pass along the path towards Carthay Circle. At Carthay Circle, it turns right and heads down Hollywood Blvd, turns right at Hyperion Theatre, and ends at Guardians of the Galaxy.
There's plenty of places along the parade route to watch. Guests will have no problem finding a great viewing spot; no need to hold a spot more than 20-30 minutes before start time. 
Tip: Watch out for the Headless Horseman. He appears along the parade route 15 minutes before the parade starts.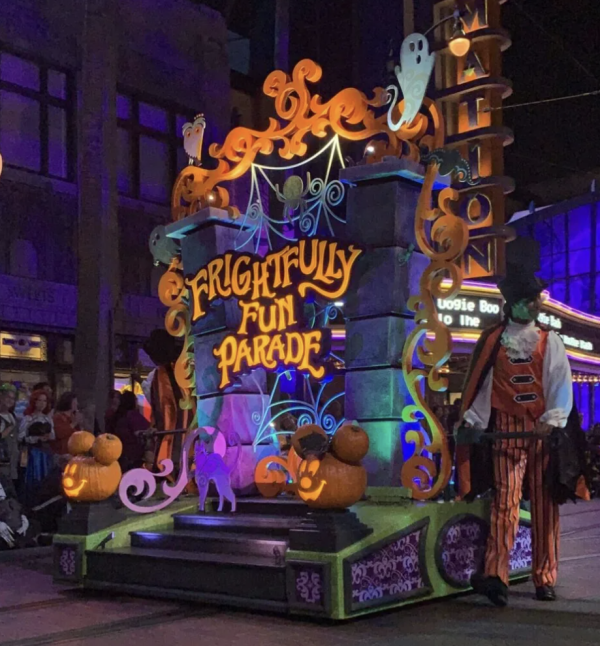 If interested in a dining package, check out the below. Both options require valid Oogie Boogie Bash tickets and are subject to availability. 
Wine Country Trattoria Oogie Boogie Bash Parade Dining:
Dine on a three-course meal (starter, entrée, and dessert) prior to the parade and then head over to a reserved standing viewing area to see the Frightfully Fun Parade during Oogie Boogie Bash nights.
Available for lunch and dinner on party dates from 12:30 - 6:00 pm.
Costs is $59 for adult guests and $39 for guests ages 3-9.
Reservations for dining at the restaurant can be made for Wine Country Trattoria on any date of the Oogie Boogie Bash.
Reservation must be made in-person. 
Sonoma Terrace Oogie Boogie Bash Dessert Party: 
Feast on an impressive selection desserts and beverages.
The Dessert Party is available twice per night, beginning at 7:00 pm and 9:30 pm during event nights. C
Children ages 2 and under may attend free of charge, provided they are seated on the lap of an adult.
Advance reservations are recommended and can be booked online up to 60 days prior to your visit at Disneyland.com/Dining.
Cost is $89. 
Mickey's Trick and Treat
Join Mickey Mouse and pals for a costume party where trick-or-treaters laugh, dance, and enjoy a spooky-but-fun story. They then leave with a special treat! Showtimes this year during the party take place at 6:00, 6:45, 7:30, 8:50, and 9:40 pm. 
Character Sightings
There are 11 different locations where you can see and snap photos with characters, some are even extremely rare! New this year, is Bruno and the Sanderson Sisters (Disney style). The lines for the characters can have a lengthy wait time. Check out the schedule below for tips on how to ensure seeing the characters!
NEW: Minnie Mouse, Daisy Duck, and Clarabelle Cow as the Sanderson Sisters from Hocus Pocus – Hollywood Land
Disney Duos – Carthay Circle
Heroic Encounters – Avengers Campus
Residents of Cars Land – Cozy Cone Motel
Classic Animated Friends – Pacific Wharf
Swashbuckling Sidekicks – Pacific Wharf
Sinister Step and Repeat – Grizzly Trail Water Wheel
NEW: Bruno – Grizzly Peak Trail
Pixar Pals – near Poultry Palace
Incredibles – Incredicoaster Waterfall
Mickey and Minnie – Paradise Gardens Park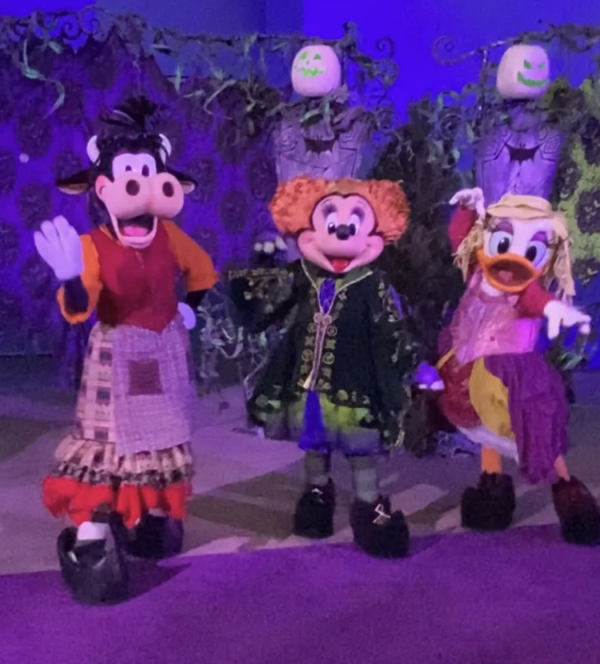 Event Exclusive Food
There are a few event exclusive food items that have to be tried! 
Loaded Gravy Fries at Flo's V8 Cafe – steak fries, chicken tenders, cheese curds and gravy.
Loaded Buffalo Chicken Fries at Flo's V8 Cafe – steak fries, chicken tenders tossed in Buffalo sauce, Blue cheese, celery and Ranch.
Strawberry-flavored Pain Churro at Senor Buzz Churros. 
Raspberry-flavored Panic Churro near Goofy's Sky School. 
Mistress of Evil Chocolate Cake at Wine Country Trattoria. 
Black Batter Corn Dog and Cheese Stick. 
Plus, there are all the normal, seasonal Halloween Time treats available during the party. Use the Disneyland app to see when dining locations close because they don't all stay open until 11 p.m. 
Disney PhotoPass
This is your chance to see the Disney characters - even villains - all dressed up in costumes, ready for photos! Check the guide handed out at the gates for all locations. All the Disney PhotoPass photos captured during the event are included with your ticket. 
Magic Key Holders
There is an exclusive Oogie Boogie Bash photo opportunity for Magic Key holders only over near Silly Symphony Swings. 
Disneyland Tour Guide's Schedule for Oogie Boogie Bash
There's so much to see and do at this event! I sat down with the map given at the entrance and formulated a game plan. I wanted to do all the Treat Trails, see the neon lights in Cars Land turn on, walk through Villains Grove, and see the Frightfully Fun Parade. I was able to do all of those things and more. Here's my plan if you'd like to follow my itinerary.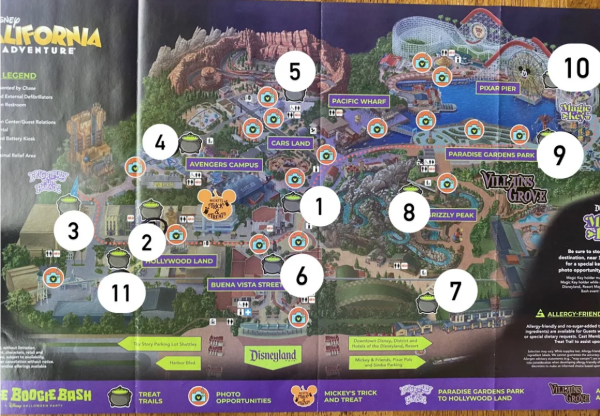 Get in line at 5:50 pm for the Ernesto de la Cruz Treat Trail, the event 'officially' begins at 6:00 pm. 
Oogie Boogie Treat Trail (#2 on map)
Madam Mim Treat Trail (#3 on map)
Agatha Treat Trail (#4 on map)
Cars Land Treat Trail; no villain but get candy! (#5 on the map)
Watch the neon lights go on at sunset in Cars Land (time varies).
Get a snack at Flo's V8 Cafe or a treat at Cozy Cone. (optional)
Snap a photo with one of the residents of Cars Land, and be sure to utilize PhotoPass that comes with the event ticket.
Buena Vista Street Treat Trail; no villains but candy! (#6 on map)
Maleficent Treat Trail (#7 on map)
Before going to the next Treat Trail, potentially get in line for Villains Grove. Try to get in line before 8 p.m. If you have time do #8.
Mother Gothel Treat Trail (#8 on map)
Go do Villains Grove now if you didn't do it above. The goal is to be in line before the parade ends cause once it ends the line will build. The app said 45 minute wait and we only waited 17 minutes. Don't be scared by the long line; it moves quickly.
Dr. Facilier Treat Trail #9
Magic Key holders, head over to Silly Symphony Swings to grab a special treat plus a unique photo opportunity.
Sid Treat Trail #10
At this point choose what's next on your list. Go stand in line for Bruno, see the last Mickey's Trick and Treat show, repeat some treat trails, or continue with my plans below.
At the Headless Horseman statue on Buena Vista St. there is a PhotoPass photographer who has magic shots for the party. Take a minute to get some photos.
Cruella Treat Trail (#11 on map). The reason you don't do this one at the beginning of the night when you're over here doing the Oogie Boogie Treat Trail is the line is long! By the time you swing back around the line is very short. Plus, her back drop is cooler at night time.
Now find a seat along Hollywood Blvd. for the parade.
Frightfully Fun Parade won't arrive on this side of the parade route until around 10:15 pm. The Headless Horseman will walk along the route, and then the parade follows at about 10:30 pm. Find seats, and let others go do a treat trail again or go for a ride on Guardians of the Galaxy. 
And I saved the best for last! Why didn't I go see the Sanderson Sisters (Minnie, Daisy and Clarabelle) at the beginning of the party? First, the line is out in the sun, and it can get hot. Second, I'd rather get through six treat trails and see some villains at the beginning of the party than stand in a line for the first 90 minutes of the party. If you have kids that want to trick or treat, then definitely save this character meet and greet for later in the evening when it's cooler. I recommend going during or after the 2nd parade.
Lastly, remember you can hop in line to ride any attraction before the party ends and still get to go on it. Decide if you want to do an attraction like Web Slingers or Radiator Springs Racers. Just be sure to be in line by 10:59 pm!
Printable Guide for Oogie Boogie Bash
Here is a updated Oogie Boogie Bash Guide to print before going to the party. Use this to plan your visit before you even go to the event. Mark the treat trails by number order so you're not scrambling the night of the party.
FAQs about Oogie Boogie Bash by Disneyland Tour Guide
If I don't have a ticket will they kick me out of Disney California Adventure? Yes, guests with tickets get a wristband. Anyone without one will not be allowed on rides, to eat or make purchases and be asked to leave the park.
Will Disneyland be open on the Oogie Boogie Bash party nights? Yes, you can hop over to Disneyland Park for the rest of the night if you have a park hopper ticket.
Is the Oogie Boogie Bash worth the ticket price? Yes, it gets you into Disney California Adventure 3 pm before the party starts. So take advantage of those extra park hours. Lines for the rides during the event are shorter. You meet villains and other characters that are only available at the party. Trick or treating with immersive treat trails and the Villains Grove area is my favorite party perk. But I don't think it's necessary to go every year.
Can you use Disney Genie+ during the Oogie Boogie Bash? No, it's not available to use during the party. The lines are also extremely short!
Should I spend all day in the park plus do the party? No, would be my recommendation. It will be a very long day and night especially for kids. Take the morning to sleep in, play at the pool etc. Then you'll be nice and rested for the party. Don't forget to be there early!
When will tickets sell out? Tickets for all dates are currently sold out. 
Can I go to Disneyland at all with this special event ticket? No, this ticket only allows access to Disney California Adventure Park.
Is a theme park reservation required? No theme park reservation is required for the park mix-in and event with your event ticket.
Have a BOOtiful time!!!! For details about all the things Halloween going on this time of year check out this post. Pin this post to your favorite Disney Halloween board!
About Shantelle of Disneyland Tour Guide
Shantelle shares tips, information, strategies, news, events and more (mostly) about the Disneyland Resort. Whether it's your first time or fifth time, Shantelle offers the best tips and tricks to maximize the fun on your next vacation.