By Gavin Doyle, Mickey Visit
This article first appeared on MickeyVisit.com
This article contains affiliate links from Mickey Visit.
Visiting Disneyland during the summer is one of the best times of the year to be at the Happiest Place on Earth. There is plenty to look forward to at Disneyland this summer with a brand new fireworks show, a Marvel-inspired musical, and the return of the Magic Happens parade.
The most crucial tip for visiting Disneyland in the summer is to purchase your tickets in advance of your trip and do not forget to make a Disneyland park reservation. Many guests make the mistake of not securing a reservation before their visit and last-minute reservations are often not available in the summer.
Disney100 Anniversary Celebration
The Disney100 is taking place all summer at Disneyland to celebrate the 100th anniversary of the Walt Disney Company. The celebration includes a brand new World of Color and fireworks show in honor of the anniversary plus the Magic Happens parade.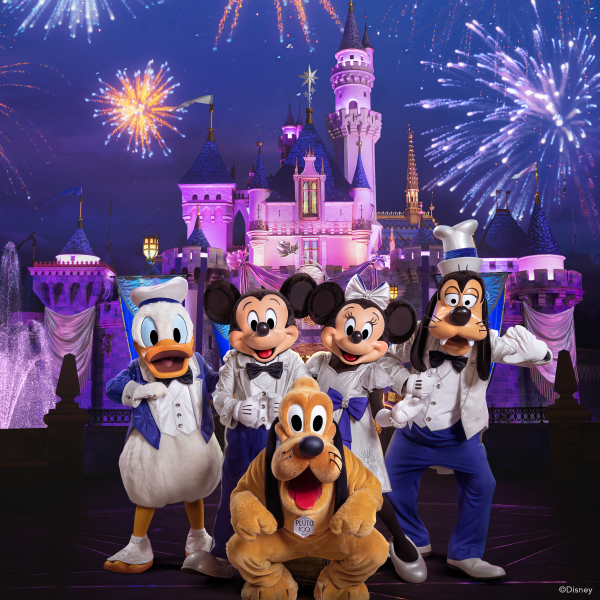 This new Wondrous Journeys Disneyland fireworks show includes nods to all 62 Walt Disney Animation Studios films that have been released plus the new "Wish" film coming this November. The fireworks specifically celebrate the 100 years of the Walt Disney Animation Studios. Baymax from "Big Hero 6" and the Blue Fairy from "Pinocchio" fly over Sleeping Beauty Castle during the performance. This is an amazing fireworks performance and is a must-see during your Disneyland summer visit.
There is also a brand new World of Color show featuring, for the first time, characters, music, and moments from Walt Disney Animation Studios, Pixar Animation Studios, Marvel, and Star Wars in the same production. Some of the popular characters you can expect to see in "World of Color-One" are Pocahontas, Moana, Encanto, Soul, the portals scene from Avengers: Endgame, and Baby Yoda and the Millenium Falcon from Star Wars.
Along with two new nighttime spectaculars, the Magic Happens parade is running through the summer with a new song written by Todrick Hall and performed by Jordan Fisher. The parade features a mixture of floats with classic and new Disney characters making it a great combination of Disney favorites.
Disneyland recently gave Mickey's Toontown a makeover with new inclusive play designs, an interactive water fountain, and the opening of a brand new attraction in the land in conjunction with the Disney100 celebration. Mickey & Minnie's Runaway Railway, the new attraction in the land, is a trackless ride that is the first to ever focus on Mickey Mouse!
Brand New Marvel-Themed Show
Disneyland is also filling the Hyperion Theater in Disney California Adventure with a brand new Marvel-themed show starting June 30th and running through the summer. This new show is called Rogers: The Musical and is themed on the story of Captain America. Rogers: The Musical is a one-act live theater production that will run for a limited time from Tuesday through Sunday most weeks.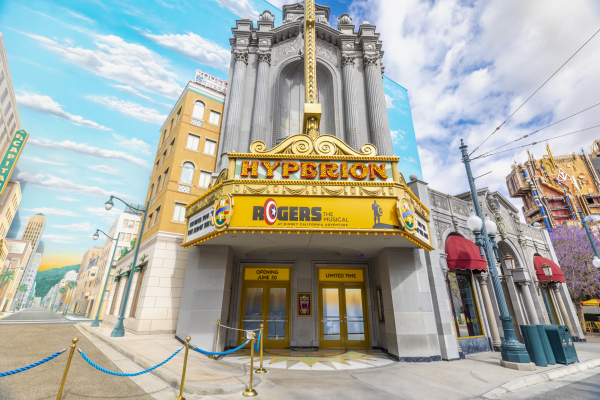 Image provided by Disney 
The production features a cast of singers and dancers telling the story of Steve Rogers (Captain America) plus Peggy Carter, Nick Fury, and select members of the Avengers. This is going to be a great way to recoup in the afternoon while also enjoying Disney's high-caliber level of entertainment.
San Fransokyo from Big Hero 6 Opening Soon
The Pacific Wharf area right next to Cars Land in Disney California Adventure is being converted into San Fransokyo from Big Hero 6. The area will feature new restaurants and a Baymax meet and greet. No official date has been set yet but work is steadily coming along on this new project.
Planning By Each Month
There are many perks to visiting Disneyland in the summer including the longest daylight hours of the year. The summer operating hours often start at 8 AM at Disneyland and last until midnight. These long hours offer great opportunities to enjoy the parks with lower crowd levels in both the morning and at the end of the night after the fireworks end.
See Mickey Visit's guides to visiting Disneyland in June, visiting Disneyland in July, and visiting Disneyland in August to read about each month's special events, weather, crowd levels, and more.
Disneyland Summer Tips
The weather will start to heat up as the summer goes on and there are plenty of ways to avoid the heat at Disneyland. Arriving as soon as the park opens and following a good Disneyland morning strategy is a great way to cross popular attractions off your list while also enjoying the parks before temperatures climb. For those that aren't early risers, staying in the theme parks after the fireworks end is a great way to take advantage of lower waits and cooler weather.
A good way to beat the heat at Disneyland is to enjoy a water attraction. Grizzly River Run at Disney California Adventure is the main water attraction in the Disneyland Resort right now as Splash Mountain in Disneyland is closed for a retheme that will transform the attraction into Tiana's Bayou Adventure. Don't forget to pack a big Ziploc to store your camera, phone, and autograph book in, or utilize the free Disneyland lockers! Nothing is worse than a wet autograph book after riding a water attraction.
Another way to beat the heat is to indulge in the Blue Bayou restaurant inside the Pirates of the Caribbean attraction for a nice break. This restaurant is perfect for hot summer days. The restaurant transports you to a timeless New Orleans setting. Watch the boats glide by and take a break from the sun inside a beautiful twilight atmosphere. Make your dining reservation in advance to ensure your spot! You can start making your Disneyland dining reservations 60 days before your trip.
Dole Whips are an all-time favorite of many theme park guests year-round but especially in the summer. Make sure you don't miss out on yours! You can find these in Adventureland in Disneyland. Grab your Dole Whip and stay for an air-conditioned show at The Enchanted Tiki Room! (Side note: these are also vegan!) You can also always bring snacks to Disney for those pickier eaters.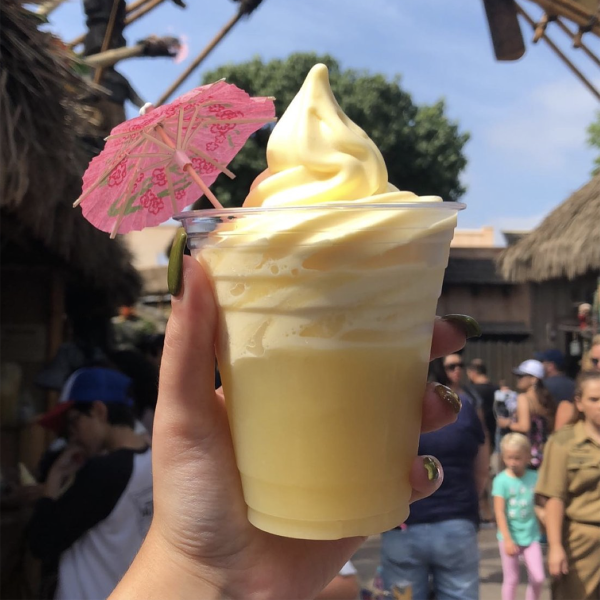 Enjoying ice cream at Disneyland is another classic summer staple and there are many options to choose from at Disneyland and Disney California Adventure. Take a trip down nostalgia lane and check out Gibson Girl Ice Cream Parlor on Main Street, U.S.A. in Disneyland. This old-fashioned ice cream parlor is packed with classic favorites. Or if you're over at Disney California Adventure, pop in at Ghirardelli Soda Fountain and Chocolate Shop and challenge yourself to the Earthquake! A massive eight-topping and eight-scoop sundae that only dreams are made of. Try to eat it yourself or split it with the family.
Summer is a great time to visit Disneyland this year from the Disney100 Celebration to the brand new Mickey & Minnie's Runaway Railroad attraction in the recently redesigned Mickey's Toontown. There are many new things to see at Disneyland and the summer is a great time to enjoy it with the long daylight hours.
Where to Stay in Anaheim This Summer
Anaheim Castle Inn & Suites is a family-owned hotel located directly across the street from the magic of the Disneyland Resort. This hotel is perfect for your first family vacation to Anaheim for Disneyland! 
The Clarion Hotel Anaheim Resort is located one block away from the Disneyland Resort and within steps of the Anaheim Convention Center. Guests staying at this property can enjoy free Wi-Fi, a year-round heated outdoor pool, a fitness center, onsite dining, and more. 
The Camelot Inn and Suites is a newly renovated property located directly across the street from the Disneyland Resort. This hotel combines classic European-inspired architecture with modern amenities that make it the perfect home base for visitors.
The fun never stops at Hyatt Regency Orange County! This Garden Grove hotel is a Disneyland Good Neighbor hotel and offers guests plenty of amenities and entertainment to enjoy. They even offer a shuttle to the Disneyland Resort directly from the lobby! 
The Anaheim Hotel is a AAA Three-Diamond and Disneyland Good Neighbor hotel, located less than 10 minutes walking distance from the Disneyland Resort main gate. The property features mid-century decor, an Olympic-sized swimming pool, and spacious rooms. 
About Mickey Visit 
Mickey Visit is the site to help you save money and experience more at Disneyland. Utilizing the helpful guides and park touring strategies on their site will help you to have the best possible vacation. Mickey Visit has been featured in Travel+Leisure, the LA Times, OC Register, Forbes, and more. Be sure to join over 100K other guests planning their vacation on the FREE Mickey Visit newsletter for planning tips and critical news for your trip (sign up on the homepage via the link above)!