By Lindsay Brookshier
This article first appeared on Mickey Visit.
This article contains affiliate links from Mickey Visit.
The Disneyland Resort includes two theme parks located next to each other with Downtown Disney District leading off to the hotels on the west side. Disneyland Park is the original theme park with the most well-known rides and Disney California Adventure features the new Marvel-themed land.
Downtown Disney is where guests can find all the shopping and dining options next to the theme parks. It does not require a ticket to enter. The three Disneyland Resort hotels are all accessible through Downtown Disney.
First-time guests visiting Disneyland should prepare before their trip to have the most magical experience!
Disneyland Park
Disneyland is designed with a central hub in front of the iconic Sleeping Beauty castle. Each spoke from the hub will take you to the different lands which include well-known favorites like Fantasyland, Tomorrowland, Adventureland, and Frontierland. Disneyland Park is where all the iconic attractions are located like Haunted Mansion, Pirates of the Caribbean, it's a small world, and more. You'll also find Star Wars: Galaxy's Edge here with the marquee Rise of the Resistance attraction that takes Disney storytelling to the next level.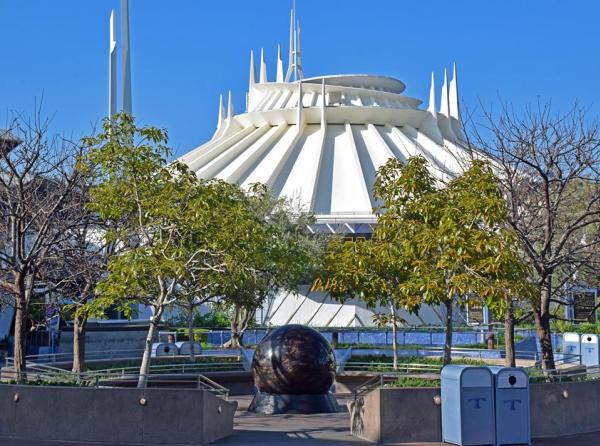 Space Mountain at Disneyland Park
Disneyland Park is the best place to focus your first-time visit to Disneyland as this is where you will find the castle and all the most historic attractions at the park.
Disney California Adventure Park
This park was first designed as an ode to California's state icons but was revamped heavily in 2012 with the addition of the popular Cars Land. This theme park is smaller than Disneyland but still offers plenty of iconic attractions like Radiator Springs Racers in Cars Land and Guardians of the Galaxy: Mission BREAKOUT!
Cars Land is the show stopper in Disney California Adventure and has some of the best theming out of all the Disney Parks in the world. Avengers Campus is the newest addition to the park with a Spider-Man attraction and plenty of Marvel characters roaming around.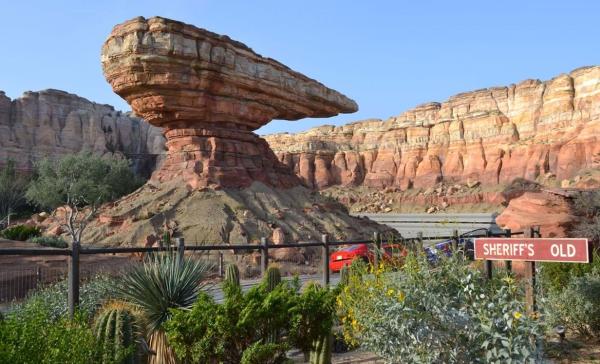 Cars Land at Disney California Adventure Park
Disneyland Tickets
Disneyland tickets are offered in a few different options, which can be confusing for guests visiting Disneyland for the first time.
1-Park Per Day Ticket - this ticket only allows you access to one park per day. You can only visit Disneyland Park or Disney California Adventure Park, not both.
Park Hopper Ticket - this ticket allows you to visit both parks on the same day. You can "hop" between these two parks as often as you like, starting at 11 AM.
You can purchase either of these options as multi-day tickets for up to five days.
You can find discount multi-day Disneyland tickets to save money on your Disneyland trip by looking for sales and promotions offered by Disneyland or popular travel agencies. Regardless of how many days you pick, you definitely want to pay for the park hopping ticket since the two theme parks are steps away from each other!
First-time visitors to Disneyland also need to know that you are required to book a theme park reservation after you purchase your tickets. You can reserve either Disneyland or Disney California Adventure to start your day at. If you have a park hopper ticket, you can hop to the other park as early as 11 AM.
Guests also have the option of adding Disneyland Genie+ to their park ticket for $25 per person, per day. Genie+ is a paid service that Disneyland offers for guests to access a shorter, faster line than the standard line for the most popular attractions. You can also purchase Genie+ when you enter the park but the prices can go up during crowded times of the year. A few select attractions will need to be purchased separately in order to access their Lightning Lane, but this is limited to just three attractions in the entire resort.
When to Visit Disneyland
The best way to plan when to visit Disneyland is to consider what atmosphere you want to enjoy. Summer at Disneyland may bring warmer temperatures, but the park's operating hours will be longer, entertainment will be running on a full schedule, and crowds are spread out over the summer months. Spring can be a great time to visit for guests hoping to travel during spring break with milder temperatures and want to enjoy the Food & Wine Festival at Disney California Adventure. Each month at Disneyland offers different pros and cons along with special events to enjoy.
Halloween at Disneyland is just as popular now as the holiday season because Disneyland goes all out! Oogie Boogie Bash is a separately ticketed event for a Halloween party held at Disney California Adventure with trick-or-treat lines, a Halloween parade, and costumes! Over in Disneyland, the Haunted Mansion receives a Nightmare Before Christmas overlay and transforms into Haunted Mansion Holiday. This theme stays up until after Christmas. Halloween decorations and seasonal food will be available at both parks and Downtown Disney.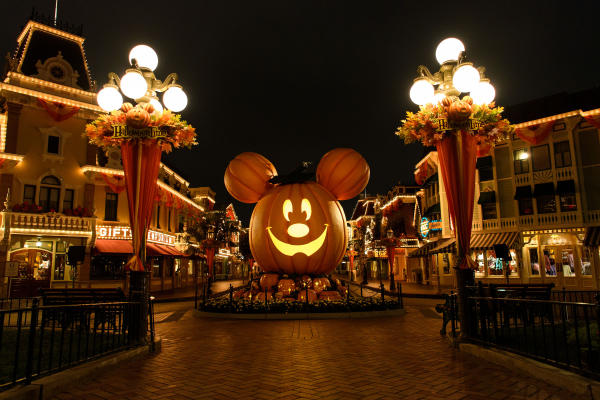 Halloween Time at the Disneyland Resort 
Christmas at the Disneyland Resort starts right after Halloween with the first decorations going up the first week in November. The holiday season at Disneyland includes plenty of options to celebrate with breathtaking decorations in Disneyland, Disney California Adventure, resort hotels, and Downtown Disney. Favorite entertainment options include the "A Christmas Fantasy" parade and "Believe in Holiday Magic" fireworks at Disneyland Park. "it's a small world" changes into "it's a small world" Holiday with the front of the attraction covered in thousands of Christmas lights.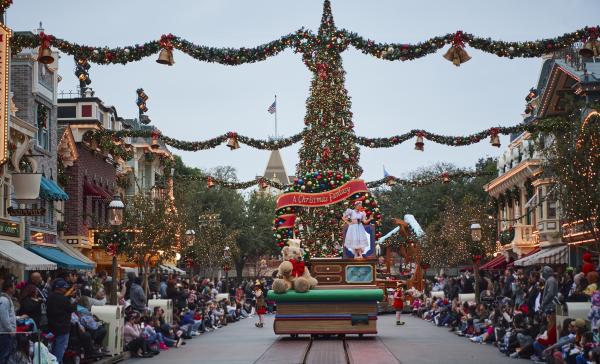 Holidays at the Disneyland Resort
Disneyland Dining
Disneyland has great dining options that offer magical experiences for guests like character breakfasts, dining packages with reserved show seating plus a list of restaurants with a great atmosphere.
Some of these fan favorites include the Blue Bayou Restaurant which is located inside the Pirates of the Caribbean attraction or the Minnie and Friends Character Breakfast. Reservations can be made for your dining options 60 days in advance online. Here are our tips for getting difficult Disneyland dining reservations.
Disneyland Resort Entertainment
Disneyland offers many great entertainment options but it's easy to miss out on these if you don't plan ahead to incorporate them into your day. The entertainment at Disneyland is one of the features of the resort that set it apart from the rest.
Character meet-and-greets are extremely popular at Disneyland. Guests can meet classic characters like Mickey Mouse, Disney Princesses plus Star Wars and Marvel characters (there are also the popular Disneyland character meals). The Disneyland mobile app will show guests the most recent available meeting times and locations for characters.
The nighttime spectaculars at Disneyland are not to be missed, especially the classic fireworks above Sleeping Beauty's Castle. The fireworks spectaculars at Disney are heartwarming performances and often feature favorite Disney songs and characters. Fantasmic! and World of Color are the two main nighttime spectaculars taking place at both parks. If guests want to view these exciting events without worrying about saving a spot then a dining package is a great option.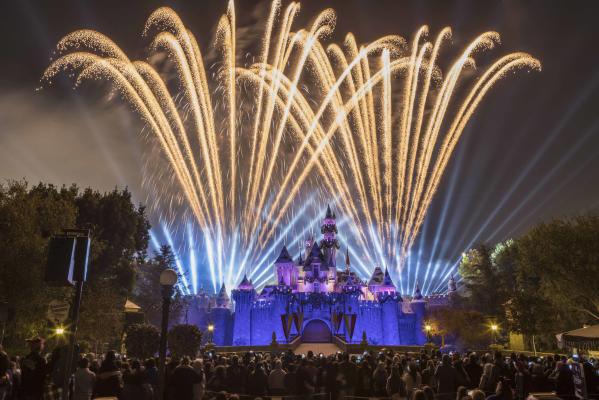 Nighttime Spectaculars at the Disneyland Resort
Don't forget the parades, bands, street entertainers, and singing groups who roam both parks. Fan favorites include Main Street's Dapper Dans and the Disneyland parades, which usually take place twice a day.
No one ever forgets their first visit to the Disneyland Resort and planning in advance will ensure the best possible trip.
Where to Stay in Anaheim
We've rounded up a few hotel options that are all perfect for making your vacation an extra magical experience.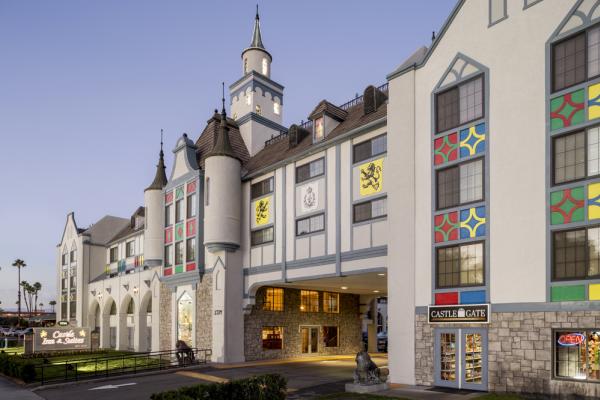 Anaheim Castle Inn & Suites
Anaheim Castle Inn & Suites
This family-owned hotel is located directly across the street from the magic of the Disneyland Resort. This hotel is perfect for your first family vacation to Anaheim for Disneyland! 
Clarion Hotel Anaheim Resort
The Clarion Hotel Anaheim Resort is located one block away from the Disneyland Resort and within steps of the Anaheim Convention Center. Guests staying at this property can enjoy free Wi-Fi, a year-round heated outdoor pool, a fitness center, onsite dining, and more. 
Camelot Inn & Suites
The Camelot Inn and Suites is a newly renovated property located directly across the street from the Disneyland Resort. This hotel combines classic European-inspired architecture with modern amenities that make it the perfect home base for visitors.
Hyatt Regency Orange County
The fun never stops at Hyatt Regency Orange County! This Garden Grove hotel is a Disneyland Good Neighbor hotel and offers guests plenty of amenities and entertainment to enjoy. They even offer a shuttle to the Disneyland Resort directly from the lobby! 
The Anaheim Hotel
The Anaheim Hotel is a AAA Three-Diamond and Disneyland Good Neighbor hotel, located less than 10 minutes walking distance from the Disneyland Resort main gate. The property features mid-century decor, an Olympic-sized swimming pool, and spacious rooms.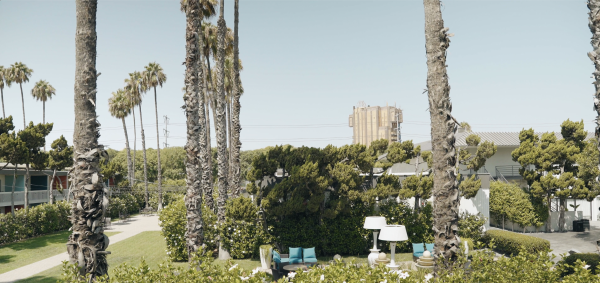 The Anaheim Hotel
About Mickey Visit
Mickey Visit is the site to help you save money and experience more at Disneyland. Utilizing the helpful guides and park touring strategies on their site will help you to have the best possible vacation. Mickey Visit has been featured in Travel+Leisure, the LA Times, OC Register, Forbes, and more. Be sure to join over 100K other guests planning their vacation on the FREE Mickey Visit newsletter for planning tips and critical news for your trip (sign up on the homepage via the link above)!